Working Energetically Whilst In The Midst Of Life.
---
We can train ourselves to work energetically with all the people we meet, whilst in their company and also from a distance.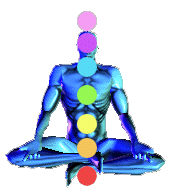 The Seven Major Chakras

These simple skills, once learned, becomes a key factor to the successful living and flowering of One and All.

We can learn to heal, improve and expand - others and ourselves. It is important that we overcome our own selfishness as we learn these techniques. As we feel the peace and love that is the very nature of existence, our selfishness will drop away quite naturally - but to begin with we have to work at it, focus our attention, energy and awareness to the higher thought forms.

Working energetically is a very high thought form, which benefits everybody. For more information, go to the chakras directory, the healing directory, and also read the Energy Enhancement Book.

So too is prayer and focused meditation which are other ways of directing positive spiritual energy - love.