---
Asana, Pranayama, Mudra, Bandha.
Swadhisthana Chakra
---
Above mooladhara in the spinal region directly behind the genital organ is swadhisthana chakra. The literal meaning of the work swadhisthana is ones own abode' (swa-seif, sthan- dwelling place).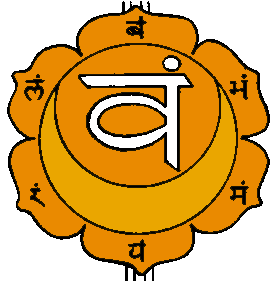 This chakra is symbolized by a crimson lotus with six petals, upon which are written the letters barn, bharn, main, yam, ram, lam. In the center is a white crescent moon and the bija mantra yarn. They are riding on a crocodile representing the water element. The presiding deities are Lord Vishnu, the maintainer and preserver of the universe, and the goddess Rakini, controller of the blood element in the body.
On the physical level, swadhisthana is mainly associated with the organs of excretion and reproduction.
Vitalization of this center can therefore rectify any disorders in these functions.
On a deeperlevel, swadhisthana chakra is the seat of the unconscious mind, the collective consciousness, storehouse of all samskaras, remote ancestral memories. It is the center of man's most primitive and deep rooted instincts.
By purifying this center one can rise above the animal nature. For meditation on this center, one should visualize a deep vast ocean with restless, turbulent waves under a dark sky at night. The tides of the ocean represent the ebb and flow of our own awareness.
---