---
Asana, Pranayama, Mudra, Bandha.
Anahata Chakra.
---
Anahata literally means the 'unstruck' (an-not, ahat- struck). All sound in the manifested universe is produced by the striking together of objects which sets up vibrations or sound waves, but that sound which issues from beyond this material world, the primordial sound, is the source of all sound and is the anahata nada (sound). The heart center is where this sound manifests.
It may be perceived by the yogi as an internal, unborn and undy- ing vibration, the pulse of the universe. The anahata chakra is symbolized by a smoky blue lotus with twelve petals inscribed with the letters kam, kham, gam, gham, nam, cham, chham, jam, jham, nam, tam, tham.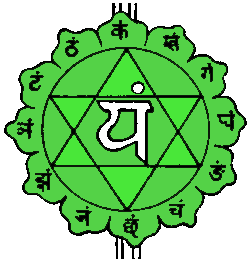 In the center of the lotus is a hexagram of two interlaced triangles (as in the Jewish Star of David) and the bija mantra yam sitting on a swift black antelope, symbol of the air element. The presiding deities of anahata chakra are Isha, the lord in an all-pervading form and the goddess Kakini, ruler of the fat element.
Anahata is associated on the physical level with the heart and lungs, and the circulatory and respiratory systems. Sufferers of diseases like anemia, hypertension, palpitations, tuberculosis, asthma and bronchitis should practise concentration on anahata chakra, preferably while doing asanas or other yogic techniques.
One may meditate on anahata chakra by imagining a dark empty room or cave in the chest region. This is called the space of the heart (hridayakasha) and is filled with the expansion and contraction of the breathing process and the rhythm of the heart beat. One should try to visualize the tiny flame of a burning lamp. Imagine it to be steady and unflickering like a flame in a windless place. It is the symbol of the individual soul (jivatma), the indwelling spirit of all being which is undisturbed by the winds of the world.
---