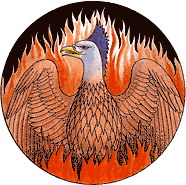 THE PHOENIX
Healing
---
A very simple symbol that represents going into our ashes, our pain, depression, and negativity - usually caused by some life event like the grief of a death, failed enterprise or relationship, or childhood trauma - and then arising healed and able to move on.
It is only by experiencing something on the level of feeling that we can then overcome it and learn from the experience.
It is a fact that people who bottle up and repress their responses to life events do not recover from them, they hold onto their pain and are frozen by it. They cannot arise from their ashes. They need healing.
For example, the person who bottles up their grief from being abused as a child or rejected in some aspect of life, is paralyzed by their inability to come to terms with the events. The phoenix symbol shows us that we need to get in touch with our pain, acknowledge our ashes, before we can rise out of it, before we can understand and heal the issues, and then move on.
---
FURTHER STUDY.
---
---
---