Pain is the blockage of the Second Chakra.
---

This is because of the pain of disappointment, when we do not get what we selfishly want, which then resides in and becomes a blockage to the Second, Swadhisthana, Abdominal or Relationship Chakra.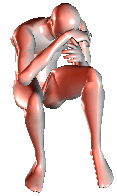 The pain of disappointment
The removal of this blockage is non-attachment. "Attachment leads to Pain" said the Buddha. Non attachment is an energetic process taught in Level 2 of Energy Enhancement.
---