Addicted to Sex.
---
Some people, though, become addicted to this second chakra feeling and spend the whole of their lives trying to recapture it.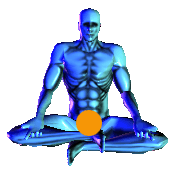 The Position of the Second Chakra.
However, a true human being, as well as being able to be in the second chakra at will, also has the capacity not to be in the second chakra, at will. This control, bringing the energies back to the head or the heart, allows us to see "The feet of clay" of our partners. We can then choose whether to accept any faults or not.
Forgiveness is based upon this and we will not be surprised at a point when it is too late.
---