Ajna Chakra is also Completely Amoral.
---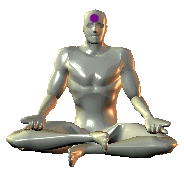 Position of Ajna Chakra symbolised by the purple circle.

It will do whatever it is told.
It is a good servant but a very poor master.
When it is used as the highest level of humanity, separated from all the other chakras, when it does not listen to the Crown chakra or the Heart chakra, then it acts like an idiot child or computer. It will provide arguments for this idea or that idea with no direction, no aim, no instinct, no morality, heart or Wisdom.
---