| | |
| --- | --- |
| SEEDS OF LIGHT FREE INTERNET MAGAZINE. | |
Free PC TEXT-TO-SPEECH.
Take the strain off your eyes as the computer reads the text out loud!
---
MINIMUM SYSTEM REQUIREMENTS.
You will need at least:
---
LICENSE: Freeware.
Readplease2000 works by copying sections of text from documents - like html pages or word documents - and then pasting the section into Readplease2000.
Readplease2000 allows 1.6MB of text at a time. If you have a larger document, then simply copy sections of a few pages at a time into Readplease2000, listen to it, and then copy and paste the next section.
---
Open your Control Panel (Start / Settings / Control Panel)

Double click the 'Add/Remove programs' icon.

Press the Install button and direct the 'Browse' facility to the downloaded file.

Within the folder is one program and that is the 'Set up' file for the software.

Select it.

Click the 'Finish' button to begin the Installation.

The installation is automatic, but keep an eye on the computer screen because you may be asked to prompt certain decisions.

Installation takes about 2 minutes.

Comes with a read me file and instructions on usage.

Simple and friendly to use.
---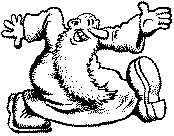 MAY ALL BEINGS BE HAPPY
---
---