Hatha Yoga Postures for
Manipura
The Third Chakra
---
The Woodchopper.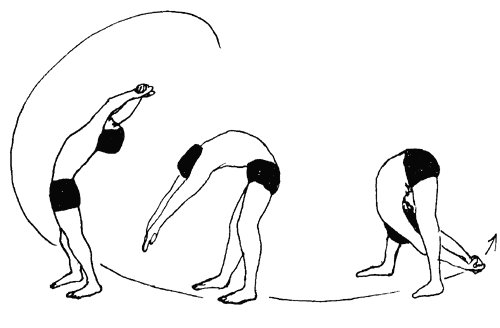 The associated tone of the third chakra is a loud "ah" sound. This should accompany the motions of this 'Woodchopper' exercise.
Stand with the feet planted firmly on the ground, with heels about two feet apart. Raise arms together, over the head, with hands joined. Arch back slightly. Making the "ah" sound as you descend, swing the whole upper portion of the body downward bringing your hands between your legs and through. The motion should be smooth and rapid, emitting as much force and power as is possible. Repeat five to ten times in a session and feel the energy break through into your upper body. This exercise is also an excellent anger release.
---
Bow Pose.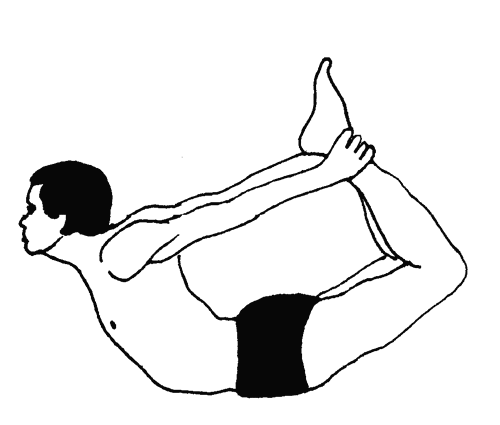 Lie flat on the stomach and inhale fully.

Bend the knees and hold the ankles with the hands.

Tense the leg muscles and arch the back.

Simultaneously raise the head, chest and thighs as high as possible.

Keep the arms straight.

Hold for as long as is comfortable.

Practise up to maximum 5 times per session.
Note.
One may rock backwards and forwards in the final position.

Do not repeat the asana until the breath returns to normal.
Breath.
The breath may be retained inside in the final pose or slow, deep breathing may be practised.
---
The Belly Push.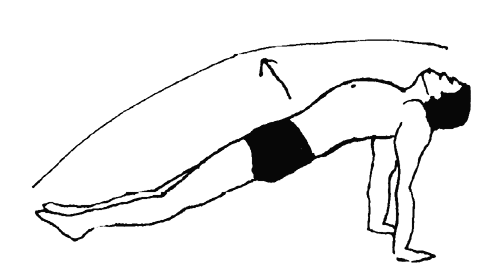 From a seated position, push both feet out straight in front of you, with your hands by your hips. Push your pelvis forward, approaching a slight arch from your feet to your head, pushing, especially the solar plexus. Then slowly relax and return to a seated position.
---
The Pike Pose.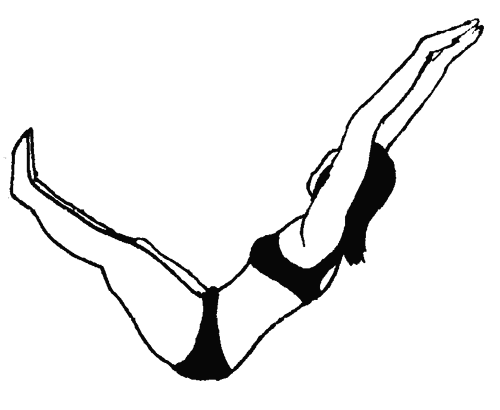 Hard to maintain without practice, this little gem tightens the tummy muscles and develops balance. From a position of resting on your back, bring your feet and legs up (knees as straight as possible) to make a V-shape with your torso. Hold as long as possible, then relax.
The arms play an important part in the activation of power, for it is they that make actual contact with the world. It is through the arms that we do, and doing is what the third chakra is all about.
---
---
---
EE MEDITATION ENLIGHTENMENT TEXTS