OSHO
KABIR
THE PATH OF LOVE
Chapter 6: The Inner Trinity
Question 5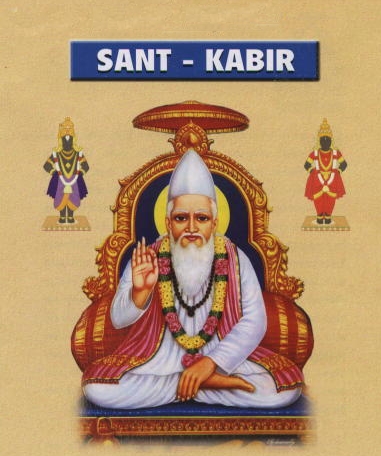 Energy Enhancement Enlightened Texts Kabir The Path of Love
The fifth question:
Question 5
I HEAR THERE IS A ROOM IN THE ASHRAM CALLED: THE OFFICE OF THE GRANDE SEDUCER OF THE OLDIES. HOW OLDE IS AN OLDIE?
The question is from Astha.
Now, it is a very technical thing, but I will try to give you a layman's conception. And I will give you the right address where you can find a more informed and expert opinion.
Yes, there is a secret organization here in the ashram called SIN, s-i-n. "S" stands for seduction, seduction into neo-sannyas. That is the name of the organization, SIN. And there are three branches of the organization: for the babies, and for the oldies, and for those who are in-between. For the babies, up to the fourteenth year -- because by that time sexual maturity happens, and the baby is no more a baby. In fact, he is ready to create new babies, so he cannot be a baby. So you can demark the line -- fourteen years is the line for the babies; after birth, fourteen years. Before death, fourteen years is the limit for the oldies. If seventy is the average lifespan, then fifty-six is the demarcation line for the oldies. And in-between is everybody else.
So three departments exist, three branches of SIN: for the babies, Siddhartha and Purva take care; for the in-between, Teertha and Maneesha; for the oldies, Paritosh and Parijat.
But this distinction of oldies, in-betweens and babies, is applicable only here. In America there are only two: the babies and the oldies. The in-betweens exist not. That is a strange thing that has happened in America. People try to remain babies for as long as they can. They go on pushing the line: fifty, and still they are babies, fifty-five, and still they are babies, and fifty-six, and still they are babies. And it is the thirty-first of December, they are fifty-six, and they are still babies.
When they cannot push any longer, when it is impossible, they simply become oldies. They go from babies to oldies directly.
I have heard about a salesman who was succeeding, a door-to-door salesman. All his colleagues were surprised because they were selling the same goods, but not so successfully. He was earning almost ten times what they were. So they gave him a party, and asked him, "Please tell about your secret." He said, "There is nothing much, it is simple. Even if an old hag, a sixty-year-old woman, rotten, opens the door, I say: "Baby, is your mother at home? And that works! And I am immediately welcomed."
America has gone crazy. All natural limits have disappeared. From infancy, people simply move into senility. That's why the great problem of the gap of generations has arisen -- because there is no in-between to link them; the bridge is broken.
Americans are crazy. Just as the old Italian said... But I should not anticipate. First I must tell you the anecdote.
Wallace Reyburn, author of SOME OF IT WAS FUN, entered Naples, Italy, with the victorious troops who threw the Nazis near the end of World War Two. A grateful native offered to introduce him to a sister at home.
"Is she beautiful?" asked Reyburn.
"Ah, bella! bella!" enthused the native.
"Young?"
"Si! Si! Si!"
"Is she pure?" persisted Reyburn.
The native turned from him in disgust, remarking, "These Americans and Canadians are all crazy."
Natural limits are forgotten, natural things are forgotten. In America this distinction may not be applicable, but here... And except for America, everywhere in the world these are the three demarcations: the babies -- who are not yet interested in sex; and the oldies -- who have grown out of it; and the people in-between -- who go on wavering, who are still tightrope.
And of course, babies can convert babies... so Siddhartha, little Siddhartha and Purva. Right now little Siddhartha is travelling in America, trying to convert babies there -- because that is the country where the greatest number of babies exist. And for the in-betweens, Teertha and Maneesha are in charge of SIN; and for old people, Parijat and Paritosh.
So, Astha, if you really want a very informed, expert opinion, you go to Paritosh. He is in charge. And right now he is very busy, because many parents have come for Christmas, and he is seducing them into neo-sannyas. And to help people somebody has put a notice on his door; that's how this question has arisen. Somebody has put a notice on Paritosh's door: Office of the Grande Seducer of the Oldies -- just to help people, so those who want to find the office can find it easily.
Next: Chapter 6: The Inner Trinity, Question 6
Energy Enhancement Enlightened Texts Kabir The Path of Love
Chapter 6:
Osho - Talks on Songs of Kabir: The Path of Love, Chapter 6: The Inner Trinity, Question 1, THE STEINER SCHOOL OF ANTHROPOSOPHY TEACHES ONE TO HAVE A STRONG WILL. THIS IS A DEPARTURE FROM TRADITIONAL EASTERN THOUGHT. WHAT IS THIS WILL? HOW DOES THIS WILL RELATE TO THE EGO? at energyenhancement.org
Osho - Talks on Songs of Kabir: The Path of Love, Chapter 6: The Inner Trinity, Question 2, I AM A GAMBLER IN LIFE. I HAVE BROUGHT SUFFERING TO ALMOST EVERYBODY WHO CAME CLOSE TO ME. MY EYES HAVE DECEIVED EVERYBODY UP TO NOW, AND WHEN PEOPLE, OUT OF THEIR SUFFERING CAUSED BY ME, SOMETIMES SAID, 'YOU ARE A GOOD SOUL,' THEN IT WAS PART OF MY GAME TO DECEIVE MYSELF AND FEEL GOOD ABOUT THEIR STATEMENT at energyenhancement.org
Osho - Talks on Songs of Kabir: The Path of Love, Chapter 6: The Inner Trinity, Question 3, ORGANIZATIONS HAVE ALWAYS FRIGHTENED ME BECAUSE I FELT THERE IS A BUILT-IN EVILNESS, AND MAYBE A NECESSARY EVIL. THE RAJNEESH FOUNDATION IS AN ORGANIZATION, AND HAS EVERY POSSIBILITY OF BECOMING A VERY POWERFUL ORGANIZATION. CAN YOU TELL ME WHY THE FOUNDATION IS NECESSARY? at energyenhancement.org
Osho - Talks on Songs of Kabir: The Path of Love, Chapter 6: The Inner Trinity, Question 4, WHY DO WE WEAR ONE HUNDRED AND EIGHT BEADS ON OUR MALAS? DOES THIS BELONG TO THE WORLD OF RITUALISTIC RELIGION? at energyenhancement.org
Osho - Talks on Songs of Kabir: The Path of Love, Chapter 6: The Inner Trinity, Question 6, WHAT IS YOUR ATTITUDE TO MONEY? at energyenhancement.org
Osho - Talks on Songs of Kabir: The Path of Love, Chapter 6: The Inner Trinity, Question 6, I HEAR THERE IS A ROOM IN THE ASHRAM CALLED: THE OFFICE OF THE GRANDE SEDUCER OF THE OLDIES. HOW OLDE IS AN OLDIE? at energyenhancement.org
Osho - Talks on Songs of Kabir: The Path of Love, Chapter 6: The Inner Trinity, Question 7, EACH DAY WHEN I LEAVE CHUANG TZU AUDITORIUM, I SEE THREE WHITE ROBES HANGING IN THE LAUNDRY ROOM. YET I NEVER SEE YOU WEARING MORE THAN ONE ROBE. I HAVE A SUSPICION THAT YOU ARE ACTUALLY ONE OF TRIPLETS. THIS WOULD EXPLAIN HOW YOU GO ON CONTRADICTING YOURSELF IN SUCCESSIVE LECTURES, AND APPEAR IN MORE THAN ONE PLACE AT THE SAME TIME at energyenhancement.org
Osho - Talks on Songs of Kabir: The Path of Love, Chapter 6: The Inner Trinity, Question 8, WHAT IS THIS ASTONISHING NONSENSE ABOUT YOU HAVING NO CHARISMA? at energyenhancement.org