OSHO
ZEN
AH, THIS!
Chapter 8: Not Knowing is the Most Intimate
Question 6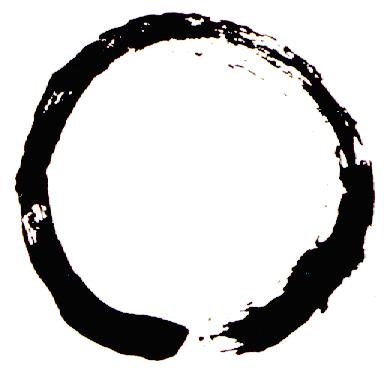 Energy Enhancement Enlightened Texts Zen Ah, This!
The sixth question
Question 6
OSHO,
WHY ARE THE JEWS SO NOTORIOUS FOR THEIR MONEY-GREED?
Narotam,
DO YOU I THINK OTHERS ARE IN ANY WAY DIFFERENT from the Jews? Unless love flowers in your being you are bound to remain greedy. Greed is the absence of love. If you love, greed disappears; if you don't love, greed remains.
Greed is rooted in fear. And of course, Jews have lived in tremendous fear for centuries. For the two thousand years since Jesus they have lived in constant fear. Fear creates greed. And because they lost their nation -- they lost everything, they became uprooted, they became wanderers -- the only thing they could trust was money; they could not trust anybody else. Hence, naturally, they became greedy. Don't be too hard on them for that. They are greedy, maybe a little more than others, but that is only a difference of quantity, not of quality.
In India we have MARWARIS, who are the Indian Jews. Jainas are not less greedy...and others too! Maybe they are not so notorious. Jews become notorious because whatsoever they do, they do with a flavor; whatsoever they do, they do without any disguise. They are not very deceptive people -- intelligent but not deceptive. Whatsoever they want to do, they do it directly And they are very earthly people. And that is one of the qualities I appreciate. The earth is our home and we have to be earthly.
A real spirituality must be rooted in earthliness. Any spirituality that denies the earth, rejects the earth, becomes abstract, becomes airy-fairy. It has no more blood in it; it is no more alive. Yes, Jews are very earth-bound.
And what is wrong in having money? One should not be possessive; one should be able to use it. And Jews know how to use it! One should not be miserly. Money has to be created and money has to be used. Money is a beautiful invention, a great blessing, if rightly used. It makes many things possible. Money is a magical phenomenon.
If you have a ten-rupee note in your pocket, you have thousands of things in your pocket. You can have anything with those ten rupees. You can materialize a man who will massage your body the whole night! Or you can materialize food or you can materialize ANYTHING! That ten-rupee note carries many possibilities. You cannot carry all those possibilities with you if there is no note; then your life will be very limited. You can have a man who can massage your body, but then that is the only possibility you have with you. If you suddenly feel hungry or thirsty, then that man cannot do anything else. But a ten-rupee note can do many things, millions of things; it has infinite possibilities. It is one of the greatest inventions of man; there is no need to be against it. I am not against it.
Use it. Don't cling to it. Clinging is bad. The more you cling to money, the poorer the world becomes because of your clinging, because money is multiplied if it is always moving from one hand to another hand.
In English we have another name for money which is more significant -- it is "currency." That simply indicates that money should always remain moving like a current. It should always be on the move from one hand to another hand. The more it moves the better.
For example, if I have a ten-rupee note and I keep it to myself, then there is only one ten-rupee note in the world. If I give it to you and you give it to somebody else and each person goes on giving, if it goes through ten hands then we have a hundred rupees, we have used a hundred rupees' worth of utilities; the ten rupees is multiplied by ten.
And Jews know how to use money; nothing is wrong in it. Yes, greed is bad. Greed means you become obsessed with money; you don't use it as a means, it becomes the end. That is bad, and it is bad whether you are a Jew or a Jaina, Hindu or Mohammedan; it doesn't matter.
Four Jewish mothers were talking, naturally of their sons.
One said, "My son is studying to be a doctor, and when he graduates he will make $50,000 a year."
Said the second, "My son is studying dentistry, and when he graduates he will make $100,000 a year."
The third said, "My son is studying to be a psycho-analyst, and when he graduates he will make $200,000 a year."
The fourth one remained silent. The other ones asked her, "And what about your son?"
"He is studying to become a rabbi," she answered.
"And how much does a rabbi make?"
"$10,000 a year."
"$10,000? Is this a job for a Jewish boy?"
Gropestein's clothing store stood on New York's Lower East Side. One day, Gropestein went out for lunch and left Salter, his new salesman, in charge.
When he came back Salter proudly announced, "I sold that black cloth coat."
"For how much?" asked Gropestein.
"Ninety-eight cents, like it said on the tag."
"Ninety-eight cents?" screamed the owner. "The tag said ninety-eight dollars, you idiot!"
The clerk looked as if he would die of embarrassment.
"Let this be a lesson to you," said Gropestein. "But don't feel bad -- we made ten percent profit."
A famous anti-Semite was dying. He gathered his sons around his deathbed and said, "Sons, my last wish and command is that whenever you need anything, go buy it from a Jew and give him the first price he asks."
The sons in surprise said, "Father, has your mind gone crazy in this your last hour?"
"Ah, no," smiled the anti-Semite wickedly, "he is going to eat himself up he has not asked for more."
Next: Chapter 8: Not Knowing is the Most Intimate, Question 7
Energy Enhancement Enlightened Texts Zen Ah, This!
Chapter 8:
Osho - Talks on Zen: Ah, this!, Chapter 8: Not Knowing is the Most Intimate, Question 1, IS AWARENESS A HIGHER VALUE THAN LOVE? at energyenhancement.org
Osho - Talks on Zen: Ah, this!, Chapter 8: Not Knowing is the Most Intimate, Question 2, WHY, OSHO, ISN'T KNOWLEDGE OF THE SCRIPTURES HELPFUL IN FINDING THE TRUTH? at energyenhancement.org
Osho - Talks on Zen: Ah, this!, Chapter 8: Not Knowing is the Most Intimate, Question 3, WHY DOES IT TAKE SO LONG FOR ME TO GET IT? at energyenhancement.org
Osho - Talks on Zen: Ah, this!, Chapter 8: Not Knowing is the Most Intimate, Question 5, WHY DO INDIANS THINK THEY ARE MORE SPIRITUAL THAN OTHERS? at energyenhancement.org
Osho - Talks on Zen: Ah, this!, Chapter 8: Not Knowing is the Most Intimate, Question 5, MOST RELIGIONS HAVE A NEGATIVE ATTITUDE TOWARDS WORK, AS IF IT IS A PUNISHMENT AND A LABOR AND NOT AT ALL SPIRITUAL. COULD YOU SPEAK TO US MORE ABOUT WORKING? at energyenhancement.org
Osho - Talks on Zen: Ah, this!, Chapter 8: Not Knowing is the Most Intimate, Question 6, WHY ARE THE JEWS SO NOTORIOUS FOR THEIR MONEY-GREED? at energyenhancement.org
Osho - Talks on Zen: Ah, this!, Chapter 8: Not Knowing is the Most Intimate, Question 7, WHAT IS THE FUTURE OF MORALITY CONCERNING SEX? at energyenhancement.org
Osho - Talks on Zen: Ah, this!, Chapter 8: Not Knowing is the Most Intimate, Question 8, WHY DO YOU SPEAK AT ALL IF THE TRUTH IS INEXPRESSIBLE? at energyenhancement.org