OSHO
ZEN
HYAKUJO: THE EVEREST OF ZEN, WITH BASHO'S HAIKUS
Chapter 1: The language of suddenness
Question 1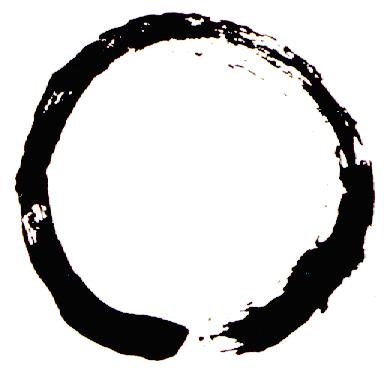 Energy Enhancement Enlightened Texts Zen Hyakujo
Question 1
Maneesha has asked:
BELOVED OSHO,
MANY DISCIPLES HAVE DEDICATED BOOKS TO THEIR MASTER OUT OF LOVE AND GRATITUDE. BUT CHARACTERISTICALLY, YOU HAVE TURNED TRADITION ON ITS HEAD BY DEDICATING TWO OF YOUR DISCOURSE SERIES TO SPECIFIC DISCIPLES.
HAS ANY MASTER LOVED HIS DISCIPLES AS MUCH AS YOU SEEM TO LOVE US?
Maneesha, when I see you all, I don't see you the way you see yourself. I simply see possible buddhas. No master has dedicated his books to his disciples, because no master has that clarity which can see the future in the present, which can see the rose in the seed. I can see. So when I introduce you as buddhas, it is not symbolic, I mean it. It is not only love, but also respect. My own understanding is: unless a master respects the disciple, he does not deserve respect from the disciple. It is a communication, it is a give-and-take, it is a communion.
I am going to dedicate many books because I don't have anything else. I have just my words, my experiences, my silences, my songs to dedicate to all those disciples who are keeping me alive. Without you I won't wake up next morning -- because what will I do? I don't have anything else to do in the world. I have done everything long ago; in fact, I have overdone.
Now my life is in your hands. If you want me to be here, I can go on postponing the date of my departure. But the day I see that there is no need for me to postpone anymore, I will tell you to be ready for a great ceremony. But I feel right now, my garden is just a nursery.
The buddhas are getting ready to wake up. A few have looked with one eye open, a few have looked with both eyes open, but have taken another turn and pulled their blanket over themselves. It is a question of struggle between me and you. How long are you going to remain hidden in your blanket? Sooner or later you will get tired. You cannot escape me, you have to become a buddha. Once you are a buddha, you are absolutely free to go around the world taking the fire, spreading it to all the nooks and corners of the world.
My existence has no purpose other than this, that the world should have as many buddhas as quickly as possible before the politicians manage to commit a global suicide. Only a large number of buddhas around the world can create the atmosphere of peace and love and compassion, where war becomes absolutely irrelevant. I am in a special situation that no other buddha ever has been.
This book is dedicated to Anando in spite of her reluctance. She has behaved very unconsciously for these two days. First, I am always worried about it that Maneesha is not allowed to take a holiday, migraine or no migraine, because if she is absent even for one evening -- and I know she has this trouble of migraine for years -- somebody else has to take her place. But just to take her place for one day is dangerous. The taste of it, and then one starts thinking, "Why should I not continue?" It is almost as if you are made the king for one day. It will be difficult for your whole life.
So first she freaked out because I still addressed Maneesha, care of Anando. I could see her face and I could see her response. She did not like it, she wanted to be addressed directly. But I knew it was better to be "care of," because tomorrow she would be gone. The same trouble happened with Vimal. For a few days he was sitting with almost tears in his eyes. Once he has tasted the joy of asking me the questions, and then he has to give back the place, his kingdom is taken away. Now he has come back to his right mind. I did not want to disturb him again. That's why I ask Anando.
And I have my own ways of working. In every way I try to find out some secret which needs to be revealed to the person. Anando may not be aware that she is never nice to anybody who is nice to her. She becomes nasty. It is her wrong upbringing from her childhood that she has carried. Secondly, she is never happy to receive anything. It needs courage. Perhaps you may not be aware. One loves to give, because by giving you are higher, but one has to learn to receive. At least when you are sitting at the feet of your master, you have to learn to receive. It hurts the ego that you are on the receiving end, not on the giving end.
I wanted to see how she would receive it. She missed the point. First she freaked out about Maneesha's question, because she thought that Maneesha had indicated in it, that the horse came a little early and disturbed my speech. Because she was one half of the horse, she thought Maneesha was trying to raise the question again before the whole assembly, although there was no question of Maneesha raising it.
Maneesha was asking something else. She was trying to inquire about me, what my response was to this suddenness. That's why Avirbhava was not disturbed. She was the main part of the horse; Anando was just the back part. Avirbhava proved to be more alert and conscious, seeing that the question did not have anything to do with the coming in early. In fact the early coming was very good: it surprised everybody except me. But I am crazy anyway.
Nothing surprises me....
For thirty-five years continuously I have been looking for something to surprise me. Nothing surprises me. Even when a man a few years ago threw a knife at me, it did not surprise me. I just looked at the knife and I continued what I was doing. The man must have been surprised. I did not even report the case. I did not go to the court. The court had to send their representative just to ask me had such a thing happened?
I said, "It was not much, just a rotten old knife, and it has not hurt anybody. So fundamentally, nothing has happened, except the sound of the knife falling on the ground. Do you call it a crime?"
The man said, "You are strange. The police are putting the case before the court, and I have come here as a representative of the court because you refused to come."
I said, "In any case I would not be there. If the knife had killed me, I would not be there in the court. Now that the knife has not killed me, why should I be in the court?"
The man said, "What am I to say to the court?"
I said, "You just write down -- I will sign it -- that this case really happened: A man threw a knife; I heard the noise. For a moment I stopped speaking so that the hassle with the man and the police officers stopped. They took him away. I continued my work."
The horse coming as a surprise to everybody -- I really enjoyed it. The real Kalki, the Hindu white horse which is going to come within twelve years, the coming twelve years -- any time -- will not give a warning to you. It will come as suddenly as Avirbhava's horse came. So it was absolutely proper -- but Anando was hurt.
But I can understand Avirbhava's hurry. You should just imagine somebody inside a horse -- one wants to get out as quickly as possible. And now she is going to bring elephants and crocodiles... and she will have to be inside them! Obviously she was in a hurry because the horse might have broken in the middle. So as quickly as possible... It was a perfect performance.
Anando was not exactly disturbed by it; that was a very superficial thing. She was disturbed because I called Maneesha a better reporter, a better recorder than Ramakrishna had in Swami Vivekananda, or Socrates had in Plato. She became hurt because she is doing so much work. She is working hard on all the new books and their publication. She is in charge of the whole of publications and all of the construction that is going on in the ashram. Obviously she thought that Maneesha has been praised -- and a subtle jealousy, and the female mind... I wanted them to be exposed.
And the next day when I said that this new series was going to be dedicated to her, Anando freaked out even more -- so much so that she is suffering from a fever which is absolutely psychological, emotional. She was absolutely okay when she was sitting here, and just as she reached her room, she declared that she had a great cold coming. And immediately, because that is the time she comes to see me -- when I am taking my supper, she comes to see me -- she did not come. She really wanted to avoid me because I have seen something which she was hiding. Not only did she not come to me, but she even removed herself from Lao Tzu House to Krishna House, with an excuse that she was getting a cold. She phoned Nirvano to say that she was getting suspicious, and that by dedicating the new series to her, "Osho is trying to blackmail me."
This way you can see the difference between the disciples that Ma Tzu and Hyakujo had. Even if they were hit on their heads, they would bow down and touch the feet of the master. So much has changed in the world of consciousness. Man has fallen so low. For what should I blackmail? But just anger, the anger of being "care of," that anger became almost hysterical. Now whatever she is saying... again and again she has been phoning Nirvano asking, "What has Osho said about me?" I have not said anything. I waited for this question from Maneesha. I cannot take my word back.
You remember Ma Tzu -- he wouldn't remove his legs from the track. He allowed the disciple to run the cart over him and hurt his legs, but he would not move from this position. This book will be dedicated to Anando with the words, "In spite of herself." And I will be dedicating more books. I would love to dedicate books to all of you.
If time permits and existence allows, each buddha is going to have a book in his name as a respect and love from the master.
Now it is Anando's time.
Farmer O'Leary has two prize cows, Daisy and Buttercup.
One day, he borrows the neighbors' bull and puts it into the field with the cows. The bull does not show much interest in the cows -- seems to be a swami! -- and soon Farmer O'Leary gets bored and goes off for his lunch.
That afternoon, Father Fumble, the village priest, comes to the farmhouse for tea, so Farmer O'Leary calls his farmhand, Sean, and tells him to go out to the field and watch the bull. Sean is to let him know if the bull shows any interest in Daisy and Buttercup.
Mrs. O'Leary is just pouring Father Fumble a second cup of tea, when Sean comes bursting into the room and shouts, "The bull is screwing Daisy!"
Father Fumble almost chokes, and Farmer O'Leary drags Sean angrily into the kitchen.
"Listen here, you idiot!" snaps O'Leary. "You can't use language like that in front of the priest! Next time, say something like, `The bull has surprised Daisy.' Now, get back outside!"
Ten minutes later, Sean comes bursting into the room in a high state of excitement.
"Farmer O'Leary!" he stammers. "The bull, er... the bull's, ah....!" But he cannot finish his sentence.
"Do you mean," says O'Leary, with a knowing look, "that the bull has surprised Buttercup?"
"I'll say he has surprised Buttercup!" shouts Sean. "He is screwing Daisy again!"
Paddy has been training his horse, Kalki, for the big race. He has been giving it lots of exercise and plenty of good food, but on the day of the race, Paddy is still worried that Kalki will not run fast enough.
Just before the horses go to the start, Paddy quietly gives Kalki a couple of pep pills. Father Murphy, who has been watching this, goes up to Paddy.
"I hope you are not giving your horse any illegal drugs?" says the old priest.
"Certainly not, Father, I was just giving him a vitamin C," says Paddy, popping one of the pills into his own mouth. "Here, try one yourself."
Father Murphy swallows one of the pep pills, thinking that it is a vitamin, and walks off, apparently satisfied.
Paddy turns to Seamus, who is going to ride Kalki in the race.
"Don't worry, Seamus, you are going to win for sure!" says Paddy, confidently. "Nothing can pass you in this race, except me or Father Murphy!"
George Grope is fifty years old, and has spent the best years of his life with a woman whose constant nagging and criticism has driven him mad.
Now, in poor health, and with his business on the verge of collapse, he makes up his mind. He goes to the dining room, gets up on a chair, fastens his tie around the chandelier, and is just about to end it all. At that moment his wife enters the room.
"George!" she cries in shock at the scene before her. "You idiot! That is your best tie!"
Chester Cheese is walking through the forest one day, with his teenage kid, Charlie.
They are enjoying the stroll very much, when suddenly Charlie sees a pair of black satin panties lying on the path.
"Hey, Dad," exclaims Charlie. "Look! A young girl's panties!"
"Well, son," says Chester, in a fatherly voice. "I'd say those probably belong to an older woman, not a young girl."
"Come on, Dad, " replies Charlie. "For sure these are a young girl's panties!"
"I don't think so, Charlie," says Chester, stiffly.
Just then Father Finger walks up.
"Excuse me, gentlemen," he says. "But I couldn't help overhearing your discussion. Perhaps I can settle the matter for you."
Then Father Finger raises his eyebrows, takes the panties, examines them closely, this way and that way.
"Well," says Father Finger, popping the panties into his pocket, "I don't know which of you is right, but I do know one thing. She is not a member of my church!"
Okay, Nivedano...
(Drumbeat)
(Gibberish)
Nivedano...
Be silent. Close your eyes. Feel your body to be completely frozen.
Now look inward with tremendous urgency as if this is the last moment of your life. Only with this urgency can you reach to the source of your life. And at the source of your life you are a buddha. From there on, opens the whole universe, your own space, unlimited.
The buddha is the door.
You have to go beyond it.
But first reach to the door... deeper and deeper....
This is a beautiful evening. The rain has stopped just to give you absolute silence. And the silence of ten thousand buddhas is a tremendous energy field. Don't miss this moment.
To make it clear, Anando...
(Drumbeat)
Just watch your body, your mind, separate from you. You are the watcher. In this witnessing you become the buddha. You have always been the buddha. You discover it. So much dust has gathered on it. Remove the dust. Let it become a pure mirror. This is your ultimate nature.
The evening has become more juicy and more beautiful. The time has stopped -- you are floating in space like a cloud in absolute freedom.
Nivedano...
(Drumbeat)
Come back, silently, peacefully, with a grace and sit down like a buddha just for a few moments recollecting the experience.
You have to live this experience for your whole twenty-four hours, just like breathing -- doing anything you go on continuously breathing. This remembrance of being a buddha has to become just like an undercurrent. It is always there whether you are sitting, walking, waking or sleeping -- in action, in inaction, in speaking, in silence, but one thing remains continuously in you -- the remembrance of your ultimate nature.
Before the celebration I have to remind Nivedano that I called Anando. That is the name of your drum.
Okay, Maneesha?
Yes, Osho.
Can we celebrate the ten thousand buddhas?
Yes, Osho!
Next: Chapter 2: The great pearl
Energy Enhancement Enlightened Texts Zen Hyakujo
Chapters:
Osho - Talks on Zen: Hyakujo: The Everest of Zen, with Basho's Haikus, Chapter 1: The language of suddenness, WHEN HYAKUJO FIRST ARRIVED AT CHIANG-SI TO PAY HIS RESPECTS TO MA TZU, MA TZU INQUIRED, 'FROM WHERE HAVE YOU COME?' at energyenhancement.org
Osho - Talks on Zen: Hyakujo: The Everest of Zen, with Basho's Haikus, Chapter 1: The language of suddenness, Question 1, MANY DISCIPLES HAVE DEDICATED BOOKS TO THEIR MASTER OUT OF LOVE AND GRATITUDE. BUT CHARACTERISTICALLY, YOU HAVE TURNED TRADITION ON ITS HEAD BY DEDICATING TWO OF YOUR DISCOURSE SERIES TO SPECIFIC DISCIPLES. HAS ANY MASTER LOVED HIS DISCIPLES AS MUCH AS YOU SEEM TO LOVE US? at energyenhancement.org
Osho - Talks on Zen: Hyakujo: The Everest of Zen, with Basho's Haikus, Chapter 2: The great pearl, ON ONE OCCASION HYAKUJO SAID, 'IF WE ARE ATTACHED TO A VIEWPOINT THAT WE ARE NATURALLY THE BUDDHAS AND THAT WE ARE IN ZEN BUDDHISM BECAUSE WE ARE ORIGINALLY PURE AND ENLIGHTENED, WE ARE AMONG NON-BUDDHISTS WHO DENY CAUSALITY' at energyenhancement.org
Osho - Talks on Zen: Hyakujo: The Everest of Zen, with Basho's Haikus, Chapter 2: The great pearl, Question 1, I WOULD BE DISHONEST IF I DID NOT SAY I ALSO HAVE BEEN JEALOUS, I HAVE NOT ALWAYS RECEIVED FROM YOU WITH GRACE; I HAVE WANTED TO BE YOUR FAVORITE GIRL. I DON'T THINK I HAVE ACTED ON THOSE FEELINGS, BUT PERHAPS I HAVE DONE IN SUBTLE WAYS at energyenhancement.org
Osho - Talks on Zen: Hyakujo: The Everest of Zen, with Basho's Haikus, Chapter 3: In search of a lost treasure, THE QUESTION WAS ASKED OF HYAKUJO: 'THERE IS A SUTRA WHICH SAYS THAT NOT TO PERCEIVE ANYTHING IN TERMS OF BEING OR NON-BEING IS TRUE DELIVERANCE. WHAT DOES THAT MEAN?' at energyenhancement.org
Osho - Talks on Zen: Hyakujo: The Everest of Zen, with Basho's Haikus, Chapter 3: In search of a lost treasure, Question 1, ALTHOUGH BASHO'S HAIKUS ARE EXQUISITE, THEY MOSTLY TEND TO BE A BIT MELANCHOLY. I HAVE ALWAYS ASSOCIATED ENLIGHTENMENT WITH LEVITY, IF NOT ECSTASY -- ALTHOUGH IS SEEMS THAT KRISHNAMURTI DIDN'T EXTRACT MUCH ENJOYMENT FROM HIS ENLIGHTENMENT. WAS BASHO ENLIGHTENED? at energyenhancement.org
Osho - Talks on Zen: Hyakujo: The Everest of Zen, with Basho's Haikus, Chapter 4: Lie down and witness, ONE DAY WHEN HYAKUJO WAS TO GIVE HIS DAILY DISCOURSES TO HIS DISCIPLES, HE BEGAN BY SAYING, 'I AM NO ZEN ADEPT. I HAVE NOT A SINGLE THING TO OFFER ANYONE, SO I MUST NOT KEEP YOU STANDING HERE. GO AND TAKE A REST' at energyenhancement.org
Osho - Talks on Zen: Hyakujo: The Everest of Zen, with Basho's Haikus, Chapter 4: Lie down and witness, Question 1, LAST NIGHT, AFTER HEARING YOU SPEAK SO LUCIDLY, SO BEAUTIFULLY ON HYAKUJO'S SOMEWHAT TORTUROUS PASSAGE, I FELT THAT YOU ARE NOT ONLY WORKING ON YOUR DISCIPLES, YOU ARE TRANSFORMING THE MASTERS OF THE PAST TOO at energyenhancement.org
Osho - Talks on Zen: Hyakujo: The Everest of Zen, with Basho's Haikus, Chapter 5: Don't be idiot buddhas, ONCE, HYAKUJO WAS OUT IN THE FIELDS WORKING ALONGSIDE HIS DISCIPLES. JUST AS A CERTAIN MONK LIFTED UP HIS HOE, THE SOUND OF THE DINNER DRUM COULD BE HEARD at energyenhancement.org
Osho - Talks on Zen: Hyakujo: The Everest of Zen, with Basho's Haikus, Chapter 5: Don't be idiot buddhas, Question 1, IT SEEMS THAT IF WE ARE EVEN TO BEGIN THE JOURNEY, WE NEED TO FEEL CONNECTED TO YOU. IF WE ARE TO persevere WE NEED TO love YOU. BUT ONCE WE HAVE SOMETHING WE CAN DEFINE AS A RELATIONSHIP WITH YOU, YOU WILL TELL US TO DROP IT at energyenhancement.org
Osho - Talks on Zen: Hyakujo: The Everest of Zen, with Basho's Haikus, Chapter 6: The disciple is the seed, ONCE A TAOIST, HAPPENING TO PASS BY HYAKUJO'S MONASTERY, ASKED, 'IS THERE ANYTHING IN THE WORLD MORE MARVELOUS THAN THE FORCES OF NATURE?' at energyenhancement.org
Osho - Talks on Zen: Hyakujo: The Everest of Zen, with Basho's Haikus, Chapter 6: The disciple is the seed, Question 1, WHAT IS THE URGE TO UNDERSTAND? at energyenhancement.org
Osho - Talks on Zen: Hyakujo: The Everest of Zen, with Basho's Haikus, Chapter Chapter 7: The last milestone, ON ONE OCCASION, YUN KUANG ASKED HYAKUJO, 'MASTER, DO YOU KNOW WHERE YOU WILL BE REBORN?' at energyenhancement.org
Osho - Talks on Zen: Hyakujo: The Everest of Zen, with Basho's Haikus, Chapter 7: The last milestone, Question 1, IS THERE JUST ONE REALITY, AND CAN IT BE PERCEIVED ONLY BY NO-MIND? at energyenhancement.org
Osho - Talks on Zen: Hyakujo: The Everest of Zen, with Basho's Haikus, Chapter 8: What words cannot say..., A MONK ASKED, 'ARE WORDS AND SPEECH ALSO MIND?' HYAKUJO REPLIED, 'WORDS AND SPEECH ARE CONCURRENT CAUSES; THEY ARE NOT MIND' at energyenhancement.org
Osho - Talks on Zen: Hyakujo: The Everest of Zen, with Basho's Haikus, Chapter 8: What words cannot say..., Question 1, YOU WON'T BREAK OUR HEARTS AND RETURN TO YOUR ROOM, NEVER TO VENTURE OUT AGAIN, WILL YOU? IT IS SELFISH OF ME, BUT I CONTINUE HOPING THAT WE CAN KEEP YOU WITH US -- THAT SARDARJI WILL KEEP LAUGHING AND AVIRBHAVA WILL KEEP SCREAMING; THAT THE SUTRAS WILL BE JUICY ENOUGH, AND THAT THE QUESTIONS MAKE IT CLEAR THAT WE VERY MUCH STILL NEED YOU HERE WITH US at energyenhancement.org
Osho - Talks on Zen: Hyakujo: The Everest of Zen, with Basho's Haikus, Chapter 9: The Buddha is your empty heart, ON ONE OCCASION, ISAN, GOHO AND UNGAN, WERE ALL STANDING TOGETHER IN ATTENDANCE ON HYAKUJO at energyenhancement.org
Osho - Talks on Zen: Hyakujo: The Everest of Zen, with Basho's Haikus, Chapter 9: The Buddha is your empty heart, Question 1, ARE THERE ANY OCCASIONS WHEN IT IS NECESSARY FOR DISCIPLES TO PROTECT THEIR MASTER FROM HIMSELF? at energyenhancement.org