OSHO
ZEN
HYAKUJO: THE EVEREST OF ZEN, WITH BASHO'S HAIKUS
Chapter 2: The great pearl
Question 1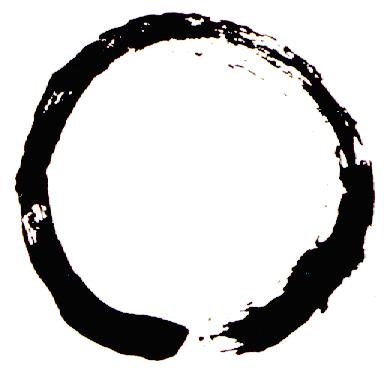 Energy Enhancement Enlightened Texts Zen Hyakujo
Question 1
A question by Maneesha:
BELOVED OSHO,
I WOULD BE DISHONEST IF I DID NOT SAY I ALSO HAVE BEEN JEALOUS, I HAVE NOT ALWAYS RECEIVED FROM YOU WITH GRACE; I HAVE WANTED TO BE YOUR FAVORITE GIRL. I DON'T THINK I HAVE ACTED ON THOSE FEELINGS, BUT PERHAPS I HAVE DONE IN SUBTLE WAYS.
IT IS NOT THAT I ONLY BECAME AWARE OF ALL THIS LAST NIGHT, OR THAT BY YOUR POINTING OUT CERTAIN THINGS ABOUT ANANDO MEANT THE REST OF US WERE FREE OF THOSE SAME THINGS. I KNOW WE ALL HAVE THE SAME FAILINGS. I KNOW, YOU KNOW, BUT I JUST NEEDED TO SAY ALL THIS TO YOU -- FOR MY SAKE, IF YOU WILL ALLOW ME, OR FOR THE RECORD.
Maneesha, this has to be very clearly understood: that whatever I am saying to one person, everybody has to look within himself to see whether that is applicable to him also. I cannot talk to each of you differently; it is an impossibility. Every person to me is symbolic. What I said about Anando is just symbolic -- you all have to ponder over it. Perhaps the same tendencies, the same unconscious feelings, jealousies, greed, ambitions may be hiding in you. Most probably they are. Before enlightenment you all have this barbarous mind. Anando is not an exception, nor are you an exception, Maneesha -- and it is perfectly okay.
What is needed is an awareness that these things are within you. Nothing has to be done. Just watch them and they will wash out. But what do people do? -- they do something to the contrary. They repress them, they pretend that "others may have jealousies we don't have." They pretend that "others may have anger we don't have." They go on repressing all their ugliness in the unconsciousness. This is not going to be helpful in your awakening. These unconscious repressed desires, feelings, attitudes, are all going to become a hindrance to your enlightenment.
My effort, in different ways -- answering your question, or telling a joke, or talking about strange sutras of strange people -- is simply to help you face your own repressed mind. Once you encounter it, then the only secret to be learned, which I teach every time, is to witness them. Don't do anything. Don't condemn them, otherwise they will immediately go deeper into the darkness of your unconscious mind. Don't condemn them, don't appreciate them, otherwise they will become attached to your conscious mind. Don't make any judgment for or against.
Just witness, as if you have nothing to do with them. Witnessing is the greatest device that has been found by the whole of the past enlightened people. It cuts through all rubbish just like a sharp sword: don't get identified; just remain aloof and watch. Anger is there, take note of it and just watch how it arises, how it spreads like a mushroom, how it covers you like a blinding force; how it starts making decisions for you, how you start acting according to it.
Just watch, and you will be surprised that it cannot do anything. As it arises, it will not even go to the point of becoming a mushroom because it can become a mushroom only by nourishment. By watching it you have cut the very nourishment. It will arise as a crippled anger which cannot stand up even, and soon it will disperse like mist. It has no reality except your identification.
It is good of you, Maneesha, that you have taken note of it. Anando is also calming down. Here you are to become buddhas, not stupid buddhas, because such a thing has never existed in the world -- a stupid buddha.
Now it is Anando's time....
Princess Diana and Princess Fergie are the wives of Prince Charles and Prince Andrew of England.
Soon after Fergie has arrived to live in the palace, Diana offers to take her on a bicycle tour of the London sights. Fergie is delighted and they set off, pedaling through the palace gates.
Diana knows all the shortcuts through the London traffic, and soon the two princesses are bouncing along on their bicycles over the cobblestones in the small back streets.
"Wow! Di!" cries Fergie, giggling and squealing, her ample body vibrating like jelly, "I have never come this way before!"
"Really?" says Di, "I guess it must be the cobblestones!"
Big Leroy, the black American football player, and Rabbi Sapperstein, the Jew, are riding in a train together.
It is a hot, sunny day, and there are many flies, lazily buzzing around the compartment. Suddenly, a fly lands on the Rabbi's sleeve and he brushes it off in disgust.
A few moments later another fly lands, but this time on Big Leroy's leg. The giant football star moves like lightning, and grabs the fly between two of his huge black fingers.
Leroy then slowly pulls off both the fly's wings and pops it into his mouth, chewing it contentedly.
Soon afterwards, a fly lands on the Jew's sleeve again. But this time, instead of brushing it off, the rabbi grabs it between two of his long, boney fingers.
He then slowly removes both of its wings, leans over to Leroy, and says, "Wanna buy a fly?"
Kowalski is out for a drive in the countryside in his new Chevrolet car. He stops on the top of a hill and gets out to admire the view.
It is a beautiful, peaceful scene, with a black horse and a white horse chomping grass in the field nearby.
Satisfied and breathing a deep sigh, Kowalski gets back into his Chevy, but the car will not start.
He gets out, walks around to the front of the car, opens the hood and looks in dismay at the engine.
He is wondering what to do when the white horse trots up, leans over the fence, sticks his head under the hood, and says in a deep voice, "Your spark plugs need cleaning!"
Kowalski is shocked and terrified, and runs off to the nearby farmhouse. He sees the farmer in the yard, and rushes up to him.
"My car has broken down," stammers Kowalski, "and one of your horses told me to clean the spark plugs!"
"Really?" replies the farmer. "Was it the black horse or the white one?"
"The white one," gasps Kowalski.
"Pity," says the farmer. "The white one does not know a thing about cars!"
Doctor Braino is a world-famous shrink who specialized in secretly treating neurotic American politicians. It is a hopeless job, but he carries on anyway.
One day, Senator Donald Dixteen, the thirty-five-year-old Republican Fundamentalist Christian Reagan-lover is sitting nervously in Dr. Braino's office.
"What can I do for you?" Braino asks Donald.
Donald looks around to make sure no one can hear him. Then, in a quiet voice he says, "Doc, I'm not having any luck with women. I try to be cool... I try to be real hip cat, but I'm afraid that I'm a premature ejaculator... I always come too soon."
"Well," says Braino, studying Donald closely, "when does this usually occur with the woman?"
"Well," says Donald, looking around, "Usually between `Hello,' and `What is your sun sign?'"
Anando...
(Drumbeat)
(Gibberish)
(Drumbeat)
Be silent. Close your eyes. Feel your body to be completely frozen. Now look inwards with great urgency, as if this is the last moment of your life.
Deeper and deeper... Collect your whole consciousness as an arrow and go in search for your very source of life. There you will find the buddha.
Sitting silently, this is your real being. This moment you all have become buddhas.
To make it more clear...
Nivedano...
(Drumbeat)
Relax. Watch your body as separate from you. Watch your mind as separate from you. You are just a witness, just a mirror reflecting all that is around you. A buddha is nothing but a mirror. From this point, of being a buddha, a witness, you can take another jump and dissolve yourself into the oceanic consciousness. Just within two steps, the journey is complete.
Thousands of flowers are showering on you. A deep silence, an immense space utterly empty but full of great potentialities. In this space you will find the truth, the meaning of life, the beauty of everything in existence, and the goodness of every being. Those who have come to this point will carry it around the clock, just hiding it behind their heartbeats.
So act like a buddha: eat when you are hungry, but don't think of anything else. When you are tired, go to sleep, but don't ponder about a thousand worries. Each moment should be given your total consciousness -- and you have come home.
It is so peaceful, it is so blissful. This evening was already beautiful, but ten thousand buddhas make it a miracle, a magic moment. If you are intelligent enough, you can make this moment a transformation of your whole life.
Now, gather all the flowers, the fragrance of this moment -- you have to bring it back.
Collect all the great pearls.
You are at the very source of everything.
Nivedano...
(Drumbeat)
Come back, but come back as a buddha, witnessing silently. Get up, sit down for a few moments, recollecting the space you have traveled, recollecting the experience that you have encountered. This has to become your very life-style.
Not for a single moment be suspicious about your buddhahood.
Your buddhahood is your nature, act accordingly. The more you act accordingly, the more is the possibility of a growing trust in your being a buddha. The more intelligent can instantly pass through the transformation. The old self dies away, and a totally fresh new being is born -- innocent, pure.
Okay, Maneesha?
Yes, Osho.
Can we celebrate the ten thousand buddhas?
Next: Chapter 3: In search of a lost treasure
Energy Enhancement Enlightened Texts Zen Hyakujo
Chapters:
Osho - Talks on Zen: Hyakujo: The Everest of Zen, with Basho's Haikus, Chapter 1: The language of suddenness, WHEN HYAKUJO FIRST ARRIVED AT CHIANG-SI TO PAY HIS RESPECTS TO MA TZU, MA TZU INQUIRED, 'FROM WHERE HAVE YOU COME?' at energyenhancement.org
Osho - Talks on Zen: Hyakujo: The Everest of Zen, with Basho's Haikus, Chapter 1: The language of suddenness, Question 1, MANY DISCIPLES HAVE DEDICATED BOOKS TO THEIR MASTER OUT OF LOVE AND GRATITUDE. BUT CHARACTERISTICALLY, YOU HAVE TURNED TRADITION ON ITS HEAD BY DEDICATING TWO OF YOUR DISCOURSE SERIES TO SPECIFIC DISCIPLES. HAS ANY MASTER LOVED HIS DISCIPLES AS MUCH AS YOU SEEM TO LOVE US? at energyenhancement.org
Osho - Talks on Zen: Hyakujo: The Everest of Zen, with Basho's Haikus, Chapter 2: The great pearl, ON ONE OCCASION HYAKUJO SAID, 'IF WE ARE ATTACHED TO A VIEWPOINT THAT WE ARE NATURALLY THE BUDDHAS AND THAT WE ARE IN ZEN BUDDHISM BECAUSE WE ARE ORIGINALLY PURE AND ENLIGHTENED, WE ARE AMONG NON-BUDDHISTS WHO DENY CAUSALITY' at energyenhancement.org
Osho - Talks on Zen: Hyakujo: The Everest of Zen, with Basho's Haikus, Chapter 2: The great pearl, Question 1, I WOULD BE DISHONEST IF I DID NOT SAY I ALSO HAVE BEEN JEALOUS, I HAVE NOT ALWAYS RECEIVED FROM YOU WITH GRACE; I HAVE WANTED TO BE YOUR FAVORITE GIRL. I DON'T THINK I HAVE ACTED ON THOSE FEELINGS, BUT PERHAPS I HAVE DONE IN SUBTLE WAYS at energyenhancement.org
Osho - Talks on Zen: Hyakujo: The Everest of Zen, with Basho's Haikus, Chapter 3: In search of a lost treasure, THE QUESTION WAS ASKED OF HYAKUJO: 'THERE IS A SUTRA WHICH SAYS THAT NOT TO PERCEIVE ANYTHING IN TERMS OF BEING OR NON-BEING IS TRUE DELIVERANCE. WHAT DOES THAT MEAN?' at energyenhancement.org
Osho - Talks on Zen: Hyakujo: The Everest of Zen, with Basho's Haikus, Chapter 3: In search of a lost treasure, Question 1, ALTHOUGH BASHO'S HAIKUS ARE EXQUISITE, THEY MOSTLY TEND TO BE A BIT MELANCHOLY. I HAVE ALWAYS ASSOCIATED ENLIGHTENMENT WITH LEVITY, IF NOT ECSTASY -- ALTHOUGH IS SEEMS THAT KRISHNAMURTI DIDN'T EXTRACT MUCH ENJOYMENT FROM HIS ENLIGHTENMENT. WAS BASHO ENLIGHTENED? at energyenhancement.org
Osho - Talks on Zen: Hyakujo: The Everest of Zen, with Basho's Haikus, Chapter 4: Lie down and witness, ONE DAY WHEN HYAKUJO WAS TO GIVE HIS DAILY DISCOURSES TO HIS DISCIPLES, HE BEGAN BY SAYING, 'I AM NO ZEN ADEPT. I HAVE NOT A SINGLE THING TO OFFER ANYONE, SO I MUST NOT KEEP YOU STANDING HERE. GO AND TAKE A REST' at energyenhancement.org
Osho - Talks on Zen: Hyakujo: The Everest of Zen, with Basho's Haikus, Chapter 4: Lie down and witness, Question 1, LAST NIGHT, AFTER HEARING YOU SPEAK SO LUCIDLY, SO BEAUTIFULLY ON HYAKUJO'S SOMEWHAT TORTUROUS PASSAGE, I FELT THAT YOU ARE NOT ONLY WORKING ON YOUR DISCIPLES, YOU ARE TRANSFORMING THE MASTERS OF THE PAST TOO at energyenhancement.org
Osho - Talks on Zen: Hyakujo: The Everest of Zen, with Basho's Haikus, Chapter 5: Don't be idiot buddhas, ONCE, HYAKUJO WAS OUT IN THE FIELDS WORKING ALONGSIDE HIS DISCIPLES. JUST AS A CERTAIN MONK LIFTED UP HIS HOE, THE SOUND OF THE DINNER DRUM COULD BE HEARD at energyenhancement.org
Osho - Talks on Zen: Hyakujo: The Everest of Zen, with Basho's Haikus, Chapter 5: Don't be idiot buddhas, Question 1, IT SEEMS THAT IF WE ARE EVEN TO BEGIN THE JOURNEY, WE NEED TO FEEL CONNECTED TO YOU. IF WE ARE TO persevere WE NEED TO love YOU. BUT ONCE WE HAVE SOMETHING WE CAN DEFINE AS A RELATIONSHIP WITH YOU, YOU WILL TELL US TO DROP IT at energyenhancement.org
Osho - Talks on Zen: Hyakujo: The Everest of Zen, with Basho's Haikus, Chapter 6: The disciple is the seed, ONCE A TAOIST, HAPPENING TO PASS BY HYAKUJO'S MONASTERY, ASKED, 'IS THERE ANYTHING IN THE WORLD MORE MARVELOUS THAN THE FORCES OF NATURE?' at energyenhancement.org
Osho - Talks on Zen: Hyakujo: The Everest of Zen, with Basho's Haikus, Chapter 6: The disciple is the seed, Question 1, WHAT IS THE URGE TO UNDERSTAND? at energyenhancement.org
Osho - Talks on Zen: Hyakujo: The Everest of Zen, with Basho's Haikus, Chapter Chapter 7: The last milestone, ON ONE OCCASION, YUN KUANG ASKED HYAKUJO, 'MASTER, DO YOU KNOW WHERE YOU WILL BE REBORN?' at energyenhancement.org
Osho - Talks on Zen: Hyakujo: The Everest of Zen, with Basho's Haikus, Chapter 7: The last milestone, Question 1, IS THERE JUST ONE REALITY, AND CAN IT BE PERCEIVED ONLY BY NO-MIND? at energyenhancement.org
Osho - Talks on Zen: Hyakujo: The Everest of Zen, with Basho's Haikus, Chapter 8: What words cannot say..., A MONK ASKED, 'ARE WORDS AND SPEECH ALSO MIND?' HYAKUJO REPLIED, 'WORDS AND SPEECH ARE CONCURRENT CAUSES; THEY ARE NOT MIND' at energyenhancement.org
Osho - Talks on Zen: Hyakujo: The Everest of Zen, with Basho's Haikus, Chapter 8: What words cannot say..., Question 1, YOU WON'T BREAK OUR HEARTS AND RETURN TO YOUR ROOM, NEVER TO VENTURE OUT AGAIN, WILL YOU? IT IS SELFISH OF ME, BUT I CONTINUE HOPING THAT WE CAN KEEP YOU WITH US -- THAT SARDARJI WILL KEEP LAUGHING AND AVIRBHAVA WILL KEEP SCREAMING; THAT THE SUTRAS WILL BE JUICY ENOUGH, AND THAT THE QUESTIONS MAKE IT CLEAR THAT WE VERY MUCH STILL NEED YOU HERE WITH US at energyenhancement.org
Osho - Talks on Zen: Hyakujo: The Everest of Zen, with Basho's Haikus, Chapter 9: The Buddha is your empty heart, ON ONE OCCASION, ISAN, GOHO AND UNGAN, WERE ALL STANDING TOGETHER IN ATTENDANCE ON HYAKUJO at energyenhancement.org
Osho - Talks on Zen: Hyakujo: The Everest of Zen, with Basho's Haikus, Chapter 9: The Buddha is your empty heart, Question 1, ARE THERE ANY OCCASIONS WHEN IT IS NECESSARY FOR DISCIPLES TO PROTECT THEIR MASTER FROM HIMSELF? at energyenhancement.org