OSHO
ZEN
HYAKUJO: THE EVEREST OF ZEN, WITH BASHO'S HAIKUS
Chapter 4: Lie down and witness
Question 1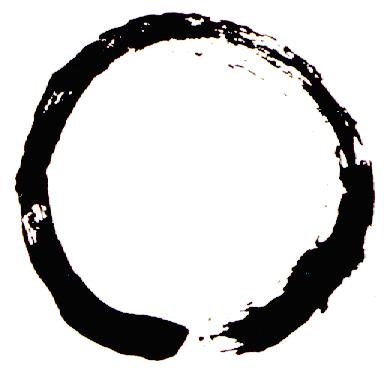 Energy Enhancement Enlightened Texts Zen Hyakujo
Question 1
Maneesha has asked:
BELOVED OSHO,
LAST NIGHT, AFTER HEARING YOU SPEAK SO LUCIDLY, SO BEAUTIFULLY ON HYAKUJO'S SOMEWHAT TORTUROUS PASSAGE, I FELT THAT YOU ARE NOT ONLY WORKING ON YOUR DISCIPLES, YOU ARE TRANSFORMING THE MASTERS OF THE PAST TOO.
I RECOGNIZE THAT MY BUSINESS HERE IS TO FIND OUT WHO I AM, BUT IN MOMENTS LIKE LAST NIGHT, THE QUESTION OVERWHELMS ME: WHO IS THIS BEING WE KNOW AS OSHO?
I HAVE ASKED THIS QUESTION BEFORE. YOU HAVE ANSWERED, BUT THE QUESTION STILL REMAINS.
Maneesha, the question will remain until you know yourself. No answer is going to satisfy you, but the moment you know yourself, you will know me too. Knowing oneself is knowing all the buddhas -- not only me, all the buddhas of the past, of the present, of the future. And knowing yourself, you also know the sleeping buddhas. Then your clarity, your perception will be total.
There are only two categories in the world: awakened buddhas and asleep buddhas. The awakened buddhas can understand the two categories, the two layers, the sleeping buddhas cannot understand the second one. They are of course asleep, so they cannot understand the awakened. The awakened can understand them, and the awakened can understand other awakened ones.
You are right. When I am speaking on any master, I don't care a bit whether that master really meant what I am saying. If he did not mean this, he should have meant it. My clarity shows me absolutely what should be the case. So it does not matter on whom I am speaking, I am speaking, in fact, only on myself. There is no other way. Hyakujo can disagree, but it will be very difficult for him to disagree with me.
A thousand years have passed. I have gathered more experience in these one thousand years. Hyakujo will have to listen to me. Enlightenment is also a growing process. It is not an event, but a process. Every enlightened person reaches higher into the realms of being. It is not only a time gap, it is also a gap of clarity.
I can see much more clearly, much more definitely with all the possible implications which were not available to Hyakujo, because Hyakujo knew nothing about Sigmund Freud, knew nothing about Albert Einstein, knew nothing about Carl Gustav Jung... These people have created such new original approaches to man's being, although they are all stuck at the mind.
But this century we understand mind more than any century before. And if you are a meditator, then you can understand the no-mind also more, because your understanding of the mind and the unconscious layers of the mind is far more accurate and more scientific. The difference is simply between a bullock cart and a Rolls Royce. They belong to the same lineage. A Rolls Royce is the bullock cart refined and refined and refined... then it becomes a Rolls Royce. Hyakujo belongs to the age of bullock carts -- a man of tremendous understanding, but don't hope that he can fix a Rolls Royce. He can only fix a bullock cart perfectly well.
So when I am speaking on these people, I cannot remain just confined to their meaning. I have to raise the meaning of their statements to the heights of my consciousness. As far as I am concerned I have never spoken on anybody else other than myself. These are just excuses -- Hyakujo or Ma Tzu... These are just excuses so that I can say to you things about humanity which have been forgotten completely. But when I say something, I make it as grand and as great as possible.
Now it is Anando time.
Before I ask Nivedano, I have to change the dedication of this series again, and I hope I will not have to change it again. Now the dedication will be: Dedicated to Anando who has gone astray and has come back home.
Now, Anando,
(Drumbeat)
(Gibberish)
(Drumbeat)
Be silent, close your eyes. Feel your body to be completely frozen. Now look inwards with tremendous urgency as if this is the last moment of your life. Gather all your consciousness. It becomes like an arrow reaching to the very center of your being.
This center is the only unmoving part in the universe. Everything is changing around it. Only this center remains unchanging. Its only quality is single: that is witnessing. It has no other qualities. It is just a mirror.
To make it more clear...
Nivedano...
(Drumbeat)
Relax, watch the body as separate, the mind as separate. You are just a witness. Dive deep in your witnessing. The buddha is another name of witnessing.
The evening was beautiful in itself, but you have given it all your splendor of silence. You have made it more beautiful by your witnessing. It is going to prove a milestone in your life.
Just gather all the flowers and the fragrance from this silent space, so that you can bring it from the center to the circumference, so that you can live as a buddha in the ordinary life without any hesitation, without any doubt, without any suspicion.
All the buddhas are pointing to only one truth: that every being intrinsically is a buddha. In silent witnessing you come across yourself. Don't lose the thread.
When you come back, bring the buddha with you. This is what Buddha calls suchness. This is why he is called tathagat. This moment you have all dissolved into an ocean of witnessing.
All separation is dropped.
You are no more -- only existence is.
Rejoice in this transformation,
Nivedano...
(Drumbeat)
Come back, but bring all the fragrance with you. You have to live it twenty-four hours.
Sit silently for a few moments, without any doubt you are the buddha -- a living buddha. It is your intrinsic nature.
Today everything has gone upside down, but it is a good experience. Every day you used to laugh before being a buddha. Today you have to laugh after being a buddha.
Anando, this is your time....
Hamish MacTavish goes out fishing in his old row boat.
He sits, gently rocking on the waves all day, but doesn't catch a thing. He is just about to pack up and row back to the shore, when he feels a little nibble on his line. He hauls in the line, but all he has caught is a tiny little silver cod -- not even enough for a mouthful.
Not wanting to go home empty-handed, Hamish is about to throw the fish into his bag, when it opens its tiny mouth and says, "Stop! I am Dagon, the God of the Cod. And if you save my life, I will grant you three wishes."
Hamish is amazed and can't believe his luck. He is about to give his first wish when Dagon says, "Stop! Remember, I am a very compassionate god, and whatever you wish for, your worst enemy will get double."
"Okay," says Hamish. "My first wish is for one million dollars."
"Granted," replies the God of the cod. "But Paddy Murphy gets two million."
"Okay," says Hamish. "My second wish is for a hundred beautiful women to look after me."
"Granted," says Dagon. "But Paddy gets two hundred."
"Okay," says Hamish. "And for my third wish, I would like you to painlessly remove one of my balls!"
Fading American president, Ronald Reagan, and his pal, Pope the Polack, are sunbathing on the beach in the south of France. Suddenly, a beautiful looking girl strolls by and winks at the Polack pope.
Nervously, the Polack turns to Ronald for advice.
"What should I do?" asks the pope.
"Quick," says Ronnie, his eyes twitching, "wink back!"
So Pope the Polack winks back.
Then the girl winks again, and smiles a big grin at the Polack.
"Jesus Christ!" exclaims the pope, sitting straight up. "Now what do I do?"
"Quick, you idiot," cries the ancient president, "wink and smile back at her!"
So Pope the Polack winks and smiles.
At this, the girl slowly removes her bikini top, and then seductively takes off her panties, dropping them in the sand.
"Wow!" slobbers the pope. "What in God's name do I do now?"
Ronald is shaking with excitement and he says, "Hey, man, just show her your nuts!"
"What?" cries the Polack pope, frantically searching his pocket. "I've eaten all my nuts!"
Ed, the Oregonian rancher, drives into Fossil to buy a new tractor, and wants to get a present for Mabel, his wife.
Very nervous, he goes along to the lingerie shop and walks up to the pretty salesgirl.
"Can I help you, sir?" asks the girl.
Ed points to a bra on a dummy, blushes, and stammers, "I wanna buy one of those things."
"Certainly, sir," replies the girl. "What size?"
"Size?" gasps Ed. "Ah! My God! I don't know!"
"Well," says the girl, helpfully, "are they like coconuts?"
"Oh no!" replies Ed.
"Well then, are they like grapefruits?" she asks.
"No, not at all," replies Ed.
"Oranges then," suggests the girl.
"No," replies Ed.
"Lemons?" she asks.
"Lemons?" repeats Ed. "Ah, no!"
"Well then, how about eggs," suggests the girl.
"Eggs... yes, eggs!" says Ed, confidently -- "fried eggs!"
Okay, Maneesha?
Yes, Osho.
Can we celebrate?
Yes, Osho!
Next: Chapter 5: Don't be idiot buddhas
Energy Enhancement Enlightened Texts Zen Hyakujo
Chapters:
Osho - Talks on Zen: Hyakujo: The Everest of Zen, with Basho's Haikus, Chapter 1: The language of suddenness, WHEN HYAKUJO FIRST ARRIVED AT CHIANG-SI TO PAY HIS RESPECTS TO MA TZU, MA TZU INQUIRED, 'FROM WHERE HAVE YOU COME?' at energyenhancement.org
Osho - Talks on Zen: Hyakujo: The Everest of Zen, with Basho's Haikus, Chapter 1: The language of suddenness, Question 1, MANY DISCIPLES HAVE DEDICATED BOOKS TO THEIR MASTER OUT OF LOVE AND GRATITUDE. BUT CHARACTERISTICALLY, YOU HAVE TURNED TRADITION ON ITS HEAD BY DEDICATING TWO OF YOUR DISCOURSE SERIES TO SPECIFIC DISCIPLES. HAS ANY MASTER LOVED HIS DISCIPLES AS MUCH AS YOU SEEM TO LOVE US? at energyenhancement.org
Osho - Talks on Zen: Hyakujo: The Everest of Zen, with Basho's Haikus, Chapter 2: The great pearl, ON ONE OCCASION HYAKUJO SAID, 'IF WE ARE ATTACHED TO A VIEWPOINT THAT WE ARE NATURALLY THE BUDDHAS AND THAT WE ARE IN ZEN BUDDHISM BECAUSE WE ARE ORIGINALLY PURE AND ENLIGHTENED, WE ARE AMONG NON-BUDDHISTS WHO DENY CAUSALITY' at energyenhancement.org
Osho - Talks on Zen: Hyakujo: The Everest of Zen, with Basho's Haikus, Chapter 2: The great pearl, Question 1, I WOULD BE DISHONEST IF I DID NOT SAY I ALSO HAVE BEEN JEALOUS, I HAVE NOT ALWAYS RECEIVED FROM YOU WITH GRACE; I HAVE WANTED TO BE YOUR FAVORITE GIRL. I DON'T THINK I HAVE ACTED ON THOSE FEELINGS, BUT PERHAPS I HAVE DONE IN SUBTLE WAYS at energyenhancement.org
Osho - Talks on Zen: Hyakujo: The Everest of Zen, with Basho's Haikus, Chapter 3: In search of a lost treasure, THE QUESTION WAS ASKED OF HYAKUJO: 'THERE IS A SUTRA WHICH SAYS THAT NOT TO PERCEIVE ANYTHING IN TERMS OF BEING OR NON-BEING IS TRUE DELIVERANCE. WHAT DOES THAT MEAN?' at energyenhancement.org
Osho - Talks on Zen: Hyakujo: The Everest of Zen, with Basho's Haikus, Chapter 3: In search of a lost treasure, Question 1, ALTHOUGH BASHO'S HAIKUS ARE EXQUISITE, THEY MOSTLY TEND TO BE A BIT MELANCHOLY. I HAVE ALWAYS ASSOCIATED ENLIGHTENMENT WITH LEVITY, IF NOT ECSTASY -- ALTHOUGH IS SEEMS THAT KRISHNAMURTI DIDN'T EXTRACT MUCH ENJOYMENT FROM HIS ENLIGHTENMENT. WAS BASHO ENLIGHTENED? at energyenhancement.org
Osho - Talks on Zen: Hyakujo: The Everest of Zen, with Basho's Haikus, Chapter 4: Lie down and witness, ONE DAY WHEN HYAKUJO WAS TO GIVE HIS DAILY DISCOURSES TO HIS DISCIPLES, HE BEGAN BY SAYING, 'I AM NO ZEN ADEPT. I HAVE NOT A SINGLE THING TO OFFER ANYONE, SO I MUST NOT KEEP YOU STANDING HERE. GO AND TAKE A REST' at energyenhancement.org
Osho - Talks on Zen: Hyakujo: The Everest of Zen, with Basho's Haikus, Chapter 4: Lie down and witness, Question 1, LAST NIGHT, AFTER HEARING YOU SPEAK SO LUCIDLY, SO BEAUTIFULLY ON HYAKUJO'S SOMEWHAT TORTUROUS PASSAGE, I FELT THAT YOU ARE NOT ONLY WORKING ON YOUR DISCIPLES, YOU ARE TRANSFORMING THE MASTERS OF THE PAST TOO at energyenhancement.org
Osho - Talks on Zen: Hyakujo: The Everest of Zen, with Basho's Haikus, Chapter 5: Don't be idiot buddhas, ONCE, HYAKUJO WAS OUT IN THE FIELDS WORKING ALONGSIDE HIS DISCIPLES. JUST AS A CERTAIN MONK LIFTED UP HIS HOE, THE SOUND OF THE DINNER DRUM COULD BE HEARD at energyenhancement.org
Osho - Talks on Zen: Hyakujo: The Everest of Zen, with Basho's Haikus, Chapter 5: Don't be idiot buddhas, Question 1, IT SEEMS THAT IF WE ARE EVEN TO BEGIN THE JOURNEY, WE NEED TO FEEL CONNECTED TO YOU. IF WE ARE TO persevere WE NEED TO love YOU. BUT ONCE WE HAVE SOMETHING WE CAN DEFINE AS A RELATIONSHIP WITH YOU, YOU WILL TELL US TO DROP IT at energyenhancement.org
Osho - Talks on Zen: Hyakujo: The Everest of Zen, with Basho's Haikus, Chapter 6: The disciple is the seed, ONCE A TAOIST, HAPPENING TO PASS BY HYAKUJO'S MONASTERY, ASKED, 'IS THERE ANYTHING IN THE WORLD MORE MARVELOUS THAN THE FORCES OF NATURE?' at energyenhancement.org
Osho - Talks on Zen: Hyakujo: The Everest of Zen, with Basho's Haikus, Chapter 6: The disciple is the seed, Question 1, WHAT IS THE URGE TO UNDERSTAND? at energyenhancement.org
Osho - Talks on Zen: Hyakujo: The Everest of Zen, with Basho's Haikus, Chapter Chapter 7: The last milestone, ON ONE OCCASION, YUN KUANG ASKED HYAKUJO, 'MASTER, DO YOU KNOW WHERE YOU WILL BE REBORN?' at energyenhancement.org
Osho - Talks on Zen: Hyakujo: The Everest of Zen, with Basho's Haikus, Chapter 7: The last milestone, Question 1, IS THERE JUST ONE REALITY, AND CAN IT BE PERCEIVED ONLY BY NO-MIND? at energyenhancement.org
Osho - Talks on Zen: Hyakujo: The Everest of Zen, with Basho's Haikus, Chapter 8: What words cannot say..., A MONK ASKED, 'ARE WORDS AND SPEECH ALSO MIND?' HYAKUJO REPLIED, 'WORDS AND SPEECH ARE CONCURRENT CAUSES; THEY ARE NOT MIND' at energyenhancement.org
Osho - Talks on Zen: Hyakujo: The Everest of Zen, with Basho's Haikus, Chapter 8: What words cannot say..., Question 1, YOU WON'T BREAK OUR HEARTS AND RETURN TO YOUR ROOM, NEVER TO VENTURE OUT AGAIN, WILL YOU? IT IS SELFISH OF ME, BUT I CONTINUE HOPING THAT WE CAN KEEP YOU WITH US -- THAT SARDARJI WILL KEEP LAUGHING AND AVIRBHAVA WILL KEEP SCREAMING; THAT THE SUTRAS WILL BE JUICY ENOUGH, AND THAT THE QUESTIONS MAKE IT CLEAR THAT WE VERY MUCH STILL NEED YOU HERE WITH US at energyenhancement.org
Osho - Talks on Zen: Hyakujo: The Everest of Zen, with Basho's Haikus, Chapter 9: The Buddha is your empty heart, ON ONE OCCASION, ISAN, GOHO AND UNGAN, WERE ALL STANDING TOGETHER IN ATTENDANCE ON HYAKUJO at energyenhancement.org
Osho - Talks on Zen: Hyakujo: The Everest of Zen, with Basho's Haikus, Chapter 9: The Buddha is your empty heart, Question 1, ARE THERE ANY OCCASIONS WHEN IT IS NECESSARY FOR DISCIPLES TO PROTECT THEIR MASTER FROM HIMSELF? at energyenhancement.org