OSHO
ZEN
HYAKUJO: THE EVEREST OF ZEN, WITH BASHO'S HAIKUS
Chapter 8: What words cannot say...
Question 1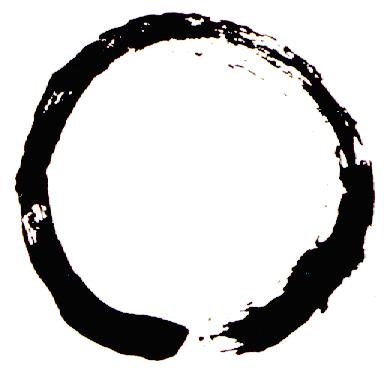 Energy Enhancement Enlightened Texts Zen Hyakujo
Question 1
Maneesha has asked:
BELOVED OSHO,
YOU WON'T BREAK OUR HEARTS AND RETURN TO YOUR ROOM, NEVER TO VENTURE OUT AGAIN, WILL YOU?
IT IS SELFISH OF ME, BUT I CONTINUE HOPING THAT WE CAN KEEP YOU WITH US -- THAT SARDARJI WILL KEEP LAUGHING AND AVIRBHAVA WILL KEEP SCREAMING; THAT THE SUTRAS WILL BE JUICY ENOUGH, AND THAT THE QUESTIONS MAKE IT CLEAR THAT WE VERY MUCH STILL NEED YOU HERE WITH US.
Maneesha, you are asking, "You won't break our hearts..." I will do. But not in the sense YOU mean.
I will break your hearts in my presence.
Your hearts are closed. Their doors have never been open for centuries. So much dust has gathered, so many cobwebs. I am going to break all that so that you can find the emptiness of your heart. But your idea is totally different. You say, "You won't break our hearts and return to your room, never to venture out again, will you?"
Unfortunately I cannot promise that. I would love to give you the promise, but you know I am a contradictory man, so my promise does not make any sense. I cannot promise you anything.
I will try my best to go on coming every day, and it is possible only now that such a promise even can be fulfilled, because I don't think that the world is going to last more than twelve years. Seeing the stupidity of the politicians and the priests and the so-called leaders of the world, it seems to be absolutely certain that they will destroy this planet -- they are bent upon it. Everything is being done with tremendous speed to destroy this planet. So perhaps twelve years are not too much. Avirbhava can wait on the gate. Sardar Gurudayal Singh can continue laughing.
This time, if you all get ripe, if you all can understand something beyond life and death, then we will all go together -- with Avirbhava and all! And it will be really great fun. It is certain, if there is any hell, we are going to it. Avirbhava can scream, sitting on the bonnet of my Rolls Royce; Sardarji can be sitting behind, laughing, and the whole caravan can go and take over Hell because the Devil has ruled enough. It needs immediate revolution and change. If we cannot change this world, we will change some world anyway.
(AT THIS POINT THERE IS A MOMENT'S BLACKOUT)
The Devil became worried! One thing is certain that God never created electricity. In no scripture of any religion, is God supposed to have created electricity. Obviously, it is a creation of Devil. So, he gave us a signal: "Don't harass me; go the other way!" He would love that our caravan enters Heaven, but we are not interested in Heaven with all those dirty saints, old hippies... most of them naked, doing all kinds of distortions of the body. Somebody is standing on the head... and they all have become shrunken, just skeletons. They don't have anything else to do except play on the harp and sing Hallelujiah. My people cannot do that for eternity.
You will not find a Gautam Buddha in Heaven, or a Ma Tzu, or a Hyakujo, or a Bertrand Russell, or a Jean-Paul Sartre, or Mozart, or Dostoevski. You will not find a single genius, a single artist, a single mystic -- they are all in Hell. And they have made Hell so beautiful. And our people reaching there with joy and laughter -- that is the only thing that is missing. What is the point of going to Heaven? The real work is in Hell -- to transform millions of people who have been forced there for eternity, for small things.
Bertrand Russell has written in his autobiography, "I cannot understand the idea of Christianity that sinners will suffer for eternity in Hell." How many sins can you commit to deserve a punishment for eternity? Even if every moment, day and night, you commit this sin and that sin... What are the sins? -- drinking a cup of tea, smoking a cigarette, falling in love with a dangerous woman, very nice looking... Never go for the looks, the reality is always different. Great philosophers have been writing about appearance and reality.
Russell says, "One day I counted how many sins I had committed, and I also counted the sins that I wanted to commit but the opportunities did not allow me. On both I could get at least four and a half years of jail from a very strict judge, but eternity is too much. And they say God is compassionate!"
All the great people of the world, creative in any direction, have been thrown in Hell. The stupid and idiotic saints who don't know anything of creativity, who don't know anything of meditation, whose whole art is how to torture themselves and others, these people are there, all sick and psychologically mad, in Heaven. I have always suspected that God himself must have changed his place to Hell! Living with these idiots and not one...
Strange people will drive anybody mad. You just think about the saints, what kinds of saints....
I saw one saint who had not taken any position other than standing for twelve years. His legs had become like elephant legs. His upper body had shrunk and become very small, and he was holding a bamboo. To keep him entertained, his disciples would go on singing day and night around him. I was passing by the road. Somebody told me that here there was a great saint, so I went to see him.
That man was torturing himself, and people were enjoying his torture.
I have seen saints dying through will. That means not eating for ninety days. Only after ninety days will your flesh be used up. You will remain just a skeleton. And they are worshipped by thousands of people.... These skeletons -- their only quality is that they can torture themselves. There are from different parts of the world, different varieties.
Heaven must be a circus. Nobody who is sane can survive there. And the fence is so ancient that it is broken almost everywhere. I have never heard about anybody trespassing over the ancient fence from the side of Hell to the side of Heaven. Nobody wants to go to Heaven. Just to see from the outside, from the broken fence, is enough. So much stupidity is happening there. All the descriptions of Heaven are so rotten, so ugly.
So don't be worried, Maneesha. Most probably the whole Buddha Auditorium will shoot directly, as a missile, towards Hell. Just cling to each other so nobody is left behind. And twelve years is not a long time. I can keep the promise.
Now, it is Anando's time....
Little Albert's mother cannot bring herself to tell the little boy that his dog, Laddy, has just been run over by a car and killed.
When Albert comes home from school she talks of other things for a few minutes, but finally, she says, "Albert, listen. Laddy has been run over and killed by an automobile."
"Oh!" says the boy, and goes out to play, whistling.
At dinner, Little Albert asks, "Hey, Mom, where is Laddy?"
"Darling," says his mother, "I told you this afternoon: Laddy has been killed by a car."
Suddenly, Albert bursts into tears.
"But Albert," cries his mother, "when I told you this afternoon, it did not seem to bother you."
"No," sniffs Albert, "it didn't -- because I thought you said Daddy!"
Pope the Polack is giving High Mass in Saint Peter's Cathedral in Rome. The mass is coming to an end, and the Polack pope is leading the procession out into Saint Peter's Square to bless the crowd.
Suddenly, as the cathedral clock strikes three, the big hand falls off the clock, sails through the air, and lands on the pope's head with a resounding crack!
Pope the Polack falls senseless to the ground, and is rushed to the hospital suffering from concussion.
The next morning, throughout the world anxious Catholics wait to buy their morning newspapers to find out the latest news.
The Vatican News is first off the press, and carries the banner headline: POPE'S HEAD X-RAYED REVEALS NOTHING!
Max Muldoon is walking in the Oregon hills, when it begins to snow and he goes to a nearby ranch house for shelter. There he meets Ed, the rancher, his pretty young wife and her daughter.
"You can stay here the night," says Ed, "but we have only got one bed. So we will have to sleep next to each other, head to toe.
"And I am warning you," continues Ed, "no funny business!" Then he waves a big six shooter at Max, and puts it under his pillow and falls asleep.
In the middle of the night, the daughter, who is lying next to Max, slides her hand up his leg and begins to fondle him.
Max points nervously to where the gun is hidden under Ed's pillow.
"Don't worry," whispers the daughter, "it is not loaded," and she pulls Max onto her.
Later on, Ed's wife, who has been watching this, points at the gun, and says softly, "It is not loaded!" And then she climbs over on top of Max.
Ed snores on peacefully.
A few minutes later, the daughter slides her hand up Max's leg again.
Max points at his prick and says, "It is not loaded!"
Nivedano...
(Drumbeat)
(Gibberish)
(Drumbeat)
Be silent.
Close your eyes.
Feel your body to be completely frozen.
Now, collect all your consciousness and look inwards, as deep as you can. Make the consciousness just like an arrow that goes to the target. The target is the center of your being.
To be at the being, to the very center of your life, you are also at the very center of the universe. From this silence, from this nothingness, everything arises, all the flowers and all the stars and all the buddhas.
To be at this center is to have reached to the last milestone of a long journey of thousands of lives.
To be a buddha is the end of the road.
Finally, the buddha jumps beyond himself and disappears into the universal energy, and melts just like ice melts.
The evening has been so beautiful, and your being silent, sitting like buddhas has made it a great splendor.
To deepen the splendor...
Nivedano...
(Drumbeat)
Relax, just witnessing your body, your mind and everything. You are just a mirror and nothing else.
Rejoice this silence.
Rejoice this intensity of peace.
Let your every fiber, every cell be filled with the life juice you have entered in.
Be completely soaked, drenched, so when you come back, you bring the buddha with you.
The buddha has to be in your actions, in your words, in your silences, in your speech.
Remember only one thing: you have been a buddha forever. It is not something new, but only a new revelation.
Nivedano...
(Drumbeat)
Come back, but come back with the buddha deep in your empty heart, gracefully, silently.
Sit down, just for a few moments of recollection, remembering the path you have been, the space you entered, the tremendous experience of being a buddha. The remembrance should go on echoing in you around the clock.
Okay, Maneesha?
Yes, Osho.
Can we celebrate the ten thousand buddhas?
Yes, Osho!
Next: Chapter 9: The Buddha is your empty heart
Energy Enhancement Enlightened Texts Zen Hyakujo
Chapters:
Osho - Talks on Zen: Hyakujo: The Everest of Zen, with Basho's Haikus, Chapter 1: The language of suddenness, WHEN HYAKUJO FIRST ARRIVED AT CHIANG-SI TO PAY HIS RESPECTS TO MA TZU, MA TZU INQUIRED, 'FROM WHERE HAVE YOU COME?' at energyenhancement.org
Osho - Talks on Zen: Hyakujo: The Everest of Zen, with Basho's Haikus, Chapter 1: The language of suddenness, Question 1, MANY DISCIPLES HAVE DEDICATED BOOKS TO THEIR MASTER OUT OF LOVE AND GRATITUDE. BUT CHARACTERISTICALLY, YOU HAVE TURNED TRADITION ON ITS HEAD BY DEDICATING TWO OF YOUR DISCOURSE SERIES TO SPECIFIC DISCIPLES. HAS ANY MASTER LOVED HIS DISCIPLES AS MUCH AS YOU SEEM TO LOVE US? at energyenhancement.org
Osho - Talks on Zen: Hyakujo: The Everest of Zen, with Basho's Haikus, Chapter 2: The great pearl, ON ONE OCCASION HYAKUJO SAID, 'IF WE ARE ATTACHED TO A VIEWPOINT THAT WE ARE NATURALLY THE BUDDHAS AND THAT WE ARE IN ZEN BUDDHISM BECAUSE WE ARE ORIGINALLY PURE AND ENLIGHTENED, WE ARE AMONG NON-BUDDHISTS WHO DENY CAUSALITY' at energyenhancement.org
Osho - Talks on Zen: Hyakujo: The Everest of Zen, with Basho's Haikus, Chapter 2: The great pearl, Question 1, I WOULD BE DISHONEST IF I DID NOT SAY I ALSO HAVE BEEN JEALOUS, I HAVE NOT ALWAYS RECEIVED FROM YOU WITH GRACE; I HAVE WANTED TO BE YOUR FAVORITE GIRL. I DON'T THINK I HAVE ACTED ON THOSE FEELINGS, BUT PERHAPS I HAVE DONE IN SUBTLE WAYS at energyenhancement.org
Osho - Talks on Zen: Hyakujo: The Everest of Zen, with Basho's Haikus, Chapter 3: In search of a lost treasure, THE QUESTION WAS ASKED OF HYAKUJO: 'THERE IS A SUTRA WHICH SAYS THAT NOT TO PERCEIVE ANYTHING IN TERMS OF BEING OR NON-BEING IS TRUE DELIVERANCE. WHAT DOES THAT MEAN?' at energyenhancement.org
Osho - Talks on Zen: Hyakujo: The Everest of Zen, with Basho's Haikus, Chapter 3: In search of a lost treasure, Question 1, ALTHOUGH BASHO'S HAIKUS ARE EXQUISITE, THEY MOSTLY TEND TO BE A BIT MELANCHOLY. I HAVE ALWAYS ASSOCIATED ENLIGHTENMENT WITH LEVITY, IF NOT ECSTASY -- ALTHOUGH IS SEEMS THAT KRISHNAMURTI DIDN'T EXTRACT MUCH ENJOYMENT FROM HIS ENLIGHTENMENT. WAS BASHO ENLIGHTENED? at energyenhancement.org
Osho - Talks on Zen: Hyakujo: The Everest of Zen, with Basho's Haikus, Chapter 4: Lie down and witness, ONE DAY WHEN HYAKUJO WAS TO GIVE HIS DAILY DISCOURSES TO HIS DISCIPLES, HE BEGAN BY SAYING, 'I AM NO ZEN ADEPT. I HAVE NOT A SINGLE THING TO OFFER ANYONE, SO I MUST NOT KEEP YOU STANDING HERE. GO AND TAKE A REST' at energyenhancement.org
Osho - Talks on Zen: Hyakujo: The Everest of Zen, with Basho's Haikus, Chapter 4: Lie down and witness, Question 1, LAST NIGHT, AFTER HEARING YOU SPEAK SO LUCIDLY, SO BEAUTIFULLY ON HYAKUJO'S SOMEWHAT TORTUROUS PASSAGE, I FELT THAT YOU ARE NOT ONLY WORKING ON YOUR DISCIPLES, YOU ARE TRANSFORMING THE MASTERS OF THE PAST TOO at energyenhancement.org
Osho - Talks on Zen: Hyakujo: The Everest of Zen, with Basho's Haikus, Chapter 5: Don't be idiot buddhas, ONCE, HYAKUJO WAS OUT IN THE FIELDS WORKING ALONGSIDE HIS DISCIPLES. JUST AS A CERTAIN MONK LIFTED UP HIS HOE, THE SOUND OF THE DINNER DRUM COULD BE HEARD at energyenhancement.org
Osho - Talks on Zen: Hyakujo: The Everest of Zen, with Basho's Haikus, Chapter 5: Don't be idiot buddhas, Question 1, IT SEEMS THAT IF WE ARE EVEN TO BEGIN THE JOURNEY, WE NEED TO FEEL CONNECTED TO YOU. IF WE ARE TO persevere WE NEED TO love YOU. BUT ONCE WE HAVE SOMETHING WE CAN DEFINE AS A RELATIONSHIP WITH YOU, YOU WILL TELL US TO DROP IT at energyenhancement.org
Osho - Talks on Zen: Hyakujo: The Everest of Zen, with Basho's Haikus, Chapter 6: The disciple is the seed, ONCE A TAOIST, HAPPENING TO PASS BY HYAKUJO'S MONASTERY, ASKED, 'IS THERE ANYTHING IN THE WORLD MORE MARVELOUS THAN THE FORCES OF NATURE?' at energyenhancement.org
Osho - Talks on Zen: Hyakujo: The Everest of Zen, with Basho's Haikus, Chapter 6: The disciple is the seed, Question 1, WHAT IS THE URGE TO UNDERSTAND? at energyenhancement.org
Osho - Talks on Zen: Hyakujo: The Everest of Zen, with Basho's Haikus, Chapter Chapter 7: The last milestone, ON ONE OCCASION, YUN KUANG ASKED HYAKUJO, 'MASTER, DO YOU KNOW WHERE YOU WILL BE REBORN?' at energyenhancement.org
Osho - Talks on Zen: Hyakujo: The Everest of Zen, with Basho's Haikus, Chapter 7: The last milestone, Question 1, IS THERE JUST ONE REALITY, AND CAN IT BE PERCEIVED ONLY BY NO-MIND? at energyenhancement.org
Osho - Talks on Zen: Hyakujo: The Everest of Zen, with Basho's Haikus, Chapter 8: What words cannot say..., A MONK ASKED, 'ARE WORDS AND SPEECH ALSO MIND?' HYAKUJO REPLIED, 'WORDS AND SPEECH ARE CONCURRENT CAUSES; THEY ARE NOT MIND' at energyenhancement.org
Osho - Talks on Zen: Hyakujo: The Everest of Zen, with Basho's Haikus, Chapter 8: What words cannot say..., Question 1, YOU WON'T BREAK OUR HEARTS AND RETURN TO YOUR ROOM, NEVER TO VENTURE OUT AGAIN, WILL YOU? IT IS SELFISH OF ME, BUT I CONTINUE HOPING THAT WE CAN KEEP YOU WITH US -- THAT SARDARJI WILL KEEP LAUGHING AND AVIRBHAVA WILL KEEP SCREAMING; THAT THE SUTRAS WILL BE JUICY ENOUGH, AND THAT THE QUESTIONS MAKE IT CLEAR THAT WE VERY MUCH STILL NEED YOU HERE WITH US at energyenhancement.org
Osho - Talks on Zen: Hyakujo: The Everest of Zen, with Basho's Haikus, Chapter 9: The Buddha is your empty heart, ON ONE OCCASION, ISAN, GOHO AND UNGAN, WERE ALL STANDING TOGETHER IN ATTENDANCE ON HYAKUJO at energyenhancement.org
Osho - Talks on Zen: Hyakujo: The Everest of Zen, with Basho's Haikus, Chapter 9: The Buddha is your empty heart, Question 1, ARE THERE ANY OCCASIONS WHEN IT IS NECESSARY FOR DISCIPLES TO PROTECT THEIR MASTER FROM HIMSELF? at energyenhancement.org