OSHO
ZEN
HYAKUJO: THE EVEREST OF ZEN, WITH BASHO'S HAIKUS
Chapter 9: The Buddha is your empty heart
Question 1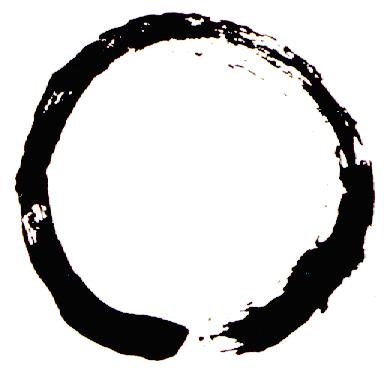 Energy Enhancement Enlightened Texts Zen Hyakujo
Question 1
Maneesha has asked:
BELOVED OSHO,
ARE THERE ANY OCCASIONS WHEN IT IS NECESSARY FOR DISCIPLES TO PROTECT THEIR MASTER FROM HIMSELF?
Maneesha, in fact every day is the occasion to protect the master from himself for the simple reason he has attained whatever was possible to attain in life. Now he is lingering on this shore just for you. As for himself, he has come to the dead end of the street. His life is just for those who love him. There is nothing in the world that he longs for.
He may suffer old age, he may suffer sicknesses, just for the sake of the few who love him -- that they should become ripe, that they should come to their ultimate flowering.
Every day the disciples have to protect the master against himself, because every moment the master feels: What is the point? -- it is good to leave the body now. Just your love prevents him. There is nothing else to prevent him. All the threads that were connected with life, all the strings that were keeping him attached to the body-mind structure are finished. His empty heart can only listen to your love. And as long as he can manage... because his body goes on becoming old faster than the ordinary body. The ordinary body follows a natural pattern. The enlightened man has got outside the natural pattern. He starts dying quickly.
Most of the enlightened people have died immediately after their enlightenment. Very rare people have survived enlightenment. It is such a shock -- thousands of volts. That creates a great gap between consciousness and the body, and it becomes absolutely difficult to live. For the unenlightened it was very simple. There was not a problem at all. The body was too much attached with the soul. The enlightened person lives in a shell of a body -- unattached. Any moment he can open his wings and say goodbye to you.
Your question is significant, Maneesha. The master's whole existence is for those who love. If the people he loves let him down, then there is no need for him to go on unnecessarily suffering. Because now the body is a suffering, now every moment it is a dragging. And it becomes more painful because he is capable of leaving all this suffering immediately -- just close his eyes and go away. The disciple is responsible, immensely responsible to protect the master against himself.
Maneesha's question may have made you sad, I have to change the subject.
It is Anando time....
Freddy Feinstein, a Jew from New York, is tired of all the high, fixed prices of clothes in America. A friend tells him that in India, bargaining is a way of life, so Freddy jumps on the next plane.
Two days later, he finds himself walking down M.G. Road in the pouring rain. His New York sneakers are soaking wet, so Freddy runs into a shoe shop to buy a new pair of shoes.
He is eager to try out his bargaining skills, so when Rajiv, the salesman, asks a hundred rupees for some shoes, Freddy immediately says, "Fifty!"
"That's impossible," replies Rajiv.
"Fifty or nothing!" says Freddy, firmly.
So Rajiv consults the manager, who consults the owner, and then comes back and says, "Okay, fifty."
"No!" shouts Freddy. "Twenty rupees!"
Again, Rajiv consults the manager who asks the owner.
"Okay, twenty," says Rajiv, when he returns a few minutes later.
"No! Five!" shouts Freddy.
"Listen," snaps Rajiv, getting irritated, "just take the shoes and get out!"
"No!" shouts Freddy.
"No?" asks Rajiv, in surprise, "you don't want the shoes?"
"No!" says Freddy. "I want two pairs!"
When a live sex show opens up in a small theater just outside the Vatican, Pope the Polack is furious.
He gets together Cardinal Catsass, and a flock of bishops, and they go to watch the show to see if it would be harmful for good Catholics to view it.
Coming out of the theater an hour later, Pope the Polack and his crew all agree that it is a terrible, filthy show, and completely unsuitable as entertainment for Catholics.
They are marching back to the Vatican, when suddenly Pope the Polack stops in his tracks.
"I have to go back!" he cries. "I have forgotten my hat."
"No you haven't," points out Cardinal Cats-ass, "it is hanging in your lap!"
Sean O'Reilly is driving his horse and cart into town one morning with a load of potatoes, when he has a head-on collision with a truck.
Sean makes a claim for damages against the trucking company, for injuries to himself, his horse and cart, his dog and his load of potatoes. The whole claim amounts to a considerable sum of money.
But a few weeks later in the high court, when Sean is called to the witness stand, his case does not seem to be going too well.
"Isn't it true," says Simon Sharkfin, the opposing lawyer, "that while you were lying on the ground at the scene of the accident, someone walked up to you and asked you how you were feeling, and you replied, `I've never felt better in my life.'"
"Yes," replies Sean, "I remember that."
"Good," says Sharkfin, "I hope the jury takes note of it."
Then Sean's own lawyer comes over to Sean and says, "Would you mind telling the court the circumstances you were in when you said, `I've never felt better in my life'?"
"Certainly," replies Sean. "I was lying there on the ground when a police car drives up and the deputy sheriff gets out. He tells me that my horse is screaming with pain and has two broken legs. He then takes out his gun, points it into the horse's ear and finishes him off.
"He then tells me that my dog is whining with pain and has a broken back. So he sticks his gun into the dog's ear and finishes him off.
"Then he turns to me and says, `Now, how are you feeling?'"
Nivedano...
(Drumbeat)
(Gibberish)
(Drumbeat)
Be silent.
Close your eyes.
Feel your body to be completely frozen. Now look inwards with your total consciousness and with an urgency as if this is going to be your last moment.
Deeper and deeper... At the deepest is your center. This center joins you with the universal life. And this center is called the buddha, because at this center one becomes so alert, so conscious, so awakened. The buddha is only a symbolic name.
This moment you are all buddhas. It is up to you to remain twenty-four hours a buddha, or take here and there a few holidays. But once you have known the beauty, and the joy, and the grandeur, and the splendor of being a buddha, you will not want to go back to the blind valleys, in darkness groping. At this moment you are the light.
To make it more clear, Nivedano...
(Drumbeat)
Relax.
Just be a witness of the body, of the mind and of everything. This witnessing is the only thing which is eternal in existence. Everything is changing. Just the reflecting witness remains here and now without any change. This is the very center of existence.
The evening was beautiful already, but by ten thousand buddhas witnessing, you have made it the richest evening possible.
Remember this silence when you come back. Don't leave it behind. Bring as many flowers and as much fragrance and juice with you as possible. And take care of noting what is the way you reach to the center. The same is the way you come back to the circumference.
You have to become very acquainted with the path. It is a small path. Once you have become acquainted, you can go in, any moment, just as you go in the house and out of the house without any difficulty. This is your space, this is your home.
So blissful is the moment. So many flowers are showering on you. Let your whole life become the light, the awakening, the buddha.
Nivedano...
(Drumbeat)
Collect as much from your life source and come back slowly, gracefully and sit down like a buddha for few a moments remembering where you have been, remembering the path that you followed in and out. And keep this quietness, this beautiful grace in all your actions and gestures, in your words and in your silences.
The buddha is your empty heart.
Okay, Maneesha?
Yes, Osho.
Can we celebrate the ten thousand buddhas?
Yes, Osho!
THE END
Energy Enhancement Enlightened Texts Zen Hyakujo
Chapters:
Osho - Talks on Zen: Hyakujo: The Everest of Zen, with Basho's Haikus, Chapter 1: The language of suddenness, WHEN HYAKUJO FIRST ARRIVED AT CHIANG-SI TO PAY HIS RESPECTS TO MA TZU, MA TZU INQUIRED, 'FROM WHERE HAVE YOU COME?' at energyenhancement.org
Osho - Talks on Zen: Hyakujo: The Everest of Zen, with Basho's Haikus, Chapter 1: The language of suddenness, Question 1, MANY DISCIPLES HAVE DEDICATED BOOKS TO THEIR MASTER OUT OF LOVE AND GRATITUDE. BUT CHARACTERISTICALLY, YOU HAVE TURNED TRADITION ON ITS HEAD BY DEDICATING TWO OF YOUR DISCOURSE SERIES TO SPECIFIC DISCIPLES. HAS ANY MASTER LOVED HIS DISCIPLES AS MUCH AS YOU SEEM TO LOVE US? at energyenhancement.org
Osho - Talks on Zen: Hyakujo: The Everest of Zen, with Basho's Haikus, Chapter 2: The great pearl, ON ONE OCCASION HYAKUJO SAID, 'IF WE ARE ATTACHED TO A VIEWPOINT THAT WE ARE NATURALLY THE BUDDHAS AND THAT WE ARE IN ZEN BUDDHISM BECAUSE WE ARE ORIGINALLY PURE AND ENLIGHTENED, WE ARE AMONG NON-BUDDHISTS WHO DENY CAUSALITY' at energyenhancement.org
Osho - Talks on Zen: Hyakujo: The Everest of Zen, with Basho's Haikus, Chapter 2: The great pearl, Question 1, I WOULD BE DISHONEST IF I DID NOT SAY I ALSO HAVE BEEN JEALOUS, I HAVE NOT ALWAYS RECEIVED FROM YOU WITH GRACE; I HAVE WANTED TO BE YOUR FAVORITE GIRL. I DON'T THINK I HAVE ACTED ON THOSE FEELINGS, BUT PERHAPS I HAVE DONE IN SUBTLE WAYS at energyenhancement.org
Osho - Talks on Zen: Hyakujo: The Everest of Zen, with Basho's Haikus, Chapter 3: In search of a lost treasure, THE QUESTION WAS ASKED OF HYAKUJO: 'THERE IS A SUTRA WHICH SAYS THAT NOT TO PERCEIVE ANYTHING IN TERMS OF BEING OR NON-BEING IS TRUE DELIVERANCE. WHAT DOES THAT MEAN?' at energyenhancement.org
Osho - Talks on Zen: Hyakujo: The Everest of Zen, with Basho's Haikus, Chapter 3: In search of a lost treasure, Question 1, ALTHOUGH BASHO'S HAIKUS ARE EXQUISITE, THEY MOSTLY TEND TO BE A BIT MELANCHOLY. I HAVE ALWAYS ASSOCIATED ENLIGHTENMENT WITH LEVITY, IF NOT ECSTASY -- ALTHOUGH IS SEEMS THAT KRISHNAMURTI DIDN'T EXTRACT MUCH ENJOYMENT FROM HIS ENLIGHTENMENT. WAS BASHO ENLIGHTENED? at energyenhancement.org
Osho - Talks on Zen: Hyakujo: The Everest of Zen, with Basho's Haikus, Chapter 4: Lie down and witness, ONE DAY WHEN HYAKUJO WAS TO GIVE HIS DAILY DISCOURSES TO HIS DISCIPLES, HE BEGAN BY SAYING, 'I AM NO ZEN ADEPT. I HAVE NOT A SINGLE THING TO OFFER ANYONE, SO I MUST NOT KEEP YOU STANDING HERE. GO AND TAKE A REST' at energyenhancement.org
Osho - Talks on Zen: Hyakujo: The Everest of Zen, with Basho's Haikus, Chapter 4: Lie down and witness, Question 1, LAST NIGHT, AFTER HEARING YOU SPEAK SO LUCIDLY, SO BEAUTIFULLY ON HYAKUJO'S SOMEWHAT TORTUROUS PASSAGE, I FELT THAT YOU ARE NOT ONLY WORKING ON YOUR DISCIPLES, YOU ARE TRANSFORMING THE MASTERS OF THE PAST TOO at energyenhancement.org
Osho - Talks on Zen: Hyakujo: The Everest of Zen, with Basho's Haikus, Chapter 5: Don't be idiot buddhas, ONCE, HYAKUJO WAS OUT IN THE FIELDS WORKING ALONGSIDE HIS DISCIPLES. JUST AS A CERTAIN MONK LIFTED UP HIS HOE, THE SOUND OF THE DINNER DRUM COULD BE HEARD at energyenhancement.org
Osho - Talks on Zen: Hyakujo: The Everest of Zen, with Basho's Haikus, Chapter 5: Don't be idiot buddhas, Question 1, IT SEEMS THAT IF WE ARE EVEN TO BEGIN THE JOURNEY, WE NEED TO FEEL CONNECTED TO YOU. IF WE ARE TO persevere WE NEED TO love YOU. BUT ONCE WE HAVE SOMETHING WE CAN DEFINE AS A RELATIONSHIP WITH YOU, YOU WILL TELL US TO DROP IT at energyenhancement.org
Osho - Talks on Zen: Hyakujo: The Everest of Zen, with Basho's Haikus, Chapter 6: The disciple is the seed, ONCE A TAOIST, HAPPENING TO PASS BY HYAKUJO'S MONASTERY, ASKED, 'IS THERE ANYTHING IN THE WORLD MORE MARVELOUS THAN THE FORCES OF NATURE?' at energyenhancement.org
Osho - Talks on Zen: Hyakujo: The Everest of Zen, with Basho's Haikus, Chapter 6: The disciple is the seed, Question 1, WHAT IS THE URGE TO UNDERSTAND? at energyenhancement.org
Osho - Talks on Zen: Hyakujo: The Everest of Zen, with Basho's Haikus, Chapter Chapter 7: The last milestone, ON ONE OCCASION, YUN KUANG ASKED HYAKUJO, 'MASTER, DO YOU KNOW WHERE YOU WILL BE REBORN?' at energyenhancement.org
Osho - Talks on Zen: Hyakujo: The Everest of Zen, with Basho's Haikus, Chapter 7: The last milestone, Question 1, IS THERE JUST ONE REALITY, AND CAN IT BE PERCEIVED ONLY BY NO-MIND? at energyenhancement.org
Osho - Talks on Zen: Hyakujo: The Everest of Zen, with Basho's Haikus, Chapter 8: What words cannot say..., A MONK ASKED, 'ARE WORDS AND SPEECH ALSO MIND?' HYAKUJO REPLIED, 'WORDS AND SPEECH ARE CONCURRENT CAUSES; THEY ARE NOT MIND' at energyenhancement.org
Osho - Talks on Zen: Hyakujo: The Everest of Zen, with Basho's Haikus, Chapter 8: What words cannot say..., Question 1, YOU WON'T BREAK OUR HEARTS AND RETURN TO YOUR ROOM, NEVER TO VENTURE OUT AGAIN, WILL YOU? IT IS SELFISH OF ME, BUT I CONTINUE HOPING THAT WE CAN KEEP YOU WITH US -- THAT SARDARJI WILL KEEP LAUGHING AND AVIRBHAVA WILL KEEP SCREAMING; THAT THE SUTRAS WILL BE JUICY ENOUGH, AND THAT THE QUESTIONS MAKE IT CLEAR THAT WE VERY MUCH STILL NEED YOU HERE WITH US at energyenhancement.org
Osho - Talks on Zen: Hyakujo: The Everest of Zen, with Basho's Haikus, Chapter 9: The Buddha is your empty heart, ON ONE OCCASION, ISAN, GOHO AND UNGAN, WERE ALL STANDING TOGETHER IN ATTENDANCE ON HYAKUJO at energyenhancement.org
Osho - Talks on Zen: Hyakujo: The Everest of Zen, with Basho's Haikus, Chapter 9: The Buddha is your empty heart, Question 1, ARE THERE ANY OCCASIONS WHEN IT IS NECESSARY FOR DISCIPLES TO PROTECT THEIR MASTER FROM HIMSELF? at energyenhancement.org