OSHO
ZEN
MA TZU: THE EMPTY MIRROR
Chapter 2: Sowing seed
Question 1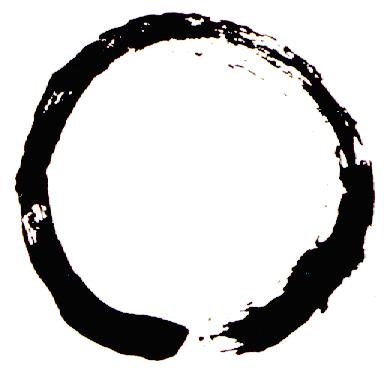 Energy Enhancement Enlightened Texts Zen The Empty Mirror
Question 1
Maneesha has asked:
OUR BELOVED MASTER,
I LOVE THE EXPRESSION, "TAKE ONE STEP TOWARDS ALLAH, AND HE WILL COME RUNNING A THOUSAND STEPS TOWARDS YOU."
IT SEEMS TO SUGGEST THAT RECEPTIVITY IS NOT A TOTALLY INACTIVE WAITING BUT REQUIRES A CERTAIN PARTICIPATION.
EVEN TO RECEIVE A FLOWER, DOESN'T ONE NEED TO HOLD OUT ONE'S HAND? OR AM I ON THE WRONG TRACK AGAIN?
Yes, Maneesha, you are on a wrong track again. That saying comes from Mohammedanism, "Take one step towards Allah, and he will come running a thousand steps toward you."
But in the world of Zen there is no Allah, and as far as your inside is concerned, just take one step and you are the Allah. Nobody comes running. On the contrary, you come to a standstill. Just one step, inside -- that Mohammedan saying is still about the outside God -- you take one step and God will come running towards you. But that kind of God does not exist, so don't unnecessarily waste your step! Save it, you will need it to go in. And the moment you go one step in, you are the Allah. In the world of Zen that kind of statement is not applicable at all.
Now the clouds have come, really with tremendous urgency! This year Poona is going to be flooded even without the Shankaracharya committing suicide. Just the laughter of ten thousand buddhas is enough to call all the clouds of the world. They don't need any passport, any visa. They don't have to pass any customs office. They are the free buddhas moving in the sky, and when they see ten thousand buddhas gathered, naturally they come running -- particularly at the time when I am going to tell you the jokes.
Where is Sardar Gurudayal Singh? Just laugh loudly. This book is going to be dedicated to Sardar Gurudayal Singh, the only man in history who laughs before the joke is told. What a trust! You should learn trust from Sardar Gurudayal Singh.
Maggie MacTavish dies and leaves old Hamish a widower. It is such a relief for him that he rushes excitedly round to see Mr. Tomb, the undertaker.
"How much to bury my wife?" asks Hamish.
"Five hundred pounds," replies Tomb, rubbing his hands together.
"Five hundred?" splutters Hamish, clutching his purse. "Can't you do it for less?"
"Well," replies Mr Tomb, "the cheapest I can manage is three hundred pounds."
"My God!" wails Hamish, counting out his money, "I almost wish she was still alive!"
Magic Mushroom Melvin, the old hippy, is busy making lunch for his old buddy, Buffalo Grass.
"Wow, man!" says Melvin, stepping back from the sink and sitting down to smoke a few reefers. "That's the wildest recipe I have ever tried."
"Groovy, man!" says Buffalo Grass, in a cloud of smoke. "What is it?"
"It is salad, man!" says Melvin.
"Hey, cool, man -- salad!" agrees Buffalo Grass. "How do you make it?"
"Well, it's really easy, man!" says Melvin, "you cut up lettuce, tomatoes, cucumbers, and carrots; then you throw in some LSD, stand back, and watch the salad toss itself!"
Dilly and Dally are identical twin brothers, who live in a small town near the sea.
Dilly is married and Dally is single, but he keeps a small rowing boat.
One day Dilly's wife dies, and a few days later, Dally's rowing boat sinks.
Walking in the street a week later, Dally meets Mrs. Godball, the bishop's wife. Mrs. Godball mistakes Dally, the boatman, for Dilly, who has just lost his wife.
"I'm sorry to hear about your terrible loss!" says Mrs. Godball.
"Oh, thank you very much!" replies Dally, the boatman, "but I am not sorry at all. She was a rotten old thing from the start. She had a huge crack in the front of her and a big hole behind, which kept getting bigger every time I used her. She stank of old fish and used to leak water all the time. Her bottom was really badly scratched up, and whenever there was wind, it was not safe to go near her.
"Last week, three men came around looking for some fun, so I hired her out to them. I told them to take it easy with her, but the three idiots all tried to get into her at the same time. Of course, she split from back to front. Now she is gone, and I am very happy about it!"
Mrs. Godball faints.
Nivedano...
(Drumbeat)
(Gibberish)
Nivedano...
(Drumbeat)
Be silent.
Close your eyes,
and feel your body to be completely frozen.
Look inwards with absolute urgency.
Deeper and deeper,
until you reach the source of your very being.
It is very close -- just one step
and you are the buddha.
Such a beautiful evening,
and the dancing rains rejoicing in your silence,
rejoicing in your samadhi.
These cloud buddhas have come from so far away,
don't let them down.
Deeper and deeper,
there is no need to fear.
It is your own space and it is your own birthright
to be a buddha.
To make it absolutely clear
that you are not the body, nor the mind,
but just a witness,
Nivedano...
(Drumbeat)
Relax, and just be a witness.
This witnessing is another name of the buddha.
Witnessing makes you an empty mirror,
reflecting everything without getting identified.
And this is the miracle of meditation;
it gives you freedom, it gives you the beyond.
Gather the experience, the fragrance,
because the time is close that you will be called back.
Taste the nectar,
the eternally running stream of your life,
let it sink deep in your every fiber,
because it is going to be a twenty-four hour lifestyle.
Living or dead, you have to remain as a buddha.
Nivedano...
(Drumbeat)
Come back, but come back as a buddha
with a samadhi,
with a feel of the nectar.
Sit down for a few moments,
just to recollect the experience
of where you have been,
what you have been.
Every day it has to become deeper and deeper.
Okay, Maneesha?
Yes, Beloved Master.
Can we celebrate the buddhas?
Yes, Beloved Master.
Energy Enhancement Enlightened Texts Zen The Empty Mirror
Chapters:
Osho - Talks on Zen: Ma Tzu: The Empty Mirror, Chapter 1: The mirror, WHEN NANGAKU FIRST SAW MA TZU, HE RECOGNIZED HIM BY INTUITION AS A VESSEL OF THE DHARMA at energyenhancement.org
Osho - Talks on Zen: Ma Tzu: The Empty Mirror, Chapter 1: The mirror, Question 1, ARE WE ALL, THE TEN THOUSAND BUDDHAS, POTENTIAL VESSELS OF THE DHARMA? at energyenhancement.org
Osho - Talks on Zen: Ma Tzu: The Empty Mirror, Chapter 2: Sowing seed, AFTER HIS FIRST INSTRUCTIONS FROM HIS MASTER, NANGAKU, ON THE MEANING OF THE DHARMA, MA TZU FELT AS IF HE WERE DRINKING THE MOST EXQUISITE NECTAR at energyenhancement.org
Osho - Talks on Zen: Ma Tzu: The Empty Mirror, Chapter 2: Sowing seed, Question 1, I LOVE THE EXPRESSION, 'TAKE ONE STEP TOWARDS ALLAH, AND HE WILL COME RUNNING A THOUSAND STEPS TOWARDS YOU' at energyenhancement.org
Osho - Talks on Zen: Ma Tzu: The Empty Mirror, Chapter 3: Ripe plum, ONE DAY, WHEN MA TZU WAS ON HIS WAY HOME FROM CHIANG-SI, HE STOPPED TO VISIT HIS OLD MASTER, NANGAKU at energyenhancement.org
Osho - Talks on Zen: Ma Tzu: The Empty Mirror, Chapter 3: Ripe plum, Question 1, HOW AMAZING IT WOULD BE IF YOU TURNED UP ONE EVENING IN GAUTAM THE BUDDHA AUDITORIUM, AND ALL YOU COULD SEE WAS A VAST HALL OF EMPTY MIRRORS, OR ROWS AND ROWS OF JUICY, RIPE PLUMS at energyenhancement.org
Osho - Talks on Zen: Ma Tzu: The Empty Mirror, Chapter 4: Twisted nose, ONE DAY, AS HYAKUJO WAS VISITING HIS MASTER, MA TZU, A FLOCK OF WILD GEESE FLEW OVERHEAD. MA TZU ASKED, 'WHAT ARE THEY?' at energyenhancement.org
Osho - Talks on Zen: Ma Tzu: The Empty Mirror, Chapter 4: Twisted nose, Question 1, THE STORY ABOUT MA TZU SPITTING BROUGHT HOME TO ME HOW EVERYTHING YOU DO AND SAY SEEMS TO BE ONLY FOR YOUR DISCIPLES' SAKE at energyenhancement.org
Osho - Talks on Zen: Ma Tzu: The Empty Mirror, Chapter 5: Like a cow, MA TZU HAD THREE OUTSTANDING DISCIPLES WHO ENJOYED A SPECIAL INTIMACY WITH HIM at energyenhancement.org
Osho - Talks on Zen: Ma Tzu: The Empty Mirror, Chapter 5: Like a cow, Question 1, WHO OF US HERE WOULD NOT LIKE TO 'ENJOY A SPECIAL INTIMACY' WITH OUR MASTER, TO HAVE A SPECIAL PLACE IN HIS HEART? at energyenhancement.org
Osho - Talks on Zen: Ma Tzu: The Empty Mirror, Chapter 6: The hunter, MA TZU WAS NOTED FOR HIS RESOURCEFULNESS IN FINDING EXPEDIENT MEANS OF WORKING WITH HIS DISCIPLES at energyenhancement.org
Osho - Talks on Zen: Ma Tzu: The Empty Mirror, Chapter 6: The hunter, Question 1, THERE COULD NEVER HAVE BEEN A MASTER MORE RESOURCEFUL IN FINDING EXPEDIENT MEANS OF WORKING WITH HIS DISCIPLES THAN YOU at energyenhancement.org
Osho - Talks on Zen: Ma Tzu: The Empty Mirror, Chapter 7: To the source, YAKUSAN BEGAN HIS BUDDHIST STUDIES IN THE SCHOOL OF VINAYA SO HE WAS WELL-VERSED IN SCRIPTURAL STUDIES AND ASCETICS BY THE TIME HE WAS INTRODUCED TO ZEN at energyenhancement.org
Osho - Talks on Zen: Ma Tzu: The Empty Mirror, Chapter 7: To the source, Question 1, IF ONE HAS AN AUTHENTIC INSIGHT -- NOT JUST AN INTELLECTUAL UNDERSTANDING -- IT SEEMS TO TAKE ROOT AND AFFECT THE WAY ONE IS, OF ITS OWN ACCORD: NOTHING NEEDS TO BE DONE TO PRESERVE IT at energyenhancement.org
Osho - Talks on Zen: Ma Tzu: The Empty Mirror, Chapter 8: This moment, A MONK ONCE DREW FOUR LINES IN FRONT OF MA TZU. THE TOP LINE WAS LONG AND THE REMAINING THREE WERE SHORT at energyenhancement.org
Osho - Talks on Zen: Ma Tzu: The Empty Mirror, Chapter 8: This moment, Question 1, I DON'T KNOW THE MEANING OF BODHIDHARMA'S COMING FROM THE WEST, BUT THERE DOES SEEM TO BE A SIGNIFICANCE IN HIS TAKING THE EXISTENTIAL RELIGION OF ZEN TO THE EAST, AND YOU -- SO MANY CENTURIES LATER -- BRINGING IT BACK AGAIN TO CONTEMPORARY MAN at energyenhancement.org
Osho - Talks on Zen: Ma Tzu: The Empty Mirror, Chapter 9: No ripples, A SITUATION THAT OCCURRED LAST NIGHT WAS SUCH A VIVID ILLUSTRATION FOR ME OF HOW YOU ARE -- AS WE HAVE HEARD OF MA TZU -- A LIVING TEACHING MASTER OF ZEN, A MAN OF TAO at energyenhancement.org
Osho - Talks on Zen: Ma Tzu: The Empty Mirror, Chapter 9: No ripples, ON ONE OCCASION, A MONK CALLED ON MA TZU AND ASKED HIM, 'WHO IS THE MAN WHO DOES NOT TAKE ALL DHARMAS AS HIS COMPANIONS?' at energyenhancement.org
Osho - Talks on Zen: Ma Tzu: The Empty Mirror, Chapter 10: Moon-face, MA TZU WAS ONE DAY TEACHING A MONK. HE DREW A CIRCLE ON THE GROUND AND SAID, 'IF YOU ENTER IT, I WILL STRIKE YOU; IF YOU DO NOT ENTER IT, I WILL STRIKE YOU!' at energyenhancement.org
Osho - Talks on Zen: Ma Tzu: The Empty Mirror, Chapter 10: Moon-face, Question 1, DURING THE LAST FEW WEEKS, WHENEVER YOU HAVE SAID THE WORDS, `EMPTY', OR `EMPTY HEART', OR `EMPTY MIRROR', IT HAS FELT LIKE A TRIGGER, A REMINDER THAT DOES NOT JUST TICKLE MY MIND BUT GOES RIGHT TO THAT SPACE OF EMPTINESS IN ME at energyenhancement.org