OSHO
ZEN
MA TZU: THE EMPTY MIRROR
Chapter 6: The hunter
Question 1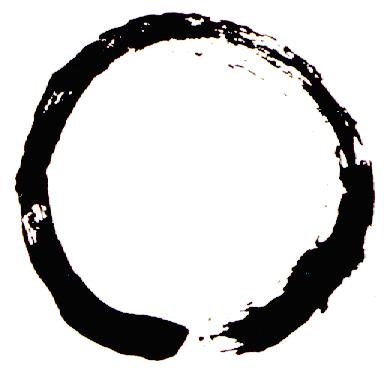 Energy Enhancement Enlightened Texts Zen The Empty Mirror
Question 1
Maneesha has asked a question:
OUR BELOVED MASTER,
THERE COULD NEVER HAVE BEEN A MASTER MORE RESOURCEFUL IN FINDING EXPEDIENT MEANS OF WORKING WITH HIS DISCIPLES THAN YOU.
WHO ELSE WOULD CREATE A CONCOCTION OF ZANY ANECDOTES, SERIOUS SUTRAS, WILD DANCING, AUTOMATED ANIMALS, JOKES, GIBBERISH AND SILENCE SUCH AS YOU SERVE UP EACH EVENING?
IN THE CONTEXT OF YOU, SOMEHOW EVERYTHING FEELS SO ABSOLUTELY RIGHT.
Maneesha, it is absolutely right, it is just that in my context you become aware of it. It is as if all the lights go out: these ten thousand buddhas will be still sitting here, but you will not be able to see them. Then the lights come on, and suddenly you see ten thousand people sitting around you. You were not alone in the darkness.
The context of the master is simply a light in your darkness. Everything seems to be true, everything seems to be beautiful -- but it is not the master's light that is making them beautiful. They are beautiful in themselves, but a light is needed to see them.
If you grow your own light, the master's context will not be needed.
The master's whole effort is that he should not be needed; that you should be enough unto yourself; that your own light should shine and radiate; that the existence should smile with your smiling heart.
It is true that I am a little crazy. (SARDARJI'S FAMILIAR LAUGH COMES LOUDLY FROM THE BACK OF THE AUDITORIUM.) Now, Sardarji, I have not yet told the joke, don't trust me too much!
I use everything, that's why I said that the Japanese masters who brought those ten cards and dropped one on the way were not very courageous. They were intelligent, but not geniuses. They could not find an explanation for the tenth card.
And to me, without the tenth card the nine are useless. What is the point of searching for yourself? The whole point is to become a drunk! The tenth card is the most essential, but even Gautam Buddha was afraid. Although he described the ten cards, he said, "I am myself at the ninth," just to avoid the complication of the tenth. The bottle of alcohol in the hands of a buddha simply does not look right. Even he avoided the tenth card -- but I will not avoid it.
In many countries, sannyasins wanted to take my picture with a bottle, to make the tenth card. I said, "It is perfectly okay, just fill the bottle with Coca-Cola! It is so simple, because in the photograph it won't show that there is Coca-Cola, and your purpose will be served."
I am just a little crazy, not too much.
You are right, that nobody has worked the way I work. And I love to work in every possible way -- not denying anything -- a total approval of life and all its turns, all its paths. I have accepted it in its totality, so I can use anything as an indicator. And from any point of view I can bring you to seek and search for the escaped ox.
Now, Sardarji's time has come at last!
Before you go into your meditations, in search of the ox, it is perfectly good to go in a happy mood; not serious, but smiling. Remember it: existence smiles when you smile, and when you are serious you are alone. Existence does not bother about your seriousness. If you want the whole world with you, just smile, and look all around and you will see trees smiling, and the flowers smiling. And at least when you are entering into meditation, it is good to enter with a smiling heart.
I have used jokes for the first time in the whole history of mankind, because such beautiful jokes... and nobody has used them for meditation. And they create such a good feeling all around, that one becomes courageous enough. A laughing heart is more courageous than a serious one. A serious heart doubts, hesitates, thinks twice. The laughing one is the heart of the gambler, he simply jumps in. And meditation is a question of jumping into the unknown.
Friar Fruck, the Jesuit missionary, is in Africa looking for a few Christian converts. He is marching across the plains with his crucifix and Holy Bible in hand, when suddenly he comes face to face with a huge, ferocious lion.
Friar Fruck's eyes roll to the back of his head, and he drops to his knees in a near-faint.
"Beloved God Almighty, King of Kings, all-knowing, all-seeing Father of the world," pleads Friar Fruck, praying feverishly, "save my blessed ass!"
The lion watches the Christian closely, and then he bows his own head, crosses his paws, and murmurs in a soft growl, "Beloved God Almighty, King of beasts and Lord of the jungle, please bless this poor food I am about to eat!"
Angela Angelovitch, the greatest ballet dancer in living memory, is going to give her last performance.
"Angela," says Petrov, her manager, "for this performance, you must give everything, EVERYTHING!"
That night, when the curtains are drawn back, Angela is standing on a platform, high above the stage, wearing a small pair of wings. The orchestra is playing and Angela leaps into the air and lands gracefully on the stage, to loud cheers.
Immediately, Angela jumps up and daintily climbs a ladder, and goes even higher than before. The orchestra plays loudly, and Angela springs into space. She spins through the air and lands on her tiptoes.
A rope descends and, to thundering applause, Angela is lifted right to the roof. The drums roll and then there is a deathly hush.
Angela jumps. She flies, spinning through the air, and lands in the middle of the stage with her legs apart, in a perfect split. The audience is hysterical.
At last, the curtains close and the audience starts to go home. Angela is resting motionless on the stage. Her legs are still split wide apart.
"Bravo! Encore!" shouts Petrov, her manager, walking onto the stage, clapping his hands.
"Petrov," says Angela, "will you do me a favor?"
"Yes, my darling," replies Petrov, "after a performance like that, anything!"
"Okay," says Angela, "then rock me a little, and break the suction!"
Just take your time! Has everybody got it?
Where is Haridas? -- because he is the polar opposite of Sardarji. They both are great friends, and their friendship depends on one thing: Sardarji can get any kind of joke, Haridas never gets any! So he laughs -- what else to do? Understanding is not his thing.
Swami Deva Coconut is standing in his bamboo house watching the waters rise around his ankles. It has been raining constantly for four days and the sky is still grey and wet.
As the water reaches his knees, Coconut climbs onto his suitcase, and when the water reaches to his knees again, he goes outside and climbs onto the roof of his bamboo house.
Just then, Ma Mango Milkshake comes past on a small raft.
"Come on, Coconut!" she calls out, "come for a ride!"
"No thanks," he replies. "I am just going to wait here, and watch."
Slowly, the water climbs up the side of the bamboo house, and starts to wash against Coconut's ankles again.
Swami Cleverhead, the group leader, rows up in a small rowboat. The boat is leaking water fast, but Cleverhead seems to be managing.
"Come on, Coconut!" calls Cleverhead. "Let us go out of here!"
"No thanks," replies Coconut. "I'm just waiting here and watching."
A half an hour later, Coconut has water around his neck, on top of his bamboo house.
Just then, Captain Cliffski and Captain Kurtski, the famous Polack pilots, fly over in a borrowed helicopter.
Captain Cliffski sees Coconut, and leans out of the window.
"Come on now, Coconut!" he shouts, "or you are going to be drowned!"
Coconut waves back, "I am just waiting here and watching!" he shouts.
Later, somewhere in the realms of the universe, Swami Deva Coconut meets Osho Rajneesh, and he seems really pissed off about something.
"I waited and I waited, I watched, I witnessed," exclaims Coconut, "and you never came to rescue me!"
"My God!" says Osho Rajneesh, "I sent you two boats and a helicopter!"
Big Rock Hunk, the famous Hollywood movie star, walks into the lobby of the exclusive Screwing Sands Hotel, and accidentally hits Gorgeous Gloria on the chest with his elbow.
"I'm extremely sorry," says Rock, sweetly, "but if your heart is as soft as your breast, then I am sure you will forgive me."
"That's all right," replies Gloria, "and if the rest of you is as hard as your elbow, my room is number thirty-three!"
Nivedano...
(Drumbeat)
(Gibberish)
Nivedano...
(Drumbeat)
Be silent. Close your eyes.
Feel your body to be completely frozen.
Look inwards with absolute urgency.
This moment may be the last moment.
Always remember that every moment
is possibly the last moment.
Then your urgency remains total.
Go deeper, as deep as you can,
because it is your own space, your very life source -- nothing to fear.
At the very center of your being you are connected with the heart of the universe.
Your empty heart becomes a door
to the ultimate heart of the universe.
And the moment you feel you are connected
and rooted in the ultimate,
everything in existence becomes beautiful, blissful.
Not only life, but death also
becomes a dance, a celebration.
Just watch, witness.
Nivedano...
(Drumbeat)
Relax. Let the body lie down.
Remember you are not the body,
nor the mind.
You are the witness, which is far away --
even skies are underneath it.
It is a watcher on the hills.
Your body is in the dark valleys down below.
The distance between your witness
and your body-mind structure is qualitative.
It cannot be bridged.
And people go on living in ignorance,
because they go on thinking
that they are the body, they are the mind.
And because of this identification
with body and mind,
they have forgotten the language of their inner being,
their inner nature, their universality,
their eternity -- the buddha.
This beautiful evening.
This dance of the rain
around the Buddha Auditorium,
and ten thousand buddhas in utter silence,
relaxed, centered...
it becomes a miracle.
It is a magic moment.
I can see there are no individuals,
but only an ocean of consciousness.
This is the point
where one becomes ultimately drunk,
drunk without any drugs.
Let this drunkenness sink in every fiber of your being.
Soon you will be coming back.
Fill all your buckets
with the nectar of the living stream of life,
and bring it with you.
Nivedano...
(Drumbeat)
Now, come back as a buddha.
Silently, peacefully, with grace.
Remember how buddha will sit down,
and this remembrance has to become
the very milieu
twenty-four hours around you.
Whatever you do, remember
that the act has to show your self-nature,
your original face, your buddhahood.
Every gesture, every word, every silence
should arise from your spontaneity.
This is authentic religion.
Okay, Maneesha?
Yes, Beloved Master.
Can we celebrate the ten thousand buddhas?
Yes, Beloved Master.
Next: Chapter 7: To the source
Energy Enhancement Enlightened Texts Zen The Empty Mirror
Chapters:
Osho - Talks on Zen: Ma Tzu: The Empty Mirror, Chapter 1: The mirror, WHEN NANGAKU FIRST SAW MA TZU, HE RECOGNIZED HIM BY INTUITION AS A VESSEL OF THE DHARMA at energyenhancement.org
Osho - Talks on Zen: Ma Tzu: The Empty Mirror, Chapter 1: The mirror, Question 1, ARE WE ALL, THE TEN THOUSAND BUDDHAS, POTENTIAL VESSELS OF THE DHARMA? at energyenhancement.org
Osho - Talks on Zen: Ma Tzu: The Empty Mirror, Chapter 2: Sowing seed, AFTER HIS FIRST INSTRUCTIONS FROM HIS MASTER, NANGAKU, ON THE MEANING OF THE DHARMA, MA TZU FELT AS IF HE WERE DRINKING THE MOST EXQUISITE NECTAR at energyenhancement.org
Osho - Talks on Zen: Ma Tzu: The Empty Mirror, Chapter 2: Sowing seed, Question 1, I LOVE THE EXPRESSION, 'TAKE ONE STEP TOWARDS ALLAH, AND HE WILL COME RUNNING A THOUSAND STEPS TOWARDS YOU' at energyenhancement.org
Osho - Talks on Zen: Ma Tzu: The Empty Mirror, Chapter 3: Ripe plum, ONE DAY, WHEN MA TZU WAS ON HIS WAY HOME FROM CHIANG-SI, HE STOPPED TO VISIT HIS OLD MASTER, NANGAKU at energyenhancement.org
Osho - Talks on Zen: Ma Tzu: The Empty Mirror, Chapter 3: Ripe plum, Question 1, HOW AMAZING IT WOULD BE IF YOU TURNED UP ONE EVENING IN GAUTAM THE BUDDHA AUDITORIUM, AND ALL YOU COULD SEE WAS A VAST HALL OF EMPTY MIRRORS, OR ROWS AND ROWS OF JUICY, RIPE PLUMS at energyenhancement.org
Osho - Talks on Zen: Ma Tzu: The Empty Mirror, Chapter 4: Twisted nose, ONE DAY, AS HYAKUJO WAS VISITING HIS MASTER, MA TZU, A FLOCK OF WILD GEESE FLEW OVERHEAD. MA TZU ASKED, 'WHAT ARE THEY?' at energyenhancement.org
Osho - Talks on Zen: Ma Tzu: The Empty Mirror, Chapter 4: Twisted nose, Question 1, THE STORY ABOUT MA TZU SPITTING BROUGHT HOME TO ME HOW EVERYTHING YOU DO AND SAY SEEMS TO BE ONLY FOR YOUR DISCIPLES' SAKE at energyenhancement.org
Osho - Talks on Zen: Ma Tzu: The Empty Mirror, Chapter 5: Like a cow, MA TZU HAD THREE OUTSTANDING DISCIPLES WHO ENJOYED A SPECIAL INTIMACY WITH HIM at energyenhancement.org
Osho - Talks on Zen: Ma Tzu: The Empty Mirror, Chapter 5: Like a cow, Question 1, WHO OF US HERE WOULD NOT LIKE TO 'ENJOY A SPECIAL INTIMACY' WITH OUR MASTER, TO HAVE A SPECIAL PLACE IN HIS HEART? at energyenhancement.org
Osho - Talks on Zen: Ma Tzu: The Empty Mirror, Chapter 6: The hunter, MA TZU WAS NOTED FOR HIS RESOURCEFULNESS IN FINDING EXPEDIENT MEANS OF WORKING WITH HIS DISCIPLES at energyenhancement.org
Osho - Talks on Zen: Ma Tzu: The Empty Mirror, Chapter 6: The hunter, Question 1, THERE COULD NEVER HAVE BEEN A MASTER MORE RESOURCEFUL IN FINDING EXPEDIENT MEANS OF WORKING WITH HIS DISCIPLES THAN YOU at energyenhancement.org
Osho - Talks on Zen: Ma Tzu: The Empty Mirror, Chapter 7: To the source, YAKUSAN BEGAN HIS BUDDHIST STUDIES IN THE SCHOOL OF VINAYA SO HE WAS WELL-VERSED IN SCRIPTURAL STUDIES AND ASCETICS BY THE TIME HE WAS INTRODUCED TO ZEN at energyenhancement.org
Osho - Talks on Zen: Ma Tzu: The Empty Mirror, Chapter 7: To the source, Question 1, IF ONE HAS AN AUTHENTIC INSIGHT -- NOT JUST AN INTELLECTUAL UNDERSTANDING -- IT SEEMS TO TAKE ROOT AND AFFECT THE WAY ONE IS, OF ITS OWN ACCORD: NOTHING NEEDS TO BE DONE TO PRESERVE IT at energyenhancement.org
Osho - Talks on Zen: Ma Tzu: The Empty Mirror, Chapter 8: This moment, A MONK ONCE DREW FOUR LINES IN FRONT OF MA TZU. THE TOP LINE WAS LONG AND THE REMAINING THREE WERE SHORT at energyenhancement.org
Osho - Talks on Zen: Ma Tzu: The Empty Mirror, Chapter 8: This moment, Question 1, I DON'T KNOW THE MEANING OF BODHIDHARMA'S COMING FROM THE WEST, BUT THERE DOES SEEM TO BE A SIGNIFICANCE IN HIS TAKING THE EXISTENTIAL RELIGION OF ZEN TO THE EAST, AND YOU -- SO MANY CENTURIES LATER -- BRINGING IT BACK AGAIN TO CONTEMPORARY MAN at energyenhancement.org
Osho - Talks on Zen: Ma Tzu: The Empty Mirror, Chapter 9: No ripples, A SITUATION THAT OCCURRED LAST NIGHT WAS SUCH A VIVID ILLUSTRATION FOR ME OF HOW YOU ARE -- AS WE HAVE HEARD OF MA TZU -- A LIVING TEACHING MASTER OF ZEN, A MAN OF TAO at energyenhancement.org
Osho - Talks on Zen: Ma Tzu: The Empty Mirror, Chapter 9: No ripples, ON ONE OCCASION, A MONK CALLED ON MA TZU AND ASKED HIM, 'WHO IS THE MAN WHO DOES NOT TAKE ALL DHARMAS AS HIS COMPANIONS?' at energyenhancement.org
Osho - Talks on Zen: Ma Tzu: The Empty Mirror, Chapter 10: Moon-face, MA TZU WAS ONE DAY TEACHING A MONK. HE DREW A CIRCLE ON THE GROUND AND SAID, 'IF YOU ENTER IT, I WILL STRIKE YOU; IF YOU DO NOT ENTER IT, I WILL STRIKE YOU!' at energyenhancement.org
Osho - Talks on Zen: Ma Tzu: The Empty Mirror, Chapter 10: Moon-face, Question 1, DURING THE LAST FEW WEEKS, WHENEVER YOU HAVE SAID THE WORDS, `EMPTY', OR `EMPTY HEART', OR `EMPTY MIRROR', IT HAS FELT LIKE A TRIGGER, A REMINDER THAT DOES NOT JUST TICKLE MY MIND BUT GOES RIGHT TO THAT SPACE OF EMPTINESS IN ME at energyenhancement.org