OSHO
ZEN
RINZAI: MASTER OF THE IRRATIONAL
Chapter 2: The Master of the shouts
Question 2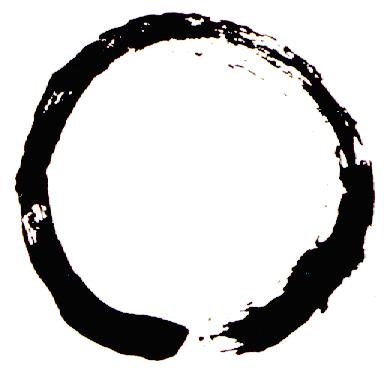 Energy Enhancement Enlightened Texts Zen Rinzai
Question 2
Maneesha has also asked a question:
OUR BELOVED MASTER,
YOU HAVE BEEN SPEAKING ON THE EMPTY HEART OF ZEN. LAST NIGHT WE SPENT AN EVENING LISTENING TO RUMI'S EXPRESSION OF THE SUFI HEART.
COULD YOU TALK OF THE DIFFERENCE BETWEEN THE TWO?
The reality is that what the Sufis call the heart is just part of their mind. The mind has many capacities: thinking, feeling, imagination, dreaming, self-hypnosis -- these are all qualities of the mind. In fact there is no heart as such; everything is being done by the mind.
We have lived with this traditional division, that imagination and feeling and emotions and sentiments are of the heart. But your heart is just a pumping system. Everything that you think or imagine or feel is confined into the mind. Your mind has seven hundred centers and they control everything.
When Zen says empty heart it simply means empty mind. To Zen, heart or mind are synonymous. The emphasis is on emptiness. A mind that is empty becomes the door to the divine that is all around -- but first it has to be empty.
Sufism is a beautiful imagination. Zen has nothing to do with imagination. Everything has to be emptied out. The name of Rumi is beautiful in a sense: not in Persian but in English, `roomy' means empty. The room either can be full of furniture or it can be without furniture, simply a room. That empty room contains the whole space, the whole existence.
Sardar Gurudayal Singh must be waiting. Coleman has asked a very serious question, and Sardar Gurudayal Singh is thinking, what happened about his time?
Betty Cheese, the wife of Chester, and Miss Goodbody, the unmarried schoolteacher, go on holiday together in Jamaica. They are lying around on the beach, thoroughly enjoying themselves, when Miss Goodbody says, "I think I will send a postcard to my boyfriend, Herbert."
"That's a good idea," says Betty. "I will send one to Chester." So the two girls run off and buy a couple of postcards.
Miss Goodbody writes on hers, "Dearest Herbert, The place is beautiful, wish you were here."
Betty Cheese writes, "Dearest Chester, The place is here, wish you were beautiful!"
Ronald Reagan and Mikhail Gorbachev are scowling at each other across the conference table in Geneva. They are perched on the brink of nuclear war, in a dispute over who has control of the small oil-producing country, Abu Dhabi.
"Look here, Reagan," says Mr. Gorbachev. "Why should we destroy the whole world just because of a small piece of real estate?"
"You are right," replies Reagan. "But how can we settle this argument without a war?"
"Simple," says Gorbachev. "You and I can have a contest of courage right now -- man to man."
"Great!" says the senile president of America. "What shall we do?"
"Well, in Russia," says Gorbachev, "we settle things like this: we just stand in front of each other, and each one of us gets to take a good kick at the other, right between the legs. Whoever can get up the quickest afterwards is the winner."
"Great idea!" says Reagan. "Let us get started."
The two men stand up, and Gorbachev goes first. He winds up and lets fly a mighty kick that nails Ronald right in the nuts. Reagan screams, falls over, and rolls around on the ground with his eyes popping out. After about five minutes of this, he manages to drag himself to his feet.
"Okay," gasps Ronnie, "now it's my turn."
"Oh!" says Gorbachev. "Never mind -- you can have Abu Dhabi!"
Herbert Hoop reaches the age of thirty-two and decides to take out a life-insurance policy. He goes along to the Ripoff Insurance Agency and is shown into the doctor's office for a complete physical examination.
After a thorough check-up, the doctor tells Herbert to get dressed.
"All the tests came out fine," says Doctor Bandaid. "But if you don't mind me making a personal observation, you have absolutely the smallest prick I have ever seen. Do you have any problems with it?"
"Well," says Herbert, "I have been married for ten years and we have two lovely kids and a good sex life. The only problem I have with my prick is that I have difficulty finding it in the daytime."
"Really?" says Bandaid. "And what about at night?"
"That is no problem," replies Herbert. "Then there's two of us looking for it."
Nivedano...
(Drumbeat)
(Gibberish)
Nivedano...
(Drumbeat)
Be silent...
Close your eyes, feel your body to be completely frozen. Now look inwards with your total consciousness and with a great urgency as if this is going to be your last moment of life. Pierce the center like a spear. It is not far away, just one step.
The moment you reach your center you will find a tremendous silence, a great serenity, and a joy that you have never known before. Flowers will start showering on you, because existence rejoices very much. Any evolution of consciousness -- when ten thousand people are at their center, it is a momentous event.
This moment you are the buddha. You don't have to become, you have always been. Your work consists in bringing this buddha from your hidden center to the periphery of your life, to your activities, to your relations.
Slowly, slowly bring the buddha from the center to the circumference... and you have passed through the greatest revolution possible. I know no other authentic revolution than this.
Just witness carefully. Buddha is not in front of you, you are the buddha. Be careful about it. If you see the buddha outside, cut the head of the buddha immediately. Your witnessing is the buddha. Your very isness, your very life, your very being is the buddha.
To make it more clear,
Nivedano...
(Drumbeat)
Now witness. You are not the body, you are not the mind, you are just a witness, a witness of emptiness, a witness of nothingness, and suddenly from the very center of your being arises a great blissfulness, a great ecstasy.
At this moment the Buddha Auditorium has become a silent lake of consciousness. You have melted into each other. You are just part of the ocean. Don't ask where the ocean is. Thisness, suchness is the ocean. To be here now is the ocean, and the oceanic consciousness is the ultimate freedom.
Before Nivedano calls you back, gather as much experience and the flowers and the fragrance and persuade the buddha to come with you. He comes... he is your intrinsic nature. Just as he can be at the center, he can be at the circumference.
That fortunate day certainly comes one day that your whole life becomes filled up. All your activities, all your gestures become so graceful, so divine. Your very silence becomes such a song. Your unmoving center becomes such a dance.
And one who knows his center, also knows his eternity, his immortality. Buddhas don't die, neither are they born. They simply appear and disappear into the same ocean just like waves.
Nivedano...
(Drumbeat)
Come back, but come as buddhas, peacefully, silently, gracefully. Sit for a few minutes to collect the space you have been in, the path you have trodden.
You have to go deeper and deeper every day, you have to bring more and more of the buddha to the circumference of your life.
It happens, certainly -- I say it with absolute authority because it has happened to me. Why cannot it happen to you? It is our birthright, just you have to claim it.
Okay, Maneesha?
Yes, Beloved Master.
Next: Chapter 3: Either experience or just go home
Energy Enhancement Enlightened Texts Zen Rinzai
Chapters:
Osho - Talks on Zen: Rinzai: Master of the Irrational, Chapter 1: The Master of the shouts, RINZAI BECAME KNOWN AS THE MASTER OF THE SHOUTS. ON ONE OCCASION, A MONK ASKED, 'WHAT ABOUT THE CARDINAL PRINCIPLE OF THE BUDDHA-DHARMA?' at energyenhancement.org
Osho - Talks on Zen: Rinzai: Master of the Irrational, Chapter 1: The Master of the shouts, Question 1, OUR LOVE FOR MUSIC, POETRY, DANCE, OUR LOVE FOR LOVE ITSELF -- DOESN'T THAT SUGGEST AN URGE IN US TO DISAPPEAR? at energyenhancement.org
Osho - Talks on Zen: Rinzai: Master of the Irrational, Chapter 2: Empty heart, empty mind, ON ONE OCCASION RINZAI SAID, 'WHOEVER COMES TO ME, I DO NOT FAIL HIM: I KNOW EXACTLY WHERE HE COMES FROM. IF HE SHOULD COME IN A PARTICULAR WAY, HE WOULD BE AS IF HE HAD LOST HIMSELF... at energyenhancement.org
Osho - Talks on Zen: Rinzai: Master of the Irrational, Chapter 2: Empty heart, empty mind, Question 2, I FEEL VERY GRATEFUL FOR YOUR ENLIGHTENMENT, YOUR WISDOM, YOUR DARING EXPERIMENTS, YOUR LIFE at energyenhancement.org
Osho - Talks on Zen: Rinzai: Master of the Irrational, Chapter 2: The Master of the shouts, Question 2, YOU HAVE BEEN SPEAKING ON THE EMPTY HEART OF ZEN. LAST NIGHT WE SPENT AN EVENING LISTENING TO RUMI'S EXPRESSION OF THE SUFI HEART. COULD YOU TALK OF THE DIFFERENCE BETWEEN THE TWO? at energyenhancement.org
Osho - Talks on Zen: Rinzai: Master of the Irrational, Chapter 3: Either experience or just go home, ON ONE OCCASION RINZAI SAID, 'FOLLOWERS OF THE WAY, YOU SEIZE UPON WORDS FROM THE MOUTHS OF OLD MASTERS AND TAKE THEM TO BE THE TRUE WAY, SAYING, `THESE GOOD MASTERS ARE WONDERFUL, AND I, SIMPLE-MINDED FELLOW THAT I AM, DON'T DARE MEASURE SUCH OLD WORTHIES... at energyenhancement.org
Osho - Talks on Zen: Rinzai: Master of the Irrational, Chapter 3: Either experience or just go home, Question 1, CAN ONLY OTHER ENLIGHTENED BEINGS, OR PEOPLE WHO ARE YET TO COME, BE CONTEMPORARIES OF A MASTER? at energyenhancement.org
Osho - Talks on Zen: Rinzai: Master of the Irrational, Chapter 3: Either experience or just go home, Question 2, ARE YOU NOT THE GREATEST, THE MOST DARING ICONOCLAST OF ALL TIME? at energyenhancement.org
Osho - Talks on Zen: Rinzai: Master of the Irrational, Chapter 4: How coarse, ONE DAY WHEN RINZAI AND PU'HUA WERE BOTH ATTENDING A DINNER AT A PATRON'S HOUSE, RINZAI ASKED: 'A HAIR SWALLOWS UP THE GREAT SEA, AND A MUSTARD SEED CONTAINS MOUNT SUMERU...' at energyenhancement.org
Osho - Talks on Zen: Rinzai: Master of the Irrational, Chapter 4: How coarse, Question 1, WITH THE PATH OF SUFISM, THE WAY OF THE HEART BEHIND US, WHERE DOES THE DEVOTEE FIT IN? at energyenhancement.org
Osho - Talks on Zen: Rinzai: Master of the Irrational, Chapter 5: Relax and disappear, RINZAI ONCE WENT TO VISIT ONE OF UNGAN'S DISCIPLES, ANZAN. ON THAT OCCASION HE ASKED ANZAN: 'WHAT IS THE WHITE COW OF THE DEWY GROUND?' at energyenhancement.org
Osho - Talks on Zen: Rinzai: Master of the Irrational, Chapter 5: Relax and disappear, Question 1, IS IT USEFUL FOR THOSE OF US WITH YOU TO TRY TO UNDERSTAND WHAT IS HAPPENING IN OUR MEDITATION AND GROWTH, AND TO BE ABLE TO ARTICULATE IT? OR DO WE JUST NEED TO WATCH? at energyenhancement.org
Osho - Talks on Zen: Rinzai: Master of the Irrational, Chapter 6: All you can do is drop your mind, WHEN RINZAI ONCE VISITED HORIN, HORIN SAID: 'INTO THE SEA, THE MOONLIGHT FALLS CLEAR AND SHADOWLESS, BUT THE WANTON FISH DECEIVE THEMSELVES' at energyenhancement.org
Osho - Talks on Zen: Rinzai: Master of the Irrational, Chapter 6: All you can do is drop your mind, Question 1, IS THE WITNESS A PRESENCE OR SIMPLY AN ABSENCE -- THE ABSENCE OF IDENTIFICATION WITH BODY AND MIND? at energyenhancement.org
Osho - Talks on Zen: Rinzai: Master of the Irrational, Chapter 7: There is no final destination, ONCE, WHEN KINGYU SAW RINZAI COMING TO HIS MONASTERY, HE SAT IN HIS ROOM HOLDING HIS STICK CROSSWISE. RINZAI STRUCK THE STICK THREE TIMES WITH HIS HAND, THEN ENTERED THE MONK'S HALL AND SAT DOWN IN THE FIRST SEAT at energyenhancement.org
Osho - Talks on Zen: Rinzai: Master of the Irrational, Chapter 7: There is no final destination, Question 1, WHEN THERE IS NOTHING TO PERCEIVE -- NO INPUT FROM THE BODY OR THE MIND AND SO ONE HAS NOTHING BY WHICH TO DEFINE ONESELF -- IS WHAT IS LEFT WITNESSING? at energyenhancement.org
Osho - Talks on Zen: Rinzai: Master of the Irrational, Chapter 8: Holidays are not for saints, RINZAI SAID, 'I EXPOUND THE DHARMA OF MIND-GROUND, BY WHICH ONE CAN ENTER THE SECULAR AND THE SACRED...' at energyenhancement.org
Osho - Talks on Zen: Rinzai: Master of the Irrational, Chapter 8: Holidays are not for saints, Question 1, FROM RECOGNITION OF AN INTERNAL, UNWAVERING WITNESS, TO WORSHIP OF AN EXTERNAL GOD FOR WHOM PEOPLE KILL -- CAN WE REALLY MAKE THE JOURNEY BACK TO THE WITNESS AGAIN WITHIN A SPLIT SECOND, WITH JUST ONE STEP? at energyenhancement.org