OSHO
ZEN
RINZAI: MASTER OF THE IRRATIONAL
Chapter 3: Either experience or just go home
Question 1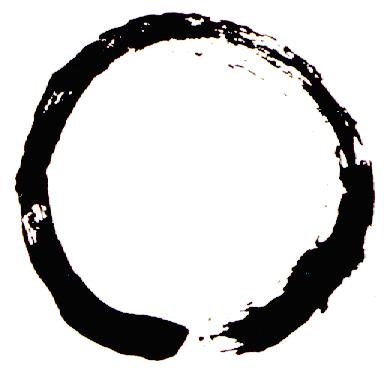 Energy Enhancement Enlightened Texts Zen Rinzai
Question 1
Maneesha has asked a question:
OUR BELOVED MASTER,
CAN ONLY OTHER ENLIGHTENED BEINGS, OR PEOPLE WHO ARE YET TO COME, BE CONTEMPORARIES OF A MASTER?
Yes, Maneesha, because enlightenment is beyond time, so all enlightened people are contemporaries. The distance in time between them does not matter at all at that peak that is rising beyond time.
Whoever reaches... the distance between two persons may be twenty-five centuries or five thousand years, but that distance is in time. That distance is a measurement of the mind, and enlightenment is both beyond time and mind. Hence, only enlightened people can be contemporaries.
The unenlightened has the potential to explode into enlightenment, and this very moment he will be moving in the world of the buddhas. This very moment he will find himself standing beside Gautam Buddha and Rinzai.
I am reminded of a small anecdote.
In Zorba the Buddha Rajneesh Restaurant in heaven, Gautam Buddha, Confucius, and Lao Tzu are all sitting around a table, and a very beautiful young sannyasin carrying a very beautiful jar comes along and asks, "Would you like to have a taste of life?"
Confucius immediately closed his eyes and he said, "Enough is enough. I have lived life and I don't want anything to do with life at all."
Buddha said, "I would like to have a sip first to see how it tastes" -- Buddha was always on the middle path. So he took a sip and he said, "It is very bitter."
The girl was going to ask the same to Lao Tzu, but before she could say anything he took the whole jar and drank all the juice, and he said, "Unless you drink it wholly and totally, how can you know? This Confucius is behaving as much like an idiot as he used to behave on the earth -- closing his eyes. Buddha is behaving the same way he used to behave on the earth -- always the middle path. Unless you know the whole, you don't know."
So when you become buddhas, you will be meeting all kinds of fellows, you will be contemporaries of all the buddhas of the past. But you carry the potential this very moment.
Next: Chapter 3: Either experience or just go home, Question 2
Energy Enhancement Enlightened Texts Zen Rinzai
Chapters:
Osho - Talks on Zen: Rinzai: Master of the Irrational, Chapter 1: The Master of the shouts, RINZAI BECAME KNOWN AS THE MASTER OF THE SHOUTS. ON ONE OCCASION, A MONK ASKED, 'WHAT ABOUT THE CARDINAL PRINCIPLE OF THE BUDDHA-DHARMA?' at energyenhancement.org
Osho - Talks on Zen: Rinzai: Master of the Irrational, Chapter 1: The Master of the shouts, Question 1, OUR LOVE FOR MUSIC, POETRY, DANCE, OUR LOVE FOR LOVE ITSELF -- DOESN'T THAT SUGGEST AN URGE IN US TO DISAPPEAR? at energyenhancement.org
Osho - Talks on Zen: Rinzai: Master of the Irrational, Chapter 2: Empty heart, empty mind, ON ONE OCCASION RINZAI SAID, 'WHOEVER COMES TO ME, I DO NOT FAIL HIM: I KNOW EXACTLY WHERE HE COMES FROM. IF HE SHOULD COME IN A PARTICULAR WAY, HE WOULD BE AS IF HE HAD LOST HIMSELF... at energyenhancement.org
Osho - Talks on Zen: Rinzai: Master of the Irrational, Chapter 2: Empty heart, empty mind, Question 2, I FEEL VERY GRATEFUL FOR YOUR ENLIGHTENMENT, YOUR WISDOM, YOUR DARING EXPERIMENTS, YOUR LIFE at energyenhancement.org
Osho - Talks on Zen: Rinzai: Master of the Irrational, Chapter 2: The Master of the shouts, Question 2, YOU HAVE BEEN SPEAKING ON THE EMPTY HEART OF ZEN. LAST NIGHT WE SPENT AN EVENING LISTENING TO RUMI'S EXPRESSION OF THE SUFI HEART. COULD YOU TALK OF THE DIFFERENCE BETWEEN THE TWO? at energyenhancement.org
Osho - Talks on Zen: Rinzai: Master of the Irrational, Chapter 3: Either experience or just go home, ON ONE OCCASION RINZAI SAID, 'FOLLOWERS OF THE WAY, YOU SEIZE UPON WORDS FROM THE MOUTHS OF OLD MASTERS AND TAKE THEM TO BE THE TRUE WAY, SAYING, `THESE GOOD MASTERS ARE WONDERFUL, AND I, SIMPLE-MINDED FELLOW THAT I AM, DON'T DARE MEASURE SUCH OLD WORTHIES... at energyenhancement.org
Osho - Talks on Zen: Rinzai: Master of the Irrational, Chapter 3: Either experience or just go home, Question 1, CAN ONLY OTHER ENLIGHTENED BEINGS, OR PEOPLE WHO ARE YET TO COME, BE CONTEMPORARIES OF A MASTER? at energyenhancement.org
Osho - Talks on Zen: Rinzai: Master of the Irrational, Chapter 3: Either experience or just go home, Question 2, ARE YOU NOT THE GREATEST, THE MOST DARING ICONOCLAST OF ALL TIME? at energyenhancement.org
Osho - Talks on Zen: Rinzai: Master of the Irrational, Chapter 4: How coarse, ONE DAY WHEN RINZAI AND PU'HUA WERE BOTH ATTENDING A DINNER AT A PATRON'S HOUSE, RINZAI ASKED: 'A HAIR SWALLOWS UP THE GREAT SEA, AND A MUSTARD SEED CONTAINS MOUNT SUMERU...' at energyenhancement.org
Osho - Talks on Zen: Rinzai: Master of the Irrational, Chapter 4: How coarse, Question 1, WITH THE PATH OF SUFISM, THE WAY OF THE HEART BEHIND US, WHERE DOES THE DEVOTEE FIT IN? at energyenhancement.org
Osho - Talks on Zen: Rinzai: Master of the Irrational, Chapter 5: Relax and disappear, RINZAI ONCE WENT TO VISIT ONE OF UNGAN'S DISCIPLES, ANZAN. ON THAT OCCASION HE ASKED ANZAN: 'WHAT IS THE WHITE COW OF THE DEWY GROUND?' at energyenhancement.org
Osho - Talks on Zen: Rinzai: Master of the Irrational, Chapter 5: Relax and disappear, Question 1, IS IT USEFUL FOR THOSE OF US WITH YOU TO TRY TO UNDERSTAND WHAT IS HAPPENING IN OUR MEDITATION AND GROWTH, AND TO BE ABLE TO ARTICULATE IT? OR DO WE JUST NEED TO WATCH? at energyenhancement.org
Osho - Talks on Zen: Rinzai: Master of the Irrational, Chapter 6: All you can do is drop your mind, WHEN RINZAI ONCE VISITED HORIN, HORIN SAID: 'INTO THE SEA, THE MOONLIGHT FALLS CLEAR AND SHADOWLESS, BUT THE WANTON FISH DECEIVE THEMSELVES' at energyenhancement.org
Osho - Talks on Zen: Rinzai: Master of the Irrational, Chapter 6: All you can do is drop your mind, Question 1, IS THE WITNESS A PRESENCE OR SIMPLY AN ABSENCE -- THE ABSENCE OF IDENTIFICATION WITH BODY AND MIND? at energyenhancement.org
Osho - Talks on Zen: Rinzai: Master of the Irrational, Chapter 7: There is no final destination, ONCE, WHEN KINGYU SAW RINZAI COMING TO HIS MONASTERY, HE SAT IN HIS ROOM HOLDING HIS STICK CROSSWISE. RINZAI STRUCK THE STICK THREE TIMES WITH HIS HAND, THEN ENTERED THE MONK'S HALL AND SAT DOWN IN THE FIRST SEAT at energyenhancement.org
Osho - Talks on Zen: Rinzai: Master of the Irrational, Chapter 7: There is no final destination, Question 1, WHEN THERE IS NOTHING TO PERCEIVE -- NO INPUT FROM THE BODY OR THE MIND AND SO ONE HAS NOTHING BY WHICH TO DEFINE ONESELF -- IS WHAT IS LEFT WITNESSING? at energyenhancement.org
Osho - Talks on Zen: Rinzai: Master of the Irrational, Chapter 8: Holidays are not for saints, RINZAI SAID, 'I EXPOUND THE DHARMA OF MIND-GROUND, BY WHICH ONE CAN ENTER THE SECULAR AND THE SACRED...' at energyenhancement.org
Osho - Talks on Zen: Rinzai: Master of the Irrational, Chapter 8: Holidays are not for saints, Question 1, FROM RECOGNITION OF AN INTERNAL, UNWAVERING WITNESS, TO WORSHIP OF AN EXTERNAL GOD FOR WHOM PEOPLE KILL -- CAN WE REALLY MAKE THE JOURNEY BACK TO THE WITNESS AGAIN WITHIN A SPLIT SECOND, WITH JUST ONE STEP? at energyenhancement.org