OSHO
ZEN
RINZAI: MASTER OF THE IRRATIONAL
Chapter 6: All you can do is drop your mind
Question 1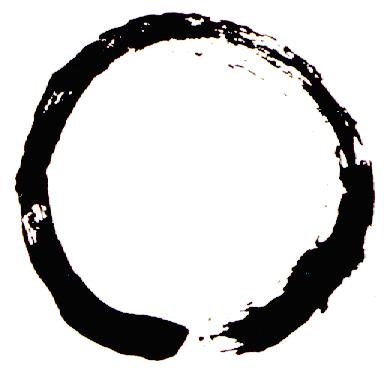 Energy Enhancement Enlightened Texts Zen Rinzai
Question 1
Maneesha has asked a question:
OUR BELOVED MASTER,
IS THE WITNESS A PRESENCE OR SIMPLY AN ABSENCE -- THE ABSENCE OF IDENTIFICATION WITH BODY AND MIND?
Maneesha, it is a difficult question -- difficult only because your mind never accepts contradictions, and existence absolutely is in favor of contradictions. In fact, existence is made of contradictions. So these two words, presence and absence, are both right.
In the witness there is absence, certainly, of your personality, of your mind, of your thoughts, feelings -- anything that you are carrying within your mind is absent. If you look from this side, it appears that no-mind is empty mind.
But the moment all these things are emptied out, the potential of your being starts growing -- a new presence which was hindered from growing by all the furniture that you have been carrying in the mind. Now that all that furniture and all those stones are thrown and the soil is ready, there comes a new presence.
So both are there as far as your mind is concerned. Meditation is an effort of creating absence. But when the mind is really absent, in that silence, in that unlimited space, your potential starts glowing, radiating, flowering. Suddenly you are full of cherry blossoms, a new presence, a new fragrance.
So absence and presence are both together in your meditation. On the one hand you are emptying, on the other hand the empty space is being filled with your potential. Before there was no space for it to blossom.
Meditation is simply creating a space for your potential to come to flower. A man of meditation has such a presence that you can feel it.
In my dining room I have got a small statue of Buddha. It is only a statue, but when Jayesh came for the first time and saw it, he said, "This statue has a great presence." I have loved that statue and carried it from India to America, from America to India, because it has a presence. It is only a statue, but a statue of a meditating buddha. Something of meditation in that very posture radiates a very alive aura.
I have brought another statue for your Buddha Auditorium, to be placed just at the gate, so you can see that even a statue, because it is in a meditative posture, radiates something. Just sitting by the side of the statue you will find something flowing from the statue towards you. It is not a worship, it is just being silently close and watching the posture. Because the posture is of meditation, something of meditativeness radiates even from the stone.
So when you are meditating, you are doing both the things: on one hand you are throwing away all that is garbage, and on the other hand you are helping roses to blossom. You will have an absence and you will have a great presence, together: absence of all that was ugly in you, and presence of all that is beautiful.
It is time for Sardar Gurudayal Singh. I hope he is still in his rainbow-colored turban. That turban has a special presence!
It is the farewell party at the White House for Ronald and Nancy Reagan. Everybody gets pretty drunk and Nancy Reagan offers to give George Bush, the president-elect, a private tour of the presidential bedroom.
When they get back to the party, George Bush looks for Ronald Reagan and finds him slumped on a couch, fast asleep.
"Hey, Ronald," says Bush, shaking Reagan roughly. "Do you have any pictures of Nancy in the nude?"
"What?" mumbles Reagan, in shock. "You idiot! Of course I don't!"
"Okay," says Bush, holding up his camera. "Wanna buy some?"
Doris and Jeff Dull have been married for six years and have three kids. But Jeff has a strange habit -- he will only make love with the lights off.
Doris puts up with this for as long as she can, but one night her curiosity gets the better of her. She and Jeff are making love in the usual way when suddenly she snaps the light on, and to her horror, she sees that Jeff is making love to her using a cucumber.
"You impotent wimp!" shouts Doris. "So this is why you never wanted the lights on! It's disgusting -- explain yourself!"
"Okay, dear," says Jeff, calmly. "I can explain the cucumber, if you can explain our three kids!"
Adolf Hitler pushes the doorbell at the Pearly Gates of Heaven and demands to be admitted. He kicks up such a fuss that Saint Peter calls Jesus to come and deal with the situation.
"I want to come in," cries the Fuhrer, "and I will reward you highly if you let me stay."
"What do you mean?" asks Jesus. "You cannot possibly come in. Just look at what you did on earth!"
"Look," says Hitler, taking Jesus to one side, "if you let me in, I will personally present you with Germany's highest award for bravery, the Iron Cross."
"Really?" says Jesus. "That's a very tempting offer. Just let me make one phone call."
So Jesus calls up God the Father. "Dad," says Jesus, "I've got Adolf Hitler here at the Pearly Gates, and he wants to come in. What do you think?"
"Jesus Christ!" shouts God. "Are you kidding? The guy is a psychopath!"
"I know, Dad," says Jesus, "but you see, he has made me this terrific offer. He wants to give me the Iron Cross!"
"The Iron Cross?" shouts God, in amazement. "You idiot! Look what happened when you got that wooden one!"
Nivedano...
(Drumbeat)
(Gibberish)
Nivedano...
(Drumbeat)
Be silent. Close your eyes. Feel your body to be completely frozen.
Now look inwards with your total life energy, with your total consciousness, and with an urgency as if this is going to be the last moment of your life.
Only with urgency can you reach to the center of your being, and at the center of your being you are the buddha. To realize this is to create the right space for all kinds of transformations in your life. Let this experience sink into every fiber of your being.
The buddha has only one quality, and that quality is witnessing. The buddha is made of witnessing, of watching. Just watch, and in your very watching your buddhahood deepens.
This evening, this moment you are the most fortunate ones on the earth, because to be a buddha is to be a Himalayan Everest of consciousness. Then you don't have to follow any discipline, any morality. All that is good comes behind you like a shadow.
Just remain a witness around the clock. Whatever you are doing, do it with full awareness and with a grace that shows that you have recognized the buddha in the deepest core of your being.
To make it more clear,
Nivedano...
(Drumbeat)
Just watch, be a witness.
You are not the body, you are not the mind; you are simply the witnessing, and this witnessing is the buddha.
The spring has come and the cherry tree has blossomed into thousands of flowers. Collect as many flowers and as much of witnessing...
Persuade the buddha to come from the hidden secrets of your life into the circumference, into your day-to-day life. He always has come, just the right persuasion is needed, and showing him your worthiness by witnessing.
Collect as much of this relaxed moment, of this let-go, before Nivedano calls you back.
This moment the Buddha Auditorium is no more the gathering of ten thousand buddhas. It has become a lake of tremendous consciousness without any ripples. You are the fish in the ocean. Don't ask where the ocean is.
Nivedano...
(Drumbeat)
Come back, and bring your buddha with you. Silently and gracefully, sit for a few moments just to remember where you have been, what golden path you have followed, what your center is like.
The silence, the beauty, the blissfulness -- you have to spread it on your circumference in every action, in every gesture, in every word, in every silence. You should remain a buddha in spite of any situation.
Being with me, you have got an opportunity which is no more available anywhere on the earth. It used to be available in many, many places. Those golden days have passed.
My effort is to give you a glimpse of those golden days when thousands of people in different places were trying to reach to the ultimate consciousness, to immortality, to eternity.
Without reaching to your center you are a cherry tree which will never find its spring. The moment you reach to your center you allow the spring to come to you. Your whole life becomes a dance, a poetry, a song.
Okay, Maneesha?
Yes, Beloved Master.
Next: Chapter 7: There is no final destination
Energy Enhancement Enlightened Texts Zen Rinzai
Chapters:
Osho - Talks on Zen: Rinzai: Master of the Irrational, Chapter 1: The Master of the shouts, RINZAI BECAME KNOWN AS THE MASTER OF THE SHOUTS. ON ONE OCCASION, A MONK ASKED, 'WHAT ABOUT THE CARDINAL PRINCIPLE OF THE BUDDHA-DHARMA?' at energyenhancement.org
Osho - Talks on Zen: Rinzai: Master of the Irrational, Chapter 1: The Master of the shouts, Question 1, OUR LOVE FOR MUSIC, POETRY, DANCE, OUR LOVE FOR LOVE ITSELF -- DOESN'T THAT SUGGEST AN URGE IN US TO DISAPPEAR? at energyenhancement.org
Osho - Talks on Zen: Rinzai: Master of the Irrational, Chapter 2: Empty heart, empty mind, ON ONE OCCASION RINZAI SAID, 'WHOEVER COMES TO ME, I DO NOT FAIL HIM: I KNOW EXACTLY WHERE HE COMES FROM. IF HE SHOULD COME IN A PARTICULAR WAY, HE WOULD BE AS IF HE HAD LOST HIMSELF... at energyenhancement.org
Osho - Talks on Zen: Rinzai: Master of the Irrational, Chapter 2: Empty heart, empty mind, Question 2, I FEEL VERY GRATEFUL FOR YOUR ENLIGHTENMENT, YOUR WISDOM, YOUR DARING EXPERIMENTS, YOUR LIFE at energyenhancement.org
Osho - Talks on Zen: Rinzai: Master of the Irrational, Chapter 2: The Master of the shouts, Question 2, YOU HAVE BEEN SPEAKING ON THE EMPTY HEART OF ZEN. LAST NIGHT WE SPENT AN EVENING LISTENING TO RUMI'S EXPRESSION OF THE SUFI HEART. COULD YOU TALK OF THE DIFFERENCE BETWEEN THE TWO? at energyenhancement.org
Osho - Talks on Zen: Rinzai: Master of the Irrational, Chapter 3: Either experience or just go home, ON ONE OCCASION RINZAI SAID, 'FOLLOWERS OF THE WAY, YOU SEIZE UPON WORDS FROM THE MOUTHS OF OLD MASTERS AND TAKE THEM TO BE THE TRUE WAY, SAYING, `THESE GOOD MASTERS ARE WONDERFUL, AND I, SIMPLE-MINDED FELLOW THAT I AM, DON'T DARE MEASURE SUCH OLD WORTHIES... at energyenhancement.org
Osho - Talks on Zen: Rinzai: Master of the Irrational, Chapter 3: Either experience or just go home, Question 1, CAN ONLY OTHER ENLIGHTENED BEINGS, OR PEOPLE WHO ARE YET TO COME, BE CONTEMPORARIES OF A MASTER? at energyenhancement.org
Osho - Talks on Zen: Rinzai: Master of the Irrational, Chapter 3: Either experience or just go home, Question 2, ARE YOU NOT THE GREATEST, THE MOST DARING ICONOCLAST OF ALL TIME? at energyenhancement.org
Osho - Talks on Zen: Rinzai: Master of the Irrational, Chapter 4: How coarse, ONE DAY WHEN RINZAI AND PU'HUA WERE BOTH ATTENDING A DINNER AT A PATRON'S HOUSE, RINZAI ASKED: 'A HAIR SWALLOWS UP THE GREAT SEA, AND A MUSTARD SEED CONTAINS MOUNT SUMERU...' at energyenhancement.org
Osho - Talks on Zen: Rinzai: Master of the Irrational, Chapter 4: How coarse, Question 1, WITH THE PATH OF SUFISM, THE WAY OF THE HEART BEHIND US, WHERE DOES THE DEVOTEE FIT IN? at energyenhancement.org
Osho - Talks on Zen: Rinzai: Master of the Irrational, Chapter 5: Relax and disappear, RINZAI ONCE WENT TO VISIT ONE OF UNGAN'S DISCIPLES, ANZAN. ON THAT OCCASION HE ASKED ANZAN: 'WHAT IS THE WHITE COW OF THE DEWY GROUND?' at energyenhancement.org
Osho - Talks on Zen: Rinzai: Master of the Irrational, Chapter 5: Relax and disappear, Question 1, IS IT USEFUL FOR THOSE OF US WITH YOU TO TRY TO UNDERSTAND WHAT IS HAPPENING IN OUR MEDITATION AND GROWTH, AND TO BE ABLE TO ARTICULATE IT? OR DO WE JUST NEED TO WATCH? at energyenhancement.org
Osho - Talks on Zen: Rinzai: Master of the Irrational, Chapter 6: All you can do is drop your mind, WHEN RINZAI ONCE VISITED HORIN, HORIN SAID: 'INTO THE SEA, THE MOONLIGHT FALLS CLEAR AND SHADOWLESS, BUT THE WANTON FISH DECEIVE THEMSELVES' at energyenhancement.org
Osho - Talks on Zen: Rinzai: Master of the Irrational, Chapter 6: All you can do is drop your mind, Question 1, IS THE WITNESS A PRESENCE OR SIMPLY AN ABSENCE -- THE ABSENCE OF IDENTIFICATION WITH BODY AND MIND? at energyenhancement.org
Osho - Talks on Zen: Rinzai: Master of the Irrational, Chapter 7: There is no final destination, ONCE, WHEN KINGYU SAW RINZAI COMING TO HIS MONASTERY, HE SAT IN HIS ROOM HOLDING HIS STICK CROSSWISE. RINZAI STRUCK THE STICK THREE TIMES WITH HIS HAND, THEN ENTERED THE MONK'S HALL AND SAT DOWN IN THE FIRST SEAT at energyenhancement.org
Osho - Talks on Zen: Rinzai: Master of the Irrational, Chapter 7: There is no final destination, Question 1, WHEN THERE IS NOTHING TO PERCEIVE -- NO INPUT FROM THE BODY OR THE MIND AND SO ONE HAS NOTHING BY WHICH TO DEFINE ONESELF -- IS WHAT IS LEFT WITNESSING? at energyenhancement.org
Osho - Talks on Zen: Rinzai: Master of the Irrational, Chapter 8: Holidays are not for saints, RINZAI SAID, 'I EXPOUND THE DHARMA OF MIND-GROUND, BY WHICH ONE CAN ENTER THE SECULAR AND THE SACRED...' at energyenhancement.org
Osho - Talks on Zen: Rinzai: Master of the Irrational, Chapter 8: Holidays are not for saints, Question 1, FROM RECOGNITION OF AN INTERNAL, UNWAVERING WITNESS, TO WORSHIP OF AN EXTERNAL GOD FOR WHOM PEOPLE KILL -- CAN WE REALLY MAKE THE JOURNEY BACK TO THE WITNESS AGAIN WITHIN A SPLIT SECOND, WITH JUST ONE STEP? at energyenhancement.org