OSHO
ZEN
THE SUN RISES IN THE EVENING
Chapter 4: Learn to Breathe this Air
Question 5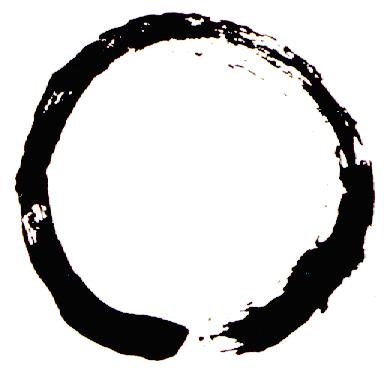 Energy Enhancement Enlightened Texts Zen The Sun Rises in the Evening
The fifth question:
Question 5
YOU ALWAYS.SAY THAT YOU'RE NOT THERE. EVERYONE ELSE SAYS THEY LOOK INTO YOUR EYES AND THERE'S NO ONE THERE. HOW IS IT THAT I ALWAYS EXPERIENCE THE OPPOSITE, THAT YOU'RE THERE AND YOU'RE THE ONLY ONE WHO'S REALLY THERE?
Savita, truth is always paradoxical. If it is not paradoxical it is not truth. The only way to be is not to be. Only when one is absent, presence arrives. So, both are true. Those who look into my eyes and see nobody they are right, absolutely right. And, Savita, you are also right: that when you look into my eyes you see THE ONLY ONE WHO'S REALLY THERE.
And these two experiences don't contradict, they com-plement each other. If somebody is looking for an ego in me, for a personality, he will not find one. There is no personality there; the personality has disappeared. It was a dream, and I no more entertain any dreams. It was a guest; now the only one who lives inside me is the host. Those who are looking for the guest, they will not find the guest -- they will not see any person there, somebody who can say 'I'. They will go inside and they will look all around, and they will not find any centre which can say 'I'. That centre is no more there. That complex has dissolved.
So, they are true; they come out and they say 'We see inside, and there is no one there.' But if you are not looking for the person, if you are not looking for the centre, if you are not looking for somebody, if you are not looking for the guest, you will see some immense presence. Not a person, not a personality, but a presence. A person is gross, fictitious -- it is a PERSONA, a mask. A presence is just a radiance.
I am empty as far as the person is concerned, I am full as far as the presence is concerned, abundantly full. If you look directly into me, not looking for the guest, then you will find the host. It depends on what you are looking for. You go into a room, you are looking for somebody, and he is not there, and you say 'The room is empty. He is not there.' There are a thousand other things in the room, but you are not talking about them. The furniture is there, the clock is there, still ticking, the painting is on the wall everything is there. But the room is empty because you were looking for somebody who is not there. It depends for whom you are looking. It depends on you what you will find. And both outlooks are valid because both things have happened: I have disappeared, and I have come. I am no more, and only now I am.
Truth functions as paradox. And to go beyond paradox is to go beyond intellect; the real understanding is always transcendental. And by 'transcendental' what is meant is the paradoxical.
Next: Chapter 4: Learn to Breathe this Air, Question 6
Energy Enhancement Enlightened Texts Zen The Sun Rises in the Evening
Chapter 4:
Osho - Talks on Zen: The Sun Rises in the Evening, Chapter 4: Learn to Breathe this Air, Question 1, WHAT IF THERE ARE ONLY MIRRORS AND MIRRORS AND MIRRORS REFLECTING EACH OTHER? at energyenhancement.org
Osho - Talks on Zen: The Sun Rises in the Evening, Chapter 4: Learn to Breathe this Air, Question 2, WHEN THE INTERNAL TALKING STOPS, IS THIS ENLIGHTENMENT? at energyenhancement.org
Osho - Talks on Zen: The Sun Rises in the Evening, Chapter 4: Learn to Breathe this Air, Question 3, WHERE IS THE LOVE IN BUDDHA'S TEACHINGS? I CAN'T FEEL IT at energyenhancement.org
Osho - Talks on Zen: The Sun Rises in the Evening, Chapter 4: Learn to Breathe this Air, Question 4, DO YOU KNOW ANYTHING ABOUT THE RADHA SOAMI RELIGION AND ITS MASTER SAINT, CHARAN SINGHJI? at energyenhancement.org
Osho - Talks on Zen: The Sun Rises in the Evening, Chapter 4: Learn to Breathe this Air, Question 5, YOU ALWAYS.SAY THAT YOU'RE NOT THERE. EVERYONE ELSE SAYS THEY LOOK INTO YOUR EYES AND THERE'S NO ONE THERE. HOW IS IT THAT I ALWAYS EXPERIENCE THE OPPOSITE, THAT YOU'RE THERE AND YOU'RE THE ONLY ONE WHO'S REALLY THERE? at energyenhancement.org
Osho - Talks on Zen: The Sun Rises in the Evening, Chapter 4: Learn to Breathe this Air, Question 6, DID I HEAR YOU RIGHTLY? THERE IS NOTHING THAT CAN BE DONE TO STOP THE MISERY -- NO DECORATION OR PRUNING IS GOING TO DO ANY GOOD at energyenhancement.org
Osho - Talks on Zen: The Sun Rises in the Evening, Chapter 4: Learn to Breathe this Air, Question 7, HOW CAN ANYONE WHO HAS NOT REALISED HIS TRUE BUDDHA NATURE HELP FEELING INFERIOR IN YOUR PRESENCE EVERY MORNING? at energyenhancement.org
Osho - Talks on Zen: The Sun Rises in the Evening, Chapter 4: Learn to Breathe this Air, Question 8, BELOVED OSHO, YES, YES, YES, OSHO. YES at energyenhancement.org
Osho - Talks on Zen: The Sun Rises in the Evening, Chapter 4: Learn to Breathe this Air, Question 9, WHY SHOULD THE POOR SUN RISE IN THE EVENING? IS THE MORNING NOT ENOUGH? at energyenhancement.org