OSHO
ZEN
TURNING IN
Chapter 6: Underlying great doubt there is great satori
Question 1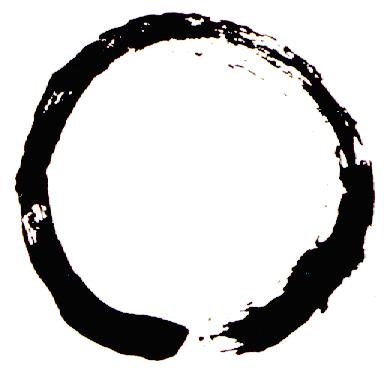 Energy Enhancement Enlightened Texts Zen Turnin In
Question 1
Maneesha has asked a question:
OUR BELOVED MASTER,
I HAVE UNDERSTOOD YOU TO ENCOURAGE US TO KEEP THE ABILITY TO DOUBT ALWAYS ALIVE. IS THERE NO POINT AT WHICH DOUBT IS NO LONGER NEEDED? A POINT WHEN IT IS NO LONGER HELPFUL?
Yes, there comes a point when you know the truth, when doubt simply dies. It is no more useful, no more helpful. It is just a shadow that disappears, as when you bring light into a house and all the darkness disappears.
Doubt is part of the dark night. It is useful when the night is there to give you an impetus, a persistence, a perseverance to search for the rising sun. But once you have reached the rising sun the darkness disappears, and with it the doubt too.
Now, a few really serious things....
Zabriski and Klopski are sitting around the Smoking Senorita pub, enjoying a few beers.
"Hey," says Zabriski, "you won't believe it, but I came home last night and found my wife sprawled on the couch making love to some other guy."
"Really?" coughs Klopski. "I hope you knew how to handle it."
"I sure did!" exclaims Zabriski. "I fixed them. I turned out the lights so they could not see what they were doing!"
Little Ernie is studying the properties of electricity in his class.
"We are going to learn about some of the practical uses of electricity," says Miss Goodbody. "So tomorrow I want everyone to bring some electric tool to show us."
The next day there is much excitement as the kids bring their electric bulbs, hair dryers, irons and all kinds of things. When Ernie arrives he is sweating and carrying a huge artificial lung on his back.
"Ernest!" says a surprised Miss Goodbody, "where in heaven's name did you get that electric lung?"
"I took it from grandpa's room," says Ernie, smiling.
"And he didn't mind?" cries Miss Goodbody.
"I don't think so, teacher," replies Ernie. "He just said, `Glrrrrrr...'"
On a Lufthansa flight from Berlin to New York, Harry Jablonski is sitting next to a beautiful young woman.
"Hello," says Harry, casually eyeing the pretty girl. "Are you German?"
"Ja," says the girl.
"How nice," says Harry, his eyes twitching slightly. "May I ask your name?"
"Ja, okay," she replies. "My name is Hilda Brombeck."
"Well hello, Hilda," Harry says, loosening his tie. "Is this your first trip to New York?"
"Ja, it is," replies Hilda. "I'm going on business."
"Really?" inquires Harry. "May I ask what kind of business?"
"Ja, sure," says Hilda. "I'm going to the International Congress of Nymphomaniacs."
"Really?" exclaims Harry, beginning to perspire. "Uh... that is fascinating. May I ask, what do you do at this congress?"
"Ja," says Hilda. "We discuss important issues like which men have the longest, hardest pricks. And which men can screw for the longest time. Things like that."
"Really?" squeaks Harry, taking off his coat. "May I ask which men do have the longest pricks?"
"Ja," says Hilda. "Those sweet Jewish men have those long pricks."
"Really?" splutters Harry. "And may I ask, which ones can screw the longest time?"
"Ja, sure!" replies the beautiful girl. "It is the American Indians who give the longest screw."
"Really?" cries Harry, grabbing off his glasses.
"Ja!" smiles Hilda. "And by the way," she continues, "you have not told me your name."
"Oh, my name?" gasps Harry, his eyes bulging out, "my name is Running Bear Goldstein!"
Nivedano...
(Drumbeat)
(Gibberish)
Nivedano...
(Drumbeat)
Be silent, close your eyes.
Feel your body to be frozen.
Gather all your life-energy like an arrow,
going deeper and deeper into your being,
to the very roots.
Here is the source not only of your life,
but of all life.
Here are the roots connecting you
with the universal source of life.
In this space, you are the original man.
In this space, you are the buddha.
This is your home.
You can go out, but never forget the home.
This is your nourishment, your consciousness,
your very life energy.
Keep it pure and flowing, and it will change
your character, your lifestyle, your actions.
It will bring grace and compassion and love,
just as flowers come to the rosebush.
Anything that comes out of this space is yours.
It will make you feel independent, individual, on your own.
There is no question of doubt or faith -- you know it.
Nivedano...
(Drumbeat)
Relax, just to make it clear that
the body is lying, the head is lying,
and you are simply watching.
Just be a watcher, a witness.
This is the greatest miracle in the world --
to be a witness...
You can remain a witness twenty-four hours,
doing all kinds of things.
You can also remain watchful, alert, aware.
The day you are for twenty-four hours aware,
without any effort, spontaneously, naturally,
you have come home.
You have become a buddha,
which was your destiny.
Right now you are only a seed, a bodhisattva.
When the seed becomes a flower,
the bodhisattva transforms itself into a buddha.
It is all your potentiality,
you don't have to seek it anywhere else.
I call it the miracle
because we are searching everywhere
for just two or three gold coins,
and an eternal treasure is available to us... the whole gold mine!
Every one of you is a splendor, a majesty,
a magic, a miracle.
If you can just remember your buddhahood,
the journey is complete.
Nivedano...
(Drumbeat)
Come back, all the buddhas.
Slowly, silently, gracefully,
remembering the experience
and the space you have been in.
Sit down for a few moments,
just being a buddha,
a pure sky, a silent lake, an empty mirror.
Okay, Maneesha?
Yes, Beloved Master.
Can we celebrate the gathering of the buddhas?
Yes, Beloved Master!
Next: Chapter 7: Nothingness is your original face
Energy Enhancement Enlightened Texts Zen Turnin In
Chapters:
Osho - Talks on Zen: Turning In, Chapter 1: The absolute host, RYUSUI SAID: EMPTINESS IS A NAME FOR NOTHINGNESS, A NAME FOR UNGRASPABILITY, A NAME FOR MOUNTAINS, RIVERS, THE WHOLE EARTH. IT IS ALSO CALLED THE REAL FORM. IN THE GREEN OF THE PINES, THE TWIST OF THE BRAMBLES, THERE IS NO GOING OR COMING at energyenhancement.org
Osho - Talks on Zen: Turning In, Chapter 1: The absolute host, Question 1, CAN ONLY THE EYES OF ENLIGHTENMENT SEE EMPTINESS? at energyenhancement.org
Osho - Talks on Zen: Turning In, Chapter 2: Morality: nothing but delusion, GOOD FRIENDS, IN THIS TEACHING, FROM THE OUTSET, SITTING IN MEDITATION DOES NOT CONCERN THE MIND NOR DOES IT CONCERN PURITY; WE DO NOT TALK OF STEADFASTNESS at energyenhancement.org
Osho - Talks on Zen: Turning In, Chapter 2: Morality: nothing but delusion, Question 1,I UNDERSTOOD YOU TO SAY RECENTLY THAT THERE WAS NO SENSE GIVEN TO US TO TAKE US INWARDS, AND HENCE MEDITATION WAS ABOVE THE NATURAL -- TRANSCENDENTAL at energyenhancement.org
Osho - Talks on Zen: Turning In, Chapter 3: Go on unconcerned, WHAT IS THE USE OF CATCHING A DREAM, AN ILLUSION, A FLOWER IN THE SKY? THERE IS, FOLLOWERS OF THE WAY, ONLY THE ONE WHO IS NOW PRESENT HERE AND IS LISTENING TO MY EXPOUNDING OF THE DHARMA.at energyenhancement.org
Osho - Talks on Zen: Turning In, Chapter 3: Go on unconcerned, Question 1, IT SEEMS THAT THE MIND GIVES US THE ILLUSION OF CONTROL OVER LIFE, WHILE AWARENESS MAKES US RESPONSIBLE FOR OUR LIVES. IS NOT THE TURNING POINT RECOGNIZING THE DIFFERENCE BETWEEN BEING IN CONTROL AND BEING RESPONSIBLE? at energyenhancement.org
Osho - Talks on Zen: Turning In, Chapter 4: Enlightenment is the way to extinction, DAIKAKU SAID: THIS TEACHING IS THE SCHOOL OF THE ENLIGHTENED MIND. THE ENLIGHTENED MIND ITSELF BASICALLY HAS NO DELUSION OR ENLIGHTENMENT at energyenhancement.org
Osho - Talks on Zen: Turning In, Chapter 4: Enlightenment is the way to extinction, Question 1, NOBODY IN THEIR RIGHT MIND WOULD WANT TO BE EXTINGUISHED. SO WHO OR WHAT IS IT INSIDE US THAT FEELS A PULL TOWARDS OBLITERATION? at energyenhancement.org
Osho - Talks on Zen: Turning In, Chapter 5: Meditation, the method of great liberation, DAIKAKU SAID TO HIS ASSEMBLY OF MONKS: 'SITTING MEDITATION IS THE METHOD OF GREAT LIBERATION; ALL THE TEACHINGS FLOW FORTH FROM THIS; MYRIAD PRACTICES ARE MASTERED THIS WAY. SUPERNORMAL POWERS, KNOWLEDGE, WISDOM AND VIRTUE, ALL ARISE FROM HERE at energyenhancement.org
Osho - Talks on Zen: Turning In, Chapter 5: Meditation, the method of great liberation, Question 1, SITTING IN FRONT OF YOU AND FACING NOTHINGNESS FOR A FEW MINUTES EACH EVENING IS ONE THING, BUT QUITE ANOTHER WHEN IT CONFRONTS ONE DURING THE OTHER TWENTY-THREE HOURS AND FIFTY-FIVE MINUTES OF THE DAY at energyenhancement.org
Osho - Talks on Zen: Turning In, Chapter 6: Underlying great doubt there is great satori, HAKUIN SAID: MY HUMBLE ADVICE TO YOU DISTINGUISHED PERSONS WHO STUDY THE PROFOUND MYSTERY OF THE BUDDHA-DHARMA IS THIS at energyenhancement.org
Osho - Talks on Zen: Turning In, Chapter 6: Underlying great doubt there is great satori, Question 1, I HAVE UNDERSTOOD YOU TO ENCOURAGE US TO KEEP THE ABILITY TO DOUBT ALWAYS ALIVE. IS THERE NO POINT AT WHICH DOUBT IS NO LONGER NEEDED? A POINT WHEN IT IS NO LONGER HELPFUL? at energyenhancement.org
Osho - Talks on Zen: Turning In, Chapter 7: Nothingness is your original face, WHAT I TELL PEOPLE ABOUT IS NOTHING SPECIAL; IT'S THE UNBORN, ENLIGHTENED, NO-MIND INNATE IN EVERYONE. WHAT IS IT ABOUT? at energyenhancement.org
Osho - Talks on Zen: Turning In, Chapter 7: Nothingness is your original face, Question 1, COULD IT REALLY BE THAT ONE DAY ENLIGHTENMENT IS SEEN AS 'NOTHING SPECIAL'? COULD CHILDREN LIVE SIMPLY THROUGH AWARENESS, RATHER THAN CONDITIONING, SO THAT THEY POP OFF INTO NIRVANA ALMOST AS SOON AS THEY POP OUT INTO LIFE? at energyenhancement.org
Osho - Talks on Zen: Turning In, Chapter 8: Fulfilling buddhahood right where you are, THIS SCHOOL IS AN EXCEEDINGLY DEEP AND SUBTLE TEACHING; ONCE YOU HAVE HEARD IT, IT BECOMES AN EXCELLENT CAUSE FOR ENLIGHTENMENT FOR ALL TIME at energyenhancement.org
Osho - Talks on Zen: Turning In, Chapter 8: Fulfilling buddhahood right where you are, Question 1, WHAT PLACE DOES A STRUCTURED MEDITATION TECHNIQUE HAVE IN THE LIVES OF YOUR SANNYASINS, BOTH WHEN WE ARE LIVING NEAR YOU AND WHEN WE ARE AWAY? at energyenhancement.org