OSHO
ZEN
WALKING IN ZEN, SITTING IN ZEN
Chapter 14: Don't Abandon Existence
Question 10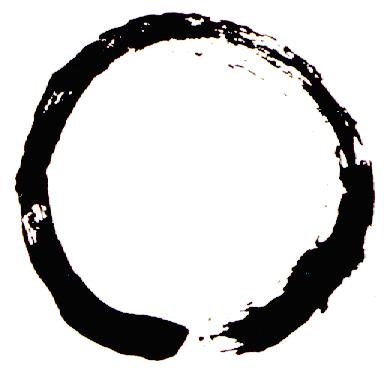 Energy Enhancement Enlightened Texts Zen Walking in Zen, Sitting in Zen
And the last question
OSHO,
Question 10
WHY AM I AFRAID TO ASK MY REAL QUESTIONS?
Avinash,
EVERYBODY IS AFRAID OF ASKING the real questions. That's why people ask metaphysical questions, philosophical questions -- questions about God, the creation, after-life, reincarnation -- because these questions are not in any way related to you; you remain outside.
To ask a real question is dangerous because when you ask a real question you have to encounter me directly and you have to face the consequences. I am not a predictable man; one never knows what I am going to say. One never knows whether I am going to hit you or to pat you; you can never be sure. And then to ask a real question needs the courage to open your heart, to show your wounds, to show where it hurts. Nobody wants to show their wounds, nobody wants to show their tears -- and everybody is full of tears and full of wounds, and everybody is pretending that he is happy.
You ask anybody, "How are you?" and he says, "Beautiful! Perfectly okay!" and nobody is okay and nobody is in a beautiful state. But people have to keep face.
Now asking me a question before three thousand people means exposing yourself. It is standing naked, spiritually naked. It is easy to stand naked physically -- that is nothing much, one can drop the clothes very easily -- but to stand spiritually naked needs tremendous courage. One has to be a dare-devil because it is like dropping your skin, showing your skeleton, it is like showing all your ugliness; and nobody wants to be exposed.
We are all covering our faces with masks -- beautiful masks. The original face has never been shown to anybody; you yourself have forgotten what your original face is. In fact, when you look for the real questions, first you will come across unreal questions, a thousand and one unreal questions. Unless you are very persistent and go on digging and go on throwing the unreal questions.... When the mind says, "Ask who created the world," if you are a real seeker you will say, "What nonsense! What does it matter? Anybody will do. The whole point is that the world is there. X created it, Y created it, Z created it, what does it matter? And whether anybody created it or did not create it, that too is immaterial. This question is nonsense and it is not going to affect my life. If God created it so what? Or if, as the Buddhists and Jainas say, nobody created it, so what? The Jainas and the Buddhists live in the same way as the Hindus and Mohammedans and Christians, in the same stupid way; it makes no difference to their lives."
Any question is unreal which does not make a difference to your life, but it is easy to ask such questions. In the first place it shows your knowledgeability, that you are a great student of metaphysics, philosophy, religion; it shows that you know the scriptures.
People go on writing to me, "Krishna has said this in the Gita -- what does he mean?" Whatsoever he means it is not going to affect your life. And there are one thousand commentaries already available; if they are not making any difference -- and the one thousand commentaries are useless -- then my statement is going to be the same: it is not going to affect your life.
Once I was delivering a talk on Mahavira, the Jaina teerthankara, and a Jaina scholar, a very famous scholar whose books I had read and whose scholarship I had always appreciated, stood up. I was not aware that this was the man who had written so many books, whom I had always appreciated. And he asked, "I have only one question. Buddha and Mahavira were both contemporaries. Who was older in age? -- because for almost fifty years I have been working on it, but no conclusive decision has been reached yet. There are reasons to suppose that Buddha was older and there are reasons to suppose that Mahavira was older."
I looked at the man for a few moments. There was absolute silence. The scholar started feeling a little embarrassed -- why was I looking at him in such a way? "Have I asked something wrong?" And then he said, "Why are you looking at me in such a strange way? Have I asked something wrong?" said, "Not only wrong -- you have wasted your whole life! Fifty years! What does it matter? If Buddha was older, so what? If Mahavira was older, so what? It does not affect their philosophy, it does not affect their approach to life. It is not going to affect you either. Why have you wasted your fifty years? You seem to be just a goddamned fool!"
Somebody, the man who was presiding, nudged me and said, "Do you know who he is? He is a very famous Jaina scholar!" And he told me his name.
I said, "Then I will hit him even more hard, because I have always appreciated his books, but this man is stupid! How did he manage to write such good books? He must be functioning like a biocomputer, because looking at him, seeing him, listening to his question... and he says fifty years and he is almost bragging that he has devoted so much time to such a great question." He was showing his scholarship.
It is easy to ask metaphysical, philosophical questions; it shows your knowledge, it shows your ego, your pride. But when you ask a real question it can hurt, it can expose you, it can show your ignorance. It is bound to show your ignorance -- not only your ignorance, it is bound to show your insanity, it is bound to show your schizophrenia, it is bound to show your neurosis.
That's why, Avinash. And you are an Indian, and the Indians are super-egoists. They have nothing else to brag about. Money they don't have, power they don't have, technology they don't have, science they don't have; they don't have anything else. They have only one thing: that egoistic attitude of "holier than thou." So Indians are very afraid to ask real questions; they never ask real questions. I have never come across Indians who ask real questions -- they will never expose themselves. Even if they are going insane they try to cover it up in some beautiful way.
Just the other day I received a letter saying that one woman has gone a little berserk. But the people who had written, they wrote not that she has gone mad or berserk, they wrote: "She is behaving like Ramakrishna, like Meera, so, Osho, only you can help."
A few days ago they phoned. The message was given to them: "Take her to the psychiatrist there." Now a very angry letter has come: "When you are here, why should we take her to a psychiatrist? She is not mad, she is in a very high state! And going to the psychiatrist can be dangerous because he will give her shock treatment or tranquilizers. He may bring her down to earth, back to her ordinariness -- and she is flying very high. Only you can understand it."
Now that woman is simply mad -- I know that woman. Just a few days before she was here and when she was here, and she came to touch my feet, I felt that this woman could go mad any time. But in India if you go mad you become a mystic, not mad. It is just the reverse in the West: if you become a mystic they put you in a mental asylum immediately! Indians don't like this idea that she is mad.
Nobody likes to bring his real problems. No Indian will talk about his sexual fantasies. He will come and ask, "How to attain celibacy, BRAHMACHARYA?" Now really he is suffering from sexuality, but he will not talk about it. And then people have become afraid that others will laugh. And that's what happens in an ordinary world.
This is not an ordinary place, Avinash. Nobody is going to laugh at you. People will have every compassion for you if your problem is real; in fact they will be more compassionate towards you if your problem is real. But people are hiding their real problems. And it is true as far as the outside world is concerned: if you tell the outside world your real problems, people will start laughing at you. They will not feel compassion, they will make you a laughing-stock. But not here. Here we have so many other things to laugh about. I give you so many opportunities to laugh that nobody has any laughter left to spare for your real problems. That's why I go on telling so many jokes: so that when real problems arise people can have compassion for you. But in the outside world it happens so -- but this is a very special kind of place.
A man entered the doctor's office wearing a robe. Surprised, the doctor asked, "Why do you wear a robe?"
"Ah, you saw the problem right away," said the patient. "I have one huge ball and I can't wear trousers."
"Okay," said the doctor, "let me examine it."
"No, doc, you'll laugh at me!"
"Show me," said the doctor.
"I know you'll laugh."
"No, I won't."
"Promise?"
"Promise!"
So the man lifts his robe, exposing his left leg. The doctor, seeing the oversized ball hanging down to the man's knee, forgets himself and roars with laughter.
"You sonofabitch!" yells the patient.''You promised you wouldn't laugh! Now I ain't gonna show you the big one!
Next: Chapter 15: So Lost And So At Home, Question 1
Energy Enhancement Enlightened Texts Zen Walking in Zen, Sitting in Zen
Chapter 14:
Osho - Talks on Zen: Walking in Zen, Sitting in Zen, Chapter 14: Don't Abandon Existence, Question 1, IS IT NOT NECESSARY TO DESIRE, TO LONG AND TO SEEK TRUTH AND AVOID THE UNTRUE, TO SEEK TRUTH AND RENOUNCE THE FALSE? at energyenhancement.org
Osho - Talks on Zen: Walking in Zen, Sitting in Zen, Chapter 14: Don't Abandon Existence, Question 2, MUCH OF MY CATHOLIC MIND HAS BEEN TENSE WITH STR4UGGLE FOR POWER, APPROVAL, LOVE, SEXC. MEDITATION STIRS UP FRUSTRATION. WHAT IS 'JUST LOOKING'? at energyenhancement.org
Osho - Talks on Zen: Walking in Zen, Sitting in Zen, Chapter 14: Don't Abandon Existence, Question 3, I KNOW THAT YOU HAVE LEFT ONE BRITISH LADY OUT OF YOUR ACCOUNT. WHY? at energyenhancement.org
Osho - Talks on Zen: Walking in Zen, Sitting in Zen, Chapter 14: Don't Abandon Existence, Question 4, I BELIEVE THAT YOU ARE ONE OF THE GREATEST MEN WHO HAS EVER LIVED. AM I RIGHT? at energyenhancement.org
Osho - Talks on Zen: Walking in Zen, Sitting in Zen, Chapter 14: Don't Abandon Existence, Question 5, DID GAUTAM THE BUDDHA AND JESUS THE CHRIST HAVE ANY IDEA THAT YOU WOULD BE HERE ONE DAY ON EARTH? at energyenhancement.org
Osho - Talks on Zen: Walking in Zen, Sitting in Zen, Chapter 14: Don't Abandon Existence, Question 6, DEAR-A OSHO-A, I DIG-A IT A LOT-A. IT WAS-A FAR OUT-A. CAN YOU-A LAY-A SOME-A MORE-A ON US-A? YOU ARE OUT-A SIGHT-A! LIKE-A THANK YOU A LOT-A! P.S.-A: YOU SEE-A, I AM-A AMERICAN-ITALIANO -- A REAL MESS-A! at energyenhancement.org
Osho - Talks on Zen: Walking in Zen, Sitting in Zen, Chapter 14: Don't Abandon Existence, Question 7, WHAT IS REINCARNATION? at energyenhancement.org
Osho - Talks on Zen: Walking in Zen, Sitting in Zen, Chapter 14: Don't Abandon Existence, Question 8, HOW ABOUT SOME GOOD JEWISH JOKES? I LOVE TO LAUGH AT MYSELF! at energyenhancement.org
Osho - Talks on Zen: Walking in Zen, Sitting in Zen, Chapter 14: Don't Abandon Existence, Question 9, I HAVE BEEN HERE IN THE EAST FOR EIGHT YEARS NOW AND I KEEP FALLING MORE AND MORE LAZY. WHY? at energyenhancement.org
Osho - Talks on Zen: Walking in Zen, Sitting in Zen, Chapter 14: Don't Abandon Existence, Question 10, WHY AM I AFRAID TO ASK MY REAL QUESTIONS? at energyenhancement.org