The Third Chakra; Manipur Chakra.
---
Situated in the Solar Plexus just below the ribs, this major nerve plexus controls the endocrine gland of the pancreas and therefore the quality of the blood. It has a relationship to the Sun.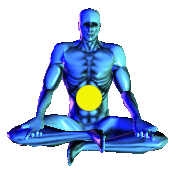 The Third Chakra; Manipura
It provides the Sea of Energy, like a capacitor, for the strength and daily use of the body. Emotionally, it provides the impetus towards power, dealing with the use of power and obtaining it.
When blocked, it gives personal ambition, anger and jealousy. When used too much or thwarted by personal power, it leads to a lack of energy in this area - anaemia, etc.
---