ALL ENERGY ENHANCEMENT VIDEO COURSES NOW AVAILABLE ONLY BY STREAMING VIDEO
email
sol@energyenhancement.org
FOR LATEST PRICES
THE CORE ENERGY TECHNIQUES
THE TECHNIQUES YOU CAN TRUST
THE QUALITY OF OUR 28 INITIATIONS IS THE KEY WHICH MAKES ENERGY ENHANCEMENT THE BEST
YOU RECEIVE
1. A Streaming Video Course - One Initiation every 3 Months for the first 4 Strong Initiations of Energy Enhancement Course - The First Four Initiations are the most important - including much useful advice and free books - which will take 12 months to acheive.
2. Free access to questions to Satchidanand or Other Energy Enhancement Teachers.
YOU GIVE - Please choose from some of these suggestions
1. You Promise, you make a commitment to practise Meditation and then the Energy Enhancement Initiation you are working on two sessions per day for a minimum of 20 minutes per session.
2. You Promise not to stop to steadily remove all your Energy Blockages... Energy Blockages are endless... We vow to remove them all!! - A Buddhist Vow which only ends in Enlightenment!!
3. You Promise to help all humanity remove all their energy blockages to make this a true planet of Love and of Light.
4. If you have an ADSL connection you Promise to install the free bittorrent program or the emule program - search on Devi Dhyani, Satchidanand, energy enhancement on Bittorrent or emule all the Energy Enhancement Free Sacred Dances, Free Books, Free Meditation talks - download them keep them online 24 hours per day and make them available for upload to all who want them.
5. You will Promise to start a free Energy Enhancement Blog in which to write at least one positive article per week about some aspect of your energy enhancement meditational experience, Research on Blockage Removal, Karma Clearing, Chakras above the head or research from articles from the energy enhancement site or books. Good articles may be put directly into the Energy Enhancement site as well.
6. You will Promise to Join a few Spiritual Community Sites, create links to the Energy Enhancement site and the Energy Enhancement books at Amazon.com and tell people about the existence of Energy Enhancement and your energy enhancement experience in a very nice and non provocative way.
7. You will Promise to Tell a few of your close friends who might be interested about your Energy course either face to face or by email - do not be too enthusiastic and be prepared for put downs!!
8. You will Promise to tell us about any other way in which you have successfully told people about Energy Enhancement or created links to Energy Enhancement.
9. You will Promise to Buy an Energy Enhancement Book from amazon.com and then when you have read it go back to amazon and put in a positive review.
10. If you like Energy Enhancement. If you like its ability to make you Good and to make the whole world Good then You will Promise to tell people about it!! Goodness is Godness!!
And this is the key to Energy Enhancement which aims to create honourable people of the heart who are conscious of working for the benefit of all beings, for the benefit of this planet.
11. Most importantly.... You will Promise to Write an email to us every week telling us the work you have done in telling the Universe about Energy Enhancement and your experiences of Energy Enhancement as a means of helping the Planet become a Planet of Light.
If you are happy to become a part of this program to help yourself and humanity then get back to us by email accepting these conditions and enter onto the course via the form below.
Or, get it together to save to come and meet us on an Energy Enhancement Live Course sometime....
Failing to Plan, is Planning to Fail
email sol@energyenhancement.org that you have signed up..
To accept your free course and to accept all the conditions above - Sign up here below... AND IMMEDIATELY
- SEND US AN EMAIL!!
OR GET THE 4 INITIATIONS IMMEDIATELY AT AN INCREDIBLE PRICE - 50% OFF ONLY 250 POUNDS SEE BELOW..
VIDEO INITIATIONS ON DEMAND
FOUR MASSIVE INITIATIONS FROM LEVEL 1 - IMMEDIATELY
50% OFF FOR A SHORT TIME ONLY- ONLY 250 UK POUNDS
CLICK BELOW TO GET IT NOW
Energy Enhancement Meditation Techniques and Yoga.
Speed up your Mind.
The CORE ENERGY TECHNIQUES
SERVING YOUR MEDITATION SINCE 1993 - ENQUIRIES AND BOOKINGS EMAIL sol@energyenhancement.org
Energy, Enhancement, EE, Meditation, Meditations, Retreats, Course, Hercules, Greek, Myth, Evolution, Human Evolution, Seminars, Yoga, Hatha, Patanjali, Raja, Mantra, Japa, Bhakti, Krishna, Karma, Asana, Pranayama, Mudra, Bandha, Yoga, Sacred, Dance, Teacher, Training, Meditation, Initiation, Teacher, Training, Philosophy, Reiki, Master, Enlightenment, Illumination, Nirvana, Emptiness, Nothing, Soul, Monad, Tantra, Tantric, Tantrick, White, Magic, Magick, Alchemy, Relationships, Ego, Strategeies, Mastery, Thelema, Aleister, Crowley, Healing, Psychology, Strategies, Celestine, Prophesy, Ken, Wilber, Therapy, infinity, infinite, taoist practises, transmute, transmutation, stress, success, abundance, plenty, philosophers stone, ego, kundalini, energy protection, intuition, synchronicity, square the circle, ouroboros, yin, yang, swastika, vitriol, aura, auric bopdy, inorganic beings, ascended masters, Development, Self, Personal, Relaxation, Stress, Holidays, Tours, India, Peru, Argentina, Brazil, Majorca, Alhambra, Taj, Mahal, Machu, Pichu, Arunachala, Poetry, Art, Spirit, Spiritual, Don, Juan, Carlos, Castaneda, Castenada, Gurdjieff, Alice, Bailey, Djwan, Khul, The, Tibetan, Lama, Zopa, Dalai Lama, New Age, Management, Success, Taoism, Tao, Daoism, Dao, Zen, Master, Hogen, Rinzai, Soto, Dogen, Buddhism, Buddha, Mahayana, Hinayana, Sufism, Muslim, Jallaluddhin, Jallaluddin, Rumi, Hinduism, Osho, Rajneesh, Sivananda, Satchidananda, Satchidanand, Sathya, Sai, Baba, Ramana, Maharshi, Sri, Yogendra, Maharishi, Mahesh, Yogi, Aurobindo, Christianity, Christ, Bede, Griffiths, Benedictine, Synthesis, Church, of Synthesis.


Bookmark this page - add it to your Favourites Now!!
The Energy Enhancement Meditation Techniques & Courses
You can learn one Level of Energy Enhancement in one week on one of our amazing tours, and learn Energy Enhancement along the way.
Each Tour must include at least one level of Energy Enhancement Meditation Techniques.
It is possible to include Energy Enhancement Meditation Techniques and Yoga Teacher Training, to go deeper into Yoga even if you do not want to teach, as part of any of our retreats including the Three Level Energy Enhancement course.
Tours and Retreats
Book by personal appointment anywhere in the world.
As Gurdjieff said,
"First Mastic, Then Mystic."
Practise makes Perfect.
VISIT THE ENERGY ENHANCEMENT HOME PAGE CLICK HERE!!
NEW MEDITATION ENERGY ENHANCEMENT SITE CLICK HERE!!

FREE REPORT CLICK HERE!! SECRETS OTHER COURSES WILL NEVER TELL YOU JOIN OUR REGULAR SPIRITUAL EMAIL SERVICE

ENLIGHTENMENT WITH MEDITATION ENERGY ENHANCEMENT INTRODUCTION
MEDITATION ENERGY ENHANCEMENT TESTIMONIALS AND LATEST TESTIMONIALS

KUNDALINI WITH ENERGY ENHANCEMENT DIRECTORS DEVI AND SATCHI

HEAL PROBLEMS - TRAUMA, PAIN, RAPE AND ABUSE, RELATIONSHIPS, DIVORCE, BEREAVEMENT, ANGER, FEAR AND DEPRESSION, FRIGIDITY AND IMPOTENCE, SEX ADDICTION, PIERCINGS, TATTOOS, BDSM, T
EE COURSE OVERVIEW THE KARMA CLEANING PROCESS
SPEED UP THE PROCESS OF ENLIGHTENMENT, WISDOM AND LEADERSHIP WITH THE APPRENTICE LEVELS OF THE ENERGY ENHANCEMENT COURSE.....
GAIN ENERGY APPRENTICE LEVEL1
THE KARMA CLEARING PROCESS APPRENTICE LEVEL2
SOUL SPLIT RETRIEVAL APPRENTICE LEVEL3
MASTER TANTRA RELATIONSHIPS APPRENTICE LEVEL4
FREE 90 MINUTE MEDITATION TALK ENLIGHTENMENT
FREE ENERGY ENHANCEMENT DANCE VIDEO 1
JANUARY 7TH 2006 COURSE IN ARGENTINA
COURSE IN SPAIN
1. India Tour Jan 2010
COME AND GET EXPERIENCED!
EMAIL sol@energyenhancement.org
To Arrange Your Course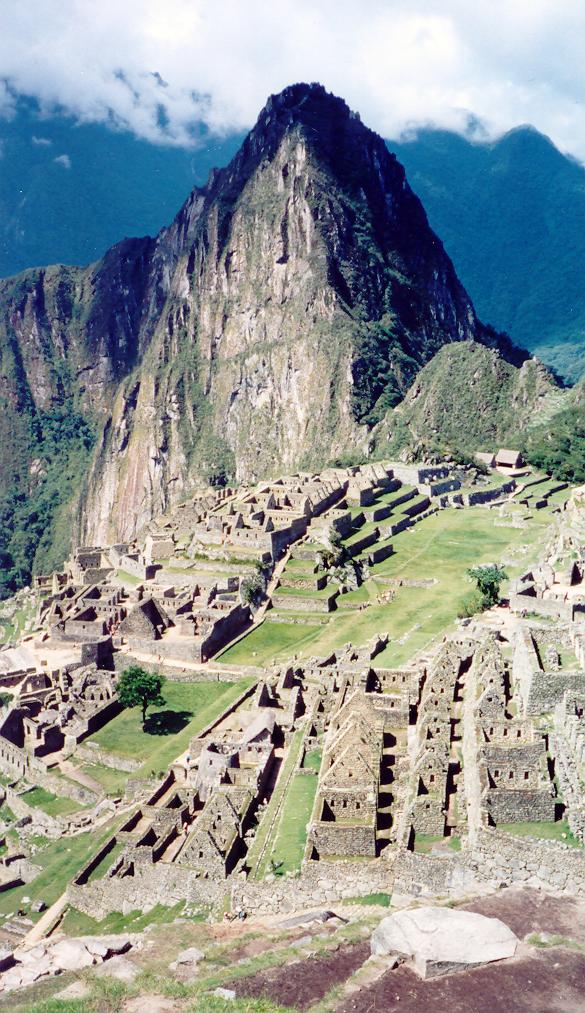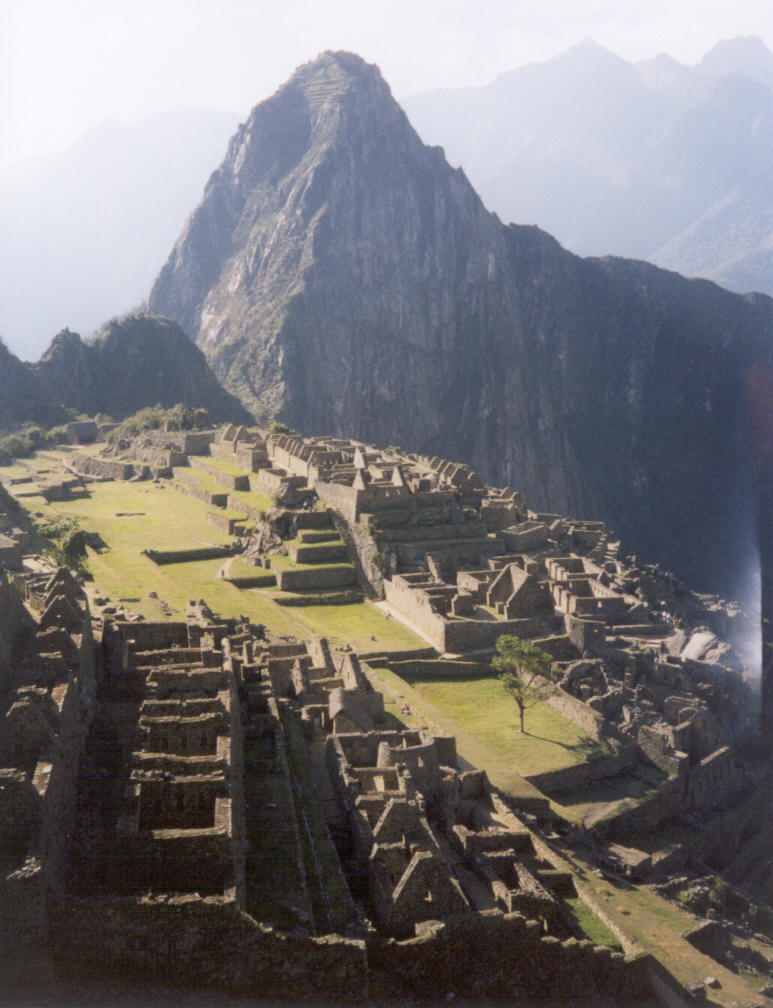 PRICES FOR THE ENERGY ENHANCEMENT COURSE IN IGUASSU, INDIA 2009 - 2010, PERU, SPAIN - CLICK HERE!!
2. Meditation Energy Enhancement Course plus a tour of Iguazu Falls on the borders of Argentina and Brazil. Eight Billion gallons per minute as the Parana river falls in an area of great natural beauty and energy - Late 2010.
COME AND GET EXPERIENCED!
EMAIL sol@energyenhancement.org
To Arrange Your Course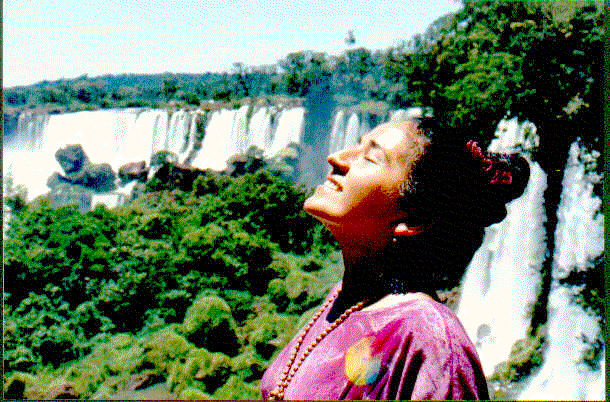 Devi Dhyani at Iguazu Falls in Brasil.
Iguazu Falls, Brasil, Yes; that is a ship at bottom!
Bathing in small pools at Iguazu Falls.
PRICES FOR THE ENERGY ENHANCEMENT COURSE IN IGUASSU, INDIA 2009 - 2010, PERU, SPAIN - CLICK HERE!!
Come for your Energy Enhancement Course Palolem Beach, Goa, our Energy Enhancement Center in India November 2009 -January 2010 - India Tour January 25th for 30 Days - Himalayas April, May, June 2010
COME AND GET EXPERIENCED!
EMAIL sol@energyenhancement.org
To Arrange Your Course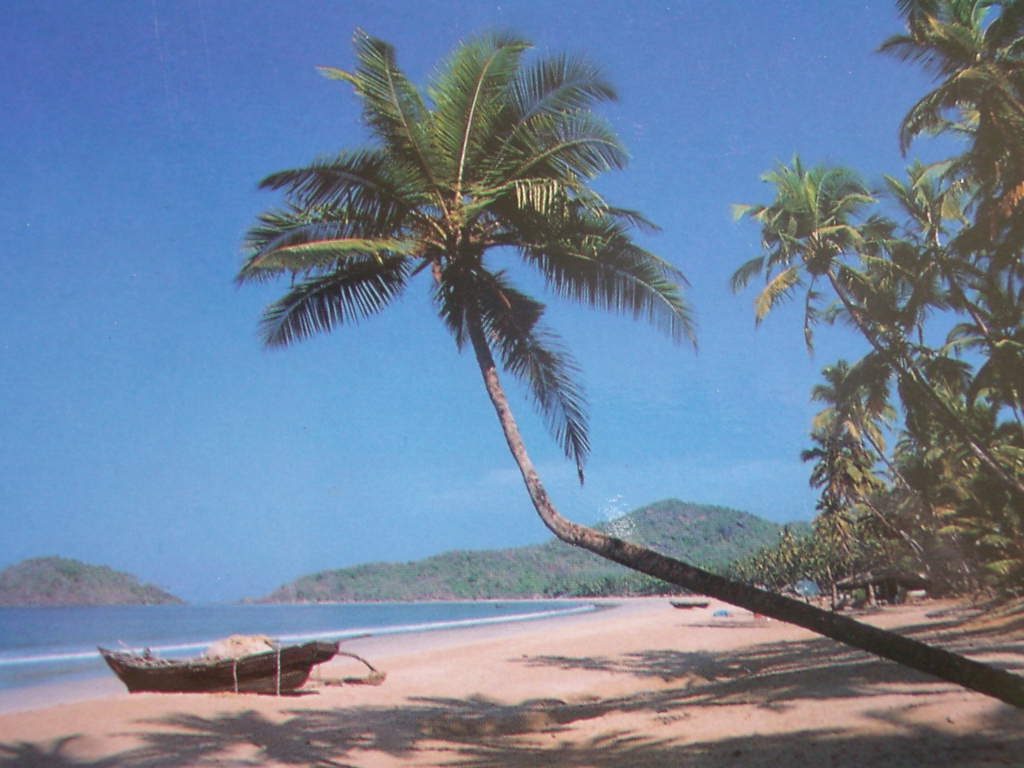 Palolem Beach in Goa, India is a One Kilometer Curve of Silver Sand, Backed By Palm Trees with Bath Temperature Sea Water, Pure Air, Wonderful Indian, Italian, Tibetan Restaurants and Relaxing 32C Temperatures with no rain over the Winter.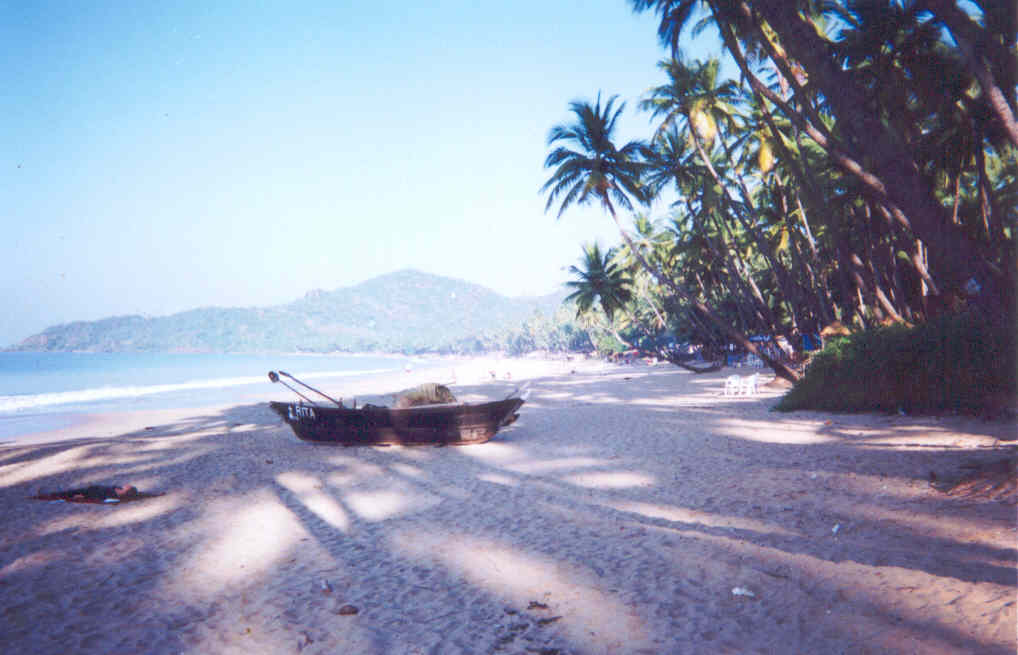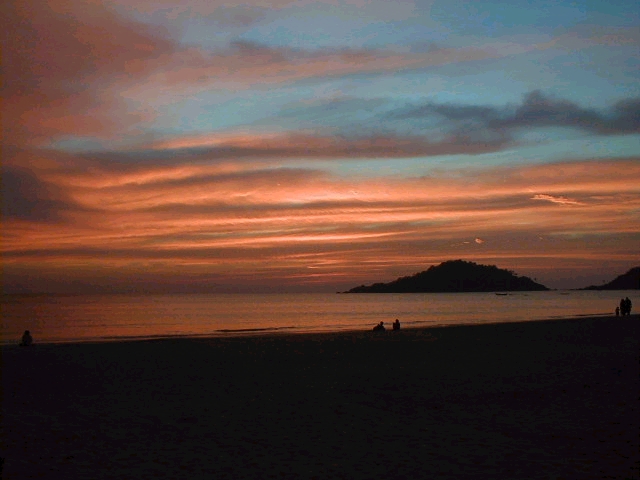 AS THE SUN GOES DOWN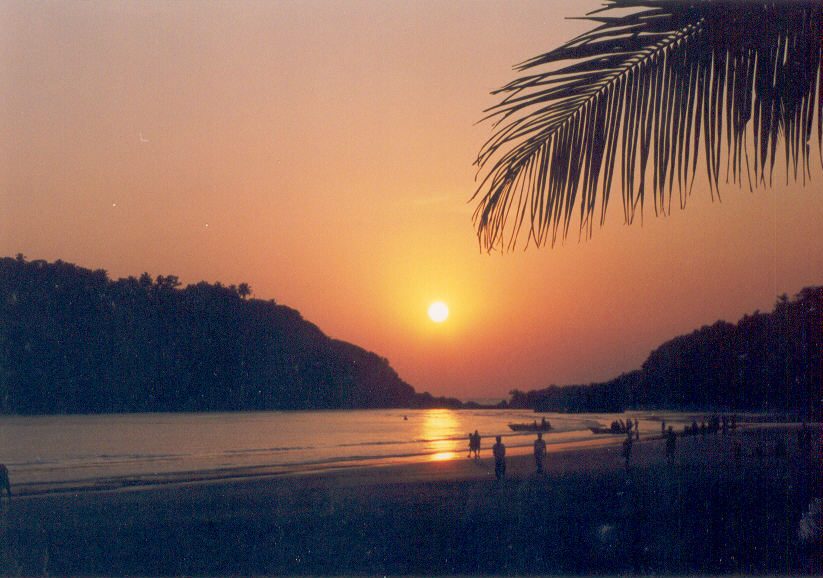 DUSK AT PALOLEM BEACH
FISHING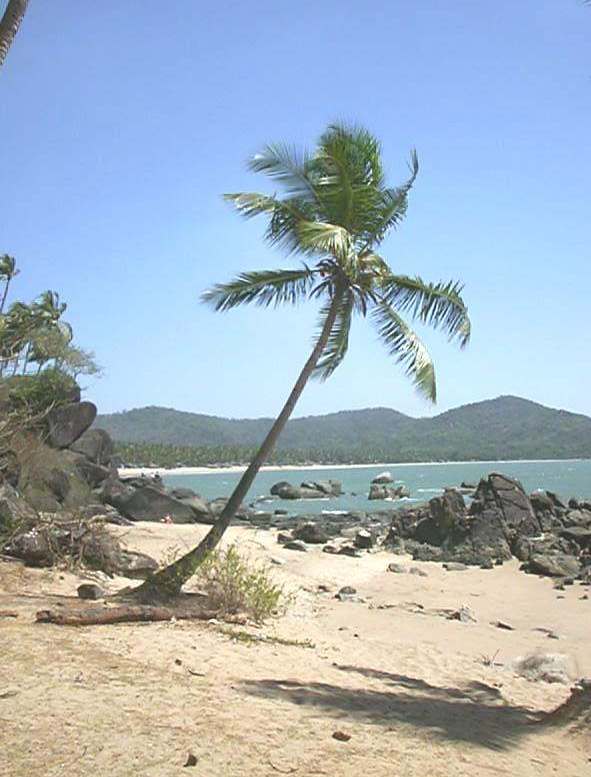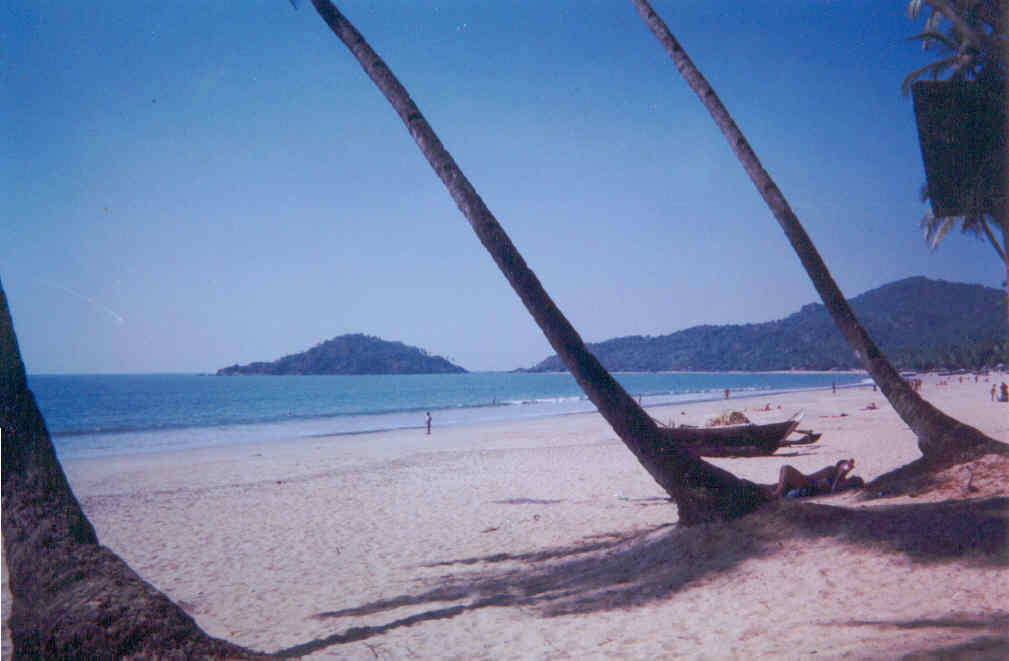 PRICES
CLICK BELOW TO GO TO
These retreats are for those wanting to work on themselves and learn how to gain and maintain much more energy.
On retreat we will be using Energy Enhancement, Organic food, Yoga, Dance, Chanting and Meditation.
To find out more on Energy Enhancement click on What is Energy Enhancement? to learn how to gain energy and lose negativity. Reducing our negative energies, our Karma, frees us up to get back in touch with our soul path. - that which gives life meaning.
The retreats start early with sessions in Yoga, meditation, chanting and then theory. The afternoon is free for the beach, sauna and sharing. The evening session is like the early session. "And so to bed..."
For those wanting to do more, if you wish, these Energy Enhancement Retreats present the opportunity to learn preliminary techniques towards a Yoga Teaching qualification (see our Yoga Teacher Training Course). For those who want to go deeper into these preliminary yoga techniques for Energy Enhancement. To be taught what and how to teach yoga. To gain the opportunity to have meaningful work wherever in the world we chose to live.
It is possible to Become a yoga teacher whilst you learn Energy Enhancement
---
The Four Levels of the Energy Enhancement Meditation Course
give the most benefits of any course of Meditational Self-Development available anywhere in the World today. If you want to Master Energy Meditations to get more Energy and to handle it better, this course is for You!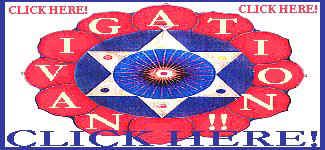 Whether you are a Management Corporate Executive, any sort of Alternative Practitioner, meditator, yogi or anyone who wants to evolve, - become better, smarter, more evolved, more empathic, more successful; this course will enable direct experience of superior life performance. We provide meditation techniques and meditation energy leading to advanced experience.
Energy Enhancement Meditation Techniques are the quickest and easiest methods of healing available. They are the most advanced course of meditation using psychic powers to Get in touch with your Life path, Ground negative Energies, Access Universal Energies, Integrate the separated selves, and Master Relationships and Mediation. They enable Three Initiations towards your Ultimate Freedom - Illumination, Nirvana, Emptiness, - Enlightenment.
Energy Enhancement Meditation is the latest and most advanced meditation course based on years of research, bringing together hidden techniques over 5000 years old. They are to be used for the benefit of Humanity for the next Millennium.
This is the Beginning!!!
This is the Synthesis of Light!
The Synthesis of Light is a Non-Profit Organisation teaching the most advanced, evolutionary methods of meditation from the best evolutionary sources for the benefit of the World and Higher. Bursaries are available for those who wish to study. Although One Level can be taught in a week, 3 year long courses are available for further study in India and Majorca. Also the Energy Enhancement Home Study Course or The Energy Enhancement E-Book is the beautiful start of Ancient Practises which will benefit Your Life in so many different ways!
The Energy Enhancement Web Book
Click the Symbol of the Synthesis of Light to follow the Hyperlink to the Energy Enhancement E-Book. An Electronic File you can pay $35 by Credit card, Download and read now. Anywhere in the World!!
---
Brenda Wilkinson, Co Durham.
You have both made me think about life in a very different way and I thank you both with all my love.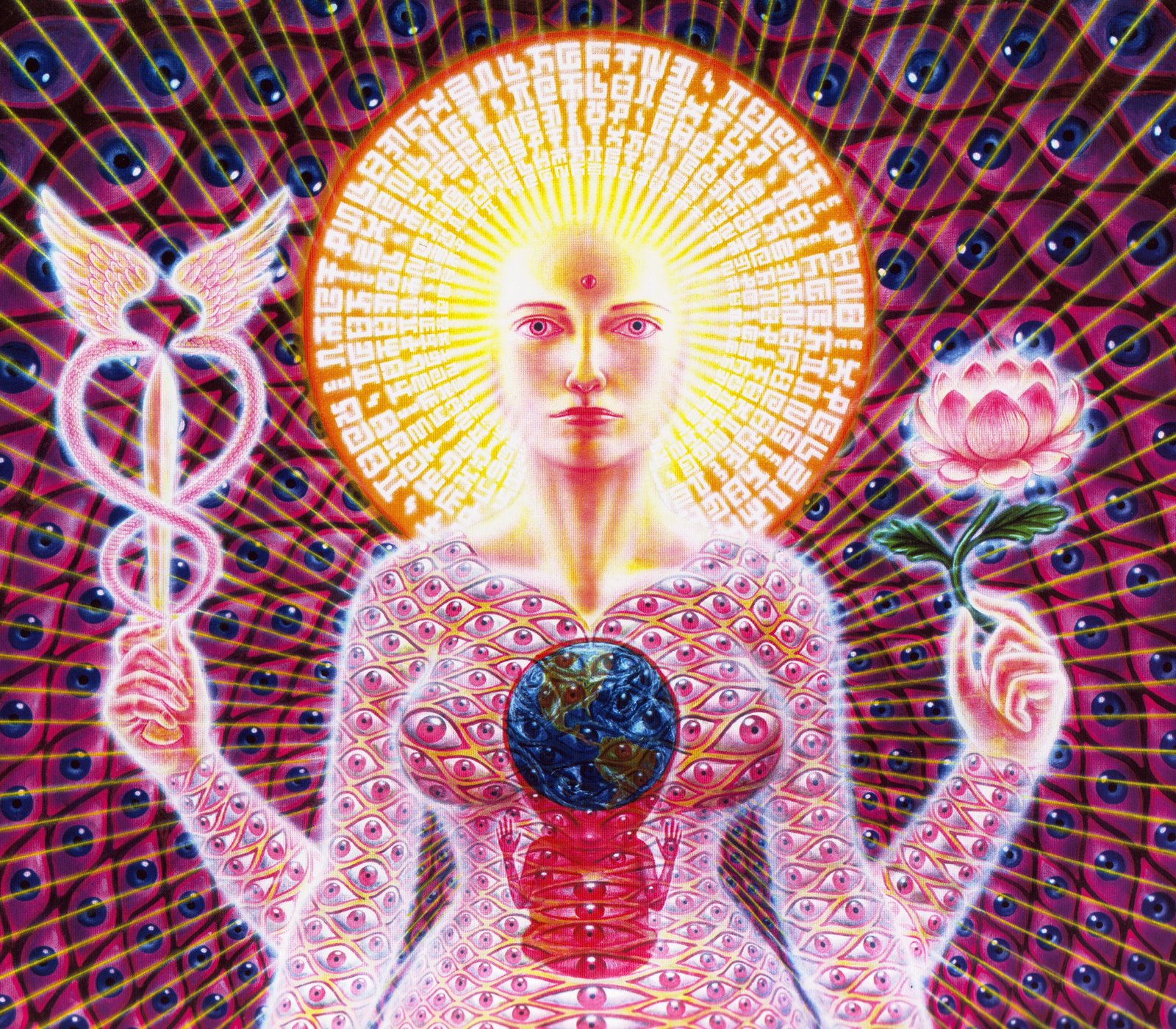 ---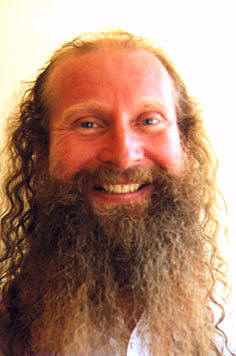 Master Satchidanand
"The Energy Enhancement Course is one on the Leading edge of Evolution. With more Energy you can cope with stress, speed up your mind, be in your deep peace, and handle all your relationships to your family and friends."
---
CLICK BELOW TO GO TO
---


Bookmark this page - add it to your Favourites Now!!