Asana, Pranayama, Mudra, Bandha.
Vishuddhi Chakra.
---
Vishuddi chakra is the center of purification (vishuddi means to purify). It is symbolized by a smoky violet lotus with sixteen petals, inscribed with the sixteen vowels of the Sanskrit alphabet. These are am, am, im, im, um, um, rim, rim, lrim, lrim, em, aim, om, aum, m and h.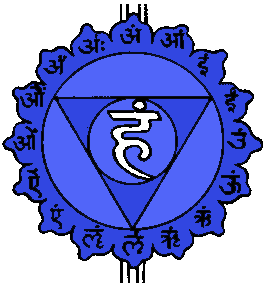 In the center of the lotus is a white circle and the bija mantra ham seated upon a white elephant. The elephant is symbolic of ether. The presiding deity is Ardhanariswara, the form of Lord Shiva and his consort Parvati combined in one body, half male, half female. The goddess of this center is Sakini, presiding over the element of bone.
Vishuddhi chakra influences the vocal cords and the region of the larynx, thyroid and parathyroid glands. Disorders in this area of the physical body can be remedied by concentrating deeply on this chakra.
The throat center is the place where divine nectar amrita (the mystical elixir of immortality) is tasted. This nectar is a kind of sweet secretion produced by the gland known as the lalana chakra, which is located near the back of the throat. By higher yogic practices such as kechari mudra, the nectar gland is stimulated. It secretes the nectar on which the yogi can exist for any length of time without food or water.
Many yogis in India have demonstrated the feat of being buried alive for day on end by virtue of their mastery over lalana chakra. Any practice which is utilized to stimulate this gland should not be undertaken without the guidance of a competent guru, for there are certain dangers involved. A bitter poisonous secretion is produced when the aspirant is not in the proper condition to take up such advanced practices.
One may meditate on vishuddi chakra by trying to feel that the cold, sweet drops of nectar are falling down into it, giving a feeling of blissful intoxication.
---
---
EE MEDITATION ENLIGHTENMENT TEXTS

MEDITATION ENERGY ENHANCEMENT MAIN PAGE

Individual one off contributions to our vision can be sent through paypal www.paypal.com to the Energy Enhancement Synthesis of Light Paypal Account, sol@energyenhancement.org

Happy

Meditation!
Bookmark this page - add it to your Favourites Now!!