Asana, Pranayama, Mudra, Bandha.
Ajna Chakra.
---
This chakra is known as the third eye, gyana chakshu (eye of wisdom), trikuti or triveni (confluence of three rivers), bhrumadhya (the eyebrow center), guru chakra and the Eye of Shiva. The word ajna means 'command'.
Through this chakra the disciple, in deeper states of meditation, receives commands and guidance from his guru. This is also where one receives commands from the divine, higher self.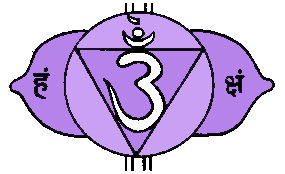 It is depicted as pale grey or white lotus, having two petals with the letters ham and ksham inscribed on them. These represent the positive and the negative flows of prana (vital energy) which converge at this center. In the center of the lotus is the sacred bija mantra aum. The presiding deities of ajna chakra are Paramshiva, the formless consciousness, and the goddess Hakini who controls the element of this chakra, the subtle mind (manas).
Ajna chakra is a very well-known centre which is used for concentration in many systems of meditation. Usually the point used for this purpose is the eyebrow center, though actually the real seat of ajna is within the area of the brain.
Its corresponding physical part of the body is the pineal, a tiny pea-sized gland within the brain, which has almost atrophied in the adult human being. On the psychic plane this delicate point is the bridge between the physical, mental and psychic bodies. Through the awakening of ajna chakra one develops supramental faculties such as clairvoyance, clairaudience, telepathy and other abilities which are the hidden potential of every person.
Thought energy also has form, being matter of a very subtle variety. When the mind is elevated and made sensitive, it is possible to send and perceive thought energy through ajna chakra. It is like a psychic doorway opening into deeper and higher realms of awareness.
In addition, by stimulating ajna chakra one may increase all the faculties of the mind: intelligence, memory, willpower and concentration.
---
EE MEDITATION ENLIGHTENMENT TEXTS

MEDITATION ENERGY ENHANCEMENT MAIN PAGE

Individual one off contributions to our vision can be sent through paypal www.paypal.com to the Energy Enhancement Synthesis of Light Paypal Account, sol@energyenhancement.org

Happy

Meditation!
Bookmark this page - add it to your Favourites Now!!