THE CENTAUR and THE SPHYNX
---
Cursed is the Man eaten by a Lion
so that he becomes a Lion."
- The Gospel of Thomas.
THE INTEGRATION OF THE SEVEN CHAKRAS.
The lion represents the animal human, the lower self. The man represents the spiritual and knowledgeable human - the real human being.
Those that understand, train, and integrate the lower chakras (the lion) with the higher chakras (the man) shall be blessed - they shall be enlightened. But cursed are those who are dictated to and controlled by the untrained and egotistical lower self - it's a dog's life for those in the darkness of ignorance (avidya). It is this darkness that ENERGY ENHANCEMENT removes, thus removing the 'curse of ignorance'.
The Sphynx Statue in Egypt.
Half Human, Half Lion.
The Sphynx is an early symbol composed of a human face on top of an animal, lion body. Recently, the Sphynx in Egypt has been proved to be greater than 10,000 years old because of the erosion on its side created by rainwater. The last rain to fall in that desert was 10,000 years ago.
A Centaur.
Half Human, Half Horse.
Like the centaur, the sphinx symbolises the two parts of man usually split apart, waiting to be integrated by enlightenment. The higher self (chakras 4,5,6,7) is symbolised by a human face. The selfish, ego driven animal part of man (chakras 1,2,3 without the influence of higher chakras) is symbolised by the lionís / horse's body, like nature, red in tooth and claw.
It's the same process also being described in THE TALE OF ST GEORGE AND THE DRAGON.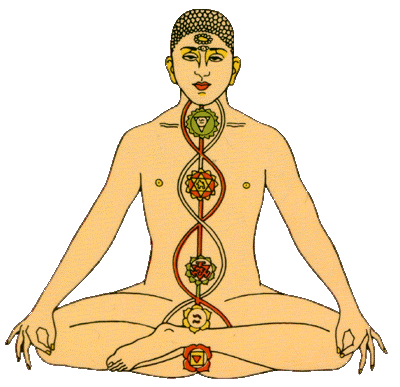 Each chakra is pure and spiritual. It is only when they are unintegrated, damaged, unbalanced, or under the influence of the selfish ego part of ourselves that problems arise.
---
---
---
EE MEDITATION ENLIGHTENMENT TEXTS

MEDITATION ENERGY ENHANCEMENT MAIN PAGE

Individual one off contributions to our vision can be sent through paypal www.paypal.com to the Energy Enhancement Synthesis of Light Paypal Account, sol@energyenhancement.org

Happy

Meditation!
Bookmark this page - add it to your Favourites Now!!