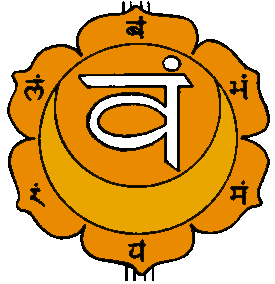 Issues Relating to The Second Chakra
THE MARTYR and THE PLEASURE SEEKER
---
Very simple. Failed correct integration of the second chakra.
All aspects of life are alright, if properly and appropriately expressed - in balance. The problems begin to occur when we get stuck in habitual and often conditioned ways of behaving which make ourselves and others unhappy.
The Martyr is a personality trait that is averse to pleasure. The Martyr refuses to endulge or enjoy even the simple pleasures of life. As a result they are always victimising themselves, punishing themselves, and "As within, So Without" - the psychology of projection occurs and other people are often on the receiving end of this self-inflicted pain and misery, ie; the martyr will not let others relax or enjoy in their company. The martyr personality type may also be out of balance with regards to pleasing other people. Pleasing other people does not necessarily mean that you are bringing happiness to others or to you. Happiness and pleasure are two distinctly separate things.
The martyr type's giving is often totally selfish, it's not heart orientated giving, because the martyr is simply trying to get your attention by victimizing themselves - it's an attention seeking strategy as selfish and dangerous as the tyrant or violator.
The opposite duality of the martyr is the pleasure seeker; the Don Juan, the Playboy/girl, the party person, the seducer, who eventually slides into the victim in later life; the alcoholic, the addict, the fallen star. This person is stuck in the habitual search for pleasure. The experience of pleasure rules their life.
They want you to join in with their party, but don't expect a friend for life. When they are bored or if you won't "play", then they will ridicule and drop you. The pleasure seeker has no feeling for anybody else except for themselves, "their beautiful selfish". They have an underdeveloped Heart Chakra. They are immature and dangerous to themselves and others.
---
---
FREE!! - EIGHT FREE ENERGY ENHANCEMENT MEDITATION GIFTS
Weekly Email Service of Right On Spiritual Texts and Pointed, Pungent and Humorous Stories.
YOGA, Energy Enhancement and Meditation.
SIGN UP NOW FOR THE "ENERGIES" NEWSLETTER

YOU GET EIGHT FREE ENERGY ENHANCEMENT MEDITATION GIFTS
FREE REPORTS - WHAT THE OTHER MEDITATION COURSES WILL NEVER TELL YOU

HOW TO HEAL TRAUMA AND CLEANSE YOUR KARMA.

FREE ONLINE ENERGY ENHANCEMENT E-Book

FREE ENERGY ENHANCEMENT VIDEO - YOGA SUTRAS BY SATCHIDANAND Download size 426mb

FREE!! 90 MINUTE TALK - ENLIGHTENMENT BY SATCHIDANAND Download size 11MB

FREE MEDITATION ENERGY ENHANCEMENT DANCE VIDEO ONE Download size 34MB

FREE MEDITATION ENERGY ENHANCEMENT DANCE VIDEO TWO Download size 38MB

FREE MEDITATION ENERGY ENHANCEMENT DATABASE ACCESS ONLINE 200MB

FREE Weekly Email Service of Right On Spiritual Texts and Pointed, Pungent and Humorous Stories.
Fill in the Form BELOW!!
---
---
---
EE MEDITATION ENLIGHTENMENT TEXTS

MEDITATION ENERGY ENHANCEMENT MAIN PAGE

Individual one off contributions to our vision can be sent through paypal www.paypal.com to the Energy Enhancement Synthesis of Light Paypal Account, sol@energyenhancement.org

Happy

Meditation!
Bookmark this page - add it to your Favourites Now!!