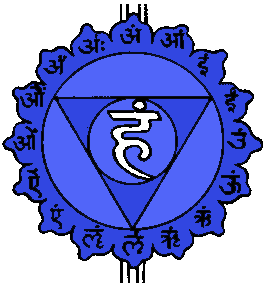 Hatha Yoga POSTURES FOR
Visuddha
THE FIFTH Chakra
---
Neck Rolls.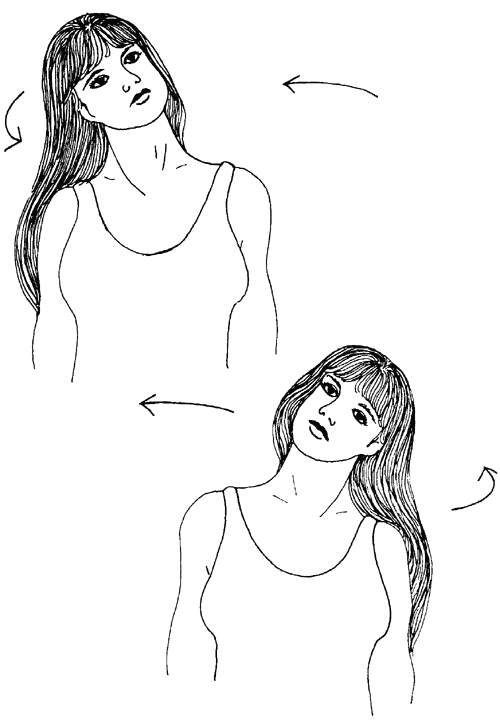 Slowly roll your head in a circular motion about your shoulders. Stop at any point that feels tense or uncomfortable, and massage with your fingers. Hold your head in the tight position until it relaxes some. Then move on. Go both clockwise and counterclockwise.
Head Lift.

Lie flat on your back and relax. Slowly lift your head, leaving your shoulders on the floor, so that you are looking at your toes. Hold this position for several minutes if possible. This stimulates the thyroid gland and helps straighten the neck.
Shoulder Stand.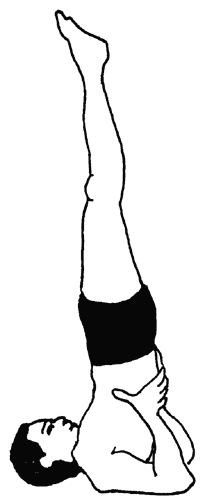 This posture also stimulates the thyroid gland. Lie flat on your back and relax. Lift your legs 90 degrees from the floor, then bring legs and hips up over the shoulders, supporting yourself on your elbows - hands on your hips. Hold for as long as is comfortable. This also helps to turn around a descending current of energy by making gravity pull in the opposite direction from our normal upright state.
The Fish Pose.

Designed to expand the chest cavity. Begin by lying flat on your back. Then come to a half seated position and prop yourself up on your elbows, hands on hips. Now throw your head back behind you and arch your back. If you can, touch your head to the floor and breathe deeply. Hold as long as is comfortable and then relax. Breathe deeply again.
The Plough.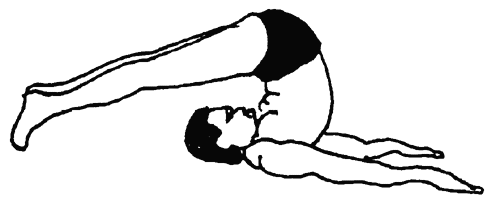 Lie flat on the back with the arms straight and beside the body, palms facing downwards.

Keeping the legs straight, slowly raise them to the vertical position above the body.

Only use the stomach muscles to raise the legs.

Do not use the arms.

Simultaneously bend the trunk upward, hips first.

Slowly lower the legs over the head and touch the floor with the toes of both feet.

Keep the legs straight, bend the arms and place the hands on the back as in sarvangasana.

Relax the body.

Remain in the final pose for a comfortable period of time.

Then either return to the starting position.
Limitations Of The Plough Pose.
Not for old and infirm people, sufferers of sciatica and other back ailments, or high blood pressure.
Ear to Knee Pose.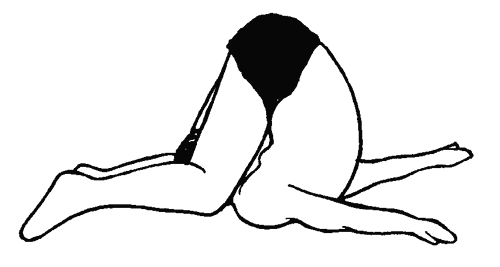 If this is still comfortable, bend your knees and tuck them behind your ears.
---
---
---
EE MEDITATION ENLIGHTENMENT TEXTS