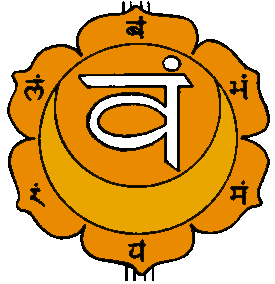 Hatha Yoga Postures for
Svadhisthana
The Second Chakra
---
The Goddess Pose.

Lie flat on your back and relax. Relax especially the legs, pelvis, and lower back. Bend your knees, bringing your feet in close to your buttocks. Slowly allow your knees to part, allowing the weight of the legs to stretch the inner thighs. Try to relax. Do not push your legs farther than is comfortable. Hold this position for two minutes or more. Then bring your knees together again.
This should be done very slowly and smoothly, at all times breathing deeply and remembering to relax. This puts us in touch with our sexual vulnerability, which paradoxically must be understood before we can fully open ourselves up on this level.
---
The Pelvic Rock.
A.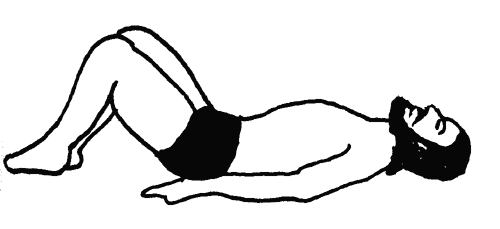 Starting on your back with legs bent, slowly begin to rock your pelvis upward and downward with each breath. Inhale fully into your chest and belly, exhale fully, and upon the end of each exhale, push slightly with your feet so that your pelvis comes off the ground pushing the small of your back into the floor beneath you.
B.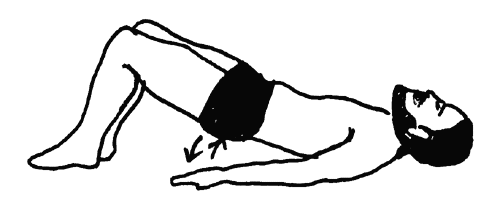 ---
Hip Circles.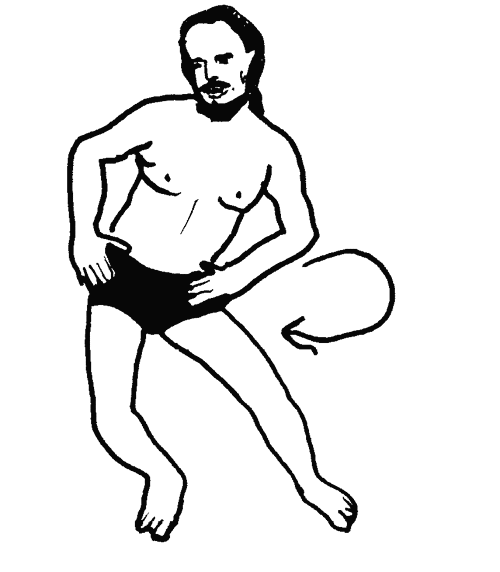 From a standing position, bend your knees slightly, and drop your pelvis forward so that it is directly in your central line of gravity. Keeping the knees bent and flexible, rotate the pelvis in smaller, then larger circles. The head and feet should remain in the same place while the pelvis alone does the moving. Try to make the movement as smooth as possible.
---
Leg Lifts.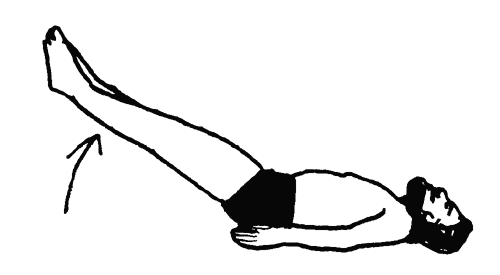 Lie on your back and relax. Lift your legs six to twelve inches off the floor and spread them apart at this height. Bring them together again and then kick out again. After about five of these, I'm sure you will want to rest.
After having rested, however, bring your legs (knees straight) perpendicular to the floor and spread each side. Bring together and down. Repeat until tired. Raising the legs should be accompanied by an inhale, while lowering the legs should be accompanied by an exhale. This exercise is a strong Kundalini-raiser with powerful results. It is important not to strain and to avoid sore muscles. Stay in tune with your body.
---
---
---
EE MEDITATION ENLIGHTENMENT TEXTS