The Worm Ourobouros.
---
The Worm Ourobouros is a Dragon which encircles the world and has its tail in its mouth. This symbol has the same meaning as the Yin-Yang and Zen Circle but comes from the frozen North of the world.
The symbol comes from the Icelandic and Norse Sagas which talk Of the Gods and men that die in battle who live in Valhalla. Odin or Woden from which comes Wednesday or Wodensday is the One-Eyed god of wisdom.
The Tales tell of how in order to obtain the gift of wisdom from one of the gods, he had to give the gift of one of his eyes.
His eye became one…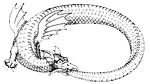 …the Third Eye of Ajna chakra became open…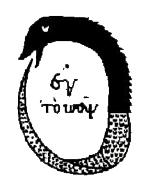 …and he became wise.
---