The Birth of the Physical Self at 4 months: Chakra 1, The Base Chakra Opens.
---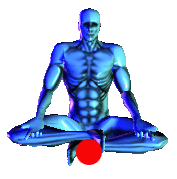 Position of Base Chakra.
| | |
| --- | --- |
| | Psychologists refer to this Stage as primary autism, primary narcissism, oceanic, protoplasmic, adualistic, and indissociated. |

The baby needs to understand that the outside world exists. There is something which is not it. It begins to do this around 4 months. The earlier a problem begins the deeper the psychosis. Problems with this stage cause really severe pathologies. Psychosis, schizophrenia, and severe affective disorders which usually require intense regressive therapies from psychologists.
---