The Birth of the Conceptual, Intellectual Self from 7 Months to 7 Years-Chakra 3, The Lower Intellectual center, The Solar Plexus Center.
---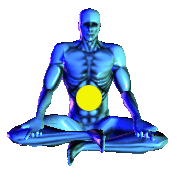 Position of the third chakra; The Solar Plexus Center.
| | |
| --- | --- |
| | Images, Symbols and Concepts. Images develop around 7 months. Symbols emerge during the second year and dominate the system from 2-4 years. |
Concepts dominate awareness from 4-7 years. The system enters the linguistic world and the world of the mind.
A neurotic mind, caused by a lack of integration of the previous stages, represses the feelings from the Body and the Emotions; it dissociates from the previous stages and does not include them.
This is how it is possible to have a brain the size of a planet and still act like Hitler, Mao or Stalin.

Stalin.
---