The Base Chakra - Muladhara Chakra.
---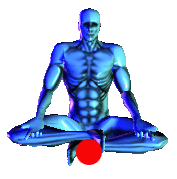 The Base Chakra resides at the base of the spine, diagrammatically represented by a red circle.
Resides at the base of the spine and controls the adrenal gland which controls the fight or flight reaction because its normal functioning is stopped by the fear or lack of security.
Fear of losing house, money or food. In the last resort, the last fear we lose is the fear of loss of life even of Life itself. Its normal positive function is as the foundation of life energy which feeds the whole human mechanism and connects us with the Earth. Keeping our feet on the ground and in tune with our basic needs.
The fear residing there causes us to be out of touch with our life path, restricts our energy and puts us out of touch with what we really need to do in life.
---