The Gathering of Pain in the Second Chakra.
---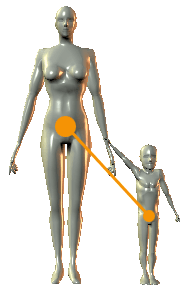 Along these energetic connections into the Second Chakra, the child feels the emotions of the parents, love, rejection, anger, hate, and also any bad feelings between the parents.
As the sensitive child feels these energies they can become too strong for it. Then they start to gather pain in the second chakra. Then the second chakra becomes a dangerous place. The sensitive child cuts off from the energetic connection and the painful memories held in the second chakra.
Now we are getting into the aversion to the energy of the second chakra. If a child gets a strong shock through the second chakra then the result is pain held in the second chakra.
---