OSHO
ZEN
AH, THIS!
Chapter 6: Try it My Way
Question 6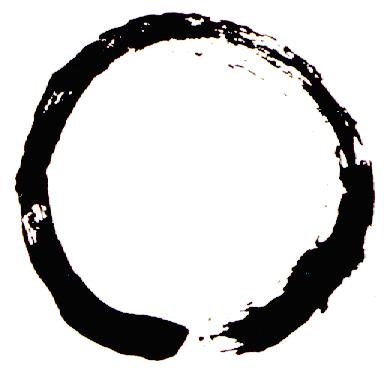 Energy Enhancement Enlightened Texts Zen Ah, This!
The sixth question
Question 6
OSHO,
CAN'T ONE BELIEVE IN GOD WITHOUT SEEING HIM?
Surendra Mohan,
WHO IS TELLING YOU TO BELIEVE IN GOD? I am against all belief. You must be a very new comer here. Belief is irreligious, as much as disbelief is. Belief means you don't know yet you have accepted something. It is cowardly -- you have not inquired. You are pretending, you are a hypocrite.
All believers are hypocrites -- Catholic and communist, Jainas and Jews -- all. Believers are hypocrites. They don't know and yet they pretend AS IF they know. What is belief? It is playing the game of "as if." And the same is true about disbelief.
The communist knows NOT that there is no God, just as the Hindu knows not that there is a God. The Hindu believes there is a God, the communist believes there is no God. Disbelief is also a kind of belief -- a negative kind of belief. And that's why it is so easy to become a Hindu from being a communist or a communist from being a Hindu.
It is a well-known fact that before the Russian revolution Russia was one of the MOST religious countries in the world. Then what happened? After ten years of revolution, the whole country became atheistic. The same people who were fanatical believers became fanatical disbelievers! On the surface it looks puzzling, but it is not. The fanaticism is the same; nothing has changed. They were fanatic Christians, now they are fanatic communists. They believed madly, now they disbelieve madly, their madness is the same. And their belief was wrong because they had not experienced it, and their disbelief is wrong because they have not yet experienced the ABSENCE of God.
Surendra Mohan, you ask me: CAN'T ONE BELIEVE IN GOD WITHOUT SEEING HIM?
In the first place there is no need to believe in God. And if you believe you will never be able to know him. Belief will become a barrier; belief is always a barrier. Belief means you are carrying a prejudice, and you will not be able to see that which is. You will project your own idea.
That's why a Hindu, when he comes to a vision of God, will see Krishna with the flute. He will never see Christ, he will never see Mahavira, he will never see Buddha. And the Christian? He has never seen Krishna or Buddha. And a Jew? He has his own ideas. So when you see, what you see is not really the real but your own projection, your own idea.
Remember: as long as you have even a single idea inside you, your experience is going to be distorted by it.
MY suggestion to MY people is: don't carry any idea of God, for or against. Don't carry any image of God. In fact, God is absolutely irrelevant -- be meditative! And meditation means: drop all thoughts, drop all ideologies, drop all knowledge. Drop the mind itself.
And then when you are in a state of no-mind, something unimaginable, unbelievable, unpredictable, inexpressible, is. experienced. You can call it God, you can call it truth, you can call it NIRVANA, or whatsoever you want to call it. You are free because no word describes it, hence any word is as good as any other. But don't carry any belief.
And what do you mean: "...without seeing him"? Do you think someday you will see God? Is God a person? That's how people think: God is like Rama, always carrying a bow with arrows. Now, in the twentieth century, carrying a bow would look so foolish. Give him an atom bomb -- that will look far more contemporary! Jesus on the cross...twenty centuries have passed. Now we have electric chairs! Give him an electric chair. At least he can rest on the chair! Still you go on giving him a cross. Make your ideas a little more contemporary. They are all out of date.
What do you mean by "SEEING God"? Is he a person? Will you say hello and will you shake hands with him? God is not a person, hence God cannot be seen in that sense. God is a presence.
There is no God but godliness. It is a quality, a fragrance. You experience it, you don't see it. And when you experience it, it is not something out there as an object; it is something IN HERE, in the heart of your hearts. It is your subjectivity, it is your consciousness.
So there is no question of belief and there is no question of seeing either.
But people are brought up in all kinds of beliefs and they go on seeing through their prejudices. So anything that fits with their prejudices enters inside; anything that does not fit with their prejudice is prevented from entering.
An elephant escaped from the local zoo and made his way into the vegetable garden of one of the town's most prominent matrons. Unfortunately this lady had only just returned from a cocktail party where she had had just a little too much to drink. She was not too drunk, however, to see the beast in her garden, and she had the presence of mind to call the police.
"Quick," she said, "there is some kind of huge, strange looking animal in my garden."
"What is he doing?" asked the desk sergeant.
"He seems to be picking lettuce with his tail!"
"Oh, really?" replied the wary policeman. "And what is he doing with it?"
The lady peered out into her garden once more and then said, "Sergeant, even if I told you, you would never believe it!"
God has been experienced. Nobody has ever been able to say exactly what that experience is. And even if somebody tries to say it, you are not going to believe it. Your prejudices, your A PRIORI ideas, will prevent you.
No, Surendra Mohan, no need to believe in God; no need even to believe that one day you are going to see him. In fact, God is not a religious subject at all -- you will be surprised when you hear it -- God is a philosophic subject. It is for those useless people who go on endlessly into logic-chopping and hair-splitting. It is for those people to discuss God.
A religious person is not interested in God; he is more interested in the very source of his being, who he is: "Who am I?" That is the MOST fundamental religious question -- not God, not heaven, not hell, but "Who am I?" And if you can find the truth of your own being you will have found all the truth that is necessary to know and is worth knowing. You will have found God and you will have found NIRVANA and you will have found all that the seers, the rishis, the Buddhas, the prophets, down the ages, have been telling you to inquire into.
But don't make a philosophical inquiry, otherwise you will end up with a conclusion. And all conclusions are dangerous because once you conclude you become fanatical about your conclusion, you start clinging to it. You become afraid of truth -- because who knows? Truth may disturb your conclusion, and your conclusion is so cozy and so convenient, and it has helped to give you a certain feeling of security. So you go on clinging to your conclusion -- and your conclusion is your conclusion.
If you are unaware, what value can your conclusion have? Your conclusion cannot be bigger than you, your conclusion cannot be higher than you. Your conclusion will be as high, as deep, as you are high and you are deep. Your conclusion will only reflect you.
God is not a conclusion. It is not arrived at by logical processes -- by believing, by discussing, by analyzing, no. All mind processes have to cease. When all processes have ceased, something -- call it XYZ -- suddenly wells up within you. A few qualities can be indicated: you will feel tremendously ecstatic, blissful, at home, at ease. For the first time existence will be your home. You will not be an outsider, a stranger. For the first time there will be no conflict between you and existence, no struggle for the survival of the fittest. For the first time you will be in a state of let-go. And in let-go wells up great joy.
You will be able to sing the song that you have brought in your heart and is still unsung. You will be able to bloom into thousands of flowers. Or as in the East we say: you will bloom into a thousand-petalled lotus of consciousness, of awareness. That is God -- or better, godliness.
Next: Chapter 6: Try it My Way, Question 7
Energy Enhancement Enlightened Texts Zen Ah, This!
Chapter 6:
Osho - Talks on Zen: Ah, this!, Chapter 6: Try it My Way, Question 1, WHEN I AM WORKING IN THE WEST I FEEL LIKE AN ORANGE WARRIOR, AND I LIKE IT. WHEN I AM HERE I FEEL MEDITATIVE, AND I LIKE IT. IS THE PART OF MYSELF THAT STILL NEEDS TO FIGHT AN OBSTACLE TO BECOMING A GOOD DISCIPLE? at energyenhancement.org
Osho - Talks on Zen: Ah, this!, Chapter 6: Try it My Way, Question 2, I CANNOT DROP THE HABIT OF CHAIN-SMOKING. I HAVE TRIED HARD BUT I HAVE FAILED ALWAYS. IS IT A SIN TO SMOKE? at energyenhancement.org
Osho - Talks on Zen: Ah, this!, Chapter 6: Try it My Way, Question 3, THE OTHER DAY IN DISCOURSE YOU SAID THAT SANNYAS ONLY COMES WHEN THE POINT OF SUICIDE HAS BEEN REACHED. BUT I DID NOT FEEL SUICIDAL WHEN I TOOK SANNYAS, ONLY IN DEEP LOVE WITH YOU. MY LIFE SEEMED RICH, BUT YOU HAVE MADE IT INFINITELY RICHER. AM I NOT A TRUE SANNYASIN BECAUSE I DON'T FEEL SUICIDAL? at energyenhancement.org
Osho - Talks on Zen: Ah, this!, Chapter 6: Try it My Way, Question 4, HOW CAN I LEARN THE SECRETS OF LIFE? at energyenhancement.org
Osho - Talks on Zen: Ah, this!, Chapter 6: Try it My Way, Question 5, I CAN FIND THE ANSWER TO ALL THE QUESTIONS I ASK YOU WITHIN MYSELF, BUT STILL I WOULD LIKE TO ASK YOU ONE -- JUST FOR FUN, SIMPLY TAKING UP YOUR INVITATION. IS IT REALLY POSSIBLE FOR AN ORDINARY PERSON LIKE MYSELF TO LIVE IN THIS WORLD, EARNING AND SPENDING, AND STILL BE IN THE STATE OF NO-MIND CONSTANTLY? at energyenhancement.org
Osho - Talks on Zen: Ah, this!, Chapter 6: Try it My Way, Question 6, CAN'T ONE BELIEVE IN GOD WITHOUT SEEING HIM? at energyenhancement.org
Osho - Talks on Zen: Ah, this!, Chapter 6: Try it My Way, Question 7, I KNOW YOU ARE AGAINST MARRIAGE, BUT I STILL WANT TO GET MARRIED. CAN I HAVE YOUR BLESSINGS? at energyenhancement.org
Osho - Talks on Zen: Ah, this!, Chapter 6: Try it My Way, Question 8, WHAT IS GOING ON? at energyenhancement.org