OSHO
ZEN
I CELEBRATE MYSELF: GOD IS NOW WHERE, LIFE IS NOW HERE
Chapter 4: Showering invisible flowers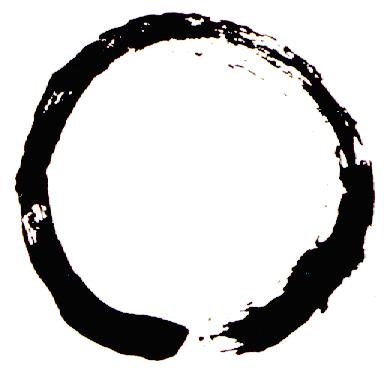 Energy Enhancement Enlightened Texts Zen I Celebrate Myself
OUR BELOVED MASTER,
SEKITO'S "SONG OF THE GRASS HUT."
I MAKE A GRASS HUT IN WHICH INSIDE THERE IS NO WORLDLY TREASURE. I EAT AND SLEEP NATURALLY AND EASILY. WHEN I MADE THE HUT, THE REEDS WERE NEW. WHEN THE HUT GETS TORN, I COVER IT WITH REEDS AGAIN. THE PERSON LIVING IN THE HUT IS ALWAYS THERE. HE DOES NOT BELONG TO INSIDE OR OUTSIDE. I DO NOT LIVE WHERE ORDINARY PEOPLE LIVE; I DO NOT LOVE WHAT ORDINARY PEOPLE LOVE.
ALTHOUGH THE HUT IS SMALL, IT CONTAINS THE DHARMA WORLD. A MAN OF ZEN UNDERSTANDS IT WELL. BODHISATTVAS OF THE SUPREME VEHICLE HAVE NO DOUBT ABOUT IT, BUT THE MEDIOCRE ARE BOUND TO BE DUBIOUS.
IF I WERE ASKED WHETHER THIS HUT BREAKS DOWN OR NOT, I WOULD SAY THAT THE SUBJECT IS ORIGINALLY BOTH IN THE BREAKABLE AND UNBREAKABLE. I DON'T LIVE IN THE NORTH OR SOUTH OR THE WEST OR EAST.
THE FOUNDATION OF THE HUT IS THE MOST SOLID. UNDER THE GREEN PINE TREE, IN THE HUT'S BRIGHT WINDOW -- EVEN A GOLDEN PALACE CAN'T COMPARE. IF I COVER MYSELF WITH THE OLD QUILT, EVERYTHING SETTLES. THEN I DON'T UNDERSTAND ANYTHING.
LIVING IN THIS HUT, I STOP LOOKING FOR ANY SOLUTIONS. WHO WOULD PUT THEM PROUDLY IN THE SHOW WINDOW FOR THE PEOPLE TO BUY?
WHEN EVENING COMES AND THE SUN IS SETTING, I COME BACK TO THE HUT. MY BEING IS SO VAST THAT THERE ARE NO DIVISIONS. MEETING WITH THE INTIMATE TEACHINGS OF THE ANCESTRAL MASTER, I MADE A HUT WITH GRASSES AND DON'T THINK OF LEAVING. I JUST LET THE HUNDRED YEARS GO AS THEY PASS BY.
IF I MOVE WITH MY HANDS OPEN, THERE IS NO PROBLEM. A THOUSAND WORDS, TEN THOUSAND SOLUTIONS, ONLY KEEP YOU IN IGNORANCE. IF YOU WANT TO KNOW THE IMMORTAL PERSON IN THE HUT, WHY DO YOU GO AWAY FROM THIS SKIN BAG?
Friends,
I hope that the Prime Minister of India, Rajiv Gandhi, will cancel the ban on Salman Rushdie's book THE SATANIC VERSES. It is absolutely innocent. The fanatic Mohammedans who are trying to destroy the book, to ban the book, perhaps have not read it.
Rudolph Salman Rushdie was born in India as a Mohammedan, then he moved to England, and has become a worldwide literary figure. Being born in India, he has every right of an Indian citizen too. The Indian constitution gives to every individual freedom of speech and freedom of expression as a fundamental human right.
Salman Rushdie's book has only one mention of Mohammed which is not at all condemnatory. It is a factual thing that he describes, and it has already been accepted by the Mohammedan theologians for centuries.
The incident is concerning the earlier version of the Koran, in which Mohammed accepted three female deities. Later on he cancelled those verses concerning the female deities, and declared that those verses were inspired by the devil. Now it is a well-known fact that Mohammed changed those verses. If Salmon Rushdie writes about it, it is not condemnatory, he is simply stating a fact which has been accepted.
But the anger is coming because the world will know that even Mohammed was capable of being deceived by the devil. What about the other verses? If he had not said it, those verses would have remained in the Koran.
But Salman Rushdie is not responsible for it. Mohammed himself has to take the responsibility, and Mohammedans have to accept the fact that he was capable of being deceived. Now this is hurting them. But Salman Rushdie is not responsible for it. He has simply picked up theological information and written it into his book THE SATANIC VERSES.
In Pakistan already five people have been killed because they were surrounding the American Embassy. The book has been published in England and now it is going to be published in America. And they were demanding from the American Embassy that it should not be published in America, "otherwise we will destroy you." Just to protect them from these fanatical Mohammedans, who know nothing about the book but have just heard the rumor, the police had to fire at and kill five Mohammedans, and it is a Mohammedan state.
India is a democratic secular country. Rajiv Gandhi's banning the book simply shows fear. And the fear of Rajiv Gandhi should not be against the constitution of India, against the laws of India. The ban should be immediately removed. That's why I said perhaps he has not read the book himself, otherwise he would see that it is a beautiful fiction.
And now even Mohammedan scholars are coming out in favor of Salman Rushdie. Of course, they are all outside Iran. The so-called religious leaders are the worst kind of butchers. They would have killed anybody who would have raised the question. And I doubt whether they have read the books that they are condemning or not. I suspect that the book contains nothing, nothing that should cause four persons to be murdered as a punishment. It is against Islamic law and it is against Iran's constitution. But in Iran, Ayatollah Khomeini is the law, is the constitution.
He should be condemned from all corners of the world, whether one is a Mohammedan or not. He is taking away a human right, and that too, unnecessarily, because Salman Rushdie's book contains nothing condemnatory about Mohammed. Just stating a historical fact which has been accepted for fourteen hundred years by Mohammedan scholars is not a crime. And his coming to the radio and declaring: "It is the duty of every Mohammedan around the world to kill these four persons -- Salman Rushdie, the writer, the publisher of the book, the printer of the book, and the sole agent of the book. These four persons have to be killed without any mercy ..."
Salman Rushdie is hiding in England, and has canceled his tour of America to promote the book and its publication there.
I was waiting to tell Rajiv Gandhi, waiting until some Mohammedan scholars would raise their voices. And all around the world voices are being raised.
I have received this news report:
EMINENT MUSLIMS, INCLUDING THE FORMER CHIEF JUSTICE OF MADRAS HIGH COURT, JUSTICE ISMAIL, HAVE UNEQUIVOCALLY CONDEMNED AYATOLLAH KHOMEINI'S "DEATH SENTENCE" ON AUTHOR SALMAN RUSHDIE AND ALL THOSE ASSOCIATED WITH THE PUBLICATION OF HIS BOOK THE SATANIC VERSES, DESCRIBING IT AS AGAINST ALL LAW INCLUDING ISLAMIC LAW.
ISLAMIC SCHOLARS STATED THAT "THE SENTENCE WAS DUBIOUS ON THEOLOGICAL, NOT TO MENTION LEGAL GROUNDS."
HESHAM EL-ESSAWY, SPOKESMAN FOR BRITAIN'S ESTIMATED ONE MILLION MUSLIMS, SAID, "ANYONE CARRYING OUT KHOMEINI'S ORDER WOULD BE GUILTY OF MURDER. WE VERY MUCH REGRET AND DENOUNCE KHOMEINI'S STATEMENT. THREATS LIKE THIS, OR ANY VIOLENT RESPONSE, IS NOT THE CORRECT RELIGIOUS RESPONSE. IT IS A VERY DANGEROUS DEVELOPMENT AND WILL GIVE RUSHDIE SYMPATHY WHERE IT IS NOT DESERVED."
BRITISH MP'S HAVE ALSO CALLED FOR THE BRITISH GOVERNMENT TO FORMALLY PROTEST TO IRAN.
One has to be very aware about the fanatic and fascist attitudes of religious leaders. A great consciousness is needed, particularly for those who are in power, that they don't misuse it. Banning Salman Rushdie's book is a misuse of power, and I condemn it with my whole heart.
I have nothing to do with the book, or with Islam, or with the writer. My concern is that these things become precedents for destroying freedom of speech, freedom of expression, which are necessary foundations for a cultured society, for a humane society.
I hope that Rajiv Gandhi comes to his senses and takes the ban away.
And the same should be done around the world by all the political leaders, otherwise all creativeness in poets, in novelists, is bound to be destroyed. And they are the very salt of the earth, they are the only people who are creating something. Religious leaders like Ayatollah Khomeini have not contributed anything to the world, to its beauty, to its truth, to its culture, to its civilization. They have only destroyed. But they destroy in the name of God, and the poor God cannot even say anything because he does not exist.
The second thing I was going to say to you before I take the questions from the sannyasins is that I came to know this day that Chinese sannyasins are a little bit upset because I may have told you that a few of the Zen masters are Japanese, and their disturbance is that they are Chinese.
I am not a very informed person. I don't speak out of information, I speak out of my transformation. I know that Zen belongs to no country, so to me it does not matter whether they were Chinese, or Japanese, or Indians. At least Zen should not be confined to any country, to any race, to any language. It belongs to the whole universe. So what is the fuss all about?
I have never read the sutras. Maneesha finds the sutras; I simply speak spontaneously. My concern is Zen, not China or Japan. And you will see Sekito himself says, "I don't belong to the east, I don't belong to the west, I don't belong to the south, I don't belong to the north." If Zen is also to be confined to a race, to a language, to a certain part of the earth, then it is not Zen.
So you have to be very clear. Neither am I a scholar, nor am I knowledgeable, informative. What I am saying is my moment-to-moment response. And my consideration for Zen is that it belongs to the whole universe.
So don't be bothered. It is good that you got upset. I love upsetting people. And do you see the trivia you get upset about? What does it matter where Sekito was born -- China or Japan?
I don't belong to India, I belong to this vast universe, and I want you also to belong to this vastness. Why be confined into small prisons created by politicians and priests?
The whole effort here is to bring you back to the vastness and infinity and eternity of the universe. And still you think about China and Japan and India? Then in China there are many states, and in every state there are many districts, and in many districts there are even smaller units ...
A Zen master is simply a Zen master. He belongs to Zen, not to China, not to Japan, not to India. I would like you also to be clear about it. These boundaries have to be dropped. Why cling to such small meaningless, mediocre things? Why not open up yourself to the whole universe, this vast sky, the beyond? Zen belongs to the beyond.
Don't be mediocre. I don't want my sannyasins to be mediocres. I want my sannyasins to be universal citizens.
Next: Chapter 4: Showering invisible flowers, Question 1
Energy Enhancement Enlightened Texts Zen I Celebrate Myself
Chapter 4:
Osho - Talks on Zen: I Celebrate Myself: God Is No Where, Life Is Now Here, Chapter 4: Showering invisible flowers, I MAKE A GRASS HUT IN WHICH INSIDE THERE IS NO WORLDLY TREASURE. I EAT AND SLEEP NATURALLY AND EASILY at energyenhancement.org
Osho - Talks on Zen: I Celebrate Myself: God Is No Where, Life Is Now Here, Chapter 4: Showering invisible flowers, Question 1, NOW BEING FREE FROM THE CONCEPT OF GOD, IS OUR NEWLY FOUND DIGNITY THAT YOU SPOKE OF THE OTHER DAY, NOT PRONE TO BECOME ENTANGLED IN THE EGO? at energyenhancement.org
Osho - Talks on Zen: I Celebrate Myself: God Is No Where, Life Is Now Here, Chapter 4: Showering invisible flowers, Question 2, IN THE FIRST LECTURE OF THE SERIES, GOD IS DEAD, NOW ZEN IS THE ONLY LIVING TRUTH, YOU SAID: 'EXISTENCE NEEDS YOU.' FOR ME THIS IS LIKE A NEW BELIEF BECAUSE I DON'T KNOW THIS at energyenhancement.org
Osho - Talks on Zen: I Celebrate Myself: God Is No Where, Life Is Now Here, Chapter 4: Showering invisible flowers, Question 3, ALAN WATTS HAD A NOVEL IDEA FOR HOW EASTER SHOULD BE SPENT. 'EVERY EASTER SUNDAY SHOULD BE CELEBRATED WITH A SOLEMN AND REVERENT BURNING OF THE HOLY SCRIPTURES,' HE SUGGESTED, 'FOR THE WHOLE MEANING OF THE RESURRECTION AND ASCENSION OF CHRIST INTO HEAVEN (WHICH IS WITHIN YOU) IS THAT GOD-MANHOOD IS TO BE DISCOVERED HERE AND NOW, INWARDLY, NOT IN THE LETTER OF THE BIBLE' at energyenhancement.org