OSHO
ZEN
ZEN: THE PATH OF PARADOX
VOL. 3
Chapter 6: Grace is Being Herenow
Question 1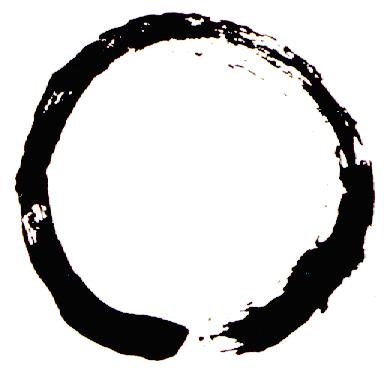 Energy Enhancement Enlightened Texts Zen Paradox, Vol. 3
The first question:
Question 1
HOW MAY I LIVE GRACEFULLY IN TIME? IN MY TIMES?
GRACE COMES OUT OF ETERNITY. GRACE is never a part of time. Time creates hurry, time creates tension, time creates anxiety. The more you are conscious of time, the more neurotic you will be. Time is a neurosis. When you are not conscious of time at all, when there is no past and no future, when time is irrelevant to you, when you are just herenow, grace arises.
Grace is part of the eternal. Grace is a quality of God -- and God is not in time. In time is mind, in time is ego, in time is misery, hell. The way of the meditator is how to go beyond time, how to drop time, how to become oblivious of time. I don't mean the clock time, I mean the psychological time. Clock time is perfectly okay, utilitarian. If you have to catch a train, you have to remember the clock time. But that is not a problem. That doesn't create anxiety, that doesn't destroy your grace. The clock is perfectly okay in its own way. But when you become entangled in psychological time, then you lose grace.
What is psychological time? To live in the past is psycho-logical time. And then out of it arises another problem: one starts living in the future. Past starts projecting itself into the future. You had some experience yesterday, you would like to have it again tomorrow. You had some experience yesterday that you did not like, and you don't want to have it again tomorrow. The tomorrow comes out of the modifications of yesterday. It is a refined version of yesterday, of all your yesterdays.
What are you hoping for in your life in the future? What are you going to do tomorrow, or the next year, or the next life? Sometime look into it -- what are you going to do? And you will find your whole past clamouring to be repeated -- in a better way, of course. Some depressing moments have to be dropped, some dark corners have to be made light, some ugly states are not to be repeated again, some faults not to be committed -- AND some joys have to be strengthened, prolonged, made more joyful.
Your future has been chosen from the past, so in these two you are entangled. Either you are entangled in the past, thinking of that which is no more, or thinking of that which is not yet. And meanwhile you are missing the present. And the present is part of eternity. The present is not part of time at all.
Be herenow and grace comes of its own accord.
Whenever you are herenow, suddenly you will find tremendous grace, harmony, equilibrium, a melody in your being, a tranquility -- and a tranquility that has not been forced from the outside, a tranquility that is not part of any discipline, a tranquility that is not quiescence, a tranquility that is not a kind of managed stillness. If it is still managed, then it is not yet herenow. If by effort you have been keeping it there, then it is already past. Or, if by great desire you are holding it there, then it is already in the future. Only when there is no effort to maintain it, no desire to support it, unsupported by you, un-maintained, unmanaged by you, uncontrolled by you... it is simply there. It surrounds you like spontaneity, silence, benediction... then there is grace.
Grace has nothing to do with any time in particular.
HOW MAY I LIVE GRACEFULLY IN TIME?
Drop time-consciousness. Live in time, chronological time, but drop psychological time. Don't hanker for the future. ALL that you need is available; nothing more is needed to be happy. Nothing more is needed to be in heaven. Heaven is just standing in front of you. Heaven is where you are. So don't think that something else has to happen, THEN you will be happy. That is a way of postponing. Nothing is going to happen -- all has already happened. God is already the case.
Start enjoying the God that is available to you. Drop psychological time and grace will enter in you.
HOW MAY I LIVE GRACEFULLY IN TIME? IN MY TIMES?
There are no 'my times'. The time that is destroying your grace is the same -- always the same, and the same for everybody. It has no East, no West; it has no past, no future. The time that is disturbing you is the same disease -- the disease of not being herenow. What should be done?
In fact, to ask the question that way is to ask a wrong question. Whatsoever you do will come out of the psychological mind, because you will do it to create grace. There will be a motive. So try to understand. Nothing can I can be done about it. Only understanding, just understand! No need to do anything positively for grace. Only one thing is needed to understand why you are missing grace -- WHY YOU ARE MISSING; not HOW TO ATTAIN.
The difference is tremendous. If you ask rightly, you ask, "Why am I miserable? Why am I missing it?" If you ask a wrong question, you ask, "How to attain it? How to become blissful?" You have moved wrongly. And they look almost the same. Linguistically they look almost the same -- 'why' and 'how' -- they look as if they are two aspects of the same coin. They are not.
When you ask "How?" you are asking for the future. Then rather than looking into the situation in which you are, you are creating a desire, an ideal, a goal -- and that's what psychological time is. You will be caught in the trap again. Now you will start looking "How to create grace?" And whatsoever you create will not be grace. At the most it can be just a pseudo-coin; at the most it can be just a face, a mask. It cannot be true; it cannot be authentic -- because the authentic CANNOT be created by the mind. The authentic can only be ALLOWED by the mind, but it cannot be CREATED by the mind. The authentic comes on its own -- you just give way, you don't stand in the way.
So ask WHY you are not graceful -- and look into the causes, and you will find the basic cause is psychological time. The basic cause is: always being entangled with the non-existential, so the past and the future go on pulling you into two separate dimensions. Hence grace disappears, you are pulled apart. How can you be graceful?
Seeing it, looking into the fact, you start laughing -- then don't be pulled! There is nobody ELSE really who is pulling you. You are allowing it. It is your own doing. When you see that "It is I who am allowing this-psychological mind to function, not only allowing but supporting it, pouring my energy into it" -- seeing the fact that this is destroying your benediction, your blessing, your bliss, you pull your hands away, you don't support it any more. That's all. Without being supported by you it starts shattering, falling. Once it has disappeared there is grace.
Grace is absence of time: grace is presence of eternity.
Next: Chapter 6: Grace is Being Herenow, Question 2
Energy Enhancement Enlightened Texts Zen Paradox, Vol. 3
Chapter 6:
Osho - Talks on Zen: Zen: The Path of Paradox, Vol. 3, Chapter 6: Grace is Being Herenow, Question 1, HOW MAY I LIVE GRACEFULLY IN TIME? IN MY TIMES? at energyenhancement.org
Osho - Talks on Zen: Zen: The Path of Paradox, Vol. 3, Chapter 6: Grace is Being Herenow, Question 2, IS SOMETHING ESSENTIALLY MISSING IN WESTERN PSYCHOTHERAPIES? at energyenhancement.org
Osho - Talks on Zen: Zen: The Path of Paradox, Vol. 3, Chapter 6: Grace is Being Herenow, Question 3, IS IT POSSIBLE TO BELIEVE THAT ONE HAS JUST ATTAINED BUDDHAHOOD? AND IS IT POSSIBLE JUST TO BELIEVE LIKE THAT ONLY BECAUSE OF THE EGO? AND IF IT IS POSSIBLE, THEN HOW TO AVOID IT? at energyenhancement.org
Osho - Talks on Zen: Zen: The Path of Paradox, Vol. 3, Chapter 6: Grace is Being Herenow, Question 4, WHAT DO YOU THINK OF ETHICS -- LYING, CHEATING, STEALING, IDLE GOSSIP, BEGGING, TRYING TO BUM OFF OTHERS WHO DO WORK? at energyenhancement.org