NEW MEDITATION ENERGY ENHANCEMENT SITE www.meditationee.com CLICK HERE!!

FREE REPORT CLICK HERE!! SECRETS OTHER COURSES WILL NEVER TELL YOU JOIN OUR REGULAR SPIRITUAL EMAIL SERVICE

ENLIGHTENMENT WITH MEDITATION ENERGY ENHANCEMENT INTRODUCTION
MEDITATION ENERGY ENHANCEMENT TESTIMONIALS
HEAL PROBLEMS - TRAUMA, PAIN, RAPE AND ABUSE, RELATIONSHIPS, DIVORCE, BEREAVEMENT, ANGER, FEAR AND DEPRESSION, FRIGIDITY AND IMPOTENCE, SEX ADDICTION, PIERCINGS, TATTOOS, BDSM, TANTRA, HOMOSEXUALITY, LESBIANISM, MULTISEXUAL PROBLEMS, DRUG ADDICTION AND CRAVING, GAMBLING, BAD BACKS, HEART DISEASE, CANCER.
MEDITATION ENERGY ENHANCEMENT BECOME A TEACHER
SACRED DANCE VIDEOS
MEDITATION ENERGY ENHANCEMENT PROMOTION
EE MEDITATION VIDEO DOWNLOAD 15 GB POUNDS
EE COURSE OVERVIEW
GAIN ENERGY LEVEL1
THE KARMA CLEARING PROCESS LEVEL2
SOUL SPLIT RETRIEVAL LEVEL3
MASTER TANTRA RELATIONSHIPS LEVEL4
EE DVD/CD VIDEO COURSE
ENERGY ENHANCEMENT COURSES SUMMER 2005 SPAIN INDIA ARGENTINA
FREE 90 MINUTE MEDITATION TALK ENLIGHTENMENT
FREE ENERGY ENHANCEMENT DANCE VIDEO 1
FREE MEDITATION DATABASE 200Mb
WISDOM MEDITATION ARTICLES MEDITATION STORIES
FREE, FULL DANCE VIDEO - RAVELS BOLERO
FREE ENERGY ENHANCEMENT DANCE VIDEO 2
GIVE A FREE DONATION TO ENERGY ENHANCEMENT
EE ONLINE COURSE
THE EE BOOK
"Spiritual Adventures through Meditation Energy Enhancement"
By Dhiren Raichura
ARGENTINA – JAN 2005
Here I am sitting down putting my thoughts on paper and wondering where to start. Its about the amazing Energy Enhancement course (www.energyenhancement.org) that I am currently on.
I shall start with sharing my experiences of the Energy Enhancement course with other like-minded people who wish to better their lives by transforming their lives and the lives of others around them and eventually making a difference in everybody's lives they touch.
Before I start sharing my experience with you all, please let me take this opportunity to introduce who I am.
WHO AM I?
My name is Dhiren Raichura I live in London, UK and am a Music Producer, Composer, Singer, Songwriter and a musician. I was born in Malawi, Africa. My Father was my first teacher when I was 5 years old and grew up eventually learning and playing various musical instruments such as Percussion (Conga, Bongo, Drums, some Indian rhythmic instruments and other small orchestral percussive instruments), Keyboards (Harmonium, Accordion, Piano and Synthesizer), Strings (Guitar, Bass, Buzouki, Mandolin, Persian Rabab, Arabic Oud, Wind (Saxophone, Clarinet, Oboe, Flute) whioch really helped me in my orchestrating various styles of music.
I have had the fortune, with God's grace, to work as a session musician for the BBC in the pioneering Indian cultural programme "Nayi Zindagi Naya Jeevan" in the early 1980's and composed music for numerous television productions such as "Into Music for BBC 2, "Chalte Chalte" for Granada Television, "Panchayat" for Zee TV and scoring the documentary film "Badalte Rishte" for Healthwise Productions which went to receive an award.
I also had opportunity engineer and master the film soundtrack of "Bandit Queen", for the legendary Ustad Nusrat Fateh Ali Khan. He has also produced 2 albums working with the music of Ustad Nusrat Fateh Ali Khan.
I have also had the good fortune to accompany some of India and Pakistan's great artists, including Lata Mangeshkar, Ustad Nusrat Fateh Ali Khan, Manna Day, Ustad Raiz Khan, Hariharan, Ghulam Ali, Pankaj Udhas, Noor Jahan, Abida Parveen, Talat Aziz, Parvez Mehdi and many more.
I have always been interested in Yoga, meditation and growing spiritually from a very young age and spirituality played a major part in my upbringing. Although I am from a Hindu background I respect all religions and faiths and believe they all have the same message to take us to merge with God. But ultimately I am a follower of the Religion of Humanity and to make a difference in the lives of almost everybody.
However, there had come a time in my life when I nearly turned an atheist. This was due to some calamities that came my way. But I now know that once God connects with you, he will never let you fall. He will always be there testing you, coaxing you and lifting you from a fall.
In the year 1989 I was blessed to meet my Guru and Guide – Shri Sathya Sai Baba. My spiritual growth accelerated in the next few years with Sai Baba's blessings, and to help me grow further, I feel he guided to eventually meet my second Guru – Shri Shiv Krupanad Swami. This happened around October 2004 which was the same time when I met the woman of my life and I fell in love with her. She has been a catalyst in my spiritual growth since after meeting her, I met Shri Shiv Krupanand Swami and eventually had the grace of God to enrol on the Energy Enhancement course.
MEDITATION ENERGY ENHANCEMENT TEACHERS
The course is run by Satchidanandji, a modern day Guru, helped by Devi Dhyani, Barrister, Director of Synthesis of Light, Healer, Master of Energy Enhancement, Sacred Dance and Reiki Master.
My Experience in the Meditation Energy Enhancement course
Coming back to the Energy Enhancement course, let me start by telling you about one of my exciting experiences. I have done many courses but the Energy Enhancement course I feel is completely different. Firstly, the contents, I feel are inspired by higher forces and deep spirituality. I also feel that the teachings are at a level where you get a direct experience when you work on the exercises. The teachings come from world renowned Guru's, Religions and topics such as Satchidananda, Maharishi Mahesh Yogi, Sai Baba, Gurdieff, Bhagavat Gita, The Bible, Zen Buddhists, Sufism, Mantras, Yoga Sutras by Patanjali various sources.
My adventurous journey began when I met the love of my life about 8 months ago. Although I have known this person for over 18 years and also knew her when we were neighbours during our childhood days, I only realized that I loved her just 8 months ago….surprise surprise!!! As the time went by, I fell more and more in love with her. I knew it was pure love from the heart and unconditional but during one of my exercises in the Energy Enhancement course, I felt a strong energy of love I have never felt ever in my life. This is when I really felt and knew what love was. Everybody could see it and at one point when I shared about my experience, Devi noticed and pointed out how huge my aura looked. Now I really know what love is……….
Awakening and Clearance of Chakras with Meditation Energy Enhancement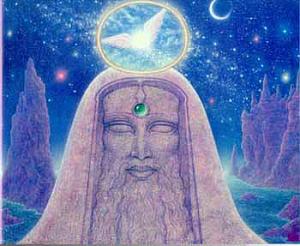 How this is done is you learn how to connect with the Universal Energy (some call it the Higher Energy, Spiritual Energy or God), and by having a direct connection with the Universal Energy you begin to clear and activate your 7 chakras (there are 7 power centres in your body and those chakras above the physical ones) and start removing blockages from your physical and your psychic bodies (aura). These blockages prevent people from growing spiritually. The Energy Enhancement course has helped me strengthen myself physically, emotionally, mentally and spiritually whilst building my psychic self. By doing this, you create a more harmonious life between yourself and every body around you. As Michael Jackson sang in his song "Lets make this world a better place for you, me and everybody else".
Kundalini Alignment with Meditation Energy Enhancement
The awakening of the Kundalini Energy starts from the base chakra and as it rises it continues to pierce into all the seven chakras as I was told by Honey Kalaria. And when I performed this exercise, one of the first of the Meditation Energy Enhancement Initiations, what I experienced was a powerful energy shooting into my base chakra and rising through my body, feeling like a large column of white light, piercing through each chakra at a rapid speed and shooting out of my crown chakra. The feeling was so strange. I was hot but felt cold at the same time. My hands, arms and legs were shaking and shivering and yet I was not cold………what a strange feeling and I felt connected.
My Past Life Insight with Energy Enhancement
In a Meditation exercise about past lives, I saw a time when I was a Samurai Warrior in Japan. I had seen the same vision in a regression but it was little more in depth this time around with EE. What I had seen in the regression was that I had returned home from a hard days work and when I got home, I saw my Geisha wife all dressed waiting for me but there was no food on the table. As the history suggests, Geishas were homemakers and their lives were spent in looking after the home and the family and bear children. So when I saw there was no food on the table, without hesitating, I took my Samurai sword out and took her head off. The vision I saw during my Meditation Energy Enhancement course was much more profound deep. As I went deeper into my lives, I also met my 5 Spiritual Masters and my Guardian Angels and my Higher Spirits.
What happened next was something I had not seen in my regression. I saw that I got Judgemental, Impulsive and Angry. In that anger, I judged her and took her head off in an impulse. But besides that, my Masters asked me to take a step back and try and find out the reason my food was not cooked and give her a chance to explain. I replayed the whole scene and came to the point where I was about to get angry and do the sin but something held me back. This time I asked her what had happened that my food was not yet cooked. She said she very ill and couldn't even manage to get out of bed the whole day but made a special effort in getting ready for me when I returned home. Had I done this, I would have not taken her head off and neither would I have gathered any negative karma from the whole episode. This exercise taught me to always be in control of my feelings and take time out to examine the situation before taking action.
Our Personalities and Strategies with Energy Enhancement
In the beginning I wasn't sure where all the exercises were leading to, but then I started having some profound experiences. During the course we performed an exercise at looking in depth at ourselves, and the different personalities we develop over the years. These personalities or Inner Children have names like Insecurity, Jealousy, Envy, Anger, Lust, etc which are known as Strategies. These Inner Children and these Strategies work hand in hand and in some ways, control our lives.
When I looked within myself, I initially saw 3 of these inner children – Insecure, Judgemental and Anger. You can imagine how amazed I was when I saw this. It all happened during an exercise of a past life when I was a Samurai Warrior in Japan that I shared about earlier. This exercise showed me how these inner children had developed and basically ruled my life so I started grounding them and clearing them so they would not disrupt my life in the future.
How was the Meditation Energy Enhancement course for me?
Teachings – In the teachings of Energy Enhancement course I learned about chakras and cleaning them from blockages. This process of cleaning the chakras has to be done on going. I saw all my chakras had some degree of blockages and got to work in getting them cleared. The first one I tackled was the Throat chakra, which I was told, relates to Self Expression, Creativity and Success. As you can imagine, I was not about to compromise on my self-expression and neither was I going to compromise on my success or my creativity. What I saw was a big dark blockage. As I was clearing the chakra, I suddenly felt my throat choke and I started coughing. The process was to encircle the chakra with white energy and ground the chakra so the blockage is removed. After this I felt so free and energized. When singing the Heart Sutra, I started bellowing out and I didn't even feel insecure in doing that.
Students and Teachers – There were other students from different backgrounds who were attending the course. I remember there was a Reiki Master who was also a Buddhist Monk, there were Sathya Sai Baba devotee, a Hare Krishna Devotee, Honey, her Father Natwarlal and myself are devotees of Shri Shivkrupanand Swami. It was comforting to see that people from all walks of lives and from different faiths being a part of the same course and all having their own experiences during the course.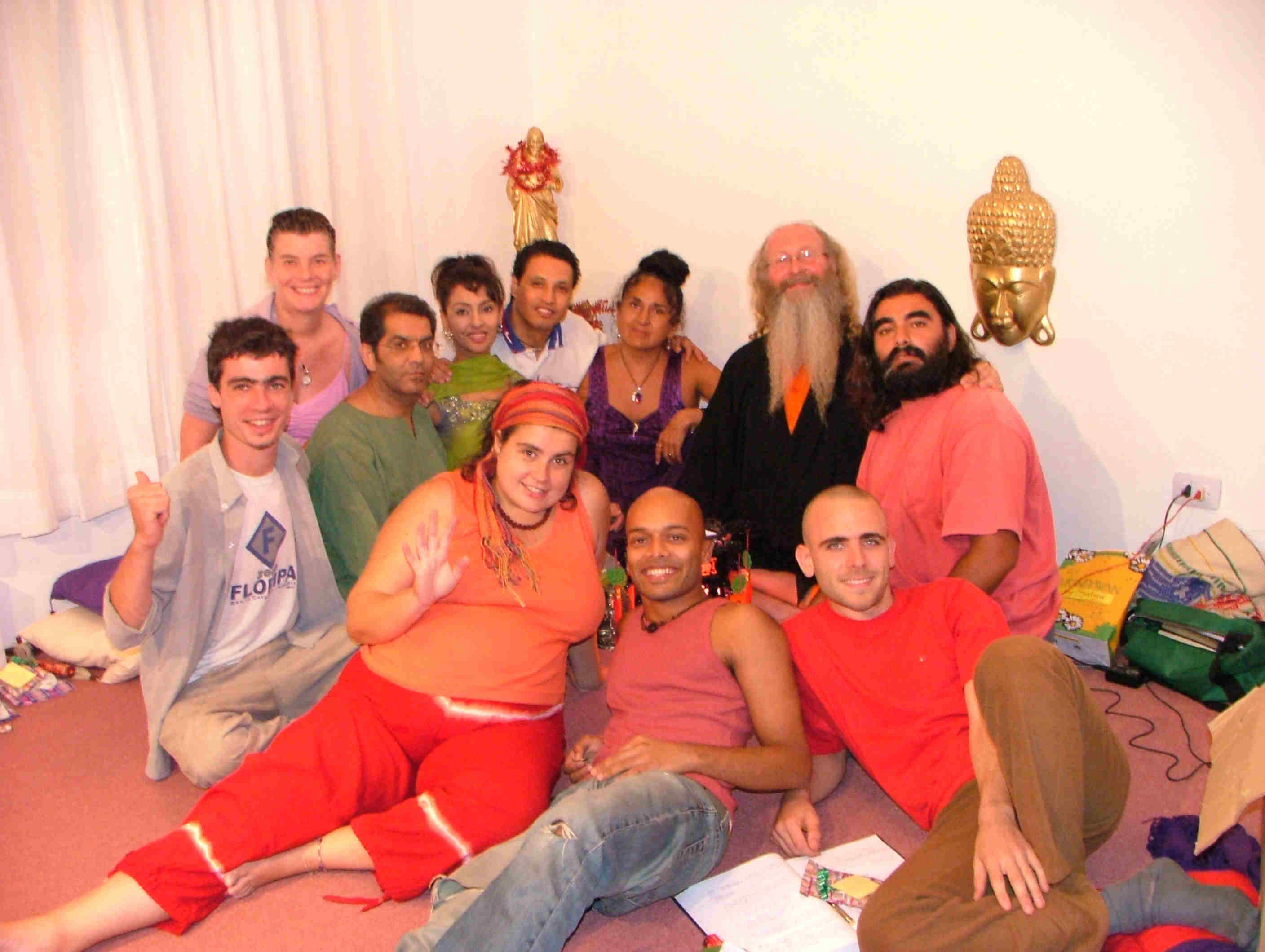 DEVI, VANESSA, DHIREN, RAMIA, HONEY, FEDERICO, SIVANANDA, DAVID, SHAKTIANANDA, SANTHAN, NATWARLAL, HONEY, DEVI AND SATCHI, ABOVE.
Variety – What I mean by variety is that during the course we were also having a lot of fun in experiencing the different types of cuisine and we also saw a few films which were spiritual in the way the story was told. These movies were major block busters and I had seen some of these but never saw them from this "new" point of view. After going through the course and seeing the movies from this new perspective, I got to realize there was much more to the movie than just an extra-ordinary story. To give a few names, The Matrix, Francis Ford Coppola's Dracula, American Beauty and the likes of The Lord of the Rings. These are all spiritual movies with very profound messages and that is the reason they were so popular. Satchiji said that these movies are "Touched by God" for the profound message it carries.
The other benefits I experienced was the teachings from different faiths and
authors as mentioned earlier.
The different people I was fortunate to meet were Nipun and his wife Florence,
Roberto and others (who were from Rosario), Santan (from South Africa), Ramiya (from Rosario), Vanessa (from London). It was such a delight to be amongst these people. Such warmth and love within them. Nipun was one of them who had such admiration for Florence that every time she shared her experience, he would just glare at her with a big smile. Just showed so much love. That way there was a connection amongst all the participants and by the end we became like a family. It was so difficult to part when the course came to completion.
With this I come to an end to this article. All that I have said and all that I have expressed is just not enough to really express how profound the course was. I am sure I speak for all who attended this course. Although it was very intense, its even more difficult to maintain the programme ongoing simply because you are back into your everyday normal life………..but something seems so different about you and everybody seems to notice that……and that's what this is all about…………
Life is beautiful,
Life is love,
Life is what you have,
And not what you wish,
Life is touching someones heart,
Life is expressing love,
Life is all things,
And all things are LOVE
LOVE is all there is and will ever be……….dR
Meditation Energy Enhancement

The Most Advanced Integrated Meditation Course in the World
Meditation Energy Enhancement is a unique system for the millennium, the result of years of investigation, direct holistic experience and integration from many sources including Taoism, Kriyas, Alchemy, Yoga, Energy Meridians and Meditation. Energy Enhancement has taken the best of all systems to provide you with one integrated practice for self improvement and realising your full potential. The techniques work and have been taught by SOL for the last 15yrs to 100s of students.
Some of the following powerful and effective skills you will learn
Circulation of abundant energy from higher pure sources (Soul connection)

Increased psychic ability

Removal off health problems caused by blockages and disease free life

Ability to heal yourself

Mastery of relationships (Your marriage councilor won't tell you this)

How to find your true life path and purpose

Mastery over negative emotions

The mastery of communication by being conscious of energy flow

Removal of energy blockages

Removal of negative emotions from traumatic experiences

Karma clearing and forgiveness process

Past Lives: Gaining from our experiences and healing them

Grounding of all negative energies and experiences

Opening the heart

Learn how to invoke a calm and peaceful state at any time

Supercharge

your intellect, emotional IQ and increase creativity

As an added Bonus – FREE Reiki Initiation and training
The outstanding benefits of the Energy Enhancement Course that you will experience, can be spread over many pages and is on the Energy Enhancement website (www.meditationee.com), but the Energy Enhancement Techniques shared on the course are something that you will have to see, hear, and feel for yourself rather than read about.
Previous Students Testimonials

"Where do I begin? Firstly, I felt it would be great to share my experiences of the Energy Enhancement course with other like-minded people. The following information is for those interested in growing spiritually, and wanting this world to become a better place - starting from improving themselves! Once on the course, my exciting adventurous journey began! In my life I have done hundreds of courses but the Energy Enhancement Course I found to be completely different. Firstly, the contents and the teachings seem to be inspired by higher forces and had a deep base in spirituality...."
Honey Kalaria (UK) Bollywood Actress/Owner of Diva Entertainments

"During past meditation sessions for over two years, I have twirled like a top when my bottom came into contact with the floor. After two years the swaying finally stopped in ONE session with Energy Enhancement! I later found out that Satchi had been working on this blockage at the same time using Energy Enhancement Level 2 Techniques....."
Vanessa Graham (UK) Meditation Teacher/Writer

" The energy techniques given in Energy Enhancement have never been explained to me in Aikido (even Ki Aikido), Yoga or Ashtanga Yoga or on any meditation course that I have been on like Transcendental Meditation, and have only been partly taught to me previously by Taoist master Mantak Chia and on Tantra Courses... Energy Enhancement Techniques are the Core Energy Techniques"
Phillip Chester (UK)
Change Manager working with the Managing Directors of many International Companies

"Energy Enhancement does not promote a spirituality that grows only in the mountains, apart from the cities and the hustle and bustle of everyday life. It shows you how to integrate the peace of retreat with the activity of life - work, relationships, enjoyment, and spirituality - there should be no separation..."
Paul (UK) Student and Poet

"I feel so happy to meet Satchi and Devi, they are high spiritual teachers that can see deeply inside you, behind the mask that everybody has. They can see your soul, your real self!! If you need help you'll get it from them ... "
Danisa de Paul (Spain)
Dance Instructor/Yoga and meditation teacher/Belly Dancer
About the Course

Energy Enhancement Meditation Techniques are the quickest and easiest methods of evolution available, leading to Ultimate Happiness. They are the most advanced courses of meditation, developing psychic powers to get in touch with Your Life Path, Ground negative Energies, Access Universal Energies, Integrate the separated selves, and Master Relationships and Mediation. Energy Enhancement is a unique system to exponentially increase your energy by mastering the Mind, accessing inner peace, improving health, Mastering Relationships , creating synchronicity and luck, and improving your success.

MORE INFORMATION BY SIGNING ONTO THE MAILING LIST WITH ANY OF THE FREE OFFERS BELOW

ENERGY ENHANCEMENT

THE CORE ENERGY TECHNIQUES !!

CLICK BELOW TO GO TO

Take your time, this site has much new wonderful information.