The Solar Plexus, as it loses the blockages of selfishness, anger, control and jealousy, so its energies start to rise to the Heart.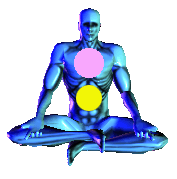 Solar Plexus and Heart Chakras; Manipura and Anahata.
We start to understand that as we help others, so we ourselves are helped. Swami Satchidananda says "Who is the happiest person? That person who tries to make everyone around him happy. He is the happiest person." So the heart centre works with relationships, forgiveness, unselfishness, groups and society. The Second Level of Energy Enhancement works with this pair of chakras.
At the moment, 50% of the people in this society have started this pairing without any work at all, except that of their own evolution. Energy Enhancement starts to work consciously with this pairing. The heart starts to function at a higher and higher level quite naturally. We donít have to force ourselves. The aim is one of opening the heart.