IT'S THE MONEY, STUPID!!
Hey, let's all work for Satan because its easier that way!
"MONEY IS THE ROOT OF ALL EVIL" THE BIBLE

"Most people are addicted to money.

They think that money is the most important thing in their lives. So much so that they become slaves.

Jesus Christ came to say that you don't need to follow orders, that you can be free.

Yet most people are of the types that say, "I likes following orders!"

"MOST OF THE PEOPLE CAN BE FOOLED MOST OF THE TIME - AND IN ANY DEMOCRACY, THIS IS ENOUGH!!" Yes, in order to get money, most people tend to take the first and easiest job that comes along. They are workers, the proletariat working for corrupt international companies lead by psychopaths only interested in making money. And to get money, most people will do what they are told to do, what they are expected to do in their company money society because psychopathic companies are only in it for the money and this short term money oriented view is what is destroying this planet and the lives of all humanity. Hey, let's all work for Satan because its easier that way! And it gets worse because we are easily persuaded to do the wrong thing. Hitler proved this with his ministry of propaganda he demonised Communists, Muslims (The Rag Heads and Shites - British Army) and Jews. He persuaded all the German people to hate. And everyone in Germany, the accomplices, approved the Final Solution of Concentration Camps, Poison Gas, Incinerators for the bodies of six millions of Jews. Its not just the big money either. What about the clockwatchers, the people so bored with their jobs that they are screaming inside with the boredom of their lives. "I'm bored, I'm the chairman of the bored!" They will work at meaningless jobs at meaningless desks pushing pens with infinite boredom. Just for the money. One comedian tells the amusing tale of how he washed dishes at a Crab and Shrimp restaurant with infinite boredom before he got a career. With a career you have more of a choice to do meaningful work, or do popular projects making jokes about pornography, just for the money. To take a step up and have a career means that you are in charge of your work. You decide what to do... To make money. Yes Chris, you decided to make money talking about pornography. All the Banks, lead by the international banker CEO's are the people who bankrupted the banks chasing money with toxic mortgages and to do that the CEO's motivated their accomplice workers with bonuses of so much money that the accomplices were able to bend the rules to give loans to people who could not pay back. And they did this over 6 years before everything went bankrupt. During those six years mortgage companies and banks shares went up 26 times, 2600%; and everyone who bought those shares and sold before the crash were very happy. The investors were happy with their money gains, the stockmarket was happy because everything was rising and so making money, the CEO's were happy with their Bonuses and stock options, the workers getting the bonuses were happy, the Government and Politicians were happy because everyone else was happy. Because everyone was being paid. And it was all based upon a lie! Initiation 7 of Level 3 of Energy Enhancement - and also The Karma Cleaning Process of level 3. Karma for people with a bad heart comes back as payback in this or the next lifetime, congenital defects, bad family and bad luck so development of the heart comes as self pity. The goodness of a person is both the quality and the quantity of goodness and the same with badness. All badness comes from Trauma Formed Negative Karmic Mass. With good intentions money is good it can be used to further your evolution and the evolution of others. With bad intentions money is evil it can be used to further your evilution and the evilution of others. So, you can choose to do good things for the money, or you can choose to do bad things for the money. And there is a whole spectrum in between. So, please look at your life and judge whether what you are doing for the money is good, or bad. And determine to make changes. Because you are infinitely free you have that free choice. But in the end, you only have the free will, to do the right thing! And you do it because you want to; because it is the most beautiful and important thing that you could ever do!

SPEED UP THE PROCESS OF ENLIGHTENMENT!!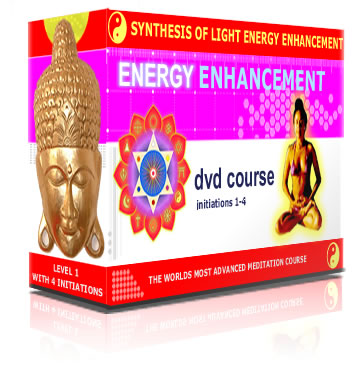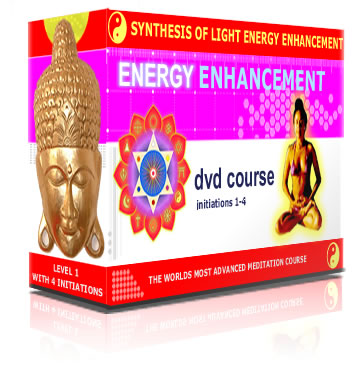 NOW.. IN VIDEO... ON DVD
I suggest you try the FOUR INITIATION Video course - CLICK HERE
email
NOW!! for details
If its for nothing, its worthless.
If its expensive, its Robbery!!
Yet this Energy Enhancement Course is your passage to Illumination!!

FROM DON MINIHANES COURSE REPORT - LAST WEEK OF ENERGY ENHANCEMENT REIKI MASTERY OPTION

"I am now in the last week of the course and I feel like a totally different person. I have regained myself and have been given from nothing having no psychic vision at all at the start of the energy enhancement course, a clarity of psychic vision that is breathtaking."

"As we practiced on each other we came very quickly to realise this. I could literally feel the energy moving inside each chakra as the other person worked within me from several meters away and when I worked on the other person I could see me projecting energy to them and could see where the blockages were within their chakras.

I could force the energy from my centres into their centres and clean their centre bringing the energy full circle back to me. You could tell the state of their chakras by the amount of energy returning to your own centre and this was achieved by mind power only.

Before I came here Satchi said he would teach me to do it in this way and I was sceptical about this claim. I could never envision me having psychic vision, but I have now, I can now do astonishingly powerful Reiki sessions on people without going any where near them and distance healing over any distance is a piece of cake, incredible stuff."

"I am totally de-stressed and have expanded in every way. I feel stronger and fitter and much more mentally agile than I have ever felt in my life. The fog and confusion of life has gone and I feel that I have just received the inside information on everything. I am ready for anything and am wide awake. I am full of the most incredible energy imaginable and have Energy Enhancement Reiki that is so powerful it staggers me. I know a thing or two about Reiki and had a very strong Reiki connection before I got here, now I have a connection that is beyond description and I have yet to undergo the second initiation this week and then the masters. I have opted to take this as an extra and for anyone who is interested, I believe this is beyond anything you will ever experienced anywhere."

I am now equipped with life tools and healing tools that one only dreams of and there is nothing out there in the world that will ever faze me again. I am absolutely delighted that I decided to come here, because this experience has changed me, for the good of me and for all those that I will touch when I leave here. I am so excited and can't wait to start exploring my new found talents"

MORE ON ENERGY ENHANCEMENT REIKI