&
tags of your page, // Visit http://www.mikenew.net for more scripts. // by Mike New, with special thanks to Jeff Phillips of classadrivers.com // Begin. Specify URLs to randomly select from and pop-under. Edit & add freely. var popunder=new Array() popunder[0]="http://www.energiaelevada.org/MeditacionNivel2.htm" popunder[1]="http://www.energiaelevada.org/MeditacionNivel3.htm" popunder[2]="http://www.energiaelevada.org/Spwhat.htm" popunder[3]="http://www.energiaelevada.org/MeditacionNivel1.htm" // Specify the width and height of new popunder window (in pixels). var width = '700'; var height = '450'; var p = 'scrollbars=yes,resizable=yes,toolbar=yes,' + //these are obvious variables. set "yes" or "no". 'menubar=yes,status=yes,location=yes,left=85,top=20,height=' + //yes/no, & the screen location height + ',width=' + width; // Load new PopUnder only once per browser session? (0=no, 1=yes) // Putting 0 will cause the Popunder to load every time page is loaded // Specifying 1 will cause it to load only once per session var one_time=1 // That's it! Don't edit the code below unless you're really good. :-P // function get_cookie(Name) { var search = Name + "=" var returnvalue = ""; if (document.cookie.length > 0) { offset = document.cookie.indexOf(search) if (offset != -1) { // if the cookie exists offset += search.length end = document.cookie.indexOf(";", offset); // set the index of beginning value if (end == -1) // set the index of the end of cookie value end = document.cookie.length; returnvalue=unescape(document.cookie.substring(offset, end)) } } return returnvalue; } function loadornot(){ if (get_cookie('popunder')==''){ load_pop_power() document.cookie="popunder=yes" } } function load_pop_power(){ win2=window.open(popunder[Math.floor(Math.random()*(popunder.length))],"bw",p) win2.blur() window.focus() } if (one_time==0) load_pop_power() else loadornot()
---
ENRIQUISIMIENTO DE LA ENERGIA TOUR A LA INDIA
Enriquecimiento de Energía - Mapa de las Paginas -
Qué es Enriquecimiento de Energía.
¿Es Enriquecimiento de Energía Para Ti?
Energia Elevada Nivel Uno Intensificacion
Energia Elevada Nivel Dos Disolucion de Bloqueos
Energia Elevada Nivel Tres Limpieza del Karma
Energia Elevada Nivel Cuatro Maestria de las Relaciones
Testimoniales de Estudiantes del Curso de Energia Elevada
CURSO ENERGIA ELEVADA ENERO 2006 ROSARIO
Seminario de Danzas en Rosario y Barcelona
Tradución en castellano de
Enriquecimiento de la Energía
DEVI DHYANI ENCARNACIÓN DE LA DANZA
DEVI DHYANI O LILIANA SANGUINETI y LA TRADICIÓN MILENARIA DE LA INDIA
---
Las dos semanas -Tour hacia el Norte de India.
Primera Semana.
Vuela a Delhi para encontrarte con nososotros. Que estaremos allá, habiendo tomado previamente una larga jornada de tren desde Goa a Delhi. En trenes dormitorios tu verás la real India desde el Sur hacía el Norte. Desde Delhi. Viajaremos a Vrindaban el lugar de nacimiento de Krishna. Caminaremos en la antigua ciudad pasando por el río Yamuna, sagrado para Krishna y con una historia que va hacía atrás unos cinco mil años.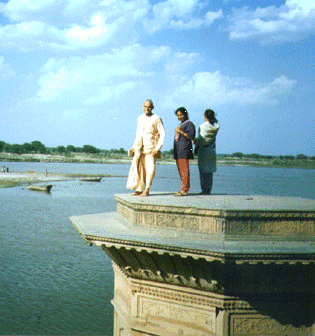 Devi Dhyani, un miembro del Tour y un monje Hare Krishna en la orillas del Sagrado Río the Banks Yamuna en Vrindaban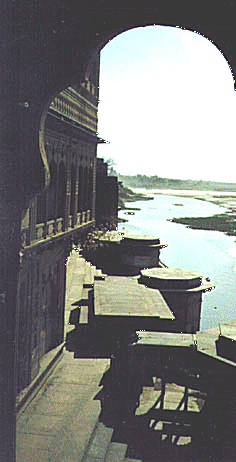 La orillas del Río Yamuna en Vrindaban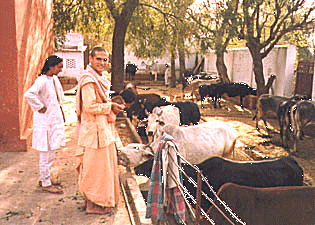 Visitando la granja de la comunidad Hare Krisna con un monje, en Vrindaban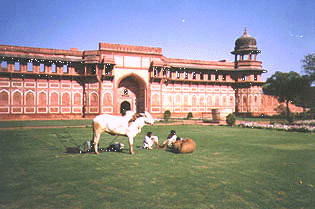 Así es como cortan el pasto en el Fuerte Rojo en Delhi
Visitaremos Agra y el Taj Mahal,...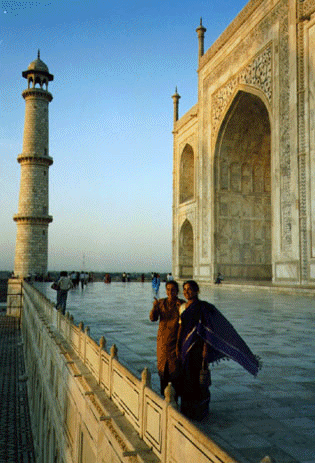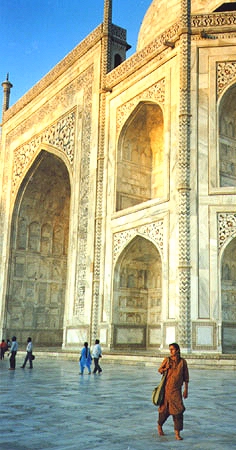 El Taj Mahal
...alojandonos allá en el Hotel 5 estrellas.

"EL Taj Mahal" que es uno de los más hermosos edificios...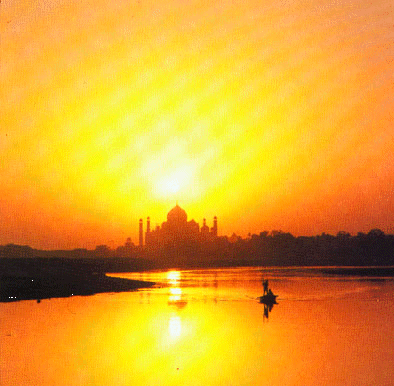 EL Magnífico Taj Mahal

...cuya energía es inmaculada al amanecer y al anochecer.Construído por Sufís, como la Alhambra en Granada. El Taj Mahal es uno de las maravillas energéticas inmortales de meditación en el mundoEnriquecimiento de Energía trabaja removiendo primero nuestras cargas personales. Nos da una buena limpieza! Luego trabaja en nuestras relaciones primarias.Mas adelante nos dá acceso a energías Universales fuertes y después nos dá la Maestria de dominar la dependencia en todas las relaciones. Acelera su movimiento hacia más energía!

Para recibir los beneficios de técnicas de Enriquecimiento de Energía, todo lo que necesita hacer es llamarnos, ahora, y reserve :-

Tres horas para aprender una Etapa en cualquier momento

O venir a UK, Retiros en España o India,

O reserve unRetiro Privado de Siete Días, en el que puede aprender las Siete Etapas de Enriquecimiento de Energía todas a la vez

Es muy simple!

EMAIL nos a sol@energyenhancement.org

Pida el Prospecto de Precios, consulte en la página del Internet, reserve una Sesión, Curso o Retiro en cualquier momento

ANOTATE EN LA LISTA DE INTERESADOS DE ENERGIA ELEVADA

LLENANDO EL FORMULARIO ABAJO!!
---


Bookmark this page - add it to your Favourites Now!!