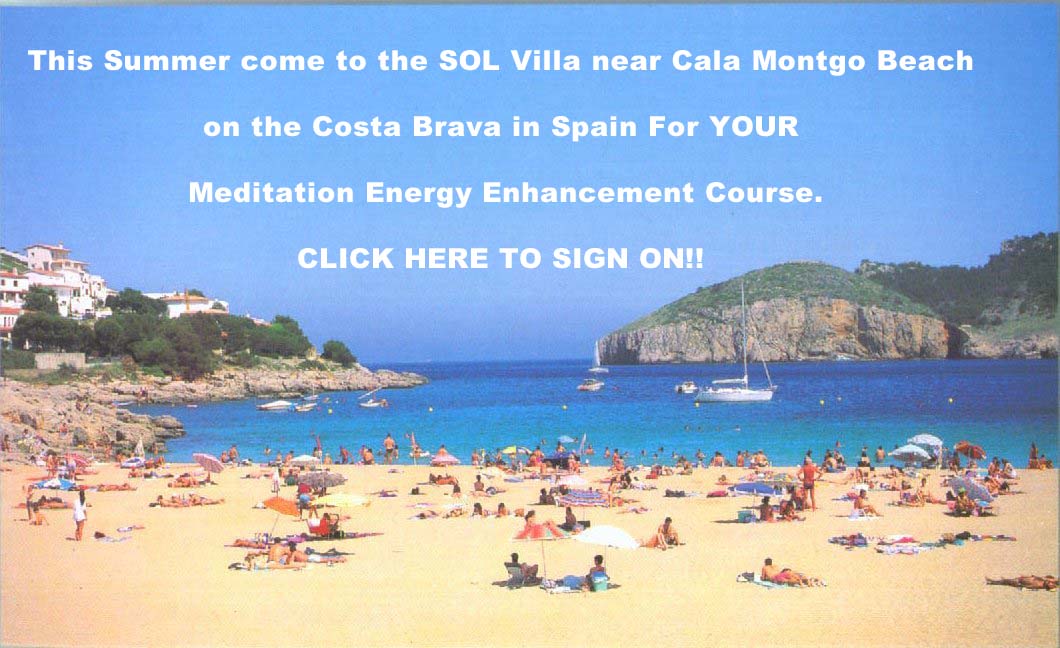 INITIATIONS 1 TO 8 OF LEVEL 1
THE PAINLESS REMOVAL OF STRESS, TRAUMA AND NEGATIVE EMOTION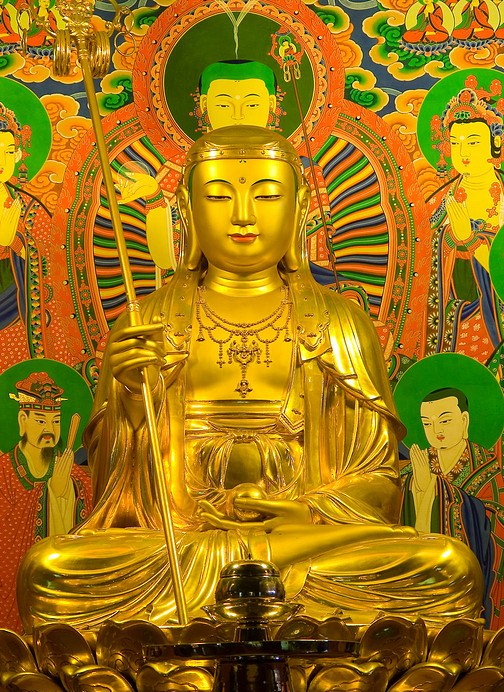 ENERGY ENHANCEMENT
SOUL CONTACT!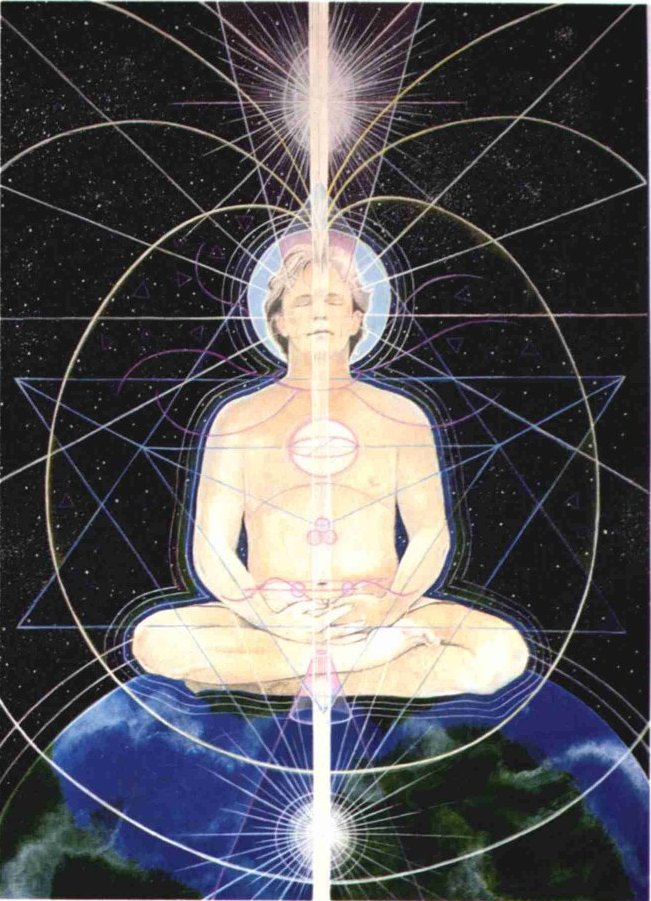 WITH VITRIOL
ENERGY ENHANCEMENT COURSE SPAIN, THIS SUMMER L'ESCALA!!!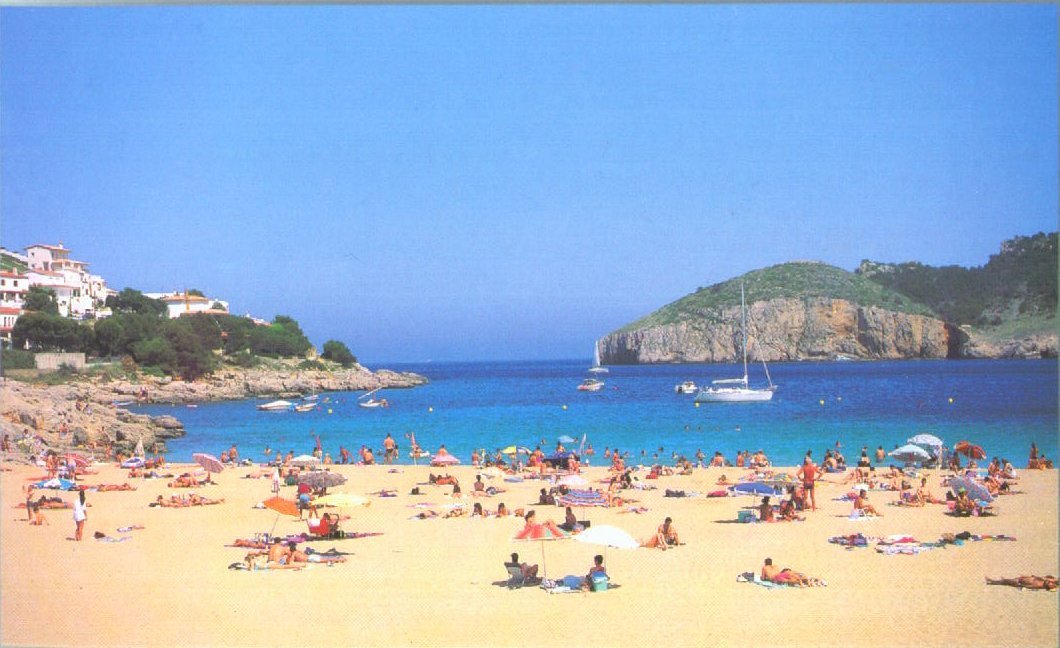 MONTEGO BAY, 10 MINUTES WALK FROM THE ENERGY ENHANCEMENT VILLA IN SPAIN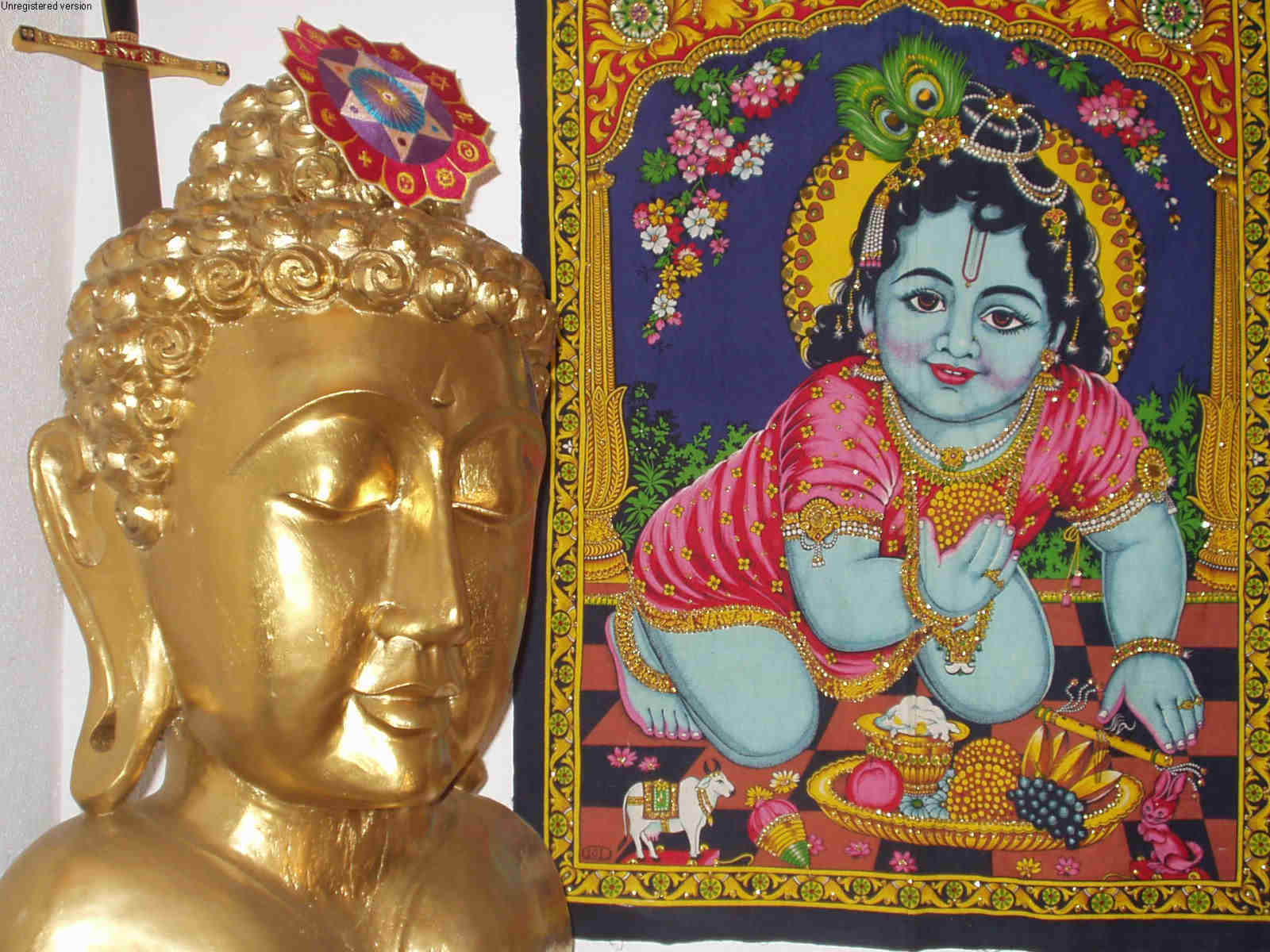 BUDDHA AND KRISHNA IN THE MEDITATION ROOM OF THE SOL ENERGY ENHANCEMENT VILLA IN SPAIN
EMAIL sol@energyenhancement.org
THE MOST ADVANCED AND PRODUCTIVE MEDITATION COURSE IN THE WORLD AS SAID IN THE TESTIMONIALS OF OUR PAST STUDENTS!!!
TEACHING IN EASY STEPS...
WEEK ONE LEVEL ONE - THE GAINING OF ENERGY
MEDITATION, SHAKTIPAT, ENERGY CIRCULATION, THE KUNDALINI KRIYAS, THE FIVE ELEMENTAL PATHS OF THE CHI OF CHINESE ALCHEMICAL TAOISM, THE GROUNDING OF NEGATIVE ENERGIES, ACCESS TO KUNDALINI ENERGY, CHECK OUT FOOD, REMOVE ENERGY BLOCKAGES, STRONG PSYCHIC PROTECTION, LEARN THE MERKABA, PYRAMID PROTECTION, POWER TOWER PROTECTION, THE BUDDHAFIELD, CREATE THE ANTAHKARANA, SOUL FUSION, MONADIC INFUSION, LOGOS INFUSION, SIRIAN INFUSION, THE AVATAR OF SYNTHESIS!!!
EMAIL sol@energyenhancement.org
L'Escala and environs is something of an education if your experience of Spain to date has been high rises and package tourists….forget all that …instead think….roman ruins…beautiful villages…..terrific beaches ….bucolic countryside…...fabbo sunsets …. and more than a few good bottles of grape juice……..in short, something of a revelation……..not a stuffed donkey in sight …honest!

The Ancient Roman Columns at the Ruins of Empuries as the Sun Goes down.
Empuries, just outside of L'Escala, is the Oldest Greek and Roman site in Spain, an Ancient Trading Center which was first Founded 3000 years ago.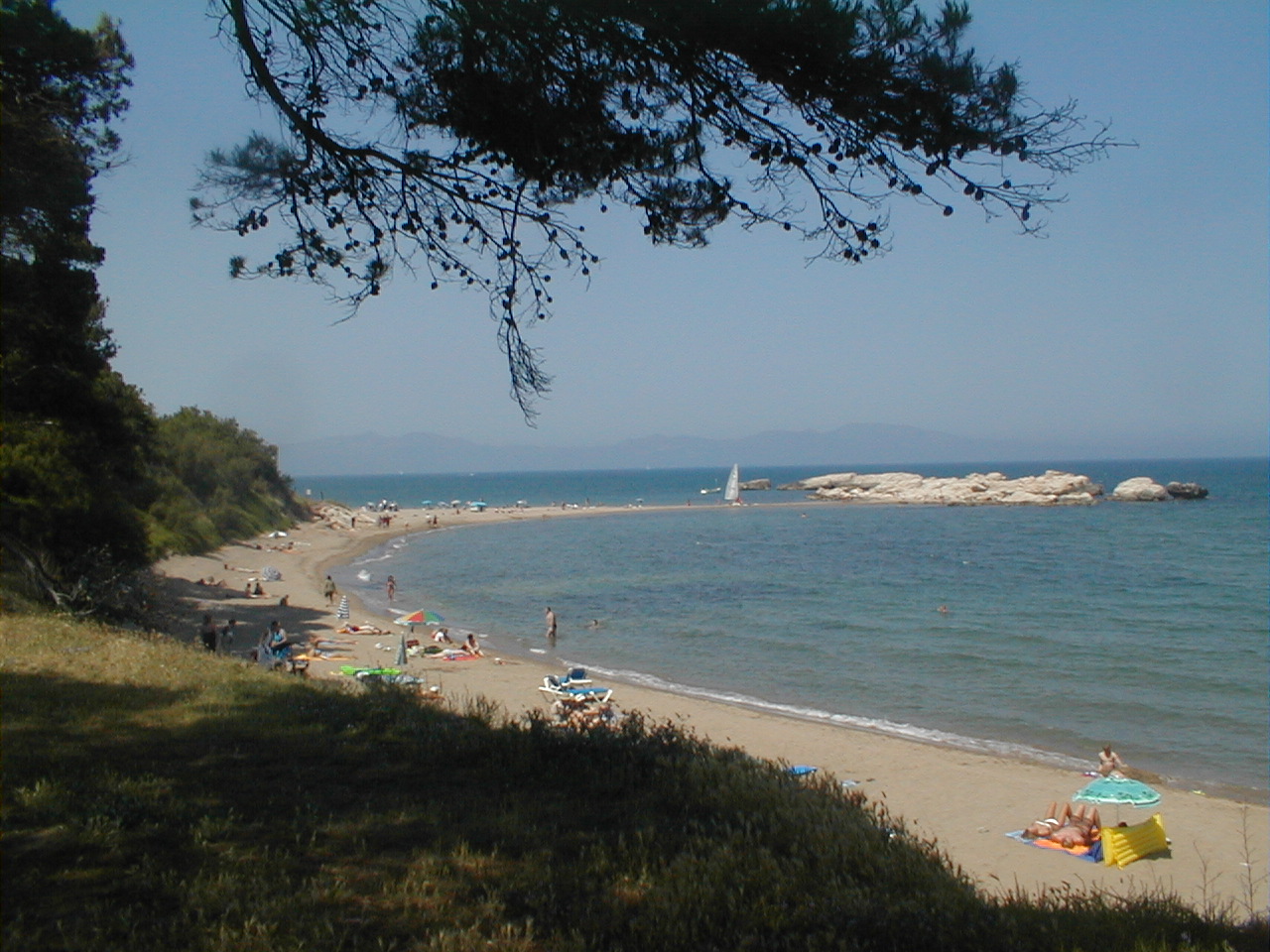 Biggest surprise of the week goes to Energy Enhancement….
Kind of difficult to summarise but I find it to be a pretty effective method of self-analysis combined with a strategy for dealing with whatever 'shows up' as a result of all the digging…………from a personal viewpoint it allowed me to work on two areas which although I was aware of, I didn't really have much of a clue as to how to deal with ………….one of the blockages in particular was kinda heavy (see gay men and their mothers volume 1 chapter 23) but being with Satchi and Devi made it do-able………..not going to say too much about your would-be hosts 'cos I don't want to make them blush ……….think I'll leave it at….. 'Inspired and Inspiring'

Picture of the Sunset taken outside of L'Escala Cafe 1869 as the sun sets over Empuries and the Pyrenees, by Alan Dolan!!
Will I come back for Level 2???????
I believe the phrase is …."You bet your butt!!"
Alan Dolan
Communications Person, Well known aerospace company, Riyadh, The Magic Kingdom of Saudi Arabia.
PS. Did I mention the banana and ginger shakes ????

TESTIMONIAL FROM VANESSA, A LADY IN SPAIN 2002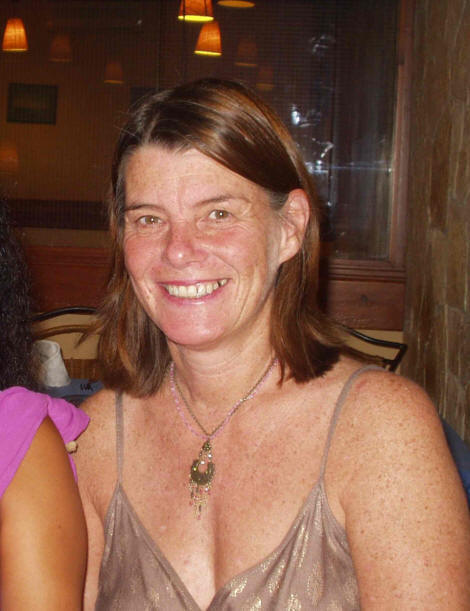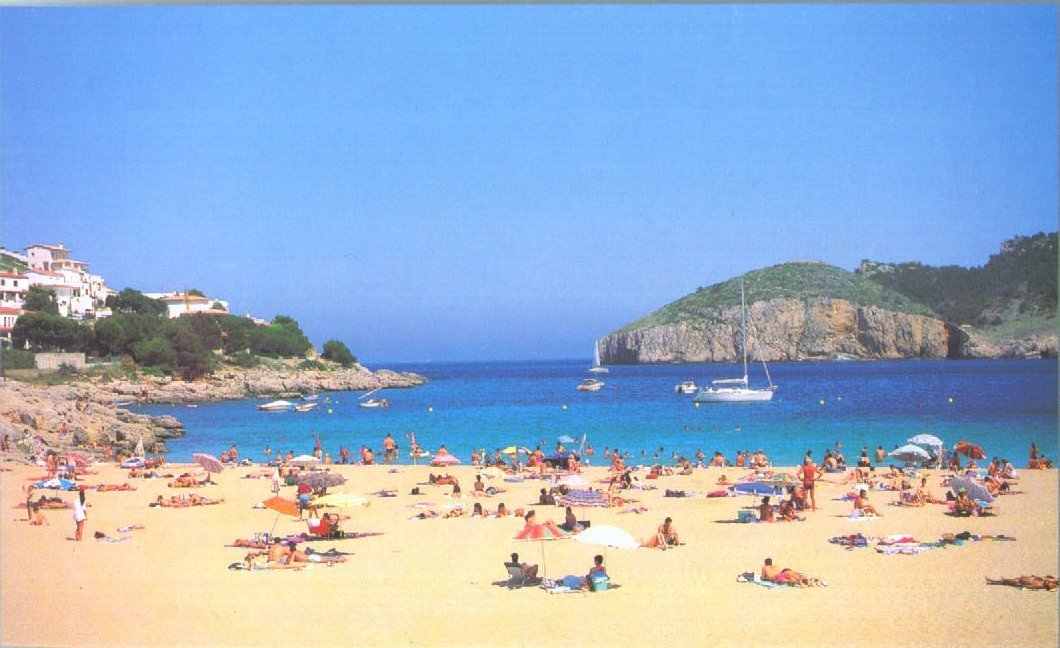 L'Escala. Satchidanand, Well, after traveling from India to Spain we have resumed our Energy Enhancement Courses with our new clients in the beautiful SOL Villa on the Costa Brava in Spain. Here is an Interesting testimonial from over the first four days of the Energy Enhancement Level One Course.......

The Experiences at the Energy Enhancement Course with Satchidanand and Devi Dhyani

During past meditation sessions for over two years, I have twirled like a top when my bottom came into contact with the floor.

Satchi explained this was the Kundalini rising and I needed to find the centre of it. By swaying backwards and forwards, then side to side, I could touch upon its centre but it is a very fine place to contact and I kept going off course.

The same movement was to be done with my head, keeping the chin down. Then I needed to keep rechecking throughout the meditation to find it again.



After two years the swaying finally stopped in ONE session with Energy Enhancement! I later found out that Satchi had been working on this blockage at the same time using Energy Enhancement Level 2 Techniques.

On the next session we dealt with the circulation of energy, imagining a gold, white or silver light filling the body. The aim was to intensify it and get it to burn from inside. It had to permeate the whole body, chest, belly, arms, and legs. Then we were to take the light out from our heart centre in a thin line through the chakras.

It could flow either way and we were to test each out, the air or the water path. As we did so we were to look out for places where we did not see the light or feel it, where the light jumped, or there was pain or where we got distracted.

At these various places, there would be a blockage. When a blockage was identified we were to push thread through them and continue the sequence. The breath, crown and heart chakras were to be used as pushing tools.

There would be an increase in the power of the new techniques to remove blockages used in Energy Enhancement Levels Two and Three.

The main thing I noticed was that there were small black circles at various places en route. I could not say exactly where they were but just knew their vague vicinity.
These Black Circles are our clients view of Energy Blockages she spotted during the meditation. Satchidanand

I repeated in the evening, focusing on my belly blockage but got distracted by a cough and had to leave the room. Satchi explained the belly and throat chakras were connected, hence my cough.

Distraction has to be caught. In bed that night on another try, I was enjoying the white light so much I did not feel like following the sequence and wanted to remain in the white light. I fell sleep but was awoken by a loud popping sound and an image of a black disc appearing in front of me.

Next morning we took the sequence a stage further with the transmutation of cosmic energy and taking the energy to its fire core. The meaning of vitriol was explained and its relevance to alchemy as being the first formula or guided meditation of alchemy. Vitriol also means anger and we were to use this technique "To drain the last dregs of our Vitriol".

We were taught that blockages were seen as black like coal, food for the fire which would increase its heat. That Kundalini heat would then flow up the spine. I could not feel the heat coming up my spine just a gentle warmth.

As I was trying this process I became angry, I knew I did not want my blockages anymore, that was why I had come on the Energy Enhancement course, I was fed up with them, they had served no purpose for me so far in my life, they had done me no good I wanted rid of them. I threw them in the fire with venom.

As I started to throw, I wanted to throw more on. I became very angry. I felt I had so much to be angry about; I could go on forever.

After this session I felt quite good.

My Energy Enhancement REIKI Initiations with Devi Dhyani, Devi uses Energy Enhancement Techniques in the Reiki Initiations, so....

On receiving my first Reiki initiation I felt very peaceful. Blue and white energies kept expanding. As the session went on I started to cry, tears rolling down my cheeks and there was some kundalini jolting of my body but I was not unduly worried.

At the second session I felt I was being pulled up by one single hair on my head, up and up it pulled me. Later it felt as though a whole lot of stuff was coming out of my head into the universe. First my little fingers felt numb then the other fingers followed suit. My feet also felt numb and slightly raised off the floor. My bottom also felt as though it was coming off the chair. Upwards and upwards was the movement. I felt emotionally tearful and tears welled slight. I felt very powerful, that I could move mountains with this strength.

On the third session I felt Devi's hands heat and a feeling of pushing me downwards. Initially again there was an image of white hands in the pray position and an opening up of my heart chakra, they felt more empowered this time. I felt snake like movements up and down my spine and I still felt numbness in my fingers tips but power going into them. I asked for help and the session ended with like wings flying slowly upwards, it was very beautiful and brought tears to my eyes, I wanted to fly too.

On the fourth session I felt similar sensations as before but this time the snake went outside my body, moving slowly upwards towards a star of light. My heart felt as though it was opening more and I felt a throbbing in my hands. A tornado started in my body, swirling very fast from the bottom of my spine upwards, eventually it slowed down to a snails pace, the energies had become gentler. From the white light I asked for help with my belly blockage. The light told me to use the white thread to weave in and out of this blockage and I successfully sent it down into the fire.

VANESSAS Resumption of The Experiences on the Energy Enhancement Course
In the meditation that followed I continued my snake like progress upwards and asked the white light for help. I had a lump in my throat chakra so I sent that to the fire.

I thought I would also ask if I would see again a person I really wanted to see. The image came back of my first love and I acknowledged the grief I felt at his loss. I poured bucketfuls of my grief down into the fire below.

When trying out EE Level 1 Stage 4, I had problems when constructing the visualisation. At first I had an image of a golden tower but only slightly up from the base was built, I could not seem to go any further. Later I tried building it by one brick at a time, it seemed a long process.

Devi Dhyani identified a blockage above the crown chakra, which she removed using Energy Enhancement Level Three Techniques. Things improved but the white light was not strong until near the end when a thin rainbow of light fell down from on high, it then turned to a long waterfall.

I had the feeling of pushing upwards and a desire to fly......
EXPERIENCE MORE!!!

INCREASE YOUR INTELLIGENCE

EMAIL sol@energyenhancement.org for PRICES AND BOOKINGS

SATCHI PROVED THIS TO ME IN THE FIRST FIVE MINUTES OF OUR FIRST MEDITATION, BY PUTTING MY BACK AND TOP OF THE HEAD IN THE RIGHT POSTURE. I IMMEDIATELY FELT A FLOW OF ENERGY GOING UP MY SPINE.
Once this stage was reached I had tremendous energy!

more?....

https://www.energyenhancement.org/page17.htm

Meditation is a prerequisite to the further advanced states of Energy Enhancement and just this Energy Enhancement Meditation is enough to gradually lead you towards your Ultimate Clarity, your Ultimate peace.

THE PAINLESS REMOVAL OF STRESS, TRAUMA AND NEGATIVE EMOTION

CONNECT, ONLY CONNECT - GOETHE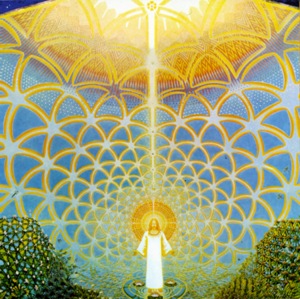 EASY AND PEACEFUL
With Energy Enhancement it is not necessary to go anywhere near painful memory, negative emotions and catharsis which are the foundations of other courses.
"EASY AND SMOOTH ENERGY ENHANCEMENT PUTS YOU IN CONTACT WITH KUNDALINI ENERGY WHICH SPEEDS UP THE PROCESS OF ENLIGHTENMENT AND INTELLIGENCE"
COME AND GET EXPERIENCED!

CLICK BELOW FOR DETAILS

EMAIL sol@energyenhancement.org

FOR PRICES

INTENSIVE VIDEO COURSE LEVEL ONE STREAMING VIDEO -
SPECIAL OFFERS..
EMAIL sol@energyenhancement .org for details
BUY NOW!!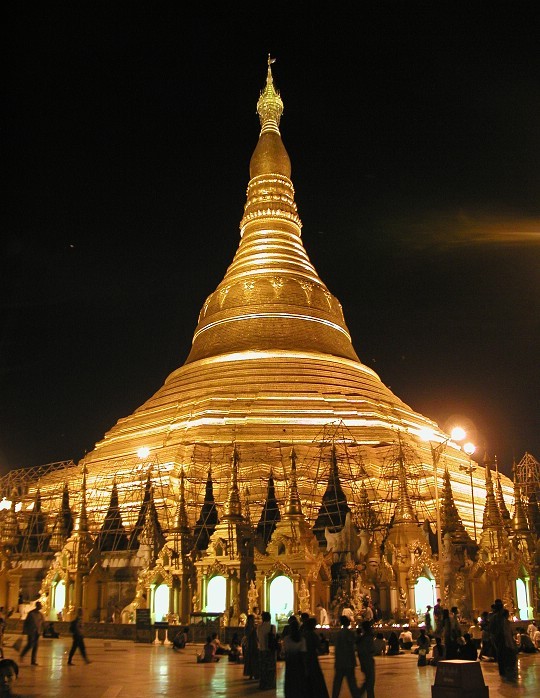 Shwedagon pagoda at night
Read the Energy Enhancement E-Book for more information on the Antahkarana
Testimonial By Vanessa Graham
ENERGY ENHANCEMENT MASTERY OF RELATIONSHIPS - 28 AUGUST 2005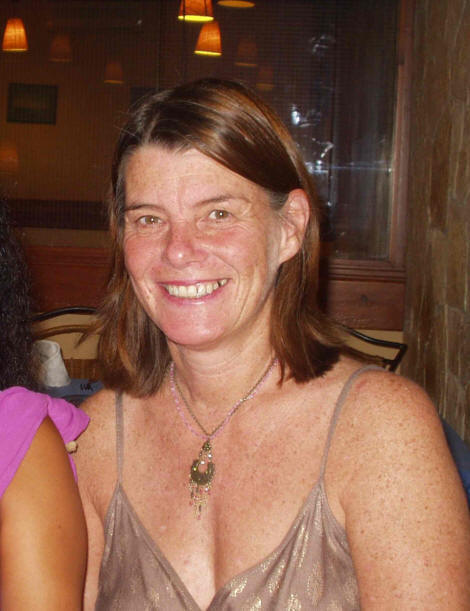 I am now out in Spain training to be a yoga teacher with Energy Enhancement and later training to be an Energy Enhancement Meditation teacher. I was previously out here with Satchi and Devi two years ago when I did the first part of the Energy Enhancement course.
I later completed it in Argentina this year. I had needed that gap in between to assimilate what I had learnt and put it into practice. I teach meditation and have found it very helpful with my own personal growth as well as progressing on my spiritual path, so much so that I felt it would you very useful to those on a similar path and that I would like to teach it.
If you meditate long enough and hard enough you can resolve your life's problems but that can take a lifetime and I felt I could not wait that long, I wanted things to happen now. That's is why Satchi and Devi's Energy Enhancement Course appealed to me, it was all about doing, not just talking about it.
Energy Enhancement is experiential, you learn by doing, it is not some others persons experience it is your own that you work on. Only by doing do you learn, you are given the necessary techniques to tackle negative thought forms in your life and you work through meditation to eliminate them.
Energy Enhancement saves hours of psychoanalysis; it is not necessary to rake up the past in fine detail. You can acknowledge past events and how they affected you, recognising them intellectually is the first step but then you use the techniques taught to get rid of them.
I thought I would go through with and share the Energy Enhancement processes that have occurred for me over the last few days. It is just a report of things as they are, no embellishments or make believe....
.... When I was getting the better of the energy blockage I felt the spaces in which I meditated expand. I got an explosion of energy down the right hand side of my body. The energy was bumping around in my base chakra; in fact my whole body was pulsating with the energies. It felt as though there was static electricity all along my arms making the hairs stand up on end. As the energies grew stronger I felt lighter, happier and freer. My heart opened out to send blasts of energy out which returned back to me.
This was not just a quest for personal growth it was the quest for enlightenment. It is the spiritual path I am on, these techniques are just part of it. The ancient scriptures are followed and hatha yoga is practiced, it is all part and parcel of the same thing.
Satchidanand said we only see these problems when we are able to deal with them and now was the time for me to deal them. There are also positive images whilst meditating and one was of a large bird soaring in the sky, floating on the thermals, being taken by the wind. That is the analogy of my quest. I want to be free to follow my souls path; I want to be that bird. Out of this I was given a message "Let the soul sing its song through my heart".
Testimonial By Vanessa
My Experience Using the Energy Enhancement DVD Video Course Prior to coming on the SEPTEMBER 2005 ENERGY ENHANCEMENT COURSE IN SPAIN:


The KUNDALINI electric shock and shaking are present in abundance when sending the energy upwards. The feeling isn't unbearable like it was initially with the earth path, nor was it 'orgasmic' like the earth path became and then 'unbecame.'
This time there is physical shaking but it is neither unpleasant or pleasurable - so no problems then, I expect it to settle with time.
To take a break from the shaking I have rested below the central sun, within the blue tube and within the black tube without consciously circulating the energy. I have had a sense that there is some movement taking place by itself much more subtle than the conscious circulation and like convection flowing in both directions simultaneously.
WHEN JEAN CAME FOR ONE MONTH ON THE SEPTEMBER 2005 COURSE WE REMOVED ALL HIS BLOCKAGES IN THE SPINE WHICH HE SAW, PSYCHICALLY IN THE BUDDHAFIELD, AS 13 BLACK SHINY STONES.
THIS IS THE EFFECT OF ADVANCED ENERGY ENHANCEMENT BLOCKAGE REMOVAL TECHNIQUES
THE RESULT OF REMOVING HIS ENERGY BLOCKAGES WAS AN INCREASE IN THE ABILITY TO CHANNEL ENERGY AND THE STOPPING OF ALL SHAKING DURING MEDITATION, EVER AGAIN!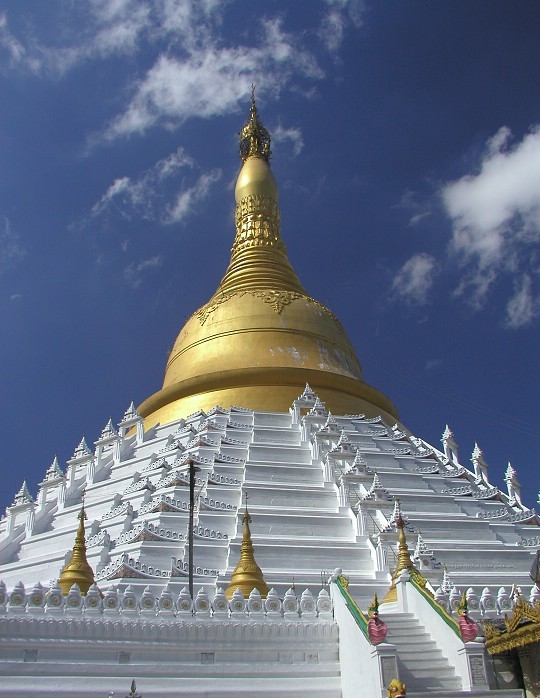 Mahazedi pagoda
ANOTHER TESTIMONIAL FROM VANESSA WHO WROTE THE TESTIMONIAL ABOVE, WHO CAME TO ARGENTINA FOR HER SECOND ENERGY ENHANCEMENT COURSE IN


It was nearly two years ago that I completed the first half of the EE course in Spain with Satchi and Devi. In one respect it seems just yesterday but in another a life time away. A lot has happened in my life between that time deaths, births, daughter's marriage, ill health; the usual variety of life's traumas. I returned from the first course full of determination to follow my spiritual path, I was going to do such great things but being a wife and mother just took over. At the times when I most needed to practice I did not, which in turn lead to much inner suffering.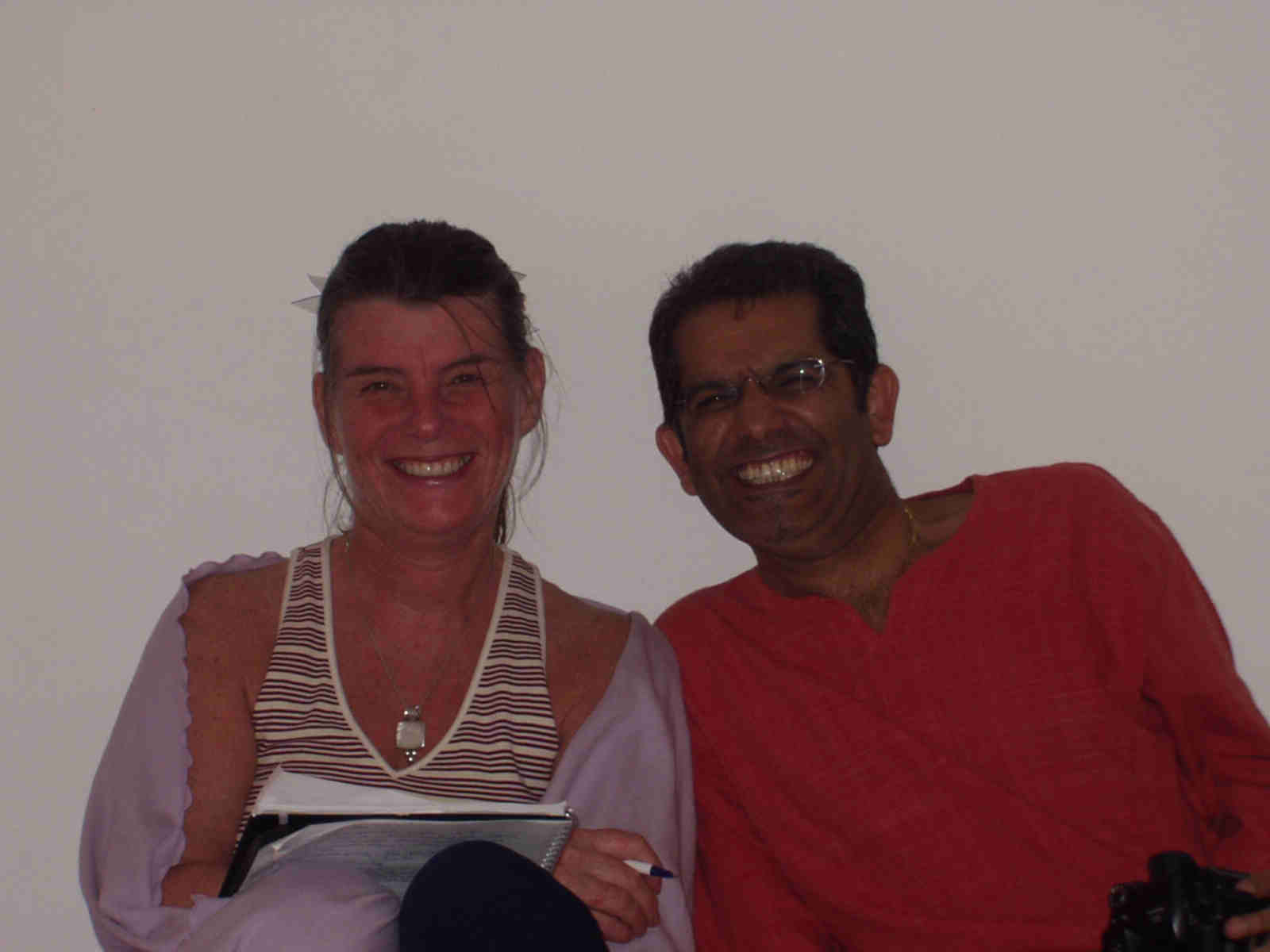 Vanessa with Dhiren, another course member
I was also struggling to get myself acknowledged as a spiritual person by those close to me. I was tired of living two lives, one as a family person and the other as a spiritual one. To incorporate the two was no easy task and relationships problems developed which that is what really brought me back to the course. I needed ways of dealing with relationships of close to me. I had enough of being drawn into emotional traumas and expectations. I needed the tools to develop non-attachment, whilst at the same time being more open and loving.
I needed a better understanding of how to stop my energies from being drained from me and I came back to the course as I needed to find the answers.
The two year gap had been beneficial in that I came with a renewed conviction to learn and develop from what was being taught. I had found I tended to live an insular spiritual life at home, although I was able to learn from the gurus and swami's I mixed with. I was pleased to join an on going group half way through; I was welcomed and made to feel a part of it immediately. The group provided a valuable learning environment as its members explained their personal experiences, as previously on my own I often wondered was it just me who felt like this.
I was deeply touched by their commitment and determination to follow a spiritual path despite all the difficulties. I appreciated being part of the group, over the two weeks I felt a unity of spirit amongst us we acted as a whole and not separate individuals, a sense of oneness and harmony developed. The benefit of the course was the tackling of shared difficulties, as well as learning new techniques with like minded people.
The course is very user friendly and can be easily related to everyday life and the problems that occur in it. Blockages, strategies and inner children all had to be worked on and along with this came the realisation of the benefit of a maintenance programme to be carried on when I return home.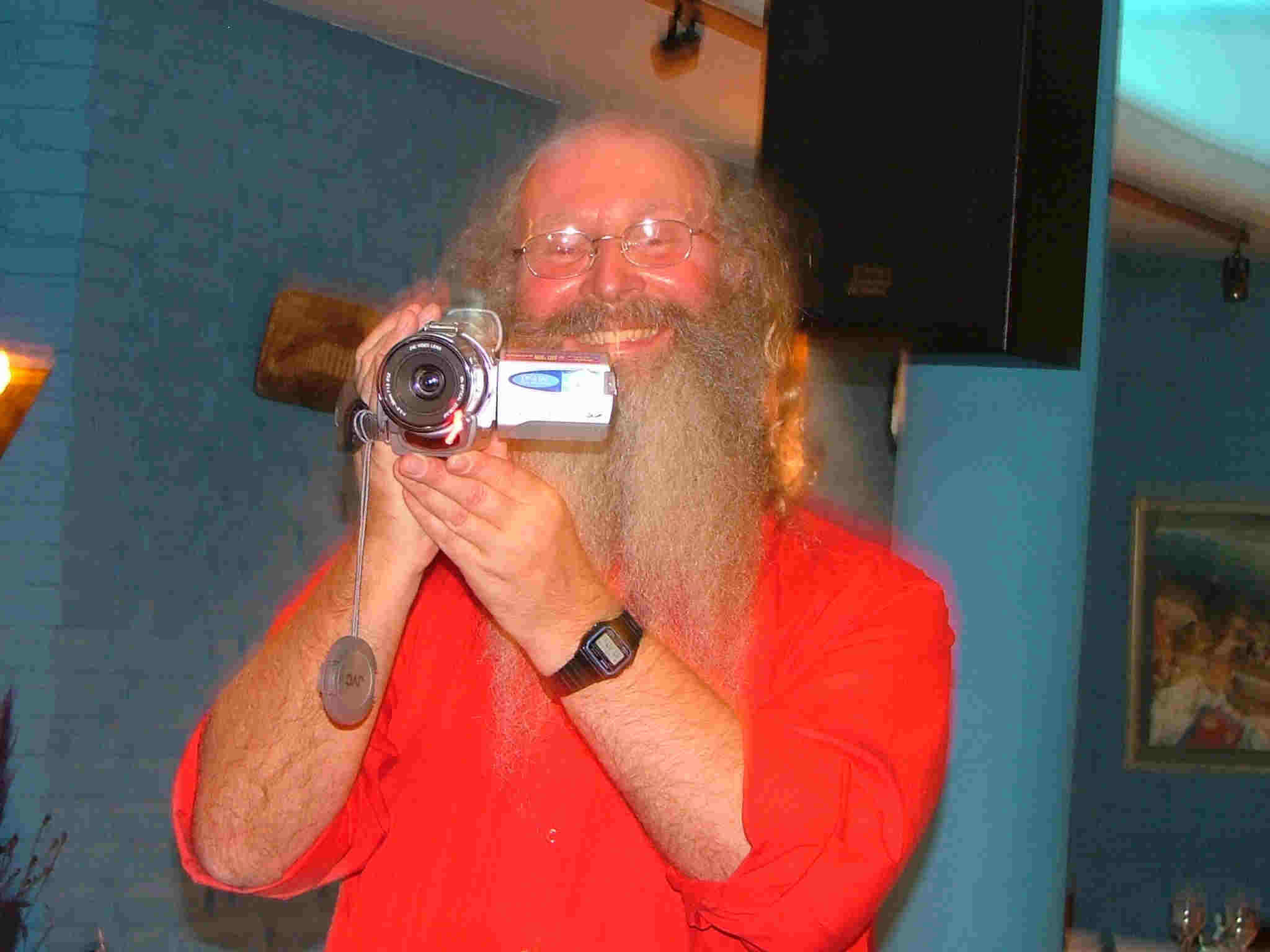 Satchi and Devi are intuitive teachers who know what is best for you and can point you in the right direction. It has been noted by the other group members that my appearance has improved in just one week and I can feel the inner changes that have taken place. My energy levels are high, I have a lightness about my body and a tranquil calmness surrounding me, what more could I want.
At the time of writing we are tackling relationships, having brought about change in ourselves through the techniques learnt on the course we can now bring about change in our relationships with others. This was an important area in my life that I wanted to tackle if I was to move on in my spiritual path. I was trying to merge my family life with my spiritual one and was having problems with those close to me incorporating into their lives. Hence their relationship with me and vice versa needed to be healed in order to create a more spiritual environment. The Energy Enhancement course gave me the tools that can be used in everyday life when I return home. The tools taught are the cleaning of the chakras as well as the lines of communication between chakra to chakra from yourself to another person. At the same time their auras and energy fields can be cleansed. EE is a method for healing yourself and others.
I was putting this into practice with my husband who came to Argentina with me to keep me company but not to participate on the course.
For the first time in his life he picked up a spiritual book to read, which is something I had hoped would happen for many years, and goes to prove something must be happening. I look forward to practising the techniques on my return.
My insight and intuition have developed on the course and many experiences have happened to prove that the teachings do what they say. One night a vision came of the Time Line, which we had just learnt about that day on the Energy Enhancement course. I had never seen one before but it was so clear that it left no doubt to its existence.
The course is experiential you know it works when you experience it, you do not have to accept what is being said blindly. You have to trust your own abilities to gain from the teachings and it will be revealed to you.
This happens very effectively with the Energy Enhancement Reiki teachings. By giving Reiki to a person they will know that the energies do exist and will lead then to a greater understanding of what meditation is about. I have always wanted to help people through meditation and was pleased Reiki tied in with EE. I can feel the energies descend through me and be transmitted to the person being healed. It is that connection with a higher force and its flow, that has created some very moving experiences I had had with Devi. She is a wonderful teacher of it and her hands give all the learning necessary.
There has been an expansion of my energy fields that I would not have achieved on my own or elsewhere. To be able to use the energies in a healing way has been a blessing. My original expectation from the course was to increase my knowledge of the energies by direct experience of them to gain wisdom and this has been fulfilled.
The EE techniques have deepened my spiritual understanding and also enhanced my spiritual practice. I intend to pass on this knowledge to those I meet on the meditation path.
The course has given me confidence to handle the internal saboteurs we all have within us and carry on my spiritual journey with renewed vigour.
The warmth and caring ways of Satchi and Devi have provided a safe environment in which to learn. Many distractions can come to stop you coming on the course but they need to be overcome if you really want to progress on your spiritual path. My deep gratitude and thanks go to both Satchi and Devi for giving so much of themselves.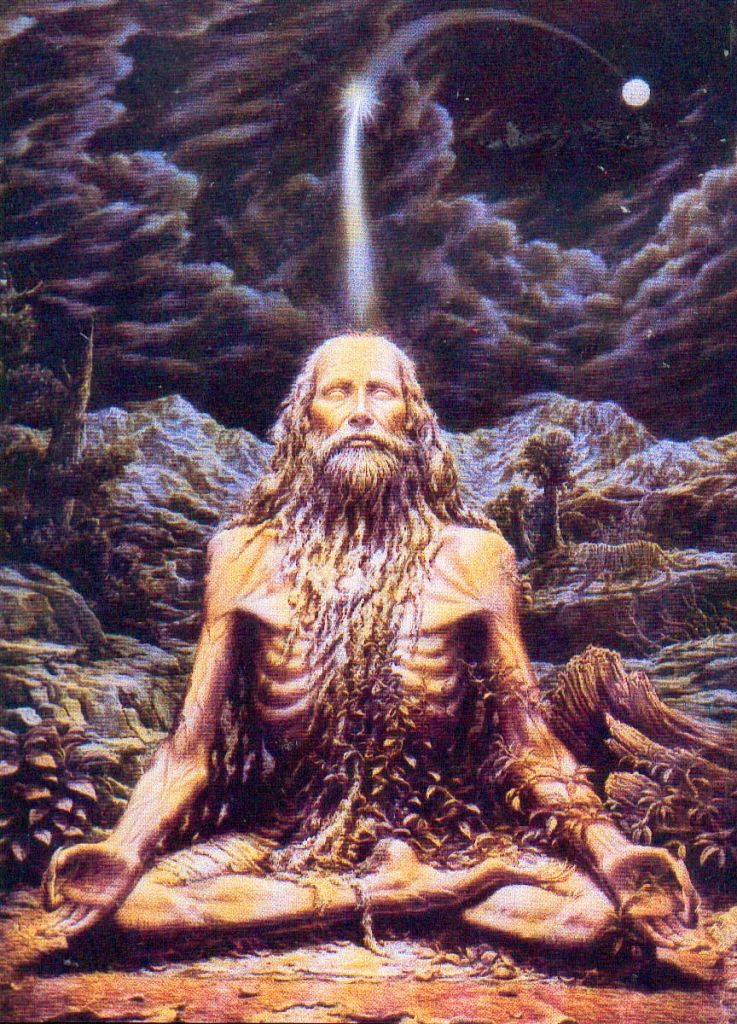 "EASY AND SMOOTH ENERGY ENHANCEMENT PUTS YOU IN CONTACT WITH KUNDALINI ENERGY WHICH SPEEDS UP THE PROCESS OF ENLIGHTENMENT AND INTELLIGENCE"

ENERGY ENHANCEMENT GIVES REAL SPIRITUAL EXPERIENCE ABOVE AND BEYOND ALL OTHER COURSES

The Cleaning of the Base Chakra is, on the Physical Level, The Removal of Toxins - The start of the Creation of IMMORTALITY!




When I came to see Satchi at the airport for the first time I was struck by his energy but it was the second time, when he was talking to another student when meeting us off the train at Figueres that I really started to feel the Buddhafield of Energy Surrounding him. Suddenly I started yawning like the big healer guy in "The Green Mile" and then tears started from my eyes and I felt I was getting rid of a lot of Painful memories from the past. Olympia Panza 2004

Brenda Wilkinson, Co Durham.
You have both made me think about life in a very different way and I thank you both with all my love.
MEDITATION, SHAKTIPAT, ENERGY CIRCULATION, THE KUNDALINI KRIYAS, THE FIVE ELEMENTAL PATHS OF THE CHI OF CHINESE ALCHEMICAL TAOISM, THE GROUNDING OF NEGATIVE ENERGIES, ACCESS TO KUNDALINI ENERGY, CHECK OUT FOOD, REMOVE ENERGY BLOCKAGES, STRONG PSYCHIC PROTECTION, LEARN THE MERKABA, PYRAMID PROTECTION, POWER TOWER PROTECTION, CREATE THE ANTAHKARANA, SOUL FUSION, MONADIC INFUSION, LOGOS INFUSION!!!

"Energy Enhancement does not promote a spirituality that grows only in the mountains, apart from the cities and the hustle and bustle of everyday life. It shows you how to integrate the peace of retreat with the activity of life - work, relationships, enjoyment, and spirituality - there should be no separation!" Energy Enhancement Student, Paul Inman
The Synthesis of Light Symbol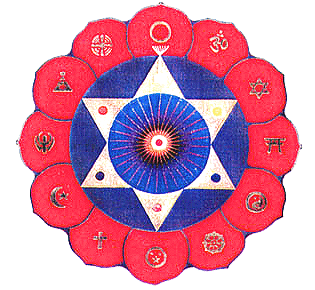 ENERGY ENHANCEMENT ON THE COSTA BRAVA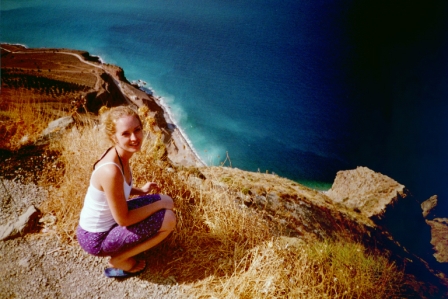 THE POWER OF TOTAL CONTROL



"EASY AND SMOOTH ENERGY ENHANCEMENT PUTS YOU IN CONTACT WITH KUNDALINI ENERGY WHICH SPEEDS UP THE PROCESS OF ENLIGHTENMENT AND INTELLIGENCE"

THE 5 ELEMENTARY CIRCULATIONS OF THE KI OF TAOISM

<

>ARE THE SAME MEDITATIONS AS

<>TAUGHT IN THIS INITIATION OF ENERGY ENHANCEMENT

Masters... and the flowers showered, the energy of existence flows.

Satchi explained that if we had the power to heal our own blockages, we also had the power to heal the blockages of others. The power to do this comes from an integration of the body, emotions, mind and spirit created through the Core Energy Techniques of Energy Enhancement within the Energy Enhancement Buddhafield.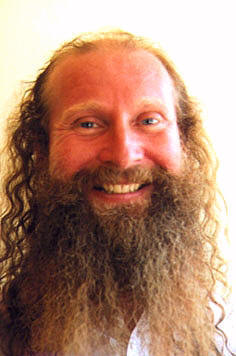 Satchi explained that the higher levels of Energy which create the Energy Enhancement Buddhafield and the Energy momentum to heal the students and raise their Energy Levels so that they can do likewise came from His connection with his teachers, Zen Master Hogen from Japan, Swami Satchidananda from Yogaville in the USA but previously a disciple, a Yogiraj, of Swami Sivananda of Rishikesh.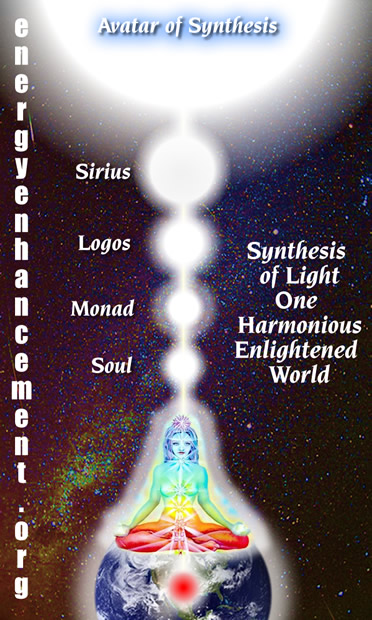 COME TO SPAIN AND GET EXPERIENCED!

EMAIL sol@energyenhancement.org for PRICES AND BOOKINGS
---
THE TRUTH IS ONE, THE PATHS ARE MANY

The Energy Enhancement Symbol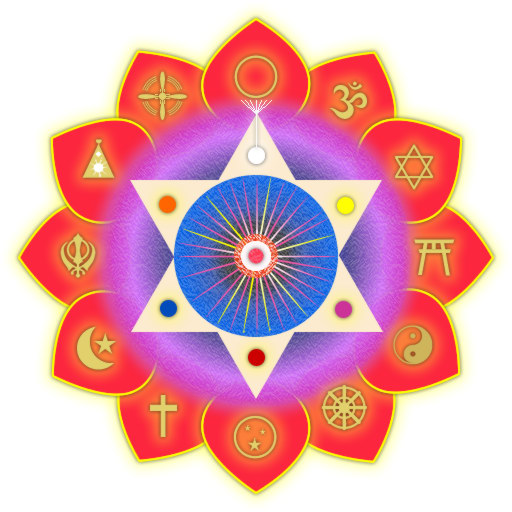 The Energy Enhancement Symbol of the Twelve Petalled Lotus of the Heart Center with One of the Symbols of the Worlds Major Religions in Each One of the Petals. Inside the symbol is the Hexagram - The Seal of Solomon, with the Seven Chakras describing the Three Initiations on the Path of Enlightenment
- Initiation 1. The Opening of the Heart. Solar Plexus to Heart Chakra.
Initiation 2. The Mastery of Relationships, Abdomen to Throat Chakra.
Initiation 3. Enlightenment, Base to all the Head Chakras which is taught on the Energy Enhancement Course plus many other Initiations.
At the Very Center is the Heart Chakra radiating Peace and Light outwards.. like the Sun...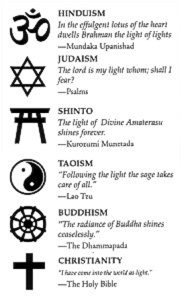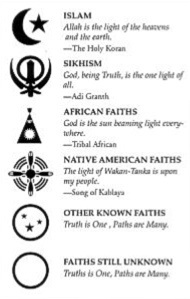 ---
"The day is short and the work is Great and the workers are Lazy. But the reward is Large and our Master urges us to make Haste."
Writings of the Abbod of Halmyrach
Speed Up the Process of Evolution, Intelligence, Emotional Stability, Energy, Kindness, Wisdom and Leadership which many courses profess to teach but which Energy Enhancement has given with both hands to the many and varied students taught by it.
STOP THE PAIN - TRANSMUTE AND DISSOLVE ALL TRAUMA AND NEGATIVE ENERGY
Testimonial From Gary Spaid a Wealth Counselor in Vail Valley, Colorado, USA.
So, what did we get? I can say that practicing the technique of Stage 4 of Level One of Energy Enhancement with Devi and Satchy gave more power to the top down approach of Meditation. I had an experience of the MAGIC!! that I so longed for in my meditation.
Sitting in the flame of Kundalini and seeing my karma burn up was a POWERFUL experience.
https://www.energyenhancement.org/page17.htm
---
HSIN HSIN MING - THE ENLIGHTENED MIND OF Zen Master Sosan the third Zen Patriarch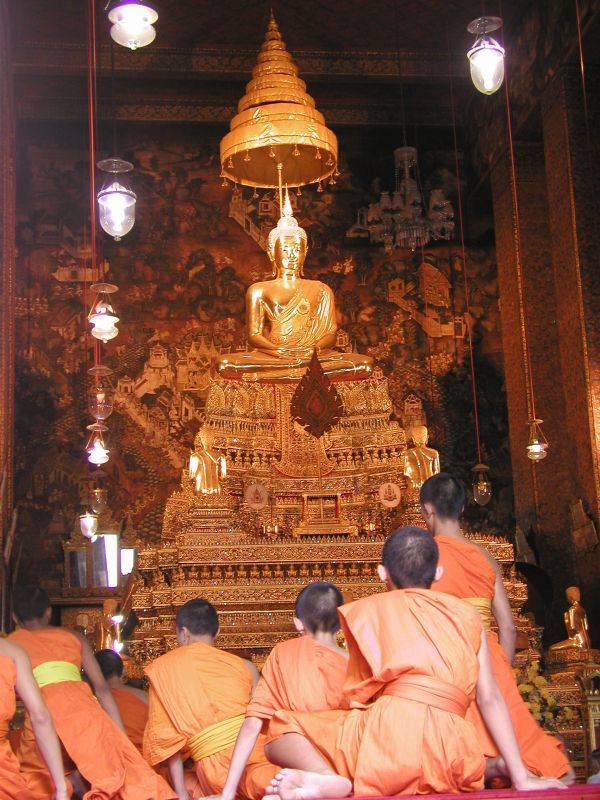 Hsin Hsin Ming: The Book of Nothing Talks on the Enlightened Mind of Sosan, The Great Way



THE GREAT WAY IS NOT DIFFICULT FOR THOSE WHO HAVE NO PREFERENCES.

WHEN LOVE AND HATE ARE BOTH ABSENT EVERYTHING BECOMES CLEAR AND UNDISGUISED.

MAKE THE SMALLEST DISTINCTION, HOWEVER, ONE COMPLAINT AND HEAVEN AND EARTH ARE SET INFINITELY APART.

IF YOU WISH TO SEE THE TRUTH THEN HOLD NO OPINION FOR OR AGAINST.

THE STRUGGLE OF WHAT ONE LIKES AND WHAT ONE DISLIKES IS THE DISEASE OF THE DESIRE NATURE OF THE MIND.



WE WILL BE ENTERING the beautiful world of a Zen Master's no-mind. Sosan is the third Zen Patriarch. Nothing much is known about him -- this is as it should be, because history records only violence. History does not record silence -- it cannot record it. All records are of disturbance. Whenever someone becomes really silent, he disappears from all records, he is no more a part of our madness. So it is as it should be.

Sosan remained a wandering monk his whole life. He never stayed anywhere; he was always passing, going, moving. He was a river; he was not a pond, static. He was a constant movement. That is the meaning of Buddha's wanderers: not only in the outside world but in the inside world also they should be homeless -- because whenever you make a home you become attached to it. They should remain rootless; there is no home for them except this whole universe.

Even when it was recognized that Sosan had become enlightened, he continued his old beggar's way. And nothing was special about him. He was an ordinary man, the man of Tao.

One thing I would like to say, and you have to remember it: Zen is a crossbreeding. And just as more beautiful flowers can come out of crossbreeding, and more beautiful children are born out of crossbreeding, the same has happened with Zen.

Zen is a crossbreeding between Buddha's thought and Lao Tzu's thought. It is a great meeting, the greatest that ever took place. That's why Zen is more beautiful than Buddha's thought and more beautiful than Lao Tzu's thought. It is a rare flowering of the highest peaks and the meeting of those peaks. Zen is neither Buddhist nor Taoist, but it carries both within it.

India is a little too serious about religion -- a long past, a long weight on the mind of India, and religion has become serious. Lao Tzu remained a laughingstock -- Lao Tzu is known as the old fool. He is not serious at all; you cannot find a more non-serious man.

Then Buddha's thought and Lao Tzu's thought met, India and China met, and Zen was born. And this Sosan was just near the original source when Zen was coming out of the womb. He carries the fundamental.

His biography is not relevant at all, because whenever a man becomes enlightened he has no biography. He is no more the form, so when he was born, when he died, are irrelevant facts. That's why in the East we have never bothered about biographies, historical facts. That obsession has never existed here. That obsession has come from the West now; then people become interested more in irrelevant things. When a Sosan is born, what difference does it make -- this year or that? When he dies, how is it important?

Sosan is important, not his entry into this world and the body, not his departure. Arrivals and departures are irrelevant. The only relevance is in the being.

And these are the only words Sosan uttered. Remember, they are not words, because they come out of a mind which has gone beyond words. They are not speculations, they are authentic experiences. Whatsoever he says, he knows.

He is not a man of knowledge, he is a wise man. He has penetrated the mystery, and whatsoever he brings is very significant. It can transform you completely, totally. If you listen to him the very listening can become a transformation, because whatsoever he is saying is the purest gold.

But then it is difficult too, because the distance is very very great between you and him: you are a mind and he is a no-mind. Even if he uses words he is saying something in silence; you, even if you remain silent, go on chattering within.



It happened:

There was a case against Mulla Nasruddin in the court. The court could not prove much. He was charged with polygamy, having many wives. Everybody knew about it, but nobody could prove it.

The lawyer said to Nasruddin, "You remain silent, that's all. If you utter a single word you will be caught. So you simply keep quiet and I will look to the matter."

Mulla Nasruddin remained silent -- deep down boiling, in turmoil, wanted to interrupt many times, but somehow managed and controlled himself. Outwardly looked like a Buddha, inside a madman. The court couldn't find anything against him. The magistrate, even though he knew that this man had many wives in the town, when there was no proof what could he do? So the magistrate had to release him.

He said, "Mulla Nasruddin, you are released. Now you can go home."

Mulla Nasruddin looked puzzled and said, "Er -- Your Honor, which home?" He had many homes because he had many wives in the town.



A single word from you will show the mind inside; a single word and your whole being is exposed. Not even a word is needed; just a gesture and your chattering mind will be there. Even if you are silent, your silence will not reveal anything other than the chattering monkey within.

When a Sosan speaks, he speaks totally on a different plane. He is not interested in speaking; he is not interested in influencing anybody; he is not trying to convince you about some theory or philosophy or ism. No, when he speaks his silence blooms. When he speaks he is saying that which he has come to know and would like to share with you. It is not to convince you, remember -- it is just to share with you. And if you can understand a single word of his, you will feel a tremendous silence being released within you.

Just hearing here... We will be talking about Sosan and his words. If you listen attentively, suddenly you will feel a release of silence within you. These words are atomic, they are full of energy. Whenever a person who has attained says something, the word is a seed and for millions of years the word will remain a seed and will seek a heart.

If you are ready, ready to become the soil, then these words, these tremendously powerful words of Sosan -- they are still alive, they are seeds -- they will enter in your heart if you allow, and you will be totally different through them.

Don't listen to them from the mind, because their meaning is not of the mind; the mind is absolutely impotent to understand them. They don't come from the mind, they cannot be understood by the mind. They come from a no-mind. They can be understood only by a state of no-mind.

So while listening here don't try to interpret. Don't listen to the words but to the gaps between the lines, not to what he says but to what he means -- the significance. Let that significance hover around you like a fragrance. Silently it will enter you; you will become pregnant. But don't interpret. Don't say, "He means this or that," because that interpretation will be yours.





Once it happened:

Mulla Nasruddin was coming back, completely drunk, in the wee hours of the morning. As he was passing by a cemetery he looked at the signboard. On it was written in big letters, capital letters: RING FOR THE CARETAKER -- and that's what he did.

Of course, so early in the morning, the caretaker was disturbed. He came out, staggering, angry, and when he looked at Nasruddin, absolutely drunk, he became even more angry.

He asked, "Why? Why did you ring? Why did you ring for me? What is the matter? What do you want?"

Nasruddin looked at him for one minute, silently, then looked at the signboard and said, "I want to know, why can't you ring that damn bell yourself?"



It was written: RING FOR THE CARETAKER. Now how to interpret it? It depends on you.

Don't interpret -- listen. And when you interpret you can't listen, because the consciousness cannot do two opposite things simultaneously. If you start thinking, listening stops. Just listen as you listen to music -- a different quality of listening because you don't interpret. There is no meaning in the sounds.

This is also music. This Sosan is a musician, not a philosopher. This Sosan is not saying words, he is saying more -- more than the words. They have a significance but they don't have any meaning. They are like musical sounds.

You go and sit near a waterfall. You listen to it, but do you interpret what the waterfall says? It says nothing... still it says. It says much, much that cannot be said.

What do you do near a waterfall? You listen, you become silent and quiet, you absorb. You allow the waterfall to go deeper and deeper within you. Then everything becomes quiet and silent within. You become a temple -- the unknown enters through the waterfall.

What do you do when you listen to the songs of the birds, or wind passing through the trees, or dry leaves being blown by the breeze? What do you do? You simply listen.

This Sosan is not a philosopher, he is not a theologian, he is not a priest. He does not want to sell any idea to you, he is not interested in ideas. He is not there to convince you, he is simply blooming. He is a waterfall, or he is a wind blowing through the trees, or he is just a song of the birds -- no meaning, but much significance. You have to absorb that significance, only then will you be able to understand.

So listen, but don't think. And then it is possible for much to happen within you, because I tell you: this man -- this Sosan about whom nothing much is known -- he was a man of power, a man who has come to know. And when he says something he carries something of the unknown to the world of the known. With him enters the divine, a ray of light into the darkness of your mind.

Before we enter into his words, remember the significance of the words, not the meaning; the music, the melody, not the meaning; the sound of his soundless mind, his heart, not his thinking. You have to listen to his being, the waterfall.

How to listen? Just be silent. Don't bring your mind in. Don't start thinking, "What is he saying?" Just listen without deciding this way or that, without saying whether he is right or wrong, whether you are convinced or not. He does not bother about your conviction, you also need not bother about it. You simply listen and delight. Such persons as Sosan are to be delighted in; they are natural phenomena.

A beautiful rock -- what do you do with it? You delight in it. You touch, you go around it, you feel it, the moss on it. What do you do with clouds moving in the sky? You dance on the earth, you look at them, or you just keep quiet and lie down on the ground and look at them and let them float. And they fill you. Not only the outer sky -- by and by, the more you become silent, they fill your inner sky also. Suddenly you are not there, only clouds are moving, in and out. The division is dropped, the boundary is no more there. You have become the sky and the sky has become you.

Treat Sosan as a natural phenomenon. He is not a man. He is God, he is Tao, he is a Buddha.

Before we try to move into his significance, a few things have to be understood. They will give you a push.



MIND IS A DISEASE. This is a basic truth the East has discovered. The West says mind can become ill, can be healthy. Western psychology depends on this: the mind can be healthy or ill. But the East says mind as such is the disease, it cannot be healthy. No psychiatry will help; at the most you can make it normally ill.

So there are two types of illness with mind: normally ill -- that means you have the same illness as others around you; or abnormally ill -- that means you are something unique. Your disease is not ordinary -- exceptional. Your disease is individual, not of the crowd; that's the only difference. Normally ill or abnormally ill, but mind cannot be healthy. Why?

The East says the very nature of mind is such that it will remain unhealthy. The word 'health' is beautiful. It comes from the same root as the word 'whole'. Health, healing, whole, holy -- they all come from the same root.

The mind cannot be healthy because it can never be whole. Mind is always divided; division is its base. If it cannot be whole, how can it be healthy? And if it cannot be healthy, how can it be holy? All minds are profane. There is nothing like a holy mind. A holy man lives without the mind because he lives without division.

Mind is the disease. And what is the name of that disease? Aristotle is the name, or if you really want to make it look like a disease then you can coin a word: ARISTOTLITIS. Then it looks exactly like a disease. Why is Aristotle the disease? Because Aristotle says, "Either this or that. Choose!" And choice is the function of the mind; mind cannot be choiceless.

Choose and you are in the trap, because whenever you choose you have chosen something against something else. If you are for something, you must be against something; you cannot be only for, you cannot be only against. When the 'for' enters, the 'against' follows as a shadow. When the 'against' is there, the 'for' must be there -- hidden or not hidden.

When you choose, you divide. Then you say, "This is good, that is wrong." And life is a unity. Existence remains undivided, existence remains in a deep unison. It is oneness. If you say, "This is beautiful and that is ugly," mind has entered, because life is both together. And the beautiful becomes ugly, and the ugly goes on becoming beautiful. There is no boundary; no watertight compartments are there. Life goes on flowing from this to that.

Mind has fixed compartments. Fixedness is the nature of mind and fluidity is the nature of life. That's why mind is obsession; it is always fixed, it has a solidness about it. And life is not solid; it is fluid, flexible, goes on moving to the opposite.

Something is alive this moment, next moment is dead. Someone was young this moment, next moment he has become old. The eyes were so beautiful, now they are no more there -- just ruins. The face was so roselike, now nothing is there -- not even a ghost of the past. Beautiful becomes ugly, life becomes death, and death goes on taking new birth.

What to do with life? You cannot choose. If you want to be WITH life, with the whole, you have to be choiceless.

Mind is a choice. Aristotle made it the base of his logic and philosophy. You cannot find a man more distant from Sosan than Aristotle, because Sosan says, "Neither this nor that -- don't choose." Sosan says, "Be choiceless." Sosan says, "Don't make distinctions!" The moment you make a distinction, the moment choice enters, you are already divided, fragmentary; you have become ill, you are not whole.

Remember, if you ask a Christian... who does not really belong to Jesus, who basically belongs to Aristotle. Christianity is more Aristotle-based than Christ-based. Jesus was more like Sosan. He says, "Don't judge. Judge ye not!" He says, "Don't make any choice. Don't say, 'This is good and that is bad!' That is not your concern. Let the whole decide. Don't you be a judge." But Christianity is not really Jesus-oriented. The founders of Christianity were more Aristotelian than Christian.

You cannot make a church out of Sosan or Jesus. How can you make a church if you remain choiceless? A church has to be for something and against something; it has to be for God and against the Devil. And in life God and the Devil are not two, they are one. The Devil is one face and God is another face of the same energy -- they are not two.

Sometimes he comes as a Devil and sometimes he comes as a God. And if you can go deep and look, you will find they are the same. Sometimes he comes as a thief and sometimes he comes as a virtuous man. Sometimes you will find him in respectable quarters and sometimes with those who are not respected but condemned. He MOVES, he is a movement. And no shore is too distant for him to reach, nobody is beyond him -- he moves in everybody.

Jesus makes no distinctions, but Christianity makes distinctions because a religion has to -- a religion has to become a morality. And once a religion becomes a morality it is no more a religion. Religion is the greatest daring possible. It takes the greatest courage to be choiceless, because the mind says, "Choose!" The mind says, "Say something! This is wrong, that is good. This is beautiful, this is ugly. I love this, I hate that." Mind says, "Choose!"

Mind has a temptation to divide. Once you divide, mind is at ease. If you don't divide, if you say, "I'm not going to to say anything. I'm not going to judge," mind feels as if it is on its deathbed.

Aristotle says A is A and cannot be not A -- the opposites cannot meet. Sosan says there are no opposites -- they are already meeting, they have always been meeting. This is one of the most fundamental truths to be realized, that the opposites are not opposites. It is you who say they are opposites, otherwise they are not opposites. Look existentially and you will feel they are the same energy.

You love a person...



One woman came to me and she said, "For ten years I have been married to a person and we never quarreled. And now suddenly, what happened? He has left me."

Now, she thinks that if they never quarreled it shows they were in deep love. This is foolish -- but this is Aristotelian; the woman is absolutely logical.

She said, "For ten years we have been married. We never quarreled, we were never angry at each other." She is saying, "We were in such deep love that we never fought about anything. There was not even a single moment of conflict. And now, what happened? Suddenly he has left me! Has he gone mad? Our love was so deep." She is wrong.

If love is deep then there is bound to be some quarrel. Sometimes you will fight. And the fight is not going to break the love, it enriches it. If love is there, it will be enriched by fighting; if love is not there, then you part, you separate. Ten years is a long time -- even twenty-four hours is too long to be constantly in one state of mind, because mind moves to the opposite.

You love a person; sometimes you feel angry. Really, you feel angry only because you love. Sometimes you hate! Sometimes you would like to sacrifice yourself for your lover, and sometimes you would like to kill the lover. And both are you.

If you never quarreled for ten years, it means there was no love at all. It means it was not a relationship. And you were so afraid that any anger, any conflict, any slight thing could break down the whole thing. You were so afraid you never quarreled. You never believed that the love could go deeper than the quarrel, that the quarrel would be momentary and after the quarrel you would fall into each other's arms more deeply. No, you never trusted that. That's why you managed not to fight. And this is not something to be surprised about, that the man has left. I said, "I am surprised that he remained with you for ten years. Why?"



One man came to me and he said, "Something has gone wrong with my son. I have known him for twenty years -- he was always obedient. Such a good boy you cannot find anywhere. He never disobeyed, he never went against me. And now suddenly he has become a hippie. Now suddenly he doesn't listen. He looks at me as if I am not his father at all. He looks at me as if I am a stranger. And for twenty years he was so obedient. What has happened to my son?"

Nothing has happened. This is what was to be expected, because if a son really loves his father he disobeys also. Whom else should he disobey? If a son really loves his father and trusts him, sometimes he goes away also -- because he knows the relationship is so deep that by disobeying it is not going to be broken. Rather, on the contrary, it will be enriched. The opposite enriches.

Really, the opposite is not opposite. It is just a rhythm, a rhythm of the same; you obey and then you disobey -- it is a rhythm. Otherwise, just going on obeying, obeying, everything becomes monotonous and dead. Monotony is the nature of death, because the opposite is not there.

Life is alive. The opposite is there, a rhythm is there. You move, you come back; you depart, you arrive; you disobey, then you obey also; you love and you hate. This is life, but not logic. Logic says if you love you cannot hate. If you love, how can you be angry? If you love in this way then you love in a monotonous way, the same pitch. But then you will become tense, then it is impossible to relax.

Logic believes in linear phenomena: in one line you move. Life believes in circles: the same line goes up, comes down, becomes a circle.

You must have seen the Chinese circle of YIN and YANG. That is how life is: opposites meeting. That circle of YIN and YANG is half white, half black. In the white there is a black spot, and in the black there is a white spot. The white is moving into the black, and the black is moving into the white -- it is a circle. The woman moving into the man, the man moving into the woman... this is life. And if you observe minutely, you will see it within you.

A man is not a man twenty-four hours a day, cannot be -- sometimes he is a woman. A woman is not a woman twenty-four hours a day -- sometimes she is a man also. They move to the opposite. When a woman is angry she is no more a woman; she becomes more aggressive than any man and she is more dangerous than any man, because her manhood is purer and never used. So whenever she uses it, it has a sharpness no man can compete with. It is just like soil which has not been used for many many years; then you throw the seeds -- and a bumper crop!

A woman sometimes becomes a man, but when she becomes then no man can compete. Then she is very dangerous; then it is better for the man to submit. And that's what all men do -- they become submissive, they surrender. Because immediately the man has to become the woman, otherwise there will be trouble. Two swords in one seat -- there will be trouble. If the woman has become the man, if she has changed the role, immediately the man becomes the woman. Now everything is reestablished. Again the circle is complete.

And whenever a man becomes submissive and surrenders, that surrender has a purity no woman can compete with -- because ordinarily he is never in that posture, in that game. Ordinarily he stands and fights. Ordinarily he is a will, not surrender. But whenever he surrenders it has an innocence that no woman can compete with. Look at a man in love -- he becomes just a small child.

But this is how LIFE moves. And if you understand it then you are not worried at all. Then you know: the lover has departed, he will come back; the beloved is angry she will love. Then you have patience. With Aristotle you cannot have any patience, because if a lover has departed, he has departed on a linear journey -- no coming back, it is not a circle. But in the East we believe in the circle; in the West they believe in the line.

The Western mind is linear, the Eastern mind is circular. So in the East a lover can wait. He knows that the woman who has left him now will come back. She is already on the way, she must be already repenting, she must have already repented, she must be coming; sooner or later she will knock at the door. Just wait... because the opposite is always there.

And whenever a woman comes back after anger, then love again is fresh. Now it is not repetition. The gap of anger destroyed the past. Now she is again a young girl, a virgin girl. Again she falls in love -- everything becomes fresh.

If you understand this, then you are not against anything. You know even anger is beautiful, even a quarrel here and there gives tone to life. And everything helps the richness. Then you accept, then deep in acceptance you are patient, then there is no impatience and no hurry. Then you can wait and pray and hope and dream.

Otherwise, if life is linear, as Aristotle thinks or -- as Western thinking has moved from Aristotle to Bertrand Russell -- as Bertrand Russell thinks, then life has much impatience. Nobody is going to come back; then you are always trembling, afraid, and then you become suppressive. Then you may stay with a woman for ten years or for ten lives, but that staying is with a stranger. You are controlling yourself, she is controlling herself, and there is no meeting. Life is not logic. Logic is just a part -- of course, very clean cut, categorized, compartmentalized, divided -- but life is messy. But what to do? It is so. It is not so compartmentalized, so clear-cut, divided -- it is a chaos. But logic is dead and life is alive, so the question is whether to choose consistency or to choose life.

If you are too much for consistency you will become dead, and deadlier and deadlier, because consistency is possible only if you drop the opposite completely. Then you love and only love and only love and are never angry, never hate, never fight. You obey, only obey -- never disobedience, never rebellion, never going away. But then everything becomes stale, then the relationship becomes poisonous -- then it KILLS.


ENERGY ENHANCEMENT - THE CORE ENERGY TECHNIQUES
Speed up the Process of Enlightenment.
The Kundalini Kriyas - Expel Every Energy Blockage.
Ground Negative Energies. Heal Negative Emotions..
Transmute Traumatic Memories. The Mastery of Relationships.
The EE E-Book, Video Course, Home Study Course
Courses in India and Spain and Worldwide.
For Prices and Regular Emails Fill in the Form:-
Website www.energyenhancement.org

Would You Like the Atmosphere of an Ashram....
With the Comforts and Climate of a Villa in Spain, THIS SUMMER?
Ill, Stuck, Blocked, Lost Your Way or Lacking in Energy?
Want to to Speed Up, Broaden or Deepen your Progress Using the Most Ancient, Advanced, Time Tested and Effective Techniques From over 5000 years of Successful Spiritual Science?


If you want to Change Any of the Above with a Life Enhancing Experience of Energy Enhancement,
DO IT NOW!!! Join Satchidanand and Devi Dhyani in Spain.
Enquiries or Bookings, Email sol@energyenhancement.org

PRICES, BOOKINGS FOR ENERGY ENHANCEMENT...EMAIL..
sol@energyenhancement.org
meditation1000@hotmail.com

MORE SOSAN - CLICK HERE!


ZEN is great mystery. I invite you to celebrate it with me.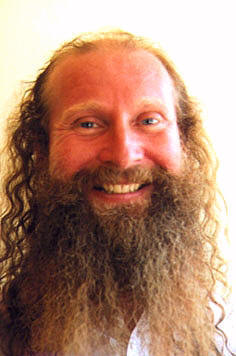 ---
We welcome your input and appreciate your support. We thank you for your time and look forward to providing you with the Energy Enhancement tools to speed up your evolution. Meditate a little everyday...and dissolve all doubt in the fire of your eternal flame.

Love and Light, LAL.
Energy Enhancement Team

email sol@energyenhancement.org for details