THE ENERGY ENHANCEMENT LEVEL ONE INITIATION 1, MEDITATION.
MORE ADVANCED THAN MEDITATION!!
FASTER THAN MEDITATION
ABOVE AND BEYOND MEDITATION
NEW MEDITATION ENERGY ENHANCEMENT SITE CLICK HERE!!

FREE REPORT CLICK HERE!! SECRETS OTHER COURSES WILL NEVER TELL YOU JOIN OUR REGULAR SPIRITUAL EMAIL SERVICE

ENLIGHTENMENT WITH MEDITATION ENERGY ENHANCEMENT INTRODUCTION
MEDITATION ENERGY ENHANCEMENT TESTIMONIALS AND LATEST TESTIMONIALS
HEAL PROBLEMS - TRAUMA, PAIN, RAPE AND ABUSE, RELATIONSHIPS, DIVORCE, BEREAVEMENT, ANGER, FEAR AND DEPRESSION, FRIGIDITY AND IMPOTENCE, SEX ADDICTION, PIERCINGS, TATTOOS, BDSM, T
EE COURSE OVERVIEW THE KARMA CLEANING PROCESS
SPEED UP THE PROCESS OF ENLIGHTENMENT, WISDOM AND LEADERSHIP WITH THE APPRENTICE LEVELS OF THE ENERGY ENHANCEMENT COURSE.....
GAIN ENERGY APPRENTICE LEVEL1
THE KARMA CLEARING PROCESS APPRENTICE LEVEL2
SOUL SPLIT RETRIEVAL APPRENTICE LEVEL3
MASTER TANTRA RELATIONSHIPS APPRENTICE LEVEL4
FREE 90 MINUTE MEDITATION TALK ENLIGHTENMENT
FREE ENERGY ENHANCEMENT DANCE VIDEO 1
JANUARY 7TH 2006 COURSE IN ARGENTINA
COURSE IN SPAIN
SERVING YOUR MEDITATION SINCE 1993 - ENQUIRIES AND BOOKINGS EMAIL sol@energyenhancement.org

ARTICLE ON ENERGY ENHANCEMENT FROM THE YOGA MAGAZINE OF GREAT BRITAIN - FIND OUT WHAT THEY SAY!! Energy Enhancement does exactly what it says on the Tin!
James Ellerbeck, Yoga Magazine of Great Britain.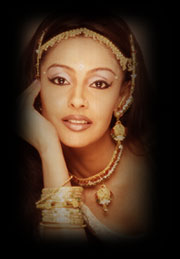 Here I am today, sitting down, putting pen down on paper whilst gathering my thoughts on the amazing Energy Enhancement Course that I am currently on. Where do I begin? Firstly, I felt it would be great to share my experiences of the Energy Enhancement course with other like-minded people. The following information is for those interested in growing spiritually, and wanting this world to become a better place - starting from improving themselves!
Honey Kalaria, Bollywood Star and Owner of Diva Entertainments

Kundalini Alignment with Energy Enhancement The awakening of the Kundalini Energy starts from the base chakra and as it rises it continues to pierce into all the seven chakras as I was told by Honey Kalaria. And when I performed this exercise, one of the first of the Energy Enhancement Initiations, what I experienced was a powerful energy shooting into my base chakra and rising through my body, feeling like a large column of white light, piercing through each chakra at a rapid speed and shooting out of my crown chakra. The feeling was so strange. I was hot but felt cold at the same time. My hands, arms and legs were shaking and shivering and yet I was not coldwhat a strange feeling and I felt connected. Dhiren Raichura. London, UK, Music Producer, Composer, Singer, Songwriter and a musician.
THE ENERGY ENHANCEMENT LEVEL ONE INITIATION 1, MEDITATION.
MORE ADVANCED THAN MEDITATION!!
FASTER THAN MEDITATION
ABOVE AND BEYOND MEDITATION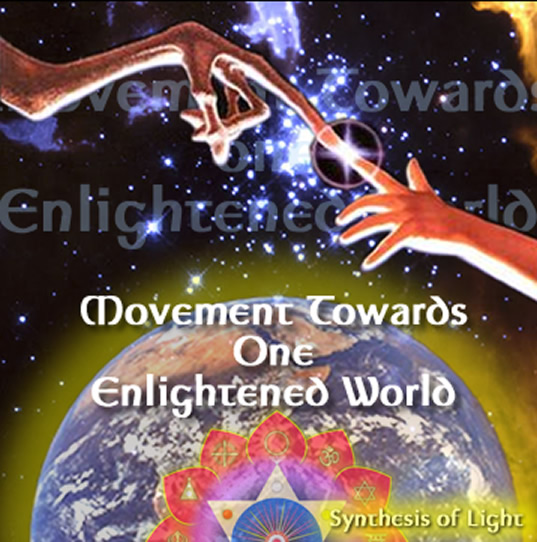 JOIN IN OUR VISION OF ONE ENLIGHTENED HARMONIOUS WORLD.
SPEED UP THE PROCESS OF ENLIGHTENMENT
TRANSMUTE AND DISSOLVE ALL TRAUMA AND NEGATIVE ENERGY
REMOVE Traumas due to Pain from Anger, Depression, Divorce, Bereavement, Addiction, Drugs, Impotence, Multisexual problems, Rape and Sex, Heart Disease and Cancer.
With the Energy Enhancement DVD or Online Meditation Course we can learn how to Transmute Aches and Pains, Traumatic Emotional Memories and Negative Thoughts. With Energy Enhancement Ground Negative Energies and learn The Mastery of Relationships, Increase your Good Luck, Happiness and Purpose.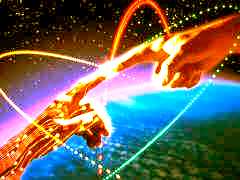 JOIN IN OUR ENERGY ENHANCEMENT VISION OF ONE ENLIGHTENED HARMONIOUS WORLD.
EMBASSIES OF ENLIGHTENMENT IN EVERY MAJOR WORLD CITY.
RETREAT CENTERS IN THE ANDES AND DRAKENSBERG MOUNTAINS.
JOIN US BY USING THE ENERGY ENHANCEMENT KARMA CLEARING TECHNIQUES REMOVING ALL TRAUMA AND NEGATIVE EMOTIONS.... ON THE PATH OF ENLIGHTENMENT.
Energy Enhancement is the fastest way to Enlightenment..
Yoga is good but Pranayama is 10 times faster at releasing Energy Blockages whi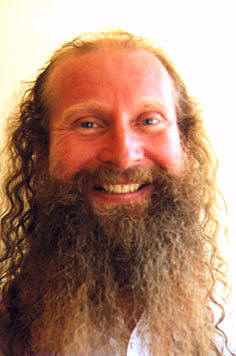 ch stop the Enlightenment process.
Pranayama is good but Meditation is 10 times faster than even that at releasing Energy Blockages which stop the Enlightenment process.
Meditation is good but Samyama is 10 times faster than even that at releasing Energy Blockages which stop the Enlightenment process.
Yoga, Pranayama, Meditation and Samyama are part of the Eight Limbs of Yoga in the Yoga Sutras of Patanjali and Samyama is talked about from over 5000 years ago in the THIRD AND FOURTH Chapter of The Yoga Sutras of Patanjali.
And Samyama IS Energy Enhancement, 1000 times faster on the Path of Enlightenment.
You cannot afford NOT to try it!!
Features of the Energy Enhancement Meditation Course in Four Levels in Detail.
There are Four Levels of Energy Enhancement Teaching, each Level is a Meditation Course having Seven Meditational Initiations which can be taken in a Week-Long Course.
Also one REIKI Initiation is given free with each Level. You can become a Reiki Master with Energy Enhancement Meditation.
Each Level is entirely independent of the others and complete in itself. You do not have to take every Level, but the Levels must be taken in the order of One, Two, Three, Four.

Energy Enhancement Meditation Course
Energy from Meditation.
The Grounding of Negative Energies.
Connection with the Higher Self.
The Soul of Meditation with the SOL Symbol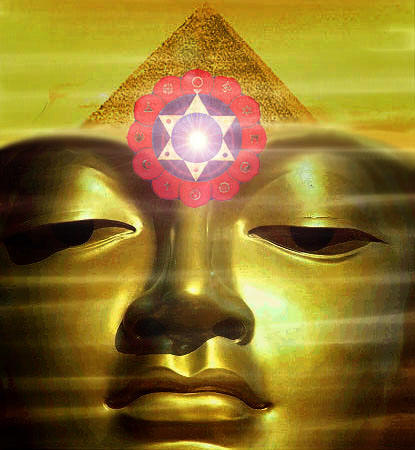 Level One, Initiation One is an Initiation in Energy Enhancement Meditation -
When a wise man does not understand he says, "I do not understand." The fool and the uncultured are ashamed of their ignorance. They remain silent when a question could bring them wisdom.
Sayings of the Abbods
CLICK BELOW TO GO TO-
Level 1. Initiation 1.
Meditation.
"The first day Satchi taught me how to sit. By moving the position of my posture slightly I could feel the flow of energy from the center of the earth into the center of the universe. Satchi explained that what I was feeling was Kundalini Energy and Shaktipat. If I followed it, he said, It would lead me to Enlightenment."
From the testimonial of Energy Enhancement Student Carla, Jan 2004
Siva Samhit, iii, 10-19: "Now I shall tell you how easily to attain success in Yoga, by knowing which the Yogis never fail in the practice of Yoga. Only the knowledge imparted by a Competent Teacher through his lips is powerful and useful; otherwise it becomes fruitless, weak and very painful.
And this is why - by coming into the Buddhafield of Energy surrounding Energy Enhancement Satchidanand obtained through many years of meditation with many enlightened masters, you obtain Shaktipat- an infusion of energy to help you get into a permanent state of meditation.
ENERGY ENHANCEMENT DIRECTOR SATCHIDANAND
To the sinful and vicious I appear to be evil. But to the good, beneficient am I. Mirza Khan, Ansari, Sufi. We Meditate in Pieces to make One Piece (Peace) Satchidanand
Satchidanand comes from England and was Born in the Ancient Chinese year of the DRAGON. Through working, contact and exchanging Energy with many masters including Swami Satchidananda of South India and of the USA, Yogaville, Virginia and Zen Master Roshi Hogen (Master of the Tao) of Japan, Osho and Ascended Masters, he works towards the ideal of one spiritual truth on many paths using Energy Enhancement and healing. He creates an Energy Enhancement Buddhafield wherever he is, where people can gain the energy to become Enlightened.
Learn Energy Enhancement Meditation, the method of choice for over 5000 years, of all discerning Self Development Trainees.
The Ultimate in the Control of your own Mind.
Most people find it easy to have many thoughts, but you only have control over something when you have the power to stop it.
Our mind is so full of thoughts that it is necessary to learn how to press the stop button.
So that one thought can have maximum power when you want it.
To learn how to access Wisdom and intuition.
To access the Unconscious.
To access the Alpha, Beta and Delta levels of our own mind.
Meditation is a fast for the thoughts of the mind.
All our painful memories are thoughts filled will negative emotion. As we learn how to stop giving energy to a thought, so it gets smaller, less powerful. It eventually disappears.
The true control over our minds, as known for many thousands of years, comes when we have the power to stop all our thoughts. When this occurs then we gain the Energy to access our intuition and Soul life path. When we can do this then any thought we have becomes so much more powerful. We begin to have the ability to make things happen. The power of doing. The clarity to hold and accomplish anything we set our minds to.
To control something, one must be capable of stopping it, said the famous philosopher who wrote, "The Open Society and its Enemies" and who wrote the DUNE series of Science fiction.
STOP THE MIND
Energy Enhancement Meditation taught here is based upon ancient Zen Techniques in a Synthesis of many advanced methods from Hindu Masters as well as practical hints and tips from several Masters of Meditation from many traditions, some of which have never been taught previously, giving the most advanced practical techniques on how to enter into the state of meditation and including the Buddhafield of Energy to get there.
To Square the Circle.
To Stop the Mind.
Meditation is a prerequisite to the further advanced states of Energy Enhancement and just this Energy Enhancement Meditation is enough to gradually lead you towards your Ultimate Clarity, your Ultimate peace.
THE TWELVE LABOURS OF HERCULES -- THE HYDRA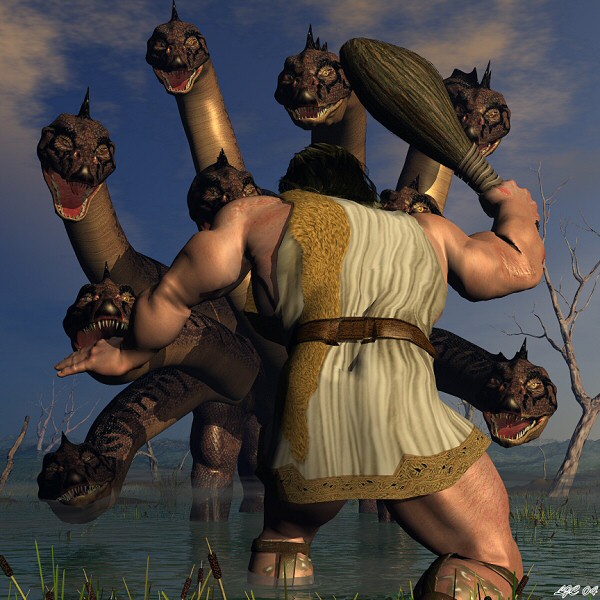 THE TWELVE LABOURS OF HERCULES OR HERACLES SYMBOLISES THAT WHICH IS NECCESSARY ON THE PATH OF ENLIGHTENMENT
Remember the Labour of Hercules involving the Hydra. As Hercules chopped off one head with his sword another 3 grew back in its place.
As Hercules chopped off the head, he cauterised it with the Sacred Fire, and thus the heads grew no more. This is the secret of meditation taught in Energy Enhancement, but for the fire, you have to wait a few Initiations!
The Hydra symbolises the mind. Its heads the many thoughts we have which need to be dissipated through Energy Enhancement Initiation One, meditation.
TO STOP THE MIND, WE MUST DEFEAT THE HYDRA. ENERGY ENHANCEMENT KNOWS THE FAST AND SPEEDY WAY TO ENLIGHTENMENT!
---
The Teacher who does not learn from his students does not teach.
Sayings of the Abbods
---
THE ONLINE EE E-BOOK FREE CHAPTER!!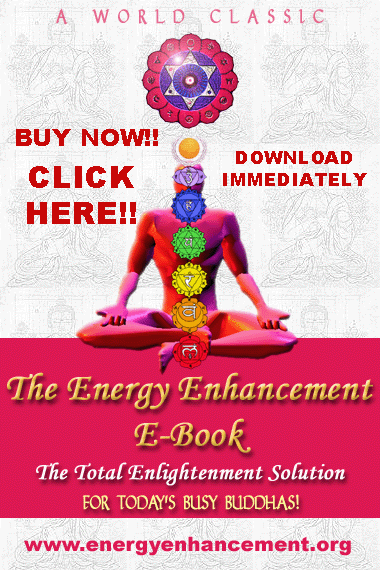 ---
The Truth is One the Paths are Many.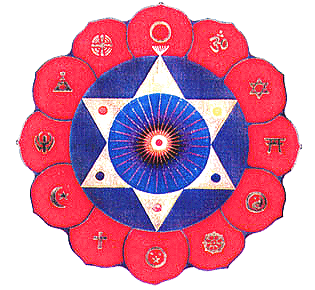 Energy Enhancement Synthesis Of Light Ltd
A Non-Profit Organization, dedicated to raising the World's Evolutionary Energy.
ENQUIRIES, JOIN SOL MAILING LIST CLICK HERE!!
Or you can learn By Clicking The MEDITATION Energy Enhancement Video Course or The MEDITATION Energy Enhancement Online Course .....
CLICK BELOW TO GO TO
Bookmark this page - add it to your Favourites Now!!
TO ENQUIRE ABOUT ENERGY ENHANCEMENT COURSES PLEASE SIGN ON TO OUR MAILING LIST AND THEN EMAIL US DIRECT FROM THE EMAIL ADDRESS WE SEND YOU FROM OUR MAILING LIST AUTORESPONDER
Energy, Enhancement, EE, Meditation, Meditations, Retreats, Course, Hercules, Greek, Myth, Evolution, Human Evolution, Seminars, Yoga, Hatha, Patanjali, Raja, Mantra, Japa, Bhakti, Krishna, Karma, Asana, Pranayama, Mudra, Bandha, Yoga, Sacred, Dance, Teacher, Training, Meditation, Initiation, Teacher, Training, Philosophy, Reiki, Master, Enlightenment, Illumination, Nirvana, Emptiness, Nothing, Soul, Monad, Tantra, Tantric, Tantrick, White, Magic, Magick, Alchemy, Relationships, Ego, Strategeies, Mastery, Thelema, Aleister, Crowley, Healing, Psychology, Strategies, Celestine, Prophesy, Ken, Wilber, Therapy, infinity, infinite, taoist practises, transmute, transmutation, stress, success, abundance, plenty, philosophers stone, ego, kundalini, energy protection, intuition, synchronicity, square the circle, ouroboros, yin, yang, swastika, vitriol, aura, auric bopdy, inorganic beings, ascended masters, Development, Self, Personal, Relaxation, Stress, Holidays, Tours, India, Peru, Argentina, Brazil, Majorca, Alhambra, Taj, Mahal, Machu, Pichu, Arunachala, Poetry, Art, Spirit, Spiritual, Don, Juan, Carlos, Castaneda, Castenada, Gurdjieff, Alice, Bailey, Djwan, Khul, The, Tibetan, Lama, Zopa, Dalai Lama, New Age, Management, Success, Taoism, Tao, Daoism, Dao, Zen, Master, Hogen, Rinzai, Soto, Dogen, Buddhism, Buddha, Mahayana, Hinayana, Sufism, Muslim, Jallaluddhin, Jallaluddin, Rumi, Hinduism, Osho, Rajneesh, Sivananda, Satchidananda, Satchidanand, Sathya, Sai, Baba, Ramana, Maharshi, Sri, Yogendra, Maharishi, Mahesh, Yogi, Aurobindo, Christianity, Christ, Bede, Griffiths, Benedictine, Synthesis, Church, of Synthesis.