ENERGY ENHANCEMENT ENERGY CONNECTIONS IMPLANTS AND THE MATRIX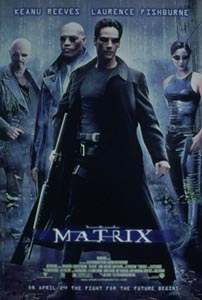 ENERGY ENHANCEMENT LEVEL 4 - THE MASTERY OF RELATIONSHIPS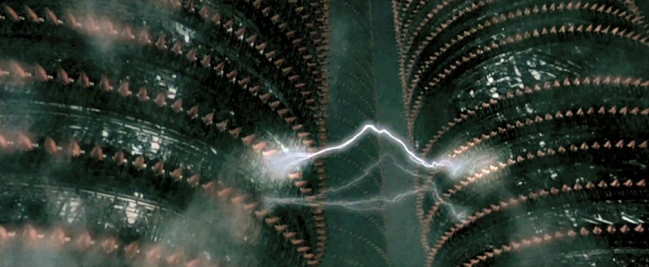 see below

F

AST EASY ENERGY ENHANCEMENT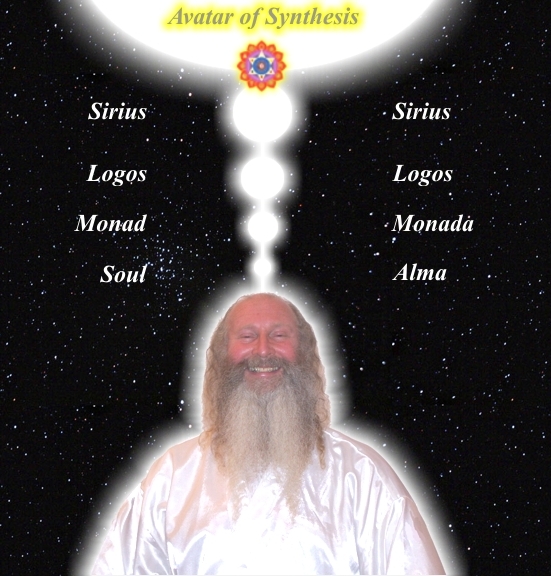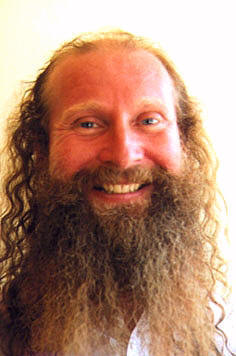 "When I was talking to the famous Ecumenical Benedictine Monk, Father Bede Griffiths, Head of the Ashram of Shantivanam on the Banks of the River Cauvery in Tamil Nadu, Southern India, he said that each Saint who has come to Earth to create a Religion has brought a Revelation, A Special Meditation Teaching, a Precious Jewel unto the Earth for the benefit of Humanity. Such is the competition between Religions is that some of these precious jewels have been destroyed or lost" Satchidanand
Satchidanand is a person who has arrived. Satchidanand is a person who has cleaned the Insane Mind. Satchidanand is a person who has become Enlightened has entered into the Presence, that moment of NOW!
Thus
Satchidanand has gained Fire, that Buddhafield which can dissolve the Body of Pain In You. That Body of Pain which has created the Mad Mind to Drain you of Life Energy just as it is Poisoning and Destroying the Earth. That Body of Pain which is Torturing and Killing all the people on the Earth - 200 Millions in the last Century alone, without Conscience without Empathy, without Heart... Psycho!!
Not only does Energy Enhancement utilise the Buddhafield, the Presence, but also it Utilises all these Precious Jewels, these Advanced Meditations, from 5000 Years of Spiritual Technology to Intensely Speed Up! the Processes of Evolution and Enlightenment within YOU, as quickly as possible.
Energy Enhancement will create a profound transformation in Your Consciousness and in the Consciousness of all Humanity, Now!!
As you Ground all your Body of Pain, Burn up the Body of Pain, Energy Blockages, Inherited and Collective Mind Patterns, in Kundalini Chakra and dissolve them in the Soul Chakra of your Higher Self, so you will enter into the Presence Yourself - FAST - EASY - SPEED UP!!
You will awaken out of the Dream of Time into the Presence of the Present. NOW!!"-
Satchidanand
The Buddha came to this Planet to Reveal the Cleaning of the Intellect through Meditation THE THIRD RAY Jesus Christ came to Reveal the Opening of the Heart of Compassion - THE SECOND RAY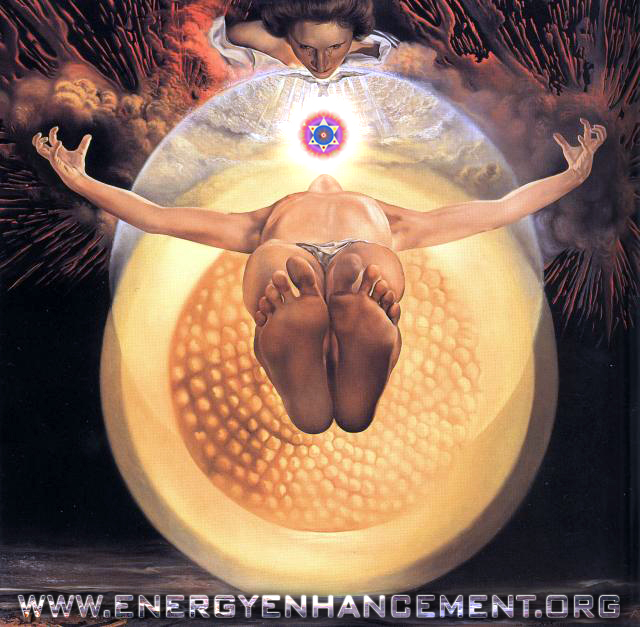 SALVADORE DALI - ASCENSION IN THE ANTAHKARANA
2000 YEARS LATER, ENERGY ENHANCEMENT HAS COME TO REVEAL THE ENERGY OF CLARIFICATION OF PURPOSE AND WILL - THE FIRST RAY
THROUGH ANCIENT TECHNIQUES WHICH DISSOLVE ENERGY BLOCKAGES - WHICH GROUND NEGATIVE ENERGIES - WHICH CLARIFY AND REVEAL THE TRUTH!!
TO SPEED UP YOUR PROCESS!!
IT IS A MIRACLE TO REMOVE JUST ONE ENERGY BLOCKAGE "The Miracle of the Removal of Energy Blockages.. Miracles, Miracles and yet more Miracles!!" -
Graham Smith - MA Philosophy, on his Energy Enhancement Course in India November 2009
DO IT!
M.S. - Human Resources Director for Europe and Asia of Fortune 500 Company, PepsiCo
GET SHAKTIPAT AND BUDDHAFIELD ENERGY WITH ENERGY ENHANCEMENT
THE IMMEDIATE ELIMINATION OF STRESS, TRAUMA AND NEGATIVE EMOTION IN THE BUDDHAFIELD OF SATCHIDANAND
The Buddhafield of energy, in which evolutionary progress can quickly be made, and Kundalini Energy are absolutely necessary to any course of Meditation says Sivananda.
Satchidanand has so increased his spiritual energy internally and in his Aura through Spiritual Experience with many Enlightened Masters, much research on the subject, the practise of Yoga for 40 years since the age of 16, and the practise of meditation for 20 years has increased the energy available to his students simply by entering into his Aura, into his Presence for the Work!!
IN THE BUDDHAFIELD - GAIN ENERGY - REMOVE ENERGY BLOCKAGES - CLEAN KARMA - INCREASE CLARITY, PURPOSE AND WILL



PHILIP CHESTER ON SHAKTIPAT - "SATCHI PROVED THIS TO ME IN THE FIRST FIVE MINUTES OF OUR FIRST MEDITATION, BY PUTTING MY BACK AND TOP OF THE HEAD IN THE RIGHT POSTURE. I IMMEDIATELY FELT A FLOW OF ENERGY GOING UP MY SPINE."

The energy techniques given in Energy Enhancement
have never been explained to me in Aikido (even Ki Aikido), Yoga or Ashtanga Yoga or on any meditation course that I have been on like Transcendental Meditation, and have only been partly taught to me previously by Taoist master Mantak Chia and on Tantra Courses. Mantak Chia I found particularly confusing; Chi Gung I found awkward.
"ENERGY ENHANCEMENT GOES MUCH FURTHER THAN ALL THE ABOVE, IN A MORE EFFECTIVE WAY THAT ANY OF THE OTHERS I HAVE EXPERIENCED..."
Phillip Chester - Change manager working directly to the Managing Directors of several fortune 500 companies.
Energy Enhancement
Advanced Techniques allow FASTER progress above and beyond any other courses.
ANCIENT PROVEN TECHNIQUES WHICH WORK TO CREATE A PROFOUND TRANSFORMATION OF HUMAN CONSCIOUSNESS, FAST!!
MEDITATION ENERGY ENHANCEMENT APPRENTICE LEVEL 1 WILL DRAMATICALLY DECREASE YOUR NEGATIVE AND INCREASE YOUR POSITIVE ENERGIES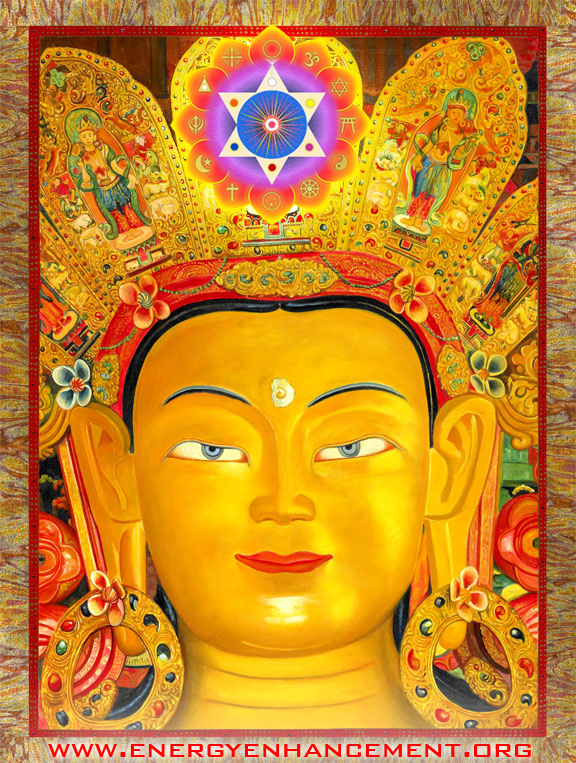 THE MEDITATION ENERGY ENHANCEMENT SEVEN STEP PROCESS OF LEVEL TWO IS THE ONLY PROCESS ON ANY PATH WHICH TEACHES HOW TO TOTALLY REMOVE NEGATIVE ENERGY BLOCKAGES !!
"All of our students report on their personal success in eliminating their own Energy Blockages by themselves"
"The Technique of the Energy Enhancement Seven Step Process is the only Enlightenment process outside of expensive Scientology which can dissolve Energy Blockages. Without it Buddhism, Hinduism, Ramana Maharshi - ism, Ekhard Toll - ism, Sri Niscardatta - ism, any other Enlightenment process depends on the Master to remove the energy blockages.
In Energy Enhancement, we help but we give full instructions to our students on how to Eliminate the Energy Blockages of the Angry, Painful, Selfish, Competitive, Fearful, Desire filled Energy Blockages and all of our students report on their personal success in eliminating their own Energy Blockages by themselves.
IN THIS WAY, WITH ENERGY ENHANCEMENT, NEW MASTERS ARE VERY EASILY FORMED
The rate of evolution of humanity needs to increase. The old ways of the Master doing all the work of removing the energy blockages of the ego are now too slow. The recommendation is for students to serve their Masters for at least 12 years. Many have been there for 20 years with no appreciable movement forwards. The new technique of The Energy Enhancement Seven Step process can now augment the processes of every Enlightened Master and thus Speed Up!! the Process of Enlightenment Worldwide - <> Satchidanand Bio"
"NOW IS THE OPPORTUNITY FOR FULFILLMENT AND NEW BEGINNINGS FOR THE WORLD"
ENERGY ENHANCEMENT IS A NEW REVELATION OF GOD TO HUMANITY!!
ENERGY ENHANCEMENT ENERGY CONNECTIONS IMPLANTS AND THE MATRIX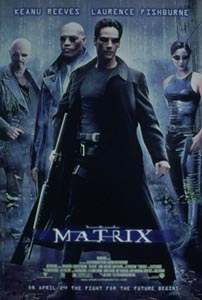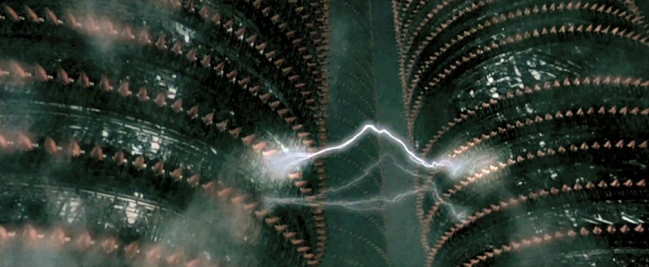 THE PRISON

MORPHEUS: Let me tell you why you are here. You're here because you know something. What you know you can't explain, but you feel it. You've felt it your entire life. There's something wrong with the world. You don't know what it is, but it's there, like a splinter in your mind, driving you mad. It is this feeling that brought you to me. Do you know what I'm talking about?

NEO: The Matrix?

MORPHEUS: Do you want to know what it is?

Neo nods.

MORPHEUS: The Matrix is everywhere. It is all around us, even now in this very room. You can see it when you look out your window, or when you turn on your television. You can feel it when you go to work, when you go to church, when you pay your taxes. It is the world that has been pulled over your eyes to blind you from the truth.

NEO: What truth?

MORPHEUS: That you are a slave, Neo. Like everyone else, you were born into bondage, born into a prison that you cannot smell or taste or touch. A prison for your mind.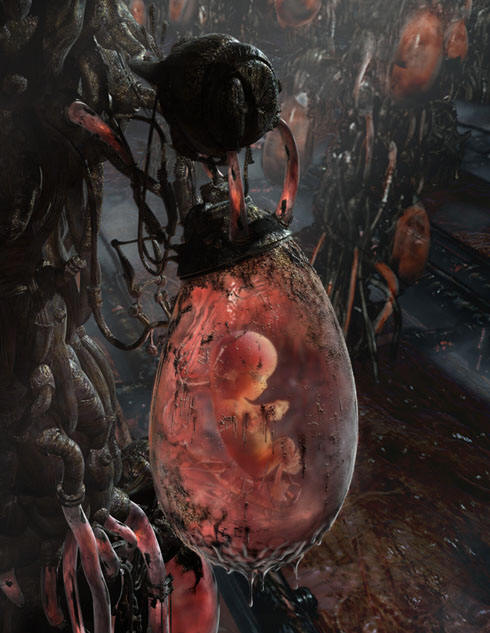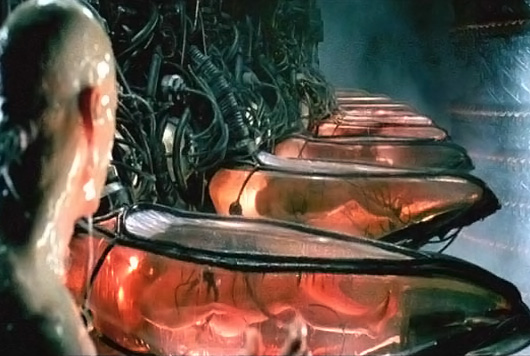 MORPHEUS: You've been living in a dream world Neo.

MORPHEUS:

What is the Matrix?

Control

The Matrix is a computer generated dream world built to keep us under control in order to change a human being into this...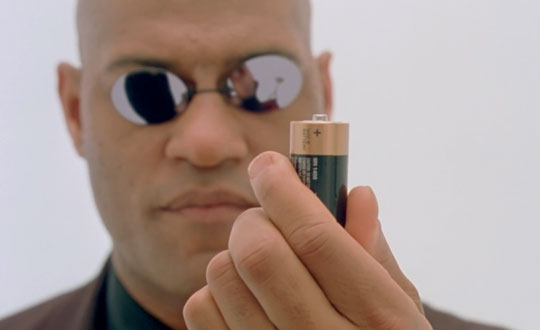 Humanity is the Energy Source of the Dark Side

PLUGGED INTO THE MATRIX

Morpheus: The Matrix is a system Neo. That system is our enemy. But when you're inside, what do you see? Businessmen, Lawyers, teachers, Carpenters. The very minds of the people we are trying to save. But until we do, these people are a part of that system, and that makes them our enemy... You have to understand that these people are not ready to be unplugged, and many of them are so inert, so dependant on the system, that they will fight to protect it.

If you are not one of us you are one of them.

Neo: What are they?

Morpheus: Sentient programs, they can move in and out of any software still hardwired into their system. That means that anyone we haven't unplugged is potentially an agent. Inside the Matrix they are everyone and they are no-one. We have survived by hiding and running from them but they are the gatekeepers. They are guarding all the doors and holding all the keys.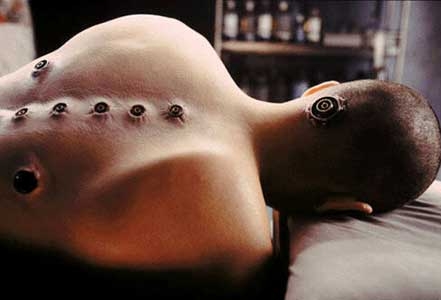 I

mplant Blockages are represented by the black studs all over the body;

Energy Connections by the tubes connecting to the implants

Implant Blockages are represented by the black studs all over the body;

Energy Connections by the tubes connecting to the implants

We can use some of the items from the Matrix Movie to describe the reality of Implant Energy Blockages which are the black plugs in Neo's body and Energy Connections which are the tubes which enter into the Plug Implants.

AGENT SMITH AND THE MATRIX
And then there is Agent Smith who can travel down the cords of connection, travel down the Energy Connections to enter into anyone's body who is plugged into the Matrix - and take them over!!

Not just implanting you with the Drug Addiction, the Alcohol Addiction, the Tobacco Addiction, the Sex Addiction, the Dog Priest Homosexuality Addiction, the Ritual Paedophile Addiction, the Television Addiction.

But actually entering into the Body, Emotions and Mind and taking over another Human Being Totally. Cardinals, Bankers, Politicians, Presidents, Chief Executive Officers of vast International Corporations who all with their Big Lie Green Credentials are saying that there are just too many people on this planet -- Just Like this...

Agent Smith: I'd like to share a revelation that I've had during my time here. It came to me when I tried to classify your species and I realized that you're not actually mammals. Every mammal on this planet instinctively develops a natural equilibrium with the surrounding environment but you humans do not. You move to an area and you multiply and multiply until every natural resource is consumed and the only way you can survive is to spread to another area. There is another organism on this planet that follows the same pattern. Do you know what it is? A virus. Human beings are a disease, a cancer of this planet. You're a plague and we are the cure.

If you could live outside the body then you may have a similar view..

BEHOLD THE NEW TRULY ANTI-HUMAN SPECIES!!

POISON WITH UNNECESSARY FUCTORY OUTPUTS, PESTICIDES, FLUORIDE, AND FRANKENSTEIN FOOD.

DUMB DOWN AND ZOMBIFY WITH TELEVISION, DRUGS, FLUORIDE AND VACCINES.

CONTROL

VAMPIRISE

LIVE FOREVER!!


Which brings me to the necessity of using Energy Enhancement level 4 techniques to attain Mastery over Attachment, Mastery of why and who you connect to, - the Mastery of Relationships. As everyone who has not been through the Energy Enhancement training process has these Implant Blockages with attendant Energy Connections As everyone who has not been through the Energy Enhancement training process has Implant Blockages built to distract and therefore manage the attention of their clients.... As everyone who has been through the Energy Enhancement training process originally had Food, Sexual and Drug Addiction Implants....

Everyone you meet is connected to the Control....

ENERGY ENHANCEMENT LIBERATION FROM THE CONTROLS!!

One White Magician Only is Required to change this Planet into a Sacred Planet, or a group of Like minded people, in Silence and in Secrecy HEAL THE WORLD, BECOME A MASTER, A MERLIN, A JEDI KNIGHT, A WHITE MAGICIAN
"Traditional forms of meditation are designed to fail!!"

FIND ALL THE INCREDIBLE TECHNIQUES REMOVED FROM TRADITIONAL MEDITATIONS - DESIGNED TO FAIL - AND TAUGHT IN ENERGY ENHANCEMENT

"WE PUT BACK WHAT THE OTHERS TOOK OUT!!" - WITH THE MASTERY OF RELATIONSHIPS, ENERGY CONNECTIONS, ENERGY BLOCKAGE IMPLANTS - "WITH REMOVING THAT ATTACHMENT WHICH LEADS TO PAIN" - THE BUDDHA!!

FROM DON MINIHANES COURSE REPORT - LAST WEEK OF ENERGY ENHANCEMENT REIKI MASTERY OPTION

"I am now in the last week of the course and I feel like a totally different person. I have regained myself and have been given from nothing having no psychic vision at all at the start of the energy enhancement course, a clarity of psychic vision that is breathtaking."

"As we practiced on each other we came very quickly to realise this. I could literally feel the energy moving inside each chakra as the other person worked within me from several meters away and when I worked on the other person I could see me projecting energy to them and could see where the blockages were within their chakras.

I could force the energy from my centres into their centres and clean their centre bringing the energy full circle back to me. You could tell the state of their chakras by the amount of energy returning to your own centre and this was achieved by mind power only.

Before I came here Satchi said he would teach me to do it in this way and I was sceptical about this claim. I could never envision me having psychic vision, but I have now, I can now do astonishingly powerful Reiki sessions on people without going any where near them and distance healing over any distance is a piece of cake, incredible stuff."

"I am totally de-stressed and have expanded in every way. I feel stronger and fitter and much more mentally agile than I have ever felt in my life. The fog and confusion of life has gone and I feel that I have just received the inside information on everything. I am ready for anything and am wide awake. I am full of the most incredible energy imaginable and have Energy Enhancement Reiki that is so powerful it staggers me. I know a thing or two about Reiki and had a very strong Reiki connection before I got here, now I have a connection that is beyond description and I have yet to undergo the second initiation this week and then the masters. I have opted to take this as an extra and for anyone who is interested, I believe this is beyond anything you will ever experienced anywhere."

I am now equipped with life tools and healing tools that one only dreams of and there is nothing out there in the world that will ever faze me again. I am absolutely delighted that I decided to come here, because this experience has changed me, for the good of me and for all those that I will touch when I leave here. I am so excited and can't wait to start exploring my new found talents"

MORE ON ENERGY ENHANCEMENT REIKI

IGUAZU ASHRAM PROJECT

IGUAZU MANAGED ASHRAM PROPERTY