PROJECT ASHRAM IGUASSU

LINKS IGUAZU MANAGED ASHRAM PROPERTY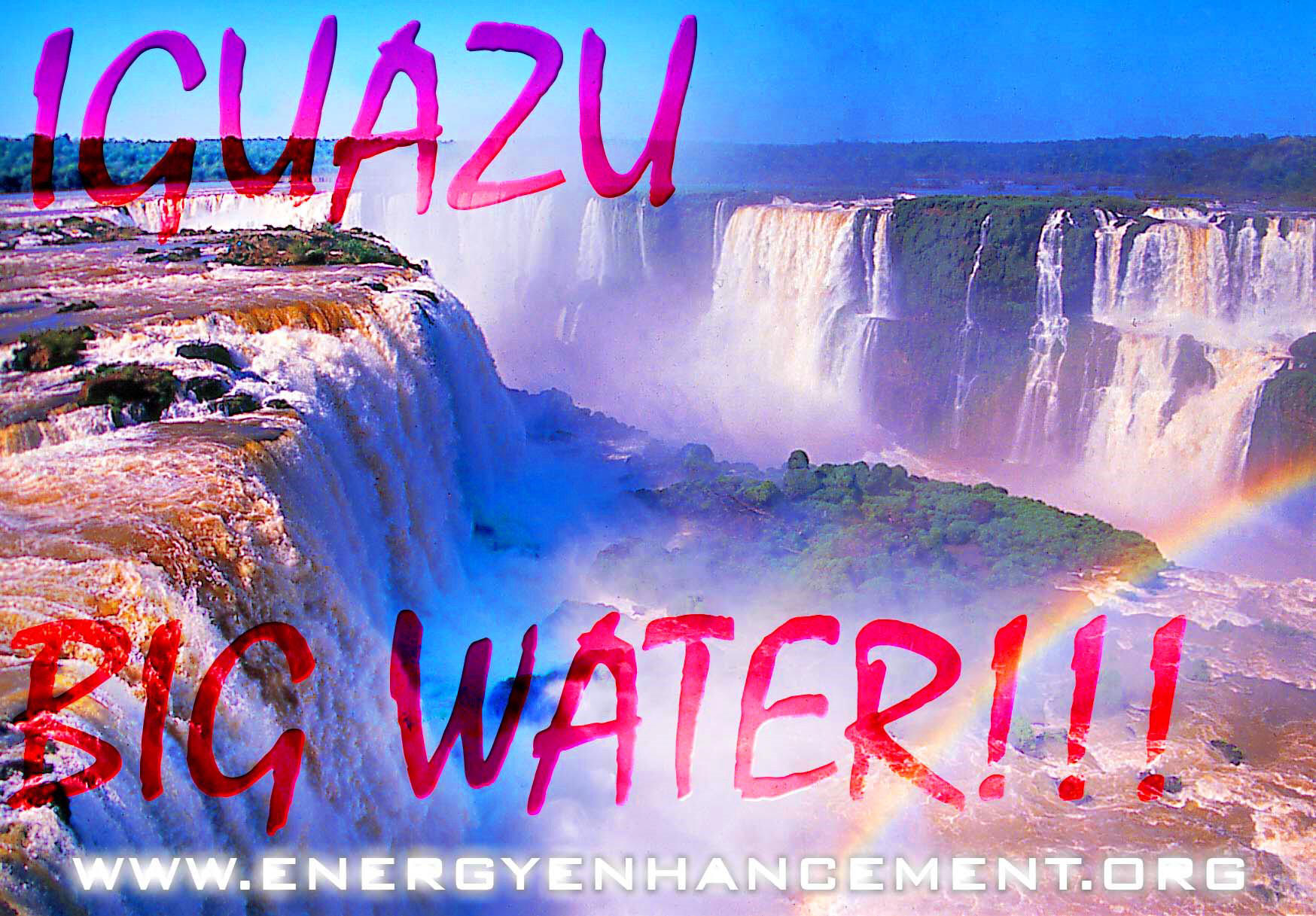 ON THE SHORES OF LAKE ITAIPU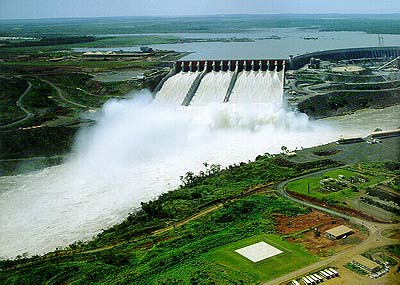 HYDROELECTRIC POWER IS THE REASON FOR ARTIFICIAL ONE HUNDRED MILE LONG LAKE ITAIPU WHICH SUPPLIES ELECTRICITY FOR ALL PARAGUAY AND HALF OF BRAZIL
FIRST - THE BEACHES AT LAKE ITAIPU...
What are they?
Man-made beaches created from the formation of Itaipu's lake.

What is there to do?
Make the most of the scorching heat of the area on fresh water beaches with no waves. A good rest and leisure option for those who enjoy beaches, even when they are far from the ocean. In the summer, Itaipu's lake and beaches are sought by tourists from the three surrounding countries. The infrastructure available is capable of receiving up to 300 thousand visitors. The Santa Helena Tourist Terminal is the largest of all, with 87 hectares of beaches, woods, docks, an exhibition pavilion, restaurants, and camping areas, besides kiosks for vacationers. A toboggan, banana boats, paddle boats and boats are some of the fun options. The complex also offers a soccer field, volleyball courts, and a sand soccer court.
OUR PRIVATE BEACH ON LAKE ITAIPU, 150 YARDS THROUGH THE NATIONAL FOREST FROM THE ASHRAM TO THE LAKE
HERE IS DEVI AND COSTA WALKING THROUGH THE FOREST TO THE LAKE IN DEEPEST DARKEST WINTER IN JULY - TEMPERATURES ARE 20C
HIGH SUMMER SOUTH OF THE EQUATOR IS DECEMBER, JANUARY AND FEBRUARY TEMPERATURES ARE 35C - HOLIDAY MEDITATE - LIVE IN PURE AIR - REGENERATE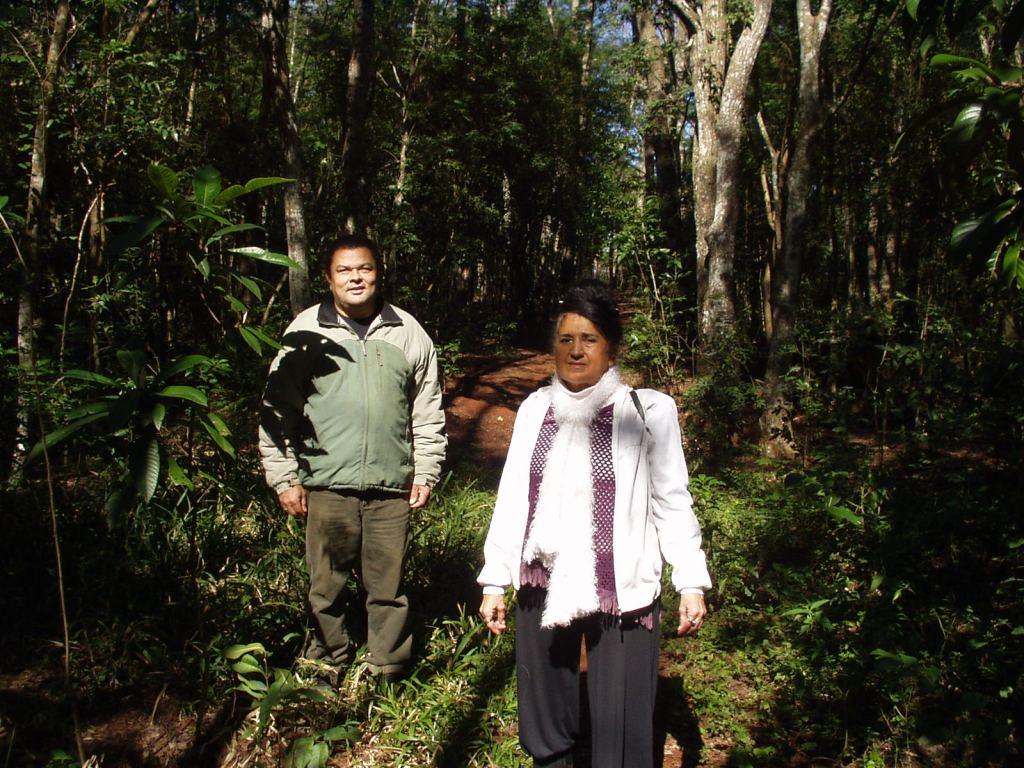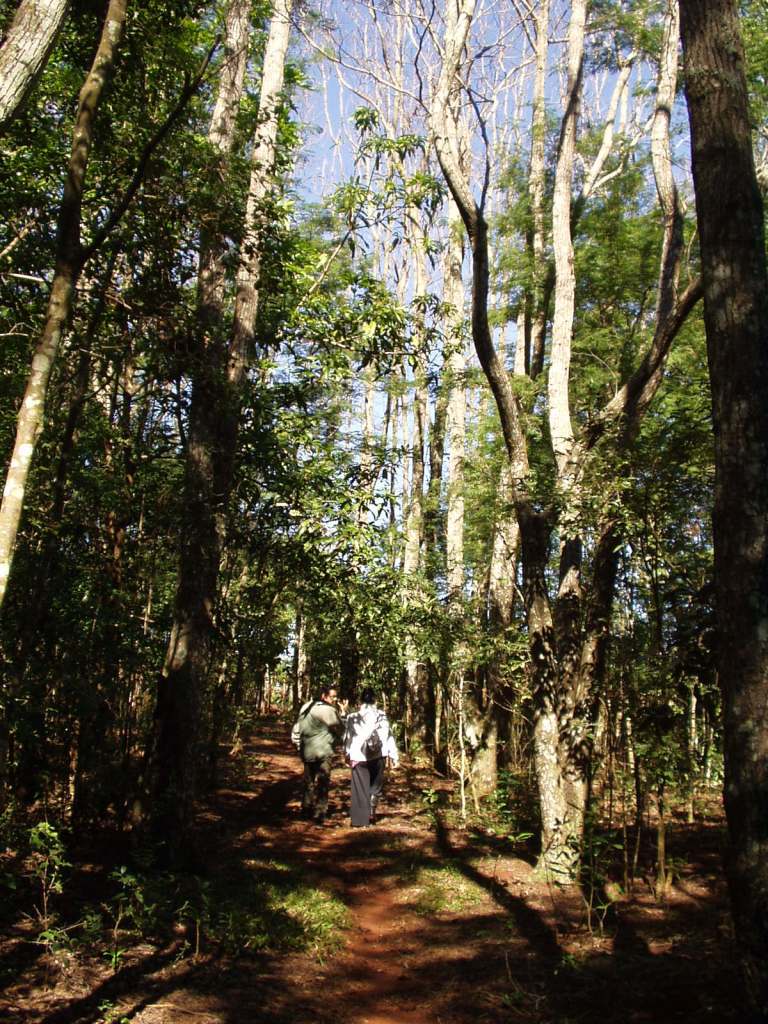 HERE IS THE OLD CHAKARA HOUSE WITH UBIQUITOUS BARBEQUE OUTSIDE BY THE SIDE OF THE NATIONAL FOREST
ALL HOUSES ON THE ASHRAM WILL BE BUILT NEW WITH ONE, TWO, OR THREE BEDROOMS WITH HEATING AND AIR CONDITIONING
THEY WILL BE A VALUABLE INVESTMENT USABLE BY YOU AT ANY TIME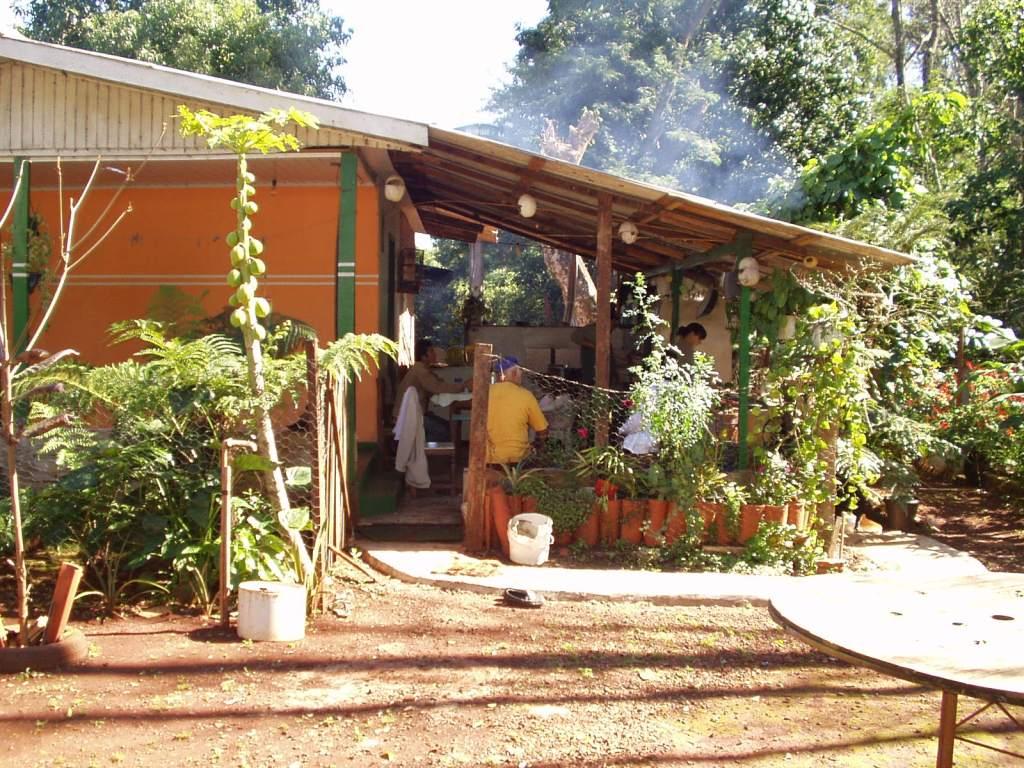 HERE IS THE FRONT OF THE OLD CHAKARA HOUSE WITH ORCHIDS AND NECTAR TO ATTRACT THE HUMMING BIRDS OR "COLIBRIS"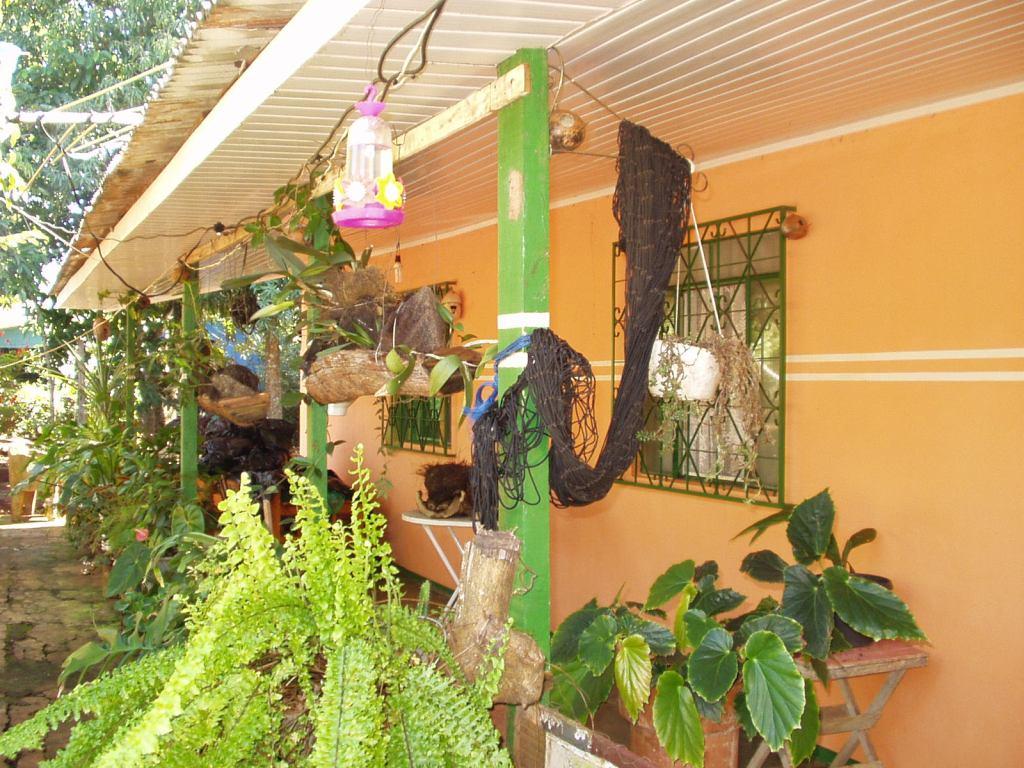 THE ALMOST HECTARE OF LAND - 8150 SQUARE METERS - IS INCREDIBLY FERTILE AND GROWS PAPAYA, MANGO, AVOCADO, ORANGES, NUTS AND VEGETABLES MANIOC, SWEET POTATO, POTATO, SQUASH, MARROW, MELONS, TOMATOES, AND HERBS - CHILLIES, CLOVES, FRESH CORIANDER, RUCOLA, PICKED FRESH AND ORGANIC EVERY DAY FOR MEALS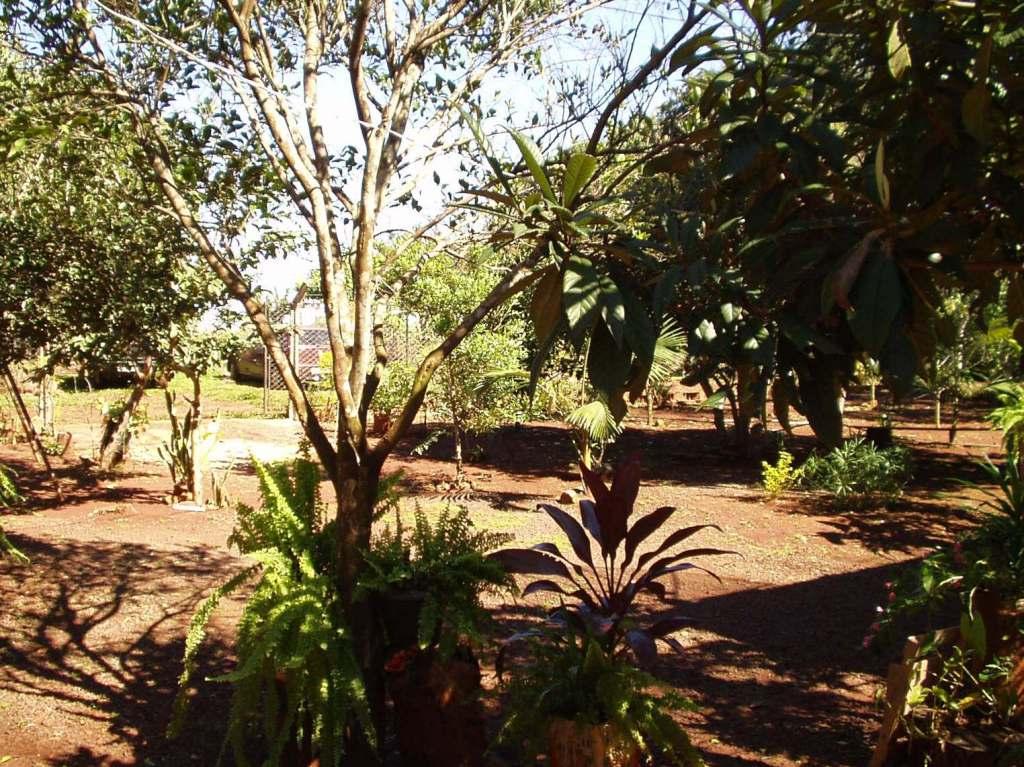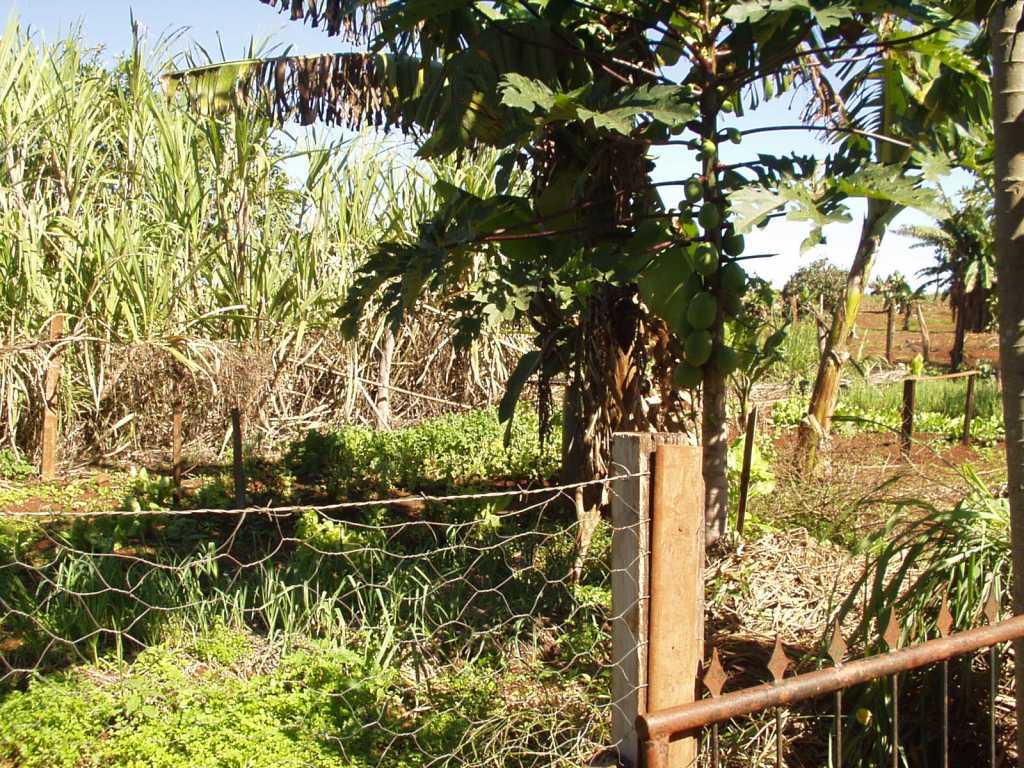 IGUAZU MANAGED ASHRAM PROPERTY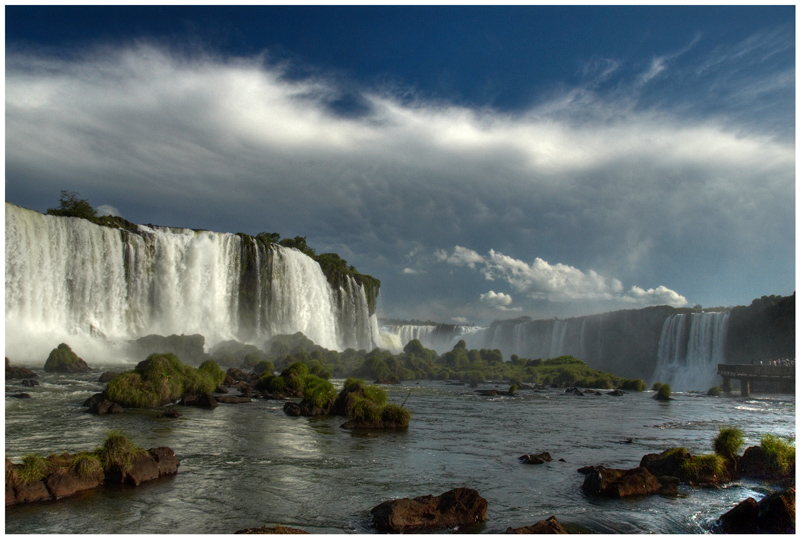 We have three projects..

1. The Alternative Therapies Center and 2. The Energy Enhancement Course Center where any investment will buy a share in the property which will grow measured by a yearly audit by Estate Agent.

3. Managed Ashram Property where you buy a small house on its own land on the ashram site, there are various prices and options, which you can come at any time and enjoy the Ashram facilities and Buddhafield. The property will grow in price measured by yearly Audit by Estate Agent. There will be an income from rentals when you are not there.

BUY YOUR PROPERTY ON THE ENERGY ENHANCEMENT ASHRAM SITE IN IGUAZU, BRAZIL

VERY LOW ENTRY POINT

VISIT ANY TIME

MANAGED PROPERTY

GUARANTEED PRICE INCREASES

PRESENTLY WE HAVE BOUGHT A SMALL PROPERTY IN IGUASSU - WE ARE TAKING MORE DONATIONS IN ORDER TO BUY MORE!

PROPERTY CLOSE TO THE NATURAL FOREST.

CLOSE TO IGUAZU FALLS, 30 MINUTES DRIVE FROM FOZ DO IGUASU ON THE BRAZILIAN SIDE OF THE BORDER.

IGUAZU FALLS IS UNITED NATIONS HERITAGE

OF HUMANITY OF NATURAL BEAUTY - ONE OF THE MODERN SEVEN WONDERS OF THE WORLD - SET ON 60,000 HECTARES OF NATIONAL PARK.

THE CLIMATE IS SEMI TROPICAL

AND MAINTAINS A TEMPERATURE OVER 20C ALL YEAR ROUND.

FOZ DO IGUASU HAS GROWN

FROM 150,000 PEOPLE TO 350,000 PEOPLE IN 20 YEARS AND WILL GROW MORE.

6 FIVE STAR HOTELS.

MANY GOOD HOTELS. MANY GOOD RESTAURANTS.

IGUAZU FALLS HAS ONE MILLION VISITORS

EVERY YEAR AND GROWING.

INVEST IN THE ENERGY ENHANCEMENT CENTER

INVEST IN ASHRAM PROPERTIES..

THESE AIR CONDITIONED PROPERTIES ARE AVAILABLE AT VARIOUS PRICE POINTS. THEY WILL BE YOURS AND BUILT NEAR THE SWIMMING POOL AND ASHRAM HALL TO WHICH YOU WILL HAVE ACCESS.
| | |
| --- | --- |
| TWO BEDROOM CABIN | |
| THREE BEDROOM HOUSE | |
| LARGER THREE BEDROOM HOUSE | |
THE RADIANCE OF THE BUDDHAFIELD WILL CHARGE UP YOUR ENERGY BODY SO AS TO OBTAIN SPIRITUAL EXPERIENCES, KUNDALINI ENERGY, BLOCKAGE REMOVAL WHICH HAPPENS TO EVERYONE - JUST READ BELOW. EVERYONE GET SPIRITUAL EXPERIENCE!!

EE COURSES ARE NOW IN ARGENTINA WITH TRIPS TO IGUAZU

SOON, WE MOVE TO IGUAZU PERMANENTLY

SECURE YOUR PART IN THIS - IN A TROPICAL PARADISE - AT AN INCREDIBLE PRICE!!

EMAIL sol@energyenhancement.org

FOR DETAILS
Argentina Foz De Iguazu HIGHLIGHT of my trip...
Since deciding to come to South America Foz De Iguzu has always been top of mind. I have now viewed the amazing falls from both the Brasilian and Argentinean sides.
WOW! Speechless! An amazing experience! I was expecting it to be good but not that good. Amazing landscape that creates the Argentine and Brasilian border. From Paraguay i crossed into the town of Pousada in Argentina and stayed there the night. At the hotel i met an Australian and Scottish couple and travel with them north to Puerto Iguazu, the next day we toured the falls together.
I felt like a little kid as i approached the falls and could hear the power of the water. Needless to say the first glimpse was far greater than any expectations i had. After about 400 photos i decided to do the boat tour that takes you underneath the falls. Yes i mean underneath! I got absolutely soaked but it was great! Words cannot describe the views and feelings.
They tell me people have been healed at that spot by the spiritual power of the Falls Iguazu.
We went to the Sheraton for their buffet lunch that overlooks the falls and after lunch hiked up to the Garganta Del Diablo, The Devils throat! This was even more spectacular than the Foz Falls, 1.2 Mil litres of water per second pouring down 70 metres to what does look like a throat, the mist spraying back up onto our faces was an exilherating feeling. It was VERY hard to leave, i wanted to stay there forever.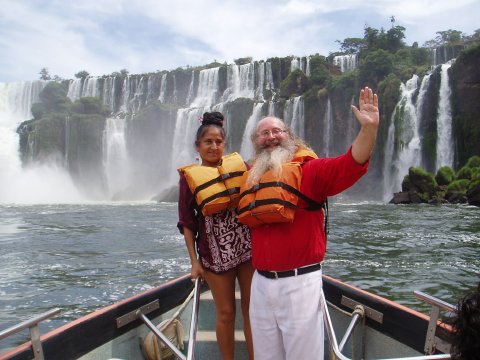 SO BOOK YOUR LITTLE HOUSE WITH US AT VERY AFFORDABLE PRICES WITH A SMALL DEPOSIT WHILST WE FIND THE INTERESTED PEOPLE.
WE ARE OFF TO INDIA FOR SIX MONTHS AND WHEN WE GET BACK IT WILL TAKE 6 MONTHS TO BUILD YOUR HOUSE.
EMAIL
sol@energyenhancement.org