Meditation Energy Enhancement Course
Tour of India
The Two Week Retreat in Kerala
South India a Yoga and Meditation Beach Holiday

---
An Introduction to KERALA - A Rich Bounty of Nature...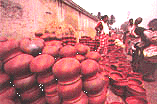 The highlands of the Western Ghats form a dramatic geographic contrast with the narrow ribbon of the palm-fringed beaches that adorn the Lakshadweep coastline on this long, wedge shaped State at the S.W. tip of India. Rich in culture and flora - 25% is forest - there are in excess of 600 species of trees. Cochin on the coast, is famed for its extensive backwaters 'The Venice of the East'; inland beyond plantations, lie Thekkady and Periyar lake - an area of some 300 sq miles - with its wildlife sanctuary (Elephants, Bison, Leopard and Tigers have been sighted) which we we will visit in the Four Week Southern Indian Tour Following this. To the South are the famous beaches of Kovalam, near Trivandrum and this is where we will stay for this wonderful beach holiday. Considering Kerala's sum total resource of Beaches, Rivers, Hills and Forest Sanctuaries, even aside from its Palaces, Forts, Shrines and Festivals, here lies - a rich bounty of nature...