Meditation Energy Enhancement has been sent to the Planet at this point in time because NOW, stronger and more effective methods of meditation are needed and Energy Enhancement can provide this by Speeding up the Process.
TOTAL SPIRITUAL FREEDOM!
Just see our FIFTY FANTASTIC testimonials, - they can't all be wrong!! and come right NOW to Barcelona or Girona in Northern Spain easily and cheaply (from 20 Pounds) traveled from London with ryanair.com or easyjet.com for one of our courses with Satchidanand and Devi Dhyani.
THIS SUMMER
COME FOR ENERGY ENHANCEMENT ON THE COSTA BRAVA IN SPAIN

COURSES ONE TO FOUR WEEKS STARTING JUNE 11TH ACCOMMODATION AT THE SOL VILLA NOT TEN MINUTES WALK FROM MONTEGO BAY AND DELICIOUS VEGETARIAN FOOD COOKED BY SATCHIDANAND AND DEVI DHYANI THEMSELVES!
EMAIL sol@energyenhancement.org for PRICES AND BOOKINGS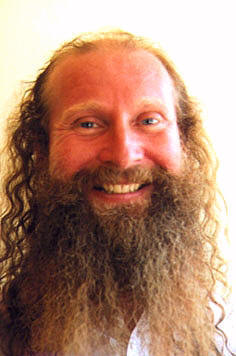 One year later I called to follow up and arranged to come and do the full Energy Enhancement programme for 4 weeks.
I was not sure if this was wise, as I knew nothing other than what I had read on the web site and the testimonials, which I was a bit sceptical about!

However, I am now adding my own because if you read this you might be a bit like me.


Don't hesitate - go for it!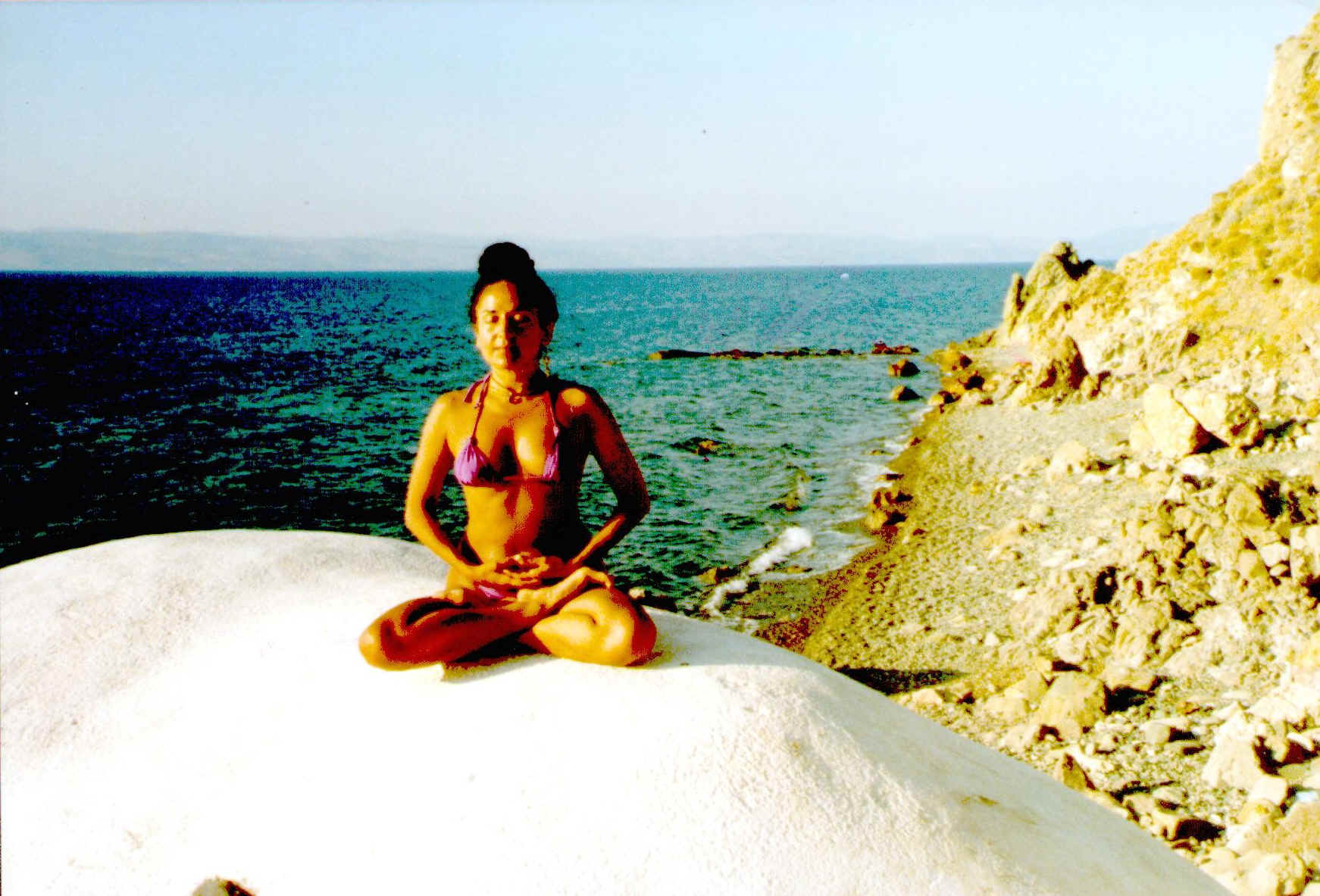 DEVI DHYANI IN MEDITATION AT THE BEACH
One of my Teachers, Zen Master Hogen said, We are all History Paintings. We start with a clean white sheet and then every day we apply paint. Usually our History Paintings become very messy!!! "I am a clean white sheet which is washed constantly. Everytime we meet, it is as if there is no holdover from the past.
Everytime, I see you clearly, as if for the first time!" Zen Master Hogen.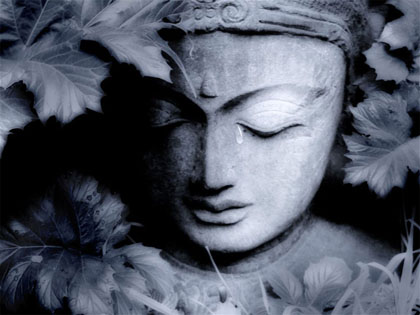 INCREASE INTELLIGENCE
THE PAINLESS REMOVAL OF STRESS, TRAUMA AND NEGATIVE EMOTION
Energy Enhancement easily transmutes all negative energy without going anywhere near the emotions and memory!! The techniques of Energy Enhancement show you how to QUICKLY AND EASILY TRANSMUTE YOUR STRESS because it works at the level of Energy which underlies AND IS THE BASIS of all problems.
WANT TO BECOME RICH IN MONEY AND HEART?
MEDITATION!!
NOW... 28 Energy Enhancement Initiations over Four Weeks, Individual Attention so you can do more, Come to Girona or Barcelona International Airport, Accommodation at the SOL Center near the Great Beach of Cala Montgo on the Shores of the Mediterranean Sea THIS Summer, together with great vegetarian food cooked by Satchi and Devi themselves.
EMAIL sol@energyenhancement.org for PRICES AND BOOKINGS
I suggest you try the Video course or the Online Course first before you invite them to YOUR home or go to visit them wherever in the World they are. I guess Spain or India this year. You will not be disappointed.
suggest you try the Video course - CLICK HERE
BUT YOU CAN BUY THIS NEW DVD COURSE NOW, 20% OFF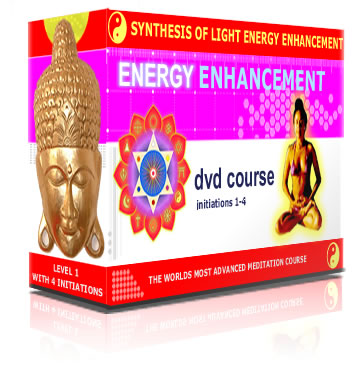 NOW.. IN VIDEO... ON DVD
IF YOU WANT TO SPEED UP YOUR PROCESS WITH THE ULTIMATE TECHNIQUES ON THE PATH OF ENLIGHTENMENT....... BUY THE DVD COURSE NOW!!!
20% off.
NOW UPGRADED TO EIGHT DVDS PLAYABLE ON YOUR DVD PLAYER (Multi Region and Multi Standard) OR COMPUTER!
NEW!! IMPROVED!! 12 HOURS OF VIDEO, EIGHT DVDS

FREE SHIPPING

FREE TEXT SUPPORT

FREE SACRED DANCE AND CHANTING VIDEO

ENERGY ENHANCEMENT INITIATIONS 1 TO 4
EIGHT DVDs...

| | |
| --- | --- |
| | 1. Initiation 1 Meditation |

Meditation Introductory Talk With Instructions - The Initiation
Introductory Talk Heart Sutra Heart Sutra 1- Heart Sutra 2

| | |
| --- | --- |
| | 2. Initiation 2 Energy Circulation Part 1 |



Introductory Talk - The Initiation
Students Questions

| | |
| --- | --- |
| | 3. Initiation 2 Energy Circulation Part 2 |



Students Experience - Initiation Part 2
Students Experiences Part 2

| | |
| --- | --- |
| | 4. Initiation 3 The Grounding Of The Negatives Enegies |



Introductory Talk - The Initiation
Students Experiences

| | |
| --- | --- |
| | 5. Initiation 4 Macrocosmic Orbit 1 |



Introductory Talk - The Initiation
Talk After The Initiation

| | |
| --- | --- |
| | 6. Initiation 4 Macrocosmic Orbit 2 |

| | |
| --- | --- |
| | 7. FREE Sacred Dance Pink Floyd and Gurdjieffs Sacred Dances |




"IF YOU HAVE NEVER SEEN DEVI DANCE HER SACRED DANCE THEN THIS SERIES OF DVDS IS UNMISSABLE! HERE IS RAW HEALING ENERGY AND KUNDALINI WITH SOME OF THE FINEST MUSICIAN CHANNELERS, INDIGO CHILDREN OF THE FIRST GENERATION."

Swami Devi Dhyani at the Lavarden Theatre

in 5.1 Surround sound

PINK FLOYD, DAVID GILMOUR, Brick in the Wall, High Hopes, Sorrow, Comfortably Numb.

| | |
| --- | --- |
| | 8. FREE Sacred Dance Led Zeppelin and Ravels Bolero |

Swami Devi Dhyani at the Lavarden Theatre

in 5.1 Surround sound

LED ZEPPELIN, JIMMY PAGE, ROBERT PLANT, THE LONDON METROPOLITAN ORCHESTRA, MORROCAN ORCHESTRA Since I've Been Loving You, Friends, Kashmir RAVELS BOLERO, IN THE STYLE OF FLAMENCO AND THE WHIRLING DERVISHES OF RUMI - IN THIS DEVI TURNS PERHAPS 800 TIMES!




I suggest you try the Video course - CLICK HERE
email
NOW!! for details
DON GETS HIS DVD COURSE

Subject: RE: Getting back again.
Date: Wed,

08 Mar 2006 21:28:59 +0000
Dear Satchi

Yes, everything, all the DVD course and Online Course Downloads are here, all together they arrived, mighty excited i might add and all is downloaded and well.


Im getting stuck straight in, its amazing, because the very first time i got the sitting position correct. I could feel the energy flowing up my spine and over my head incredible heat and a real tingling in my face and a feeling of elation i cant describe and i did this while using sound for each chakra, when i struck the heart chakra tone my chest just expanded and it felt like it was being lifted up and the whole room seemed full of energy and and and what a feeling, phew. It was heaven.

I was sitting still for about an hour and it felt like only a few minutes i think i just arrived.

I think i now have all the little pieces of my jigsaw, its taken a long time searching and im also seeing the numerous times when i was shown the direction but i was unable to see, There seems to be so much that i have missed and i wonder how come i was this blind for so long.

I wanted to say "Thank You" For your patience, For your time and most of all for being here on the planet at this time.

May Peace and Love always be your friends.

Don And Anne.
THROUGH ENERGY ENHANCEMENT MEDITATION, CHOOSE A DEFECT FREE LIFE OF RICHNESS, PEACE AND JOY.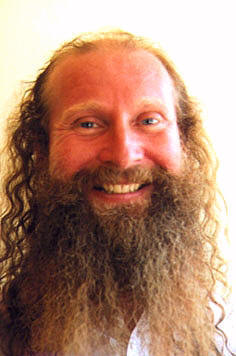 Any Human Being. Any Line of work.
Whether you are a Businessman, an Executive, a Nurse, a Doctor, an Engineer, a Computer Scientist, a Salesman, Housewife, Yogi or Student, you are interested in having a Defect Free Life.
A Life without Faults or Mistakes or Problems of any kind. A life of Richness, Internal and External where your meditationally increased Energy will produce Results!!
Meditation and Energy Enhancement which teaches Twenty Seven Ancient and Effective techniques Beyond Simple Meditation to Speed Up the Meditative Process will progressively give you that Defect Free Life of Richness and Joy, giving You Energy, Intelligence and Will.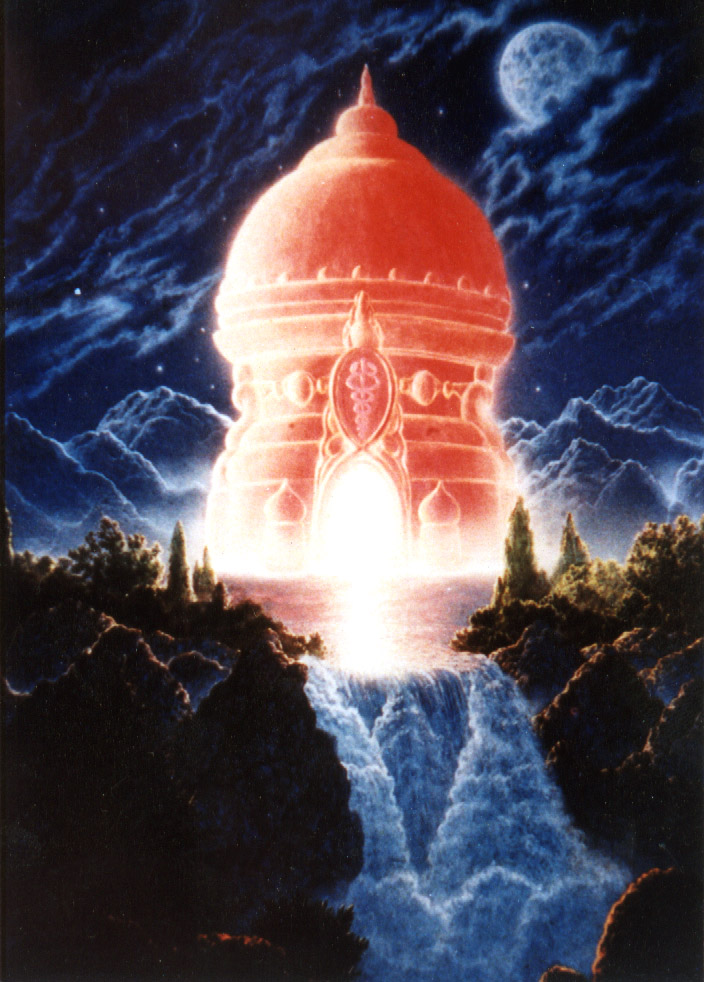 For 5000 years sages and saints have been telling you that the mind is limited. It is necessary but it is limited and it is always making mistakes. It is fractured and fragmented and creates many problems. In many cases we seem to be connected to a Self Destructive Saboteur which totally destroys our lives.
Meditation and Energy Enhancement are techniques which can help you come to a mistake free life. You can find the most intelligent man in the world, on the IQ scale, and that man can have no common sense whatsoever.
Bill Clinton was once the President of the United States of America, he was a Rhodes Scholar sent to study at Oxford University in the UK and Granada University in Spain. They say that he has an IQ of 170, yet even this great intelligent man could not, in the land of Christian politics, keep his trousers on in front of the Newspapers and television. It was proved that he was telling lies in the Lewinsky scandal and he was thrown out of the Guild of Lawyers because of it. GOODNESS KNOWS WHAT HE DID IN GOVERNMENT AND HE WAS ONE OF THE MOST INTELLIGENT!!
Now a c grade student from Yale University in in charge....
But they also have no Heart...
Meditation is the way of going beyond the Mind to a place of Heart, Intuition, of Coherence, Alignment with the soul or higher self where you can become integrated, One, Governed by higher levels of Energy.
Also, the Energy of Meditation can so unify Your energetic field that you can produce coherence and alignment and peace in all people which surround You.
The people of Transcendental Meditation have proved in a great scientific experiment, reported in major scientific journals that when a lot of people meditated together in a city, then that city experienced lower levels of crime. The crime statistics of the whole city on every level were lowered during the process of the meditation. Just think what a process of daily meditation could produce in your life and in the people around you, your family, your friends. Any meditation you practice will help them also.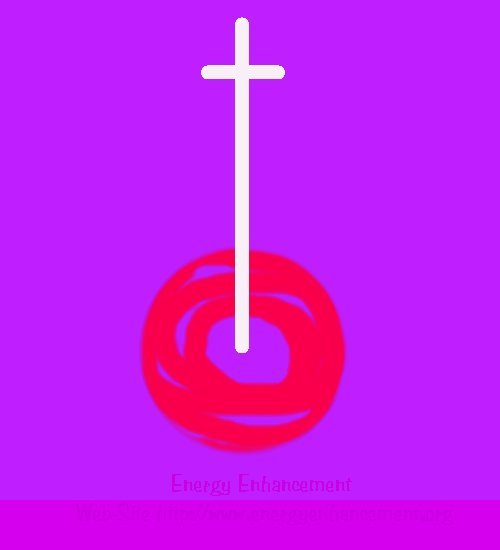 The movie, The Last Samurai, was making that point. Human society and politics is governed by the mind. It wants everything and will do anything to get it. But Tom Cruise the Star and executive producer of the Movie, together with the Writer who wrote "Gladiator" was saying that this mix of selfish desire and intellect needs the leaven of the state of meditation. And when at the end of the movie when Tom was handing the Sword Soul of the Meditation of the head Samurai to the Emperor, he was handing on the message of meditation. And that meditation so strengthened the courage of the Emperor that he became capable of throwing out the bad people in his Government.
He is still passing that Sword to You, so that you can cast out all your negative energy blockages! ....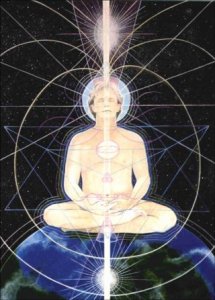 Today no Government can promise you security in the face of Selfish Desire, Weapons of Mass Destruction, and Terrorism. They can not prevent!!!
Only the coherence and alignment of the energy of peace from meditation can start to change the world, your life now and your future lifetimes, creating more luck in your life and preventing attacks before they arise.
Only the supreme knowledge and aligned consciousness and the energy of peace from YOUR meditation can start to change YOUR life now and your future lifetimes, giving you more energy, perseverance, good relationships and Luck by preventing defects and failures in Your Life before they arise.
No Government can prevent... has been able to improve the problematic areas of Health and Education. Dummed down and plain unhealthy. In the UK 30% of the people die from cancer and 25% from Heart disease. In fact they keep changing methodologies constantly in the hopes that no-one will notice that in the face of all this effort.... things are getting worse.
And because of this, every three or four years the Governments are thrown out a new one replaces them. And we, stupidly, because of 10,000 years of history, start full of hope whilst they continue to lie and to fail.
More people are starting to practise meditation, One of the Fastest Growing Ancient and Successful Techniques in the World, because it works now and has worked for 5000 years creating in that time all the Spiritual Masters to whom we look up to because of their lives of health and goodness and mercy to all.
It needs artists like Geldoff and Bono from U2 to remind us that our happiness is created by the happiness of everyone around us - Let's help Africa they say.
And others bring the awareness of the environment being destroyed by industrial pollution and not simple carbon dioxide which feeds the trees, - yes those big clouds of pollution and xeno-oestrogens only emanate from the fuctories near you at 4am when all the cars are off the road.
This same pollution which previously created the scourge of Tuberculosis is now creating the killers of Cancer, Heart Disease, Aids and low birth rates in every country in the world.
Also the fact that throughout the world many children are lacking in parents, food, water, houses and education and for this reason their pain will provide the next terror and war cannon fodder in the coming years of this century.
Our happiness is bound up in the happiness of others. Who are the happiest people, those who make everyone around them happy.
Governments and the people who run them never have had this point of view. They do not meditate!
Their control comes from making their people afraid, and for this an enemy is needed. Or it does not fit into their budget. All they can do is to report what happens, that this bank has been robbed by some burglars and this company has failed with the loss of the pension fund or that this country is going to war and yes, you are being conscripted, enslaved into the army.
This has been the case for 10,000 years whilst the governments of Alexander the Great, Julius Caesar, Caligula, Nero, Genghis Khan, Napoleon, Hitler, Stalin, and Mao, have killed untold millions of people, 200 millions alone in the last century.
U2 at their concerts say the worlds biggest arms dealers are, in money order, USA, UK, France, Russia, and China. An Arms budget of 400 Billions of Dollars per year are needed, 15 Trillions of Dollars have been spent on Arms since the second World War, wasted yet necessary because of this State of Insecurity.

Today we don't need the Old States of the past or even the United States or a State of Insecurity, Instead we need the State of Meditation on One Enlightened Harmonious World where everyone is given the opportunity to evolve, treated well... given food, accommodation, education, meditation, is happy, and an arms budget is not needed!!
This we need to Afford through your conscious choice, NOW. By choosing to practice Meditation. Through having a process of Meditation every day you can enter into that Richer Life!!
As meditation becomes the Practise of Choice in all people, Businesses, Politicians and Government itself, this will change and the whole World will become Defect Free!!
And even meditation is not enough, now we need real Meditative Progress, a Speeding up of the Process of Meditation through Advanced Energy Enhancement Techniques. Energy Enhancement Meditation will give real results of evolution, coherence, alignment and progress in our lives and in the lives of everyone in the World, FAST!!
Internal richness leads to external richness, luck and progress in all areas of your life. Rather than being one who cannot even manage your life, become one who not only can manage your life but also the lives of everyone around you in Richness and in Health.
In this way, through Meditation YOUR life, the lives of your family and friends, your City, Country and Planet can be benefited as waves of meditational energy are projected and spread to all areas of your life and planet of residence for this life and all your future lives. START NOW!!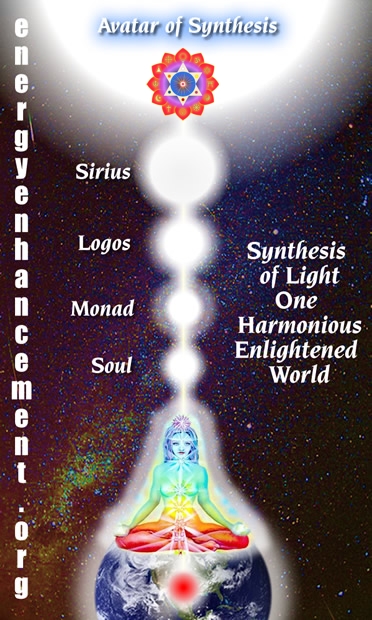 ---
SIVANANDA OF RISHIKESH AND THE AVATAR OF SYNTHESIS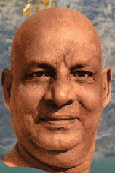 "I LOVE ALL GURUS, ALL RELIGIONS, ALL TEACHERS, ALL METHODS"
---
THE BODDHISATTVA PRINCIPLE

In order to become a Monad Infused Personality, similarly to the Soul infused Personality where you have to heal and take back all those painful Energy Blockages, we instead, at this stage have to heal all members of our Soul Group. We have to make them Enlightened.

THIS IS The the force behind a Guru!! This act becomes more important than life and death, as we activate the archetype of the Boddhisattva, who promises that when he becomes enlightened he will not leave this planet. Instead he will wait until all the people on this planet have become gone on into existence before him. - Satchidanand
---
Energy Enhancement Level 3. Initiation 3.
The Retrieval of the Soul Splits of the Energy Blockages.
Many psychological books talk about these Energy Blockages but Only ENERGY ENHANCEMENT, Through the Grounding of Negative Energies and other Immensely Powerful Blockage Busting Techniques, can drain these Energy Blockages of their Painful Negative Energies, Negative Karmic Mass and Emotions and

Learn how to heal all your Energy Blockagess, which split off from the central stem of the personality at the time when they are hurt, and which then destructively affect our emotions and our actions for the rest of our lives as they wander into and out of the active personality. These Energy Blockage Sub-personalities are stronger the older they are and can form at any age in your life.
These types of Energy Blockage are separate egos which have been artificially created through painful experiences.
Once created they shuttle in and out of your consciousness without you noticing them, except by their negative effects in your life. They are like separate ego programs, virtual machines, psychic viruses, which live within the one computer, you.
Sometimes these Energy Blockages Hurt Personalities try to protect you from your old painful memories through amnesia and distraction.
As you heal them you start to access everything and learn, Its Just Not That Bad!! The Child could not handle the old situation but you, the adult Integrated Personality, viewing the scenes of the past which have been drained of their negative and emotional energy by Energy Enhancement techniques, can handle anything!!
As you heal them and integrate them, then all their experiences become available to the Central Strong Soul Personality, you, which then becomes even stronger.
THERE CAN ONLY BE ONE!!
AND THIS ONE IS THE ENLIGHTENED SOUL INFUSED PERSONALITY.

COMPLETELY DISTINCT FROM THE PAIN CAUSED, NEGATIVE KARMIC MASS FILLED, ENERGY BLOCKAGES.
LIKE IN THE TV SERIES AND MOVIES ABOUT THE HIGHLANDER, THE IMMORTAL, WE NEED TO REMOVE ALL OF OUR ENERGY BLOCKAGES SO WE CAN ACCESS ALL OF OUR SPIRITUAL ENERGY AND THUS CREATE TOTAL SPIRITUAL FREEDOM IN OUR LIVES.
The development of a Human Being is a series of Paradigm shifts as One by One the Chakras Open. If a BLOCKAGE remains behind it sabotages all the next openings of the chakras, all your Evolution.
See
THE MASTERY OF RELATIONSHIPS, to see how Energy Enhancement can dissolve the Energy Blockages.
Energy Blockages which Unconsciously Link Your Sexual Base Chakra and the Relationship Abdominal Chakra to the Chakras of Other People thus causing Adultery and Divorce.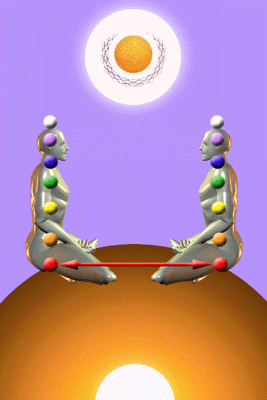 Learn THE MASTERY OF RELATIONSHIPS, the Mastery of the Second Initiation, the Mastery of the Sexual Base Chakra the Relationship Second Chakra, the Mastery of the Psychic Sexual Connection, the Mastery of Intimacy and Independence. The Mastery of Relationships
TRANSMUTE BAD LUCK TO GOOD LUCK
All bad luck comes from these Energy Blockages. As your Life is Sabotaged and Fails due to the influence of these inner saboteurs, the your stress rises and their action becomes more intense.
It is the Energy Blockages who want to use the Strategies in order to gain what they have been programmed to do, AND THE Energy Blockages WILL USE THE STRATEGIES LIKE THE POOR ME, VIOLATOR AND STAR, MORE AND MORE INTENSELY AS THE STRESS INCREASES.
AS THE STRINGS ARE WOUND UP.

IN THIS WAY YOU LOSE BALANCE.
This Energy Enhancement Stage teaches you to do the same thing that Shamen do in what they call "Soul Retrieval". To the sound of a beating drum they will enter into the astral plane and bring back to you these split off parts of yourself - ENERGY BLOCKAGES.
Energy Enhancement teaches you how to do this for yourself.
Meditation Energy Enhancement and Gurdjieff
Gurdjieff said that the personality which swore to meditate early in the morning every day was not the same personality and the one who threw the alarm clock out of the window!!!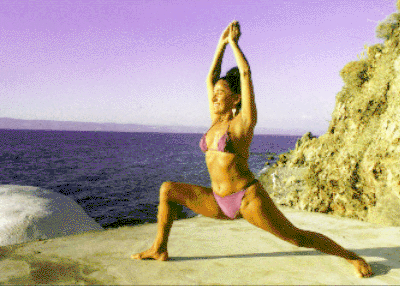 He said, "If you are not one, if you have within more than one mind, how can you promise anything? YOU CAN NOT MAKE A PROMISE IF YOU ARE SPLIT!!"
ENERGY ENHANCEMENT TEACHES YOU HOW TO REMOVE ALL THESE ENERGY BLOCKAGES, PAINFUL PARTS OF THE SPLIT MIND, WITHOUT ANY PAIN OR PROBLEM, JUST THROUGH MEDITATION AND THE PRESENCE OF YOUR TEACHERS..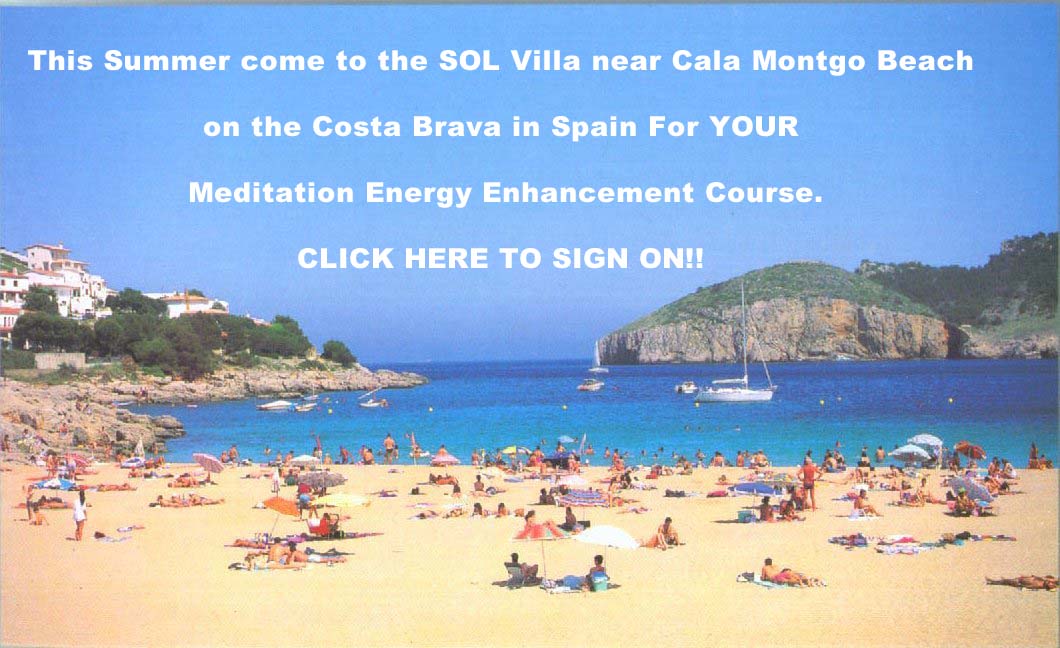 ---
SWAMI SATCHIDANANDA AND THE AVATAR OF SYNTHESIS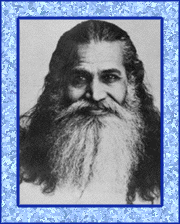 "IF ALL THE RELIGIONS OF THE WORLD CANNOT COME TOGETHER, WHAT CHANCE HAVE THE NATIONS?"
SATCHIDANAND SAYS.. ENERGY ENHANCEMENT IS THE NEW, SAFE AND FAST WAY OF LOSING ALL PAIN AND DISEASE AND THE SPEEDING UP OF THE PATH OF ENLIGHTENMENT. DEVI AND I HAVE HELPED MANY PEOPLE ON THIS PATH FROM THOSE IN THE GREATEST PAIN TO THOSE WHOSE ASPIRATION IS TO HELP THE WORLD AND ALL THE PEOPLE IN IT.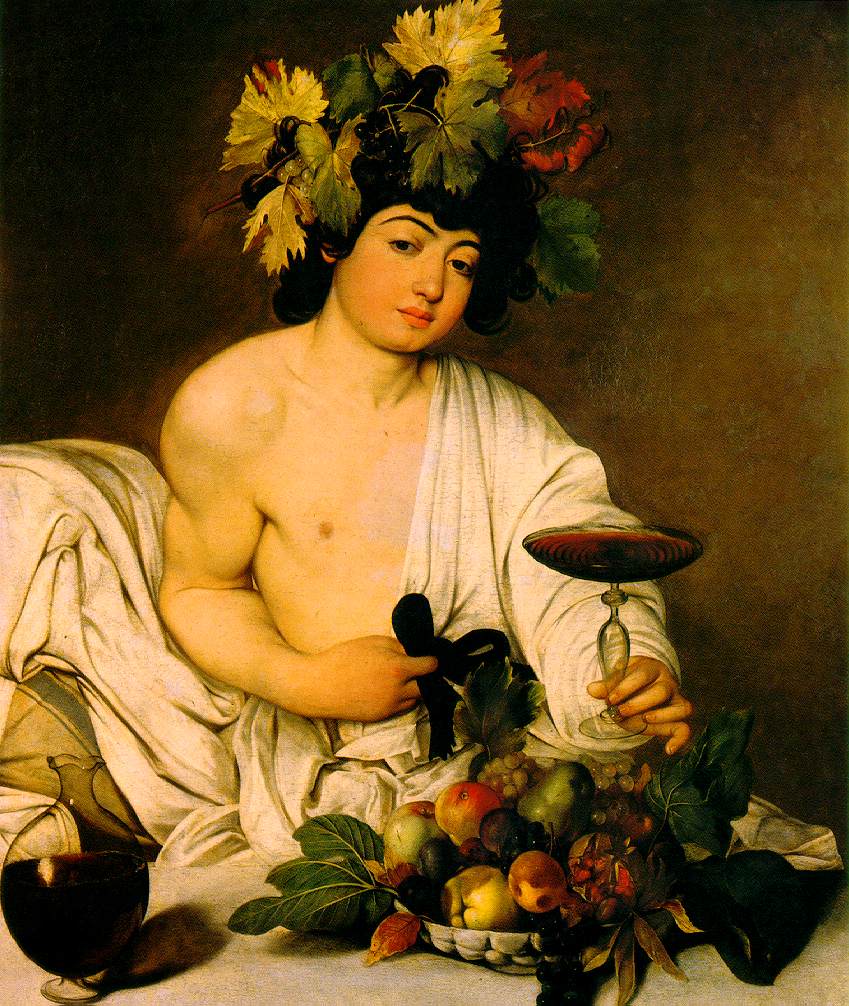 TO ME THE FUTURE OF THE EAST APPEARS BLEAK WHICHEVER WAY ONE LOOKS AT IT -- EITHER POVERTY AND STARVATION THROUGH FATALISM, OR WESTERNIZATION THROUGH CAPITALISM -- FOR IS IT NOT NECESSARY FOR THE EAST TO BECOME WEST BEFORE PEOPLE AGAIN BECOME INTERESTED IN THEIR INNER SEARCH? IS IT NOT NECESSARY FOR THE PEOPLE OF THE EAST TO BECOME MATERIALLY RICH BEFORE THEIR SPIRITUAL POVERTY AGAIN BECOMES EVIDENT?

BUT THE BURDEN OF THE WEST ALREADY LIES HEAVY ON THE WORLD: THE ATOMIC BOMB; VIOLENCE THROUGH FRUSTRATION; THE AUTO-MATIZATION OF THE SOUL; THE DESTRUCTION OF THE FORESTS AND THE POLLUTION OF THE AIR AND SEA SO THAT IT IS UNCERTAIN WHETHER THE ENVIRONMENT CAN MAINTAIN ITS DELICATE BALANCE. CAN THE WORLD SUPPORT ANOTHER WEST?



Ruparahi, the future only appears bleak, but it has always appeared so. This is not anything new. You can go as far back as possible in human history, to the very first moment of human beginnings when Adam and Eve were expelled from the garden of Eden, and you will find the future has always looked bleak. Just think of Adam and Eve being thrown out of the garden of God and the doors being slammed behind them. How was the future? It must have appeared very bleak. All that they had known was being taken away. Their security, their safety, their world, everything was being taken away. What future hope was there? Only darkness, death. It must have been frightening.

And this is not only a parable: each time a child is born the future looks bleak, because again the womb -- the safe secure environment of the womb -- is taken away from the child, and the helpless child is expelled. What do you think about the child? Psychoanalysts say that the greatest trauma is the birth trauma, and the person suffers it his whole life. The word "trauma" comes from a root which means "wound". The birth trauma is the greatest wound; it is very rare to find a person whose birth trauma is healed.

It heals only when a person becomes enlightened, because when a person becomes enlightened he is again in the eternal womb of God; otherwise the wound goes on and on hurting.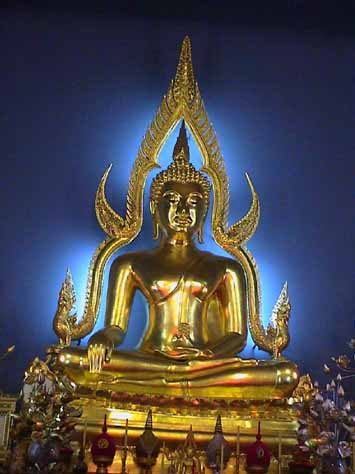 Your whole life you try to hide that wound, but by hiding it it cannot disappear. Each child being born, coming out of the birth canal, must be feeling the future is bleak; and each age has felt it. Because the future is unknown, that's why it looks bleak.

This is not something new that modern man is feeling; it is as ancient as man. You can go to the ancient-most records and it is always said in every ancient scripture, "The future is bleak." And the corollary to it is that the past was golden. "The future is bleak." The past was good -- satyug, the Age of Truth; and the future, kalyug -- the Age of Death and Darkness.

This attitude is somewhere deep in your mind; it has nothing to do with time and the realities surrounding you. And you have to drop this pessimistic attitude, Ruparahi. It all depends on your approach.

For example, it is so simple to say that "the burden of the West already lies heavy on the world: the atomic bomb," and nobody will argue against you, it looks so obvious. But I would like to tell you to think again, reconsider. In fact, it is the atom bomb which has made wars impossible. Now there can be no world war.

In the past we could have continued wars because our wars were so inefficient, there was no danger. That's why, down the ages, in three thousand years we have fought five thousand wars. There was no problem; it was just a game. And the male egoistic mind has enjoyed it very much, it has needed it very much. And wars would have continued if there was no atom bomb.
The atom bomb is the end of war.

The future is not bleak. The very existence of the atom bomb means, now, if you decide for war, it will be universal suicide. Who is ready to take that risk? Nobody can win and everybody will die. Nobody can be the winner; then what is the point of the game?

War is significant if somebody can win and somebody is defeated. War becomes absurd if nobody can win and both are destroyed. It is only because of the existence of the atom bomb that Russia and America are prevented from war; otherwise there seems to be no other possibility except war. Both are ready, absolutely ready, but the atom bomb is making it impossible.

It is ridiculous now to go to war. If both parties are going to be destroyed, then what is the point? The atom bomb has made war pointless.

When I think about the atom bomb I see great hope. I am not a pessimist at all. I believe things are going to be better every day, better and better. You will be surprised, but this is so simple if you understand.

It is because of the atom bomb that war has become total. Up to now it was a partial thing -- a few people will die -- but now the whole earth will die. We have attained to superkill. We have so many bombs ready that we can kill each person one thousand times, we can destroy one thousand earths like this. This earth is small now before our destructive powers; compared to our destructive powers this earth is nothing.

Now who is going to take this risk, and for what? You will not be there to gloat over your victory -- nobody will be there.

War is not going to happen. The Third World War is not going to happen, and it will not be because of Buddha and Christ and their teachings of non-violence and love, no! It will be because of the atom bomb. Because death is absolute now, suicide will be complete. Not only will man be destroyed, but birds, animals, trees, all life will be destroyed on earth.

This is the only possibility of dropping war forever. We have become too efficient in killing; now killing can be allowed no more. Think this way and you will be surprised -- then the future is bleak no more.

You say, "... violence through frustration." That's true. Whenever one feels frustrated... and the world is feeling frustrated, particularly the West. Frustration comes as a shadow of success. In the East there is no frustration because there is no success, so the shadow is missing. In the West there is great frustration because the success has come; all that man ever needed is available, and there is no content ment. Success has failed -- that's the frustration.

But that's also the point of sannyas, meditation, religion. Yes, you can become frustrated and you can become violent because all that you have hoped for has failed -- you have succeeded, and nothing has succeeded -- great frustration arises in you -- you can become murderous, you can become suicidal. But the other possibility is also there, you can start thinking in a totally new way: that success cannot be in the outer world, that success has to be something inner, that you were rushing in a wrong direction. Your direction was wrong; that's why you have failed.

In the West, because of frustration, people are becoming more and more interested in meditation, prayer, contemplation. That too is part of the same frustration. My own observation is a person becomes a meditator only when there are only two possibilities: suicide or transformation.

When in the outside world there seems to be only suicide and nothing else, then one turns in. Only at that point, at that peak of frustration, does one turn in. The turning in cannot happen in a lukewarm person; it happens only when things are really hot and there is no way outside anymore, all ways have been proved false. When you have been frustrated totally by the outside world and all exterior journeys, when all extroversion seems meaningless, only then does the desire, the longing for an inner pilgrimage open up.

It has always been so. It is only at the extremes, when life faces a crisis, that transformations happen. Water evaporates at a hundred degrees; that much heat is needed. The West has created that much heat of frustration. A few people will become violent, a few people will become murderous, a few people will become suicidal, but the major part of humanity will start turning in.

You say, "... the automatization of the soul." Industrialization and the growth of technology has not made man automatic, has not made man a machine. Man has always been a machine. Industrialization has only revealed the truth. It is a great revelation. Man has always lived in slavery, but the slavery was not so apparent, was not so penetrating; there was always an illusion of freedom.

The mechanization of all that you are surrounded with has made you aware that you are also nothing but a machine. You have always been that. Buddhas have always been telling you that you exist unconsciously, that you exist like a robot, that you are not yet a man, but illusions persisted. The modern world has taken the last illusion from you, it has revealed the truth to you: that you are nothing but a machine efficient, inefficient, but a machine.

It had to be so because only when you live with machines, only then can you become aware of your machine-like existence. You had always lived with trees and animals and people, and it had always given you the false idea that there is freedom.

Freedom exists only when you are utterly conscious. Only a Buddha is free. Freedom is in Buddhahood; nobody else is free, nobody else can be free. But people can believe... it is a very consoling illusion. The modern world has taken your illusion away from you; and it is good because now a great desire to be free will arise, a great longing to attain to something beyond the machine.

For example, the computer has proved that howsoever efficient you are in your mind it does not make you really a man, because that can be done better by a computer than by your mind. Now the people who used to do beautiful mathematics, remember things or play chess will be offended because the computer can do it in a far better way. And the work of the computer is so fast that they say, if a problem will take seventy years of his whole life for a great mathematician to solve, working day in, day out, the computer can solve it within a second.

Now, what is the lesson to be learned? That the brain is nothing but a biocomputer. Without the computer it would never have been revealed to you that your brain is a computer. With the computer, now, the people who think they are great intellectuals, mathematicians, scientists, specialists, are all reduced to machines. It was not possible two thousand years before: there was no way to know that the mind functions as a machine, that the mind is nothing but a machine.

There is just one thing the computer cannot do. It can be logical, but it cannot be loving; it can be rational, but it cannot be meditative. A computer cannot meditate, a computer cannot love -- and that is the hope, and that is where man can still go beyond machines. You can love. Your love will be the decisive factor in the coming days -- not logic: the computer is perfectly logical, more logical than any Aristotle; not mathematics: the computer is more mathematical than any Albert Einstein.

The computer is going to solve all problems. The computer will solve every problem that scientists used to take years to solve. It can solve them within seconds. Sooner or later science will go into the hands of computers; the scientist will be needed only to operate the computer, that's all. The computer can do it far more quickly, far more efficiently, with less and less possibility of making any errors. This is something tremendously significant. It can make you very much frightened, it can give you the idea that there is nothing left, man is a machine; but it can also fill you with great hope that now the computer has revealed that the head is not man's real reality.

Now we have to search for the heart, because the computer has no heart. Only by searching for our heart, only by allowing our heart to dance and sing and love, will we be able to retain the glory and dignity of being man; otherwise it is gone.

The future looks bleak to you because you only see the darker side of the phenomenon. You are not aware of its lighter side. I see the dawn coming very close. Yes, the night is very dark, but the future is not bleak, not at all.

In fact, for the first time in human history millions of people will be able to become Buddhas. It was very rare to become a Buddha in the past because it was very rare to become aware of the mechanicalness of man. It needed great intelligence to be aware that man is a machine. But now it will not need any intelligence at all; it will be so obvious that man is a machine.

And you say, "... the destruction of the forests and the pollution of the air and sea so that it is uncertain whether the environment can maintain its delicate balance. Can the world support another West?" That is one of the most beautiful things about science and technology: it creates problems just to solve them. And the problem can only be solved when it has been created; then it becomes a challenge. Now the greatest challenge before technology is how to maintain the balance of nature, how to maintain ecological harmony. It was never there before, it is a new problem.

For the first time the West is facing a new problem. We have lived on this earth for millions of years. Slowly, slowly we had been growing more and more expert technologically, but we had not yet been able to destroy the natural balance; we were yet a very small force on the earth. Now for the first time our energy is bigger, far bigger, than the earth's energy to keep its balance. This is a great phenomenon. Man has become so powerful that he can destroy the natural balance. But he will not destroy it, because to destroy the natural balance means he will be destroyed himself.

He will find new ways; and new ways are being found. The way to regain the delicate balance of nature is not by renouncing technology. It is not by becoming hippies, it is not by becoming Gandhians or luddites, no, not at all. The way to regain the balance of nature is through superior technology, higher technology, more technology. If technology can destroy the balance, why can't technology regain it? Anything that can be destroyed can be created.

And now it is almost feasible to float cities in the sky, in the air, in big, enormous balloons! There is no need for man to live on the earth. And it will be really beautiful -- floating cities in the air, and the green earth below you, huge forests again as the earth used to be before man started cutting forests. The earth can become the same again. You can come back to the earth for holidays.

It is possible now to float cities in the ocean, and that will be beautiful. It is possible now to make underground cities so the earth, its greenery, its beauty, is not destroyed. You can live in air-conditioned cities underneath the earth. You can come once in a while for your Sunday prayer to the earth, and go back. It is possible for man now to be transported to another planet. The moon may become our next colony, the moon may become our habitation.

The way is not by regressing; it is not possible to regress. Now man cannot live without electricity and man cannot live without all the comforts that technology has made available. And there is no need either -- it will become so poor a world. You don't know how man had lived in the past, always starving, always ill. You don't know how man had lived in the past; people have forgotten. You don't know how low the average age was in the past: if twenty children were born only two would survive. Life was very ugly.

And without machines there was slavery. It is only because of machines that slavery has disappeared from the earth. If more machines come then more of this slavery will disappear. Horses will be free again if more cars are there; oxen will be free again if more machines are there to do their work; animals can be free again.

Freedom was not possible without machines. If you drop machines man will again become slaves. There will be people who will start dominating and forcing. You see the pyramids? They look so beautiful, but each pyramid was made in such a way that millions of people died in making it. That was the only way to make it. All the beautiful palaces of the world, and the forts.... Much violence has happened, only then could they be made. The Great Wall of China -- millions of people died in making it. They were forced, generations of people were forced, to just make this China Wall. Now people go and see it, and they have completely forgotten that it represents a very ugly chapter of history.

For the first time electricity and technology have taken all the work; man need not do it. Technology can free man absolutely from work and the earth can be playful for the first time. Luxury is possible for the first time. There is no need to go back.
We welcome your input and appreciate your support. We thank you for your time and look forward to providing you with the Energy Enhancement tools to speed up your evolution. Meditate a little everyday...and dissolve all doubt in the fire of your eternal flame.

Love and light
Energy Enhancement Team